Advent Calendars, or count down calendars,  are used by parents and teachers as a way to count down the days, or count the days until Christmas (depending on how you use your holiday advent calendars) They are both FUN and educational for kids.  Here are some things that your child is learning when you use holiday advent calendars with some tips how to make them even more educational!
Affiliate links.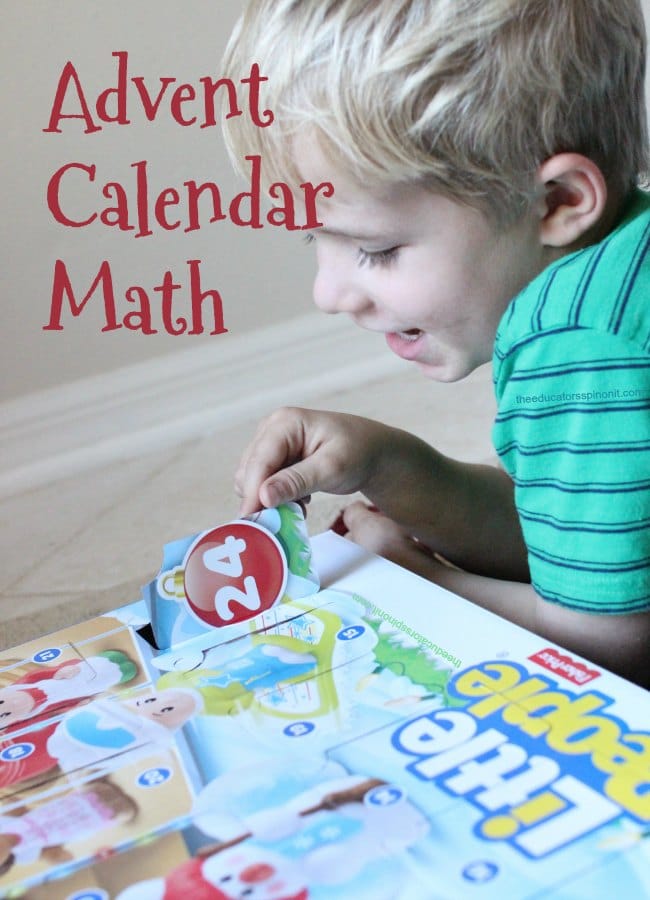 Learn Math with Holiday Advent Calendars
Math learning objectives connect well with using holiday advent calendars.  Select a few to work on each day. Repetition is key to early learning, but too much can be overwhelming.  With a younger child, you may want to count every single time you open an advent calendar winow, then add one extra little math concept in.  With an older child, they may write the +1 addition problem every day.
Try adding a few minutes into your day for this holiday routine.  Select a time that gives you a few moments to connect with your kids and extend their learning day at home.
Count by 1's to 24:
Learning to count in numerical order is an early math skill. Many children begin counting as early as 1 year old.  By the end of kindergarten, children should be able to rote count up to 100.  When you use a Holiday Advent Calendar, make sure to count the days starting at one – every day.  If your child is younger – count with them. If your child is older – encourage them to count on their own.  The teen numbers can be tricky for many kids!
Recognizing numbers 0-24:
This means that you can say the number and your child will be able to find the written number that matches.  You can point to the numbers as you say them when counting.  This connects hearing the numbers in order with being able to identify the numbers in print. If your holiday advent calendars have the numbers out of order, have your child find the numbers.
Spacial Reasoning:
If you purchase and use one of the LEGO brick calendars, this will incorporate spacial reasoning into your daily math lesson.  Children are shown a picture and must use the bricks provided to match the picture.
Comparing Numbers. 
How many days are left until Christmas?   In this skill, children identify if the number of objects in one group is greater than, less than, or equal to the number of objects in another group.  Have more or less days passed?  Count and see which group is more!
Applies Addition Strategy +1. 
After opening your advent calendar window for the day, talk about what the date will be tomorrow.  If today is December 15th, add on one to get 16.  To reinforce this addition concept, write the number sentence out on paper!  15+1=16.
Our Favorite Holiday Advent Calendars
I'm going to be honest.
I BUY MY ADVENT CALENDARS!
Yes, you can make so many cute holiday advent calendars, but come December, I just do not have the time or energy to make them.  So, I order them! Here is a peek at the advent calendars from 2016.
At minute 2:00 I'm opening the Little People Advent calendar if you wanted to see what it looks like inside.
At minute 7:00 I'm opening the LEGO City Advent Calendar if you wanted to see what it looks like inside.
At minutes 10:45 I'm opening the LEGO Friends Advent Calendar if you wanted to see what it looks like inside.

Our favorites are the LEGO City Advent Calendar.  These are geared for kids in grade school and up. We have the bricks at home, so it is a great way to extend our current collection.  The "pink and purple" themed Friends brand does not come with as many mini figures, but my daughter likes playing pretend with her sets, so we get this one for her.
We also purchased the Little People holiday advent calendar this year for my niece.  It is not only ADORABLE, but HUGE.  In leu of a Christmas Gift, we are giving it to her at Thanksgiving.  I can't wait to see her opening it.  I'm guessing she "may" insist upon opening all the windows at once.  Toddlers sure have a way with wanting everything when they want it!
Learn Math with Holiday Advent Calendars Using One of These:
Or one you make yourself!
Save
Save