A new year means new themed books to feature for our weekly Virtual Book Club for Kids. Here's the January books list for the Virtual Book Club for Kids to make your plans to join us. Plus we're sharing a sneak peek at February's Books List too.
Let's kick of the new year together packed full of books and activities with our kids.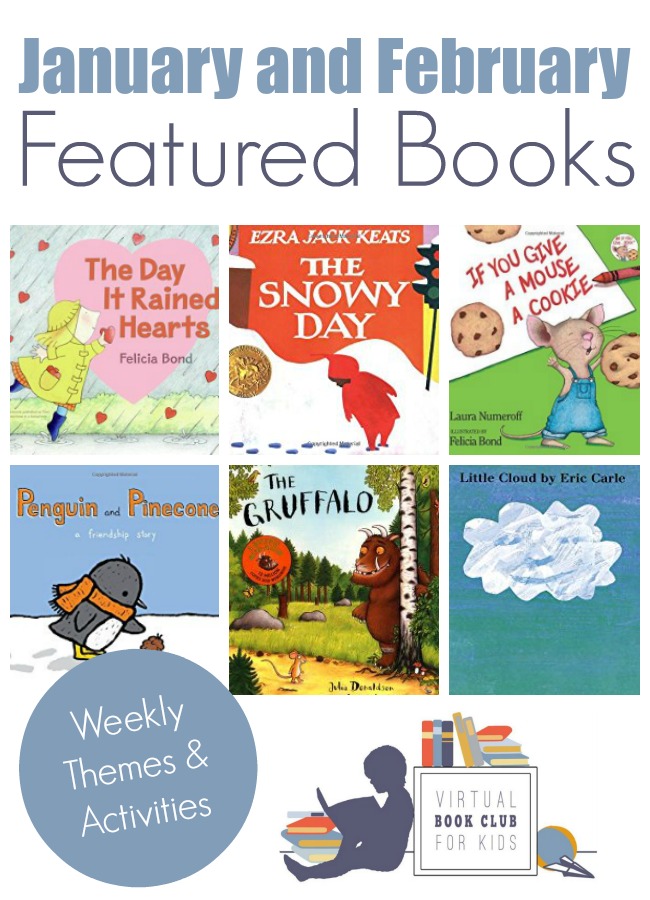 We're featuring the following January Themed Books and February Themed Books with Activities from our cohosts this new year. Will you join the fun?
Perhaps add a few of these under the tree this holiday season or for a special birthday?
This post contains affiliate links
I'm really excited to share with you which books we have selected to read with our kids in January and February for this year. I've put together this book list with the Virtual Book Club for Kids Organizers Kristina from Toddler Approved, Cerys from Rainy Day Mum and myself. The book themes follow along with the typical Winter Themes that preschoolers love like Winter, Penguins, Dr. Seuss and more. Plus a few themes we know our preschoolers needs to learn more about like Kindness and Love.
January Books for Kids
January 2 Winter- The Snowy Day
by Ezra Jack Keats
January 9 Bears- Time to Sleep
by Denise Fleming
January 16 Kindness- The Lion & the Mouse
by Jerry Pinkney
January 23 Penguins- Penguin and Pinecone
by Salina Yoon
January 30 Baking–If You Give a Mouse a Cookie by Laura Numeroff
February Books for Kids

February 6 Love- The Day It Rained Hearts
by Felicia Bond
February 13 Weather- Little Cloud by Eric Carle
February 20 Forest- The Gruffalo
by Julia Donaldson
February 27 Dr. Seuss week- Pick your favorite Dr. Seuss Book!
Be sure to join our VBC Facebook Group to get the latest activity ideas and to connect with others sharing book themed activities for kids.

Each Monday during the 2017 school year we'll be featuring a new children's book by a favorite author and we'll be sharing a themed activity related to the book. We are inviting YOU to not only read the featured book with your kids, but also try out a book related activity during the week and report back!
Print out this Book List and hang it up on the fridge so you can join us each week as we read with our child. Add to your reservations at your library or find them in your local book store. These are classics that we hope you want to add to your book shelf.
Each are linked below to purchase on Amazon for easy shopping too.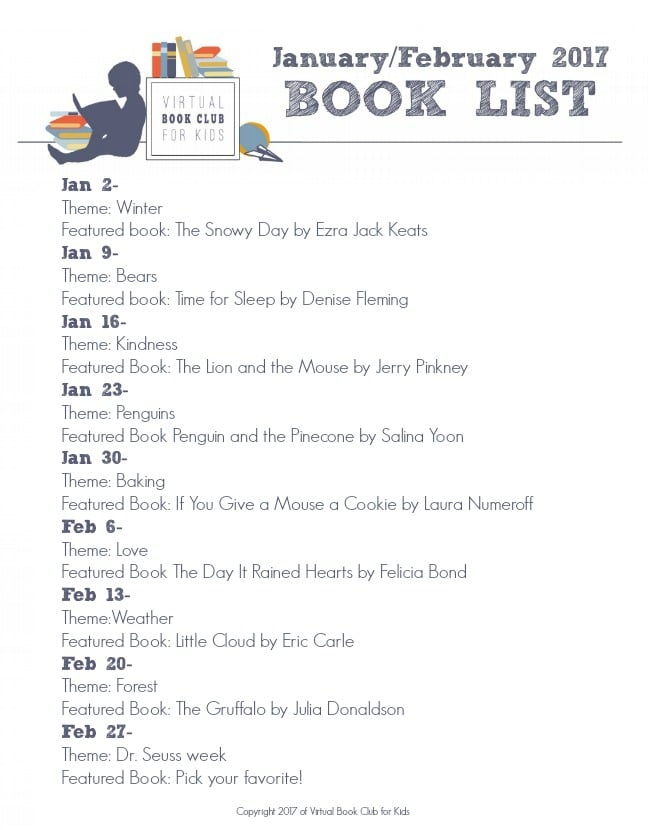 January Themed Book Activities for Kids
Each week our Virtual Book Club for Kids CoHosts will share activities to go with each of the follow featured books. You'll be able to work on letters, numbers, shapes, colors and MORE all themed around a favorite book and you make memories together at home.
Learn more about the Weekly Virtual Book Club for Kids

The Snowy Day
by Ezra Jack Keats
Start your snowy fun with this Snowflake Science Experiment

Time to Sleep
by Denise Fleming
Start your Hibernation fun with bears with this adorable bear snack to make with kids.

The Lion & the Mouse
by Jerry Pinkney

Penguin and Pinecone
by Salina Yoon
Penguins Penguins Penguins… start here with our colleciton of 101 Penguin Activities

If You Give a Mouse a Cookie (If You Give…)
by Laura Numeroff
Create fun Mouse Headband as you bake cookies with your child.

Day It Rained Hearts
by Felicia Bond
Here's 101 Heart Themed Ideas to express your love with hearts with your preschooler.

Little Cloud
by Eric Carle

The Gruffalo
by Julia Donaldson
Start the fun by making a few Gruffalo characters and learn shapes too.

Dr. Seuss's Beginner Book Collection (Cat in the Hat, One Fish Two Fish, Green Eggs and Ham, Hop on Pop, Fox in Socks)
Check out our Dr. Seuss Activities to get started as you celebrate this beloved author.
Add these to your book list for January and February and join the fun with us. Want to get even more be sure to sign up for our NEW Book Newsletter where we provide book themed activities to you each week.

Can't wait to see what you share for each themed week in our VBC SHARE THREADS in our Facebook Group, Instagram or Facebook. Just be sure to use the hashtag #vbcforkids and tag us at The Educators' Spin On It so I can see what you're up too.
Be sure to TAG a Friend on Facebook to join the fun in 2017!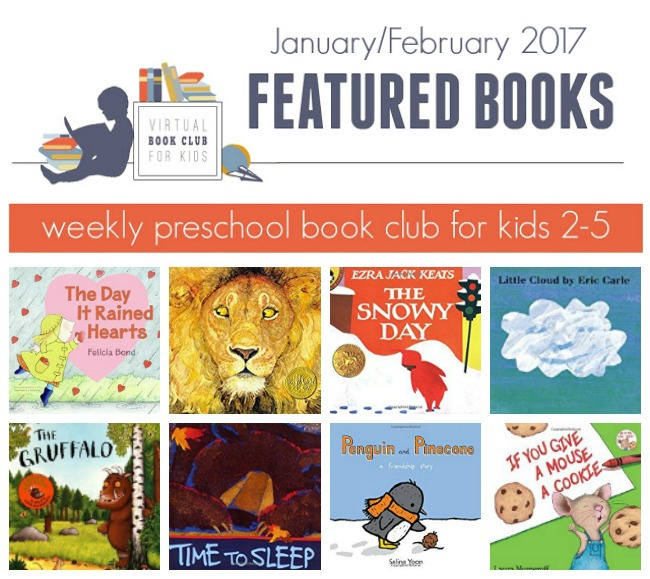 BOOK THEMED ACTIVITIES FOR PRESCHOOLERS
Each week at Virtual Book Club for Kids we share preschool activities for the featured book plus share a few more book selections for the theme. It's your own book themed preschool lesson plan for the week!
Here's the book themed activity ideas that we share on Mondays.
Alphabet
Names
Pre-Writing
Numbers
Shapes
Colors
Fine Motor
Gross Motor
Cooking
Science
Sensory
CLICK HERE to view our previous weeks at the Virtual Book Club for Kids

Leave a comment below if you're joining our Book Club with your Preschooler…