Do you want a fun bee themed math game for your child? Here's an eco-friendly idea to create your very own bee themed math counters.
Let's see how to make this DIY bee math activity for preschoolers.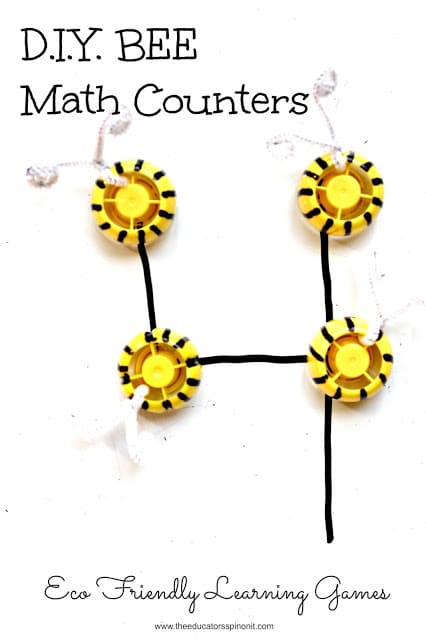 My 3 year old is in LOVE with his "squeezy pouches." You know the baby food in a bag. We use them as occasional, on-the-go snacks now that he is older. The lids to these serving pouches make great eco friendly math games.
For this one, we made DIY bee math counters.
ECO Friendly Math Games | DIY Bee Math Counters
Materials Needed for both games:
Most of what I do is kid made – these counters however are best for an adult to make ahead of time.
Draw lines on the lids with the Permanent Marker.
Use the scissors and carefully cut the pipe cleaners in half. Push one end through the lid. Twist. Then curl the ends in to make the antennae (and so they will not poke.)
Bee Counter Math Game 1: Number Match
Learning Objective: Represent the number of objects in a written numeral. Example, the number 4 is represented by 4 bee counters (see image above)
Step 1. Write one number on a piece of paper. Use 10 pieces of paper for the numbers 1-10.
Step 2: Have your child select a number. Read the number out loud. Then count the number of bees to match the written number. Place them on the written number. Say the number out loud one more time. Ask your child. "How many bees are here?" Encourage them to re-count the bees if needed.
Step 3: Select another number card and repeat.
Click to get a week of Bee Themed Activities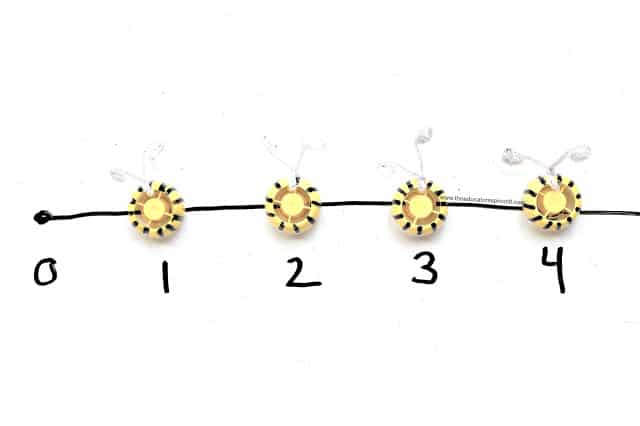 Bee Counter Math Game: The Number Bee Line
Learning Objective: Count objects in a line.
How to Play
Step 1. Make a number line. Cut your paper in half the long way. Tape the two pieces together to make one long paper rectangle. Write the numbers 0-10 in order along a line. Make a dot on the line above each number.
Step 2. Let the child grab a handful of bee math counters from the pile.
Step 3. Place one counter over each dot on the number line. Count and say the number.
Step 4. Take the counters off and place them back in a pile. The next person takes their turn (or the same child plays again).
You may also like A honey Bee Craft and Magnet Science Activity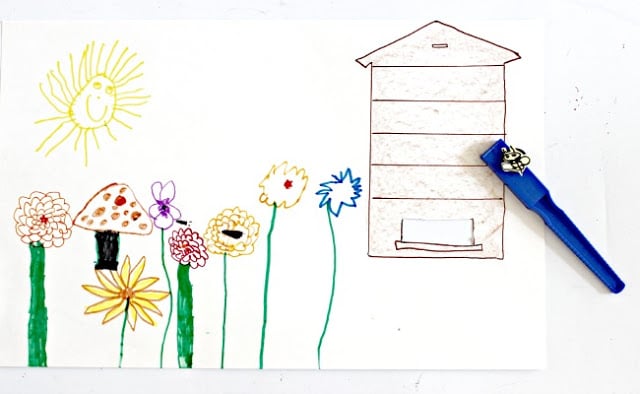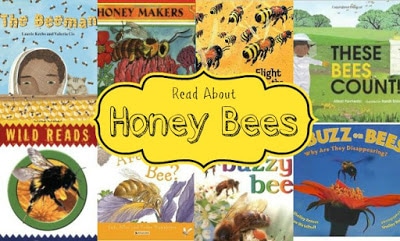 Learning about Bees in the Garden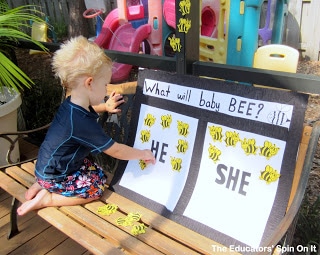 Gender Reveal Party – What will baby bee?