Celebrate the pollinators with this bee craft and science activity for kids. Teach the kids about how the flowers are pollinated and discuss the important role honey bees play in our food production.
This article contains affiliate links.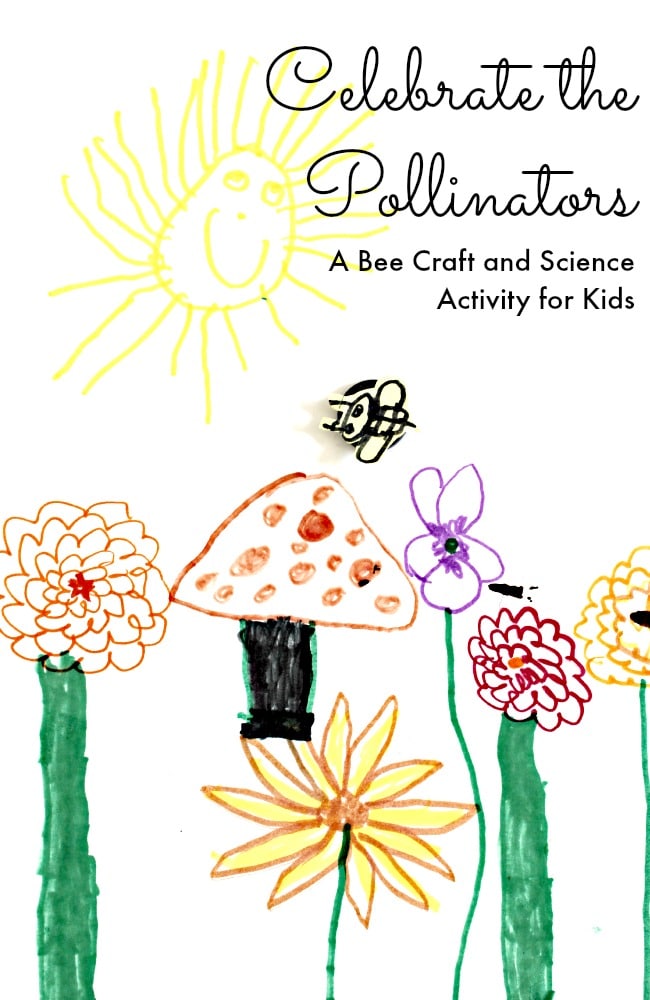 A pollinator is an insect that helps to move pollen from the male parts of the flower (anthers) to the female parts (stigma). This fertilizes the plant and allows for future plants.
Honey bees are responsible for pollinating much of the food we eat. The pollen adheres to their body and legs and they transfer this pollen to the flowers nearby. They are vital to our food supply. In fact, they pollinate the flowers of:
kiwi, okra, celery, strawberry, broccoli, cauliflower, cabbage, watermelon, lemon, lime, persimmon, apple, mango and avocado.
A Honey Bee Craft and Science Activity for Kids
Materials Needed:
Markers
White Poster Boards
Flowers (optional)
Scissor
Bee Magnet
Magnetic Wand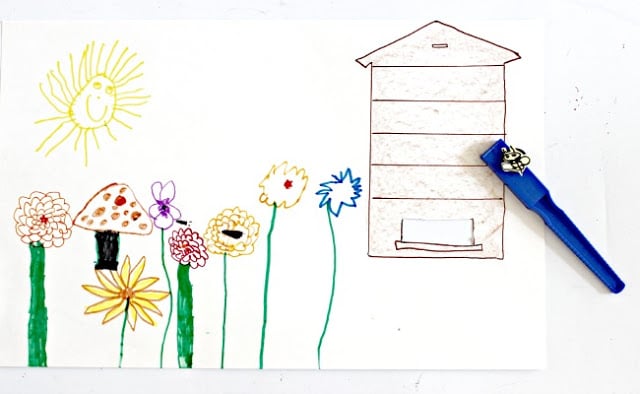 How to Make:
Read the book or a few pages of the book "Bees. " Discuss the role bees play in pollination.

Draw a flower garden. Give each child a sample flower to look at, examine, and draw. Talk about the colors, the shapes, and the number of petals on the flower. Each child may make their own poster or work together in small groups for a collaborative project.

Demonstrate how to draw a large rectangle for the bee hive and encourage children to add one to their poster. As the children continue to color, cut a small rectangle at the bottom of the hive.

When the picture is complete, have the children set the poster on their lap and place the magnetic wand underneath.

Act out the path the worker bees take from flower to flower and then into the hive using the magnetic wand.
Buzzing sounds are optional.

BUZZZZZZZZZZZ……………
Connect this craft and science activity with a good honey bee book!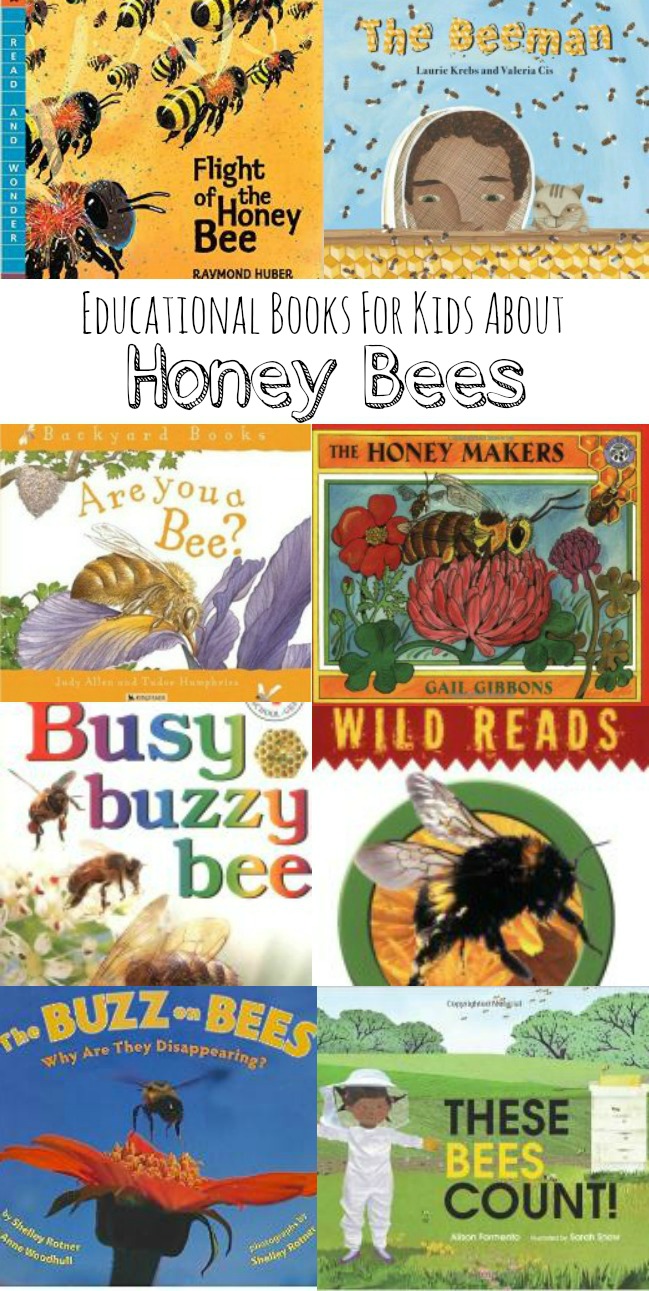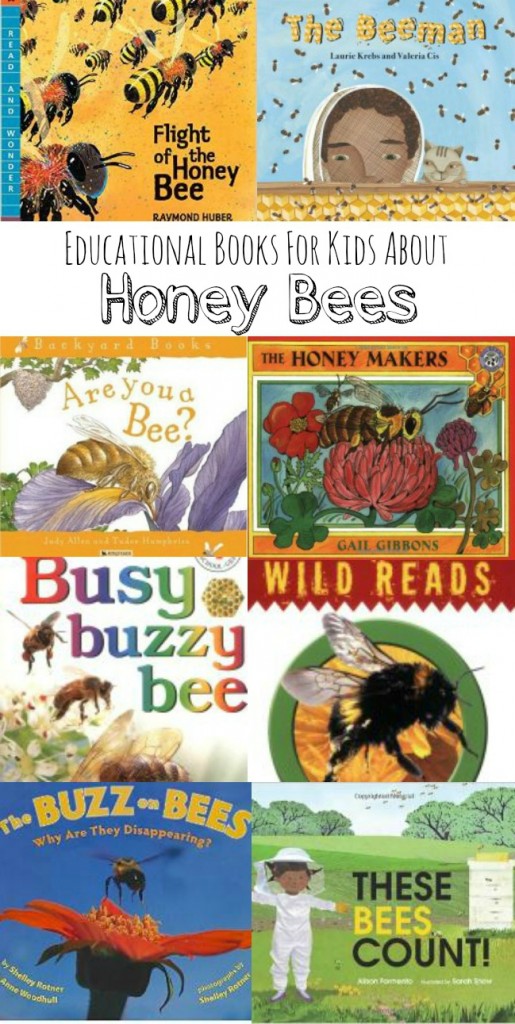 10+ Flower Garden Learning Activities for Kids

Alphabet Activities: Flower Vases by Growing Book by Book
Spring and summer are full of opportunities for preschoolers to pick flowers from the yard. Bring a bouquet inside and have fun arranging them while learning about the alphabet in this fun and playful activity.
Lavender Scented Sensory Paint and Pre-Writing Practice for Preschool! The Preschool Toolbox Blog
There are few things that excite our senses like the fragrance of flowers! Come try a lavender scented sensory paint to enhance pre-writing skills! Free lavender pre-writing printable for use at home (or in the classroom)!
Flower Hunt by Color byMom Inspired Life
Get outside with your preschooler and explore nature while hunting for flowers by color! Use the included printable to record your findings and then practice various math concepts with your data.
A Honey Bee Craft and Science Activity for Kidsfrom The Educators' Spin On It
Flowers are not just beautiful, they have a purpose too! Many flowers turn into the food we eat. Honey bees are to thank for this! Grab your markers and celebrate the pollinators with this bee craft and science activity for kids.
Kid-Made Cupcake Liner Flowers
Children love to create art using a variety of materials. Grab some colorful cupcake liners, buttons, and pompoms and watch their creativity bloom! – Fun-A-Day
Number Flowers by Still Playing School
There is so much playful math involved with our Flower Number Garden! Our kids especially loved the "magical" way we made them "grow!"
Colors and Numbers Flower Sensory Play for Preschoolersby Life Over C'sLearn colors, count, and practice fine motor skills with flower sensory play for preschoolers!
Ending Word Sound Flowers by Capri + 3
Make an easy word family game with paper flowers to practice reading simple CVC or consonant- vowel – consonant words.Finger Print Flowersby Powerful Mothering. Ask your child to make a beautiful flower garden with their fingers, sit back, and watch the magic.
Letter Recognition Flowers by Rainy Day Mum
Work with preschoolers on letter recognition with this reusable flowers activity that is simple to make and can be used again and again.
If you are interested in reading more about pollinators, the United States Government just released the 2015 National Strategy to Promote the Health of Honey Bees and Other Pollinators. The overarching goals of this publication and task force is to
Decrease honey bee loss
Increase monarch butterfly populations
Restore and enhance pollinator habitat acreage.