Grab your brown butcher paper (or the packing paper from your last big box delivery) and make this Giant Gingerbread Cookie Writing Activity with your children. Best for ages 3-6
Giant Gingerbread Cookie Writing Activity for Kids
We got our new chicken watering container in the mail this week and the kids took one look at the paper wrapped around it and screamed – GINGERBREAD KIDS! They ran to get the Kwik Stix and got to work writing right away. They have been on a gingerbread kick lately. In fact, my entire living room is now filled with a gingerbread box house village. We now have a bakery, post office, and gingerbread house. They have been so busy painting, we've almost gone through our green and brown Kwik Stix!
Here's the directions on how you can do this activity today with your kids too (and why it's a good learning activity for kids!)
Learning Objectives:
Trace and draw a gingerbread cookie – this is great for fine motor skills.
Write a sentence using the sight words my and cans
Use an exclamation point.
Materials Needed
Brown butcher paper or Packing Paper
Kwik Stix (our new favorite fast drying tempera paint) or Markers
Directions to Make the Giant Gingerbread Cookie Writing Activity
1. Have one child lay down on the brown paper. Trace loosely around them, leaving a generous space around them to create a more "cookie" like drawing.
2. Color in the gingerbread cookie. Talk about how you ice real cookies, the colors used, and the parts of the body you are coloring in. WORDS MATTER!
3. Write a sentence above or below the giant gingerbread cookie.
For younger kids: have them tell you what the gingerbread cookie can do and the adult writes the sentence, saying each word as they write it.
For children learning to write: Write the words on a separate piece of paper and allow them to copy each word onto the giant gingerbread paper.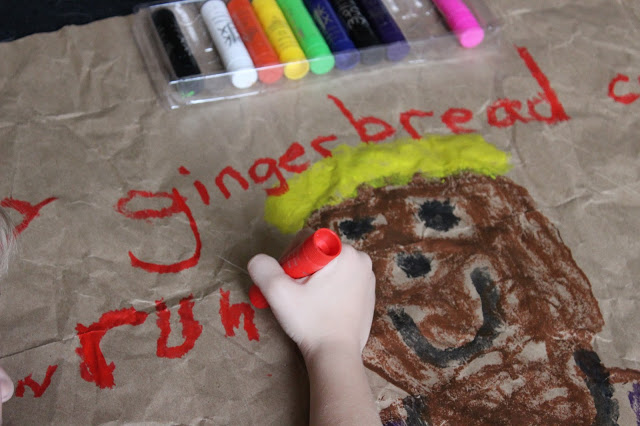 OR let them write the words My and the beginning sound of gingerbread.
It would look like this

My g

Then the adult writes gingerbread cookie, saying the words out loud as they write. The child then writes the word can and completes the sentence with kid spelling.
For children confident with writing: let them write the sentence on their own.
Great Gingerbread Cookie Books

Here are some great gingerbread cookie books to read before or after you make your giant gingerbread.
MORE COOKIE THEME Activities from The Early Childhood Education Team. #TeachECE
Giant Gingerbread Cookie Writing Activity by The Educators' Spin On It
Beginning Sounds: Do You Know The Cookie Baker? by Growing Book by Book
Cookie Math Games for Preschoolers by Life Over C's
Microwave Puffy Paint Gingerbread Men by Still Playing School
Mini Pear Banana Cookie Crisp by Capri + 3
Looking for more ideas this holiday season? Try this 50+ Gingerbread Activities for Kids.