Explore on a virtual field trip to the rainforest as we discover jungle animals and plants with videos and songs for kids. We'll discover the animals that live in the jungle and learn a few jungle animal facts too!
Are you ready for a rainforest adventure?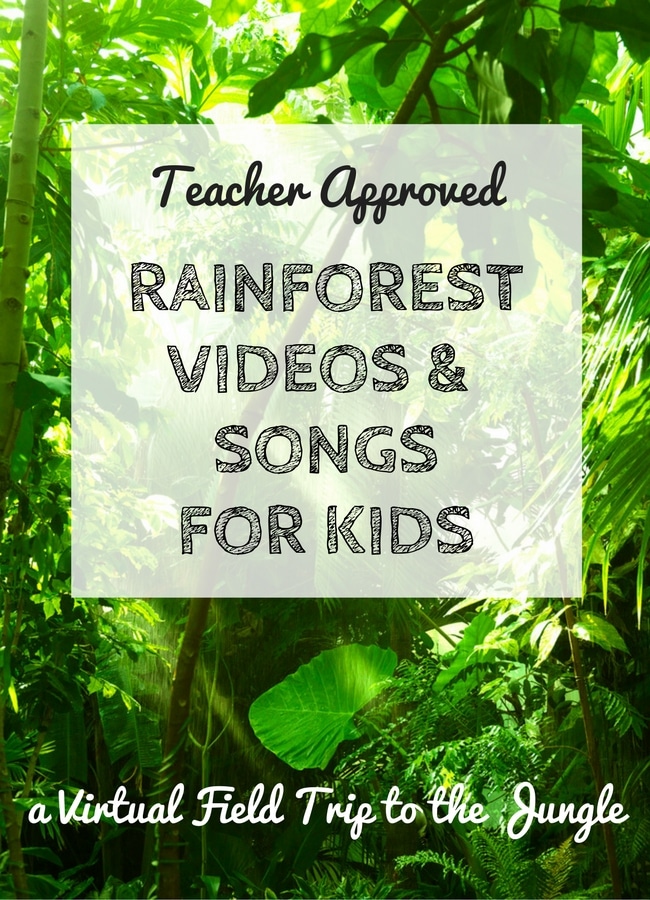 A Virtual Field Trip to the Rainforest Jungle
One thing that can be fun to do with your child when you can't actually travel to a specific destination is to take a virtual field trip there together. Summer Vacation is the perfect time to try it out. I'm put together a selection of video about the rainforest and songs about the rainforest that are teacher approved and mom approved for your child.
Are you ready to explore the RAINFOREST?
Rainforest Songs for Kids
Take a peek at this adorable songs that highlight jungle animal activities for kids that are mom approved. One thing you may want to discuss are some of the stereotypes for jungle animals and how really lives in which region.
Discussing words like jungle, forest, safari, desert, plains can help them to understand the various types of ecosystems on our planet earth.

The Animal Boogie by Barefoot Books

Walking in the Jungle Song by Super Simple Songs

Walking Through the Jungle by Barefoot Books

Rainforest Explorer: Preschool Learn to Dance

Walking In the Jungle with Matt
Disclosure: Amazon Affiliate Referral links used in this post.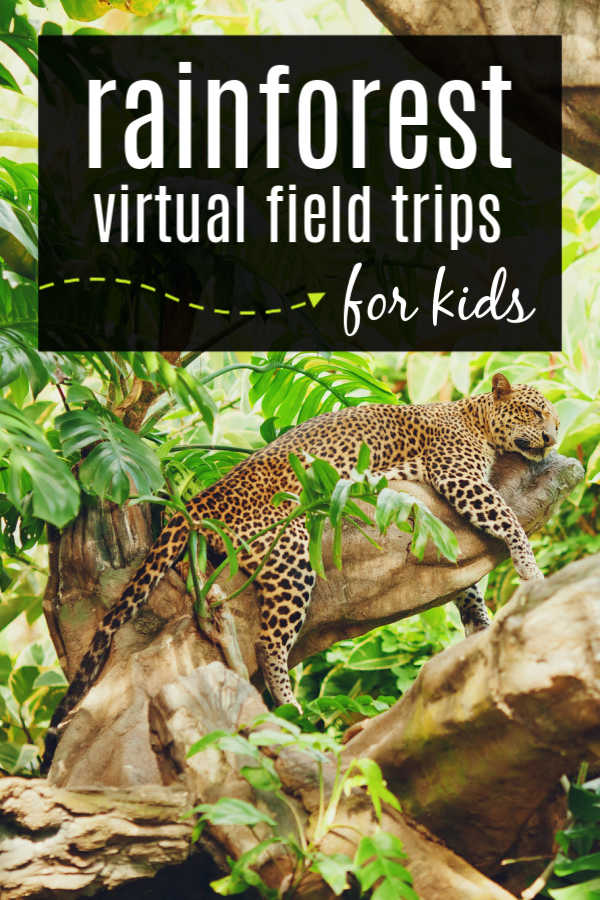 Activities Ideas for a Virtual Field Trip to the Rainforest
The featured songs and videos highlight the animals and plant life that you would find in a rainforest jungle.
Rainforest Animals Ideas
During your adventure grab some stuff animals or plastic animals like these from the toy box and set up your own rain forest at home too to add to the adventure!
Rainforests on the Map
Rainforest Themed Crafts for Kids
Rainforest Themed Books for Kids
Add some word cards and books too to make it a print rich environment all about the Rainforest! Here are a few of my favorite jungle books on Amazon.
Rumble in the Jungle by Giles Andreae
The Jungle Book by Golden Books
The Umbrella by Jan Brett
The Animal Boogie by Debbie Harter
The Magic School Bus Explore the Rain Forest
If I Ran the Rain Forest: All About Tropical Rain Forests by Bonnie Worth
Over in the Jungle: A Rainforest Rhyme by Marianne Berkes
The Mixed-Up Chameleon Board Book by Eric Carle
"Slowly, Slowly, Slowly," said the Sloth by Eric Carle
Five Little Monkeys by Eileen Christelow
The Greedy Python by Eric Carle
Rainforest Grew All Around by Susan K Mitchell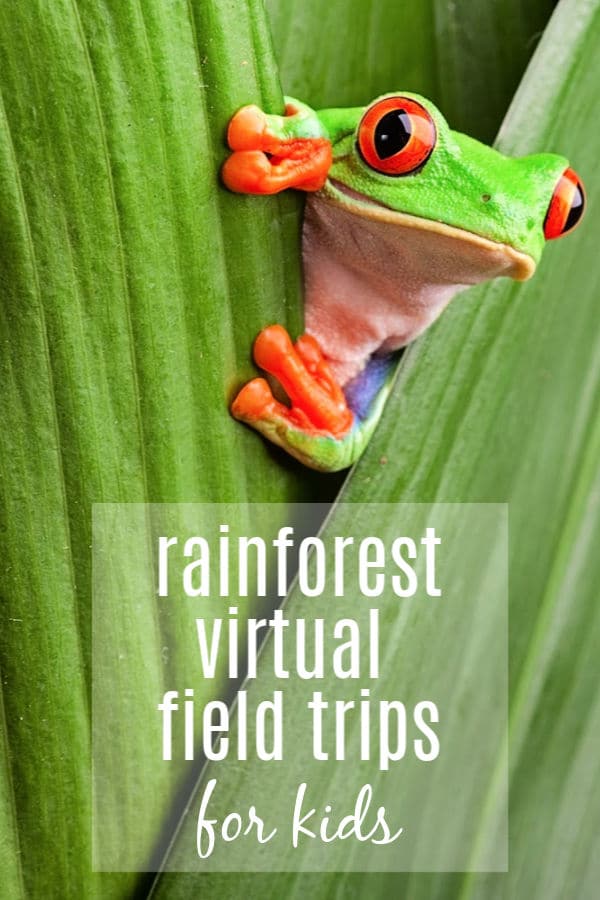 Rainforest Videos for Kids
Take a virtual field trip to the rainforest with a few videos that are teacher approved on Youtube! Movies like Fern Gully: The Last Rainforest , Tarzan , the Jungle Book would be a fun addition to the end of our Virtual Field Trip to the Rainforest too!
A glimpse at the jungle section of Planet Earth Movie could be super informative too! Do you have a favorite Rainforest Movie?
Virtual Field Trip to Amazon Rainforest

25 Facts About the Amazon Rainforest
Rainforest Animals Sounds and Wildlife for Children

Have fun on you virtual field trip to the Rainforest with your child with these Rainforest Videos and Rainforest Songs!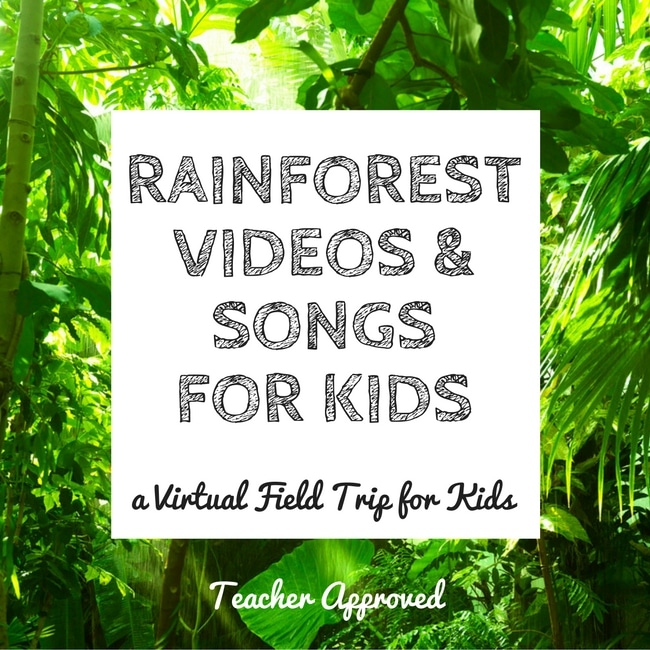 Ask a friend to JOIN YOU on your Virtual Field Trip to the Rainforest… SHARE on Facebook!
Want more Virtual Field Trips? Click now for 30+ Virtual Field Trips for Kids!