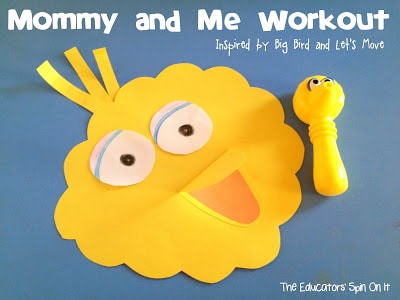 We have been working hard all month long as we joined Go Red for Women! This is the last week for us to share our Healthy Heart Fun with you for Week 4. This week as we focused also on The Great Backyard Bird Count we ventured out for our exercise and counting. However we couldn't help but think of a bird who's always at our home… BIG BIRD.



I opened up my email from Let's Move to discover that Mrs. Obama has teamed up with Big Bird to talk about a healthy lifestyle. Here's an adorable video of the two of them as she coaches Big Bird to "Get Moving Every Single Day"!

Here's the Thank you letter from Big Bird to Mrs. Obama that your kids might enjoy too!


"Get Moving! It's Good for You! "

We were motivated to get moving and decided to start off with a Sesame Street Style Dance Party. We found some of our favorite songs here. An afternoon dance session really can get your heart moving!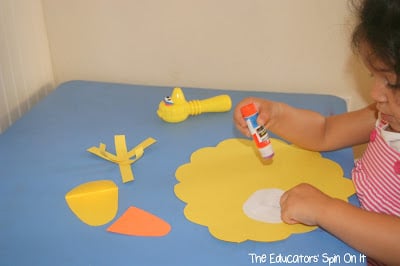 We made a big bird craft to go along with our exercise, it just make it more fun to have him with us! We even did a little relay race with him outside one day like we did with our hearts. We also had a little fit club of Sesame Street Characters come join us at the Get Moving Club!

I was researching ways to create some visual games for my kids to go along with this and discovered the160 Pages of Healthy Habits for Life Free Printable Packet provided from Sesame Street. We have printed several pages from it for our workouts and fun this week! I really encourage you to use it with your child. We we were researching we also found some more fun Healthy Sesame Street Printables & Resources.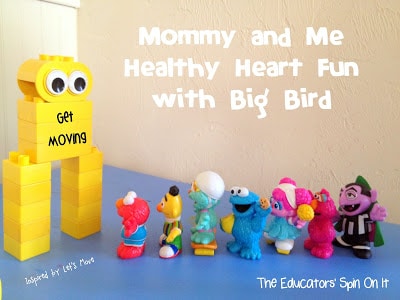 Sesame Street Movement Games for Mommy and Me
Parachute fun with Sesame Street Characters..sheets work too

Sesame Street Character Bowling- use the printables from pbskids.org

Big Bird Tummy Time-lay on your belly and then hold up her arms and legs like superman or "a bird that's flying" for one minute
Here's the last thing I discovered that I wanted to share with you! Exciting news….We're getting ready to enter into the work of Google Hangouts On Air in March to promote National Reading Month with some of our favorite kid bloggers but first there's someone much more important who will be on her Own Google+ Hangout!
Let's Move Hangout with Mrs. Obama
On March 4th, the First Lady will join her first-ever +Google+ Hangout to discuss Let's Move!, her initiative to ensure that all our children grow up healthy and reach their full potential. Mrs. Obama will join families from around the country in a virtual conversation moderated by Kelly Ripa, co-­host of +LIVE with Kelly and Michael.

For a chance to join the Hangout with the First Lady, share your thoughts and questions on raising healthier families and communities on the Let's Move YouTube channel by Thursday, February 28, 2013: http://youtube.com/letsmove

Then tune in to the First Lady's Hangout live on the White House Google+ Page or Let's Move YouTube channel at 11:10 a.m. ET on March 4th.

#firesidehangout#LetsMoveTour#letsmovehangout

RSVP to event HERE


And for a few lucky individuals here's your chance to join the Google+ Hangout with First Lady Michelle Obama, submit a video or text entry (video is preferred) telling us a bit about you, what your family does to stay healthy and a question for the First Lady by Thursday, February 28, 2013.
HERE'S THE HANGOUT!
What would you ask Mrs. Obama?

Of course a day is not complete without a big bird snack!
Kitchen Fun with My 3 Sons share her recipe for a delicious healthy a Big Bird Snack
We've completed 4 Weeks of Mommy and Me Workouts! We hope you'll continue to use them and you never know we might surprise you with more circuits as spring arrives.
Bunnies can be very inspiring too.
Heart Healthy Fun Workouts with Mommy and Me
Disclaimer: When exercising please consult your physician first and do at your own risk and stop if anything feels painful. I am not a doctor or trainer, just a mom trying to get active and heart healthy with my own kids.


{This post contains affiliate links for products we used purchased for our own personal use during our workout}