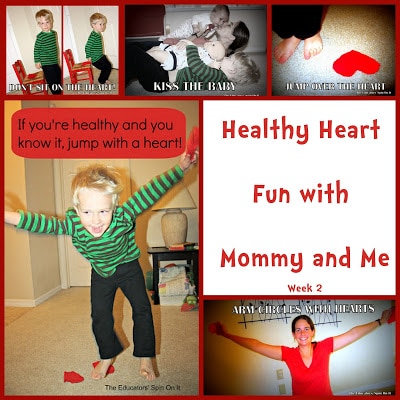 Healthy Heart Activity Ideas
We sure were and after a great workout with heart stations, my kids wanted to share theirs. So, we woke up ready to exercise and have a great time outside together with our hearts, looked out the window and saw…  RAIN!
Really?  I was in no mood to go exercise in the rain with 2 little kiddos and came up with a zillion excuses not to grab my tennis shoes, put on my comfy clothes, grab my hearts and have fun. NOOOOOO.  I wanted to snuggle up with a cup of tea, stay in my jammies and read books to my beautiful children.
Besides, pictures for a blog post turn out so much nicer when taken outside.
My house was a mess and I didn't want you all to see that.
I really wasn't in the mood.
The kids would get too wild.
And on and on and on…
Do any of these excuses sound familiar?  I almost didn't do the heart stations with my kids this morning.  Then I got to thinking about the reasons WHY I wanted to do them in the first place.  Connect with my kids, get a little exercise and take care of our HEARTS!  Yes, my house is a mess.  Yes, my pictures stink.  Yes, it was hard to get in the mood.  Yes, my kids did get wild (isn't that fun?).
Before you read on for our Heart Healthy Fun for Mommy & Me – Inside Edition, please know that I am a teacher mom, not a doctor or exercise specialist.  Make sure you have the ok to exercise and don't do any activity that is painful to you.  I'm just sharing some of the things we did this morning! (Feel free to jot the activities down on a piece of paper while you read this post.  That way, when you are done, you can turn off your electronic device, grab your tennis shoes, put on you comfy clothes, grab your hearts (and your kids) and have some fun.)
Indoor Activities for Heart Healthy fun with Kids
1. FROG JUMPS
Since I like activities that give me some "bang for the buck" or "kill 2 birds with one stone," we started off with some good old FROG JUMPS to a tune all my own, called "If You're Healthy and You Know It, Jump with a Heart." sung to the tune of "If You are Happy and You Know It.  At the end of each phrase, we jumped as high as we could. Each time you sing you get 3 GIANT frog jumps.  We sang 2 rounds of the song each rotation.  (Exercise + Music!!!)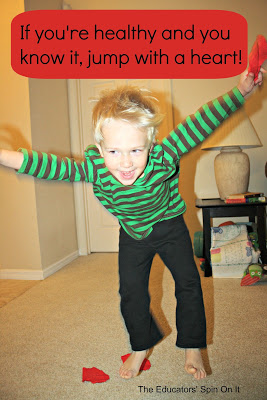 2. ARM CIRCLES
Then off for some ARM CIRCLES – those hearts LOVE to spin!!!  (photo courtesy of my 3 year old!) We did 30 seconds of small circles and 30 seconds of big circles.  I did them backwards, but my little one wanted to do them forward too. (Exercise + Vocabulary – big/gigantic, small/tiny, forward/backwards, twirling/spinning, fast/speedy, slow)
3. DON'T SIT ON THE HEART (aka chair squats)
Really, do NOT sit on the hearts.  My 3 year old cracks up in a fit of giggles, of course, soon as I get the camera out he gets all serious on me.  I of course got a few more squats in then he did, but Oh SO MUCH FUN!  We counted how many times we could almost sit down.  (Exercise + Math)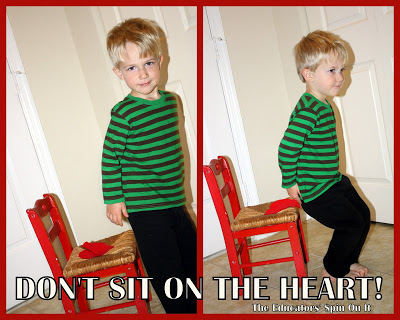 4.  KISS THE BABY
Now this is my favorite arm exercise of all time.  Kiss the baby is when you lift your little ones up and gently lower them to your chest for a kiss.  This looks all cute and sweet like this, but I promise you seconds after we took this picture I was bench pressing the big kid.  Lots more work for the arm muscles!  (and yes, more giggles)  (Exercise + Snuggles)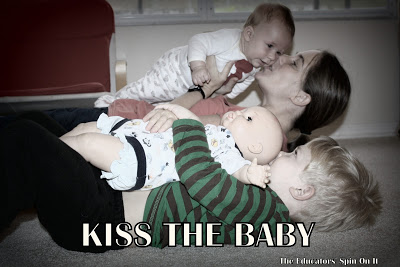 5. JUMP THE HEART
Last and not least, we played jump the heart.  For 2 minutes we jumped over the heart.
With one leg
With two legs
Sideways
Forwards
Backwards
and Crazy Jumping
I'd call out how to jump and we would both do attempt to do it. Let me tell you, this one gets you sweaty! (Exercise + Following Directions)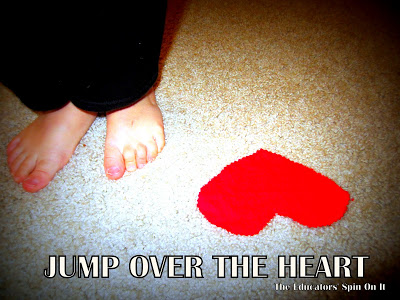 When you have finished all 5, you can do them all again!  We aimed for 3 rotations of each heart exercise station, but the little guy was done after the second round, so I did the last one on my own while he climbed the walls of our house. Not the greatest work-out – but hey – WE DID IT!!!!
And now, I am truly hoping for nice weather tomorrow =)  ENJOY!!!
Heart Healthy Fun Workouts with Mommy and Me
Disclaimer: When exercising please consult your physician first and do at your own risk and stop if anything feels painful. I am not a doctor or trainer, just a mom trying to get active and heart healthy with my own kids.   
Save