Start the year off with a fun, hands-on activity with LIGHTS! How to make shadow puppets is an easy to make, fun to do activity that combines fine motor, math, science, and play with basic supplies from your cupboards.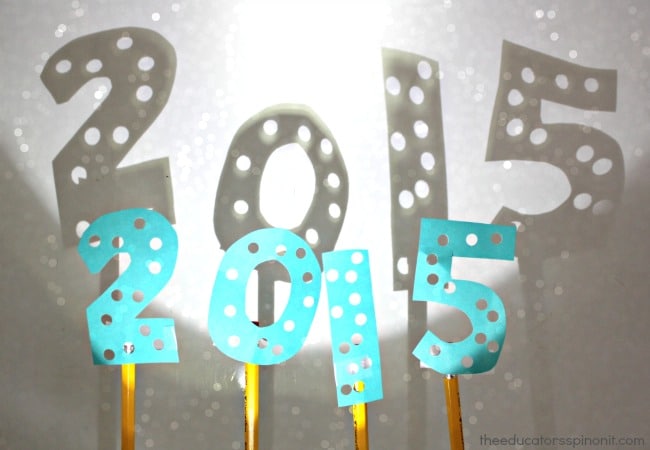 How to Make Shadow Puppets: Play and Learn with Lights
Learning Objective for Shadow Puppets: Investigate the properties of shadows.
Materials Needed to Make Shadow Puppets
Colored paper
Scissors
Hole punch
Pencil or craft stick
Tape
Flashlight
How to Make Shadow Puppets
Cut several numbers or shapes out of the paper. We used 3 inch numbers for math play and learning too.
Allow the child to hole punch dots throughout the numbers. The use of a hole punch will help strengthen fine motor muscles in hands and create a really neat effect when the light is shown on the shadow puppet figures.
Tape the numbers to a pencil or craft stick.
In a dark room, shine the flash light on the numbers. Explore what happens when the shadow puppet moves closer and further from the light source.
Discuss the attributes or properties of shadows.
Teacher Tips:
A Shadow is a silhouette or an outline of a shape.
The shadow puppet blocks the light and creates a silhouette of the shape on the wall.
Shadows do not have a color or show details within the figure.
Shadows outdoors can demonstrate the time of day.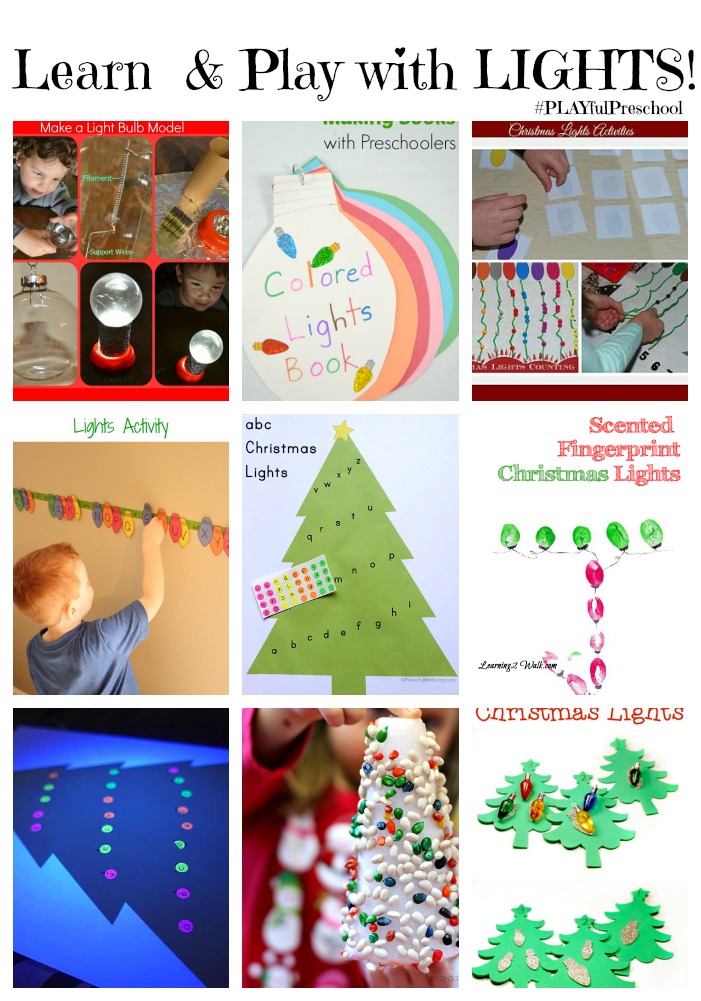 For MORE Hands-on Light Theme Play and Learn Activities:
Matching ABCs Lights Activity by Mom Inspired Life
Abc Christmas Lights by Powerful Mothering
Making Books: Colored Lights by Growing Book
5+ Christmas Lights Math Activities for Preschoolers by LIfe Over C's
Christmas Lights Activities for Preschool: Pony Bead Counting Sticks by The Preschool Toolbox
Lights on the Tree Sensory Play by Fun-A-Day!
Scented Fingerprint Christmas Lights by Learning 2 Walk
Make a Light Bulb Model by Capri + 3
How to Make Shadow Puppets: Play and Learn with Lights by The Educators' Spin On It (HERE)
For more New Years Eve Activities for Kids you may also like…