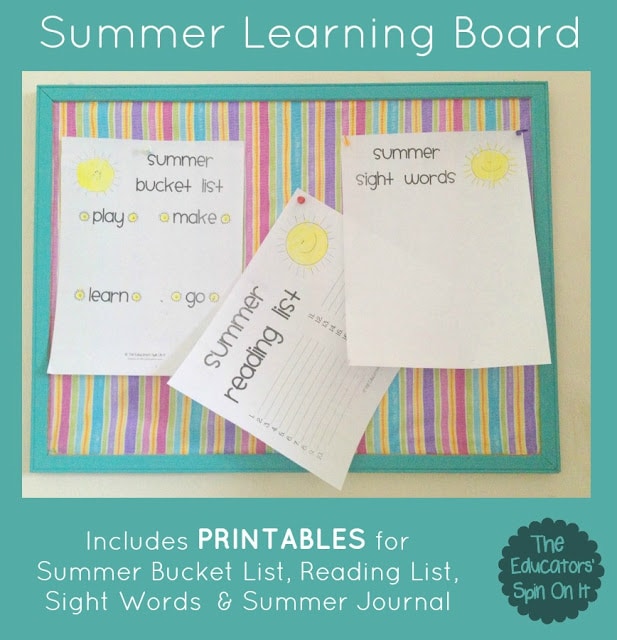 Are you looking for ways to keep your children learning throughout the summer? 
How to Make Summer Learning Board Station
One tip we wanted to share just with you on The Educators' Spin On It is how to make your own Summer Learning Board using recycled materials. We had an old bulletin board laying around the house that honestly needed some love so we decided to spruce it up for our Summer fun this year!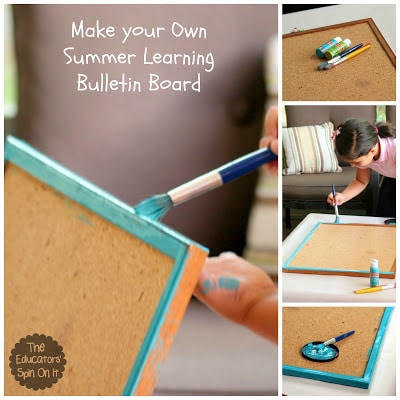 We used acrylic paint and my 6 year old daughter painted the frame, all by herself! Then we selected some leftover fabric and laid it over the old corkboard.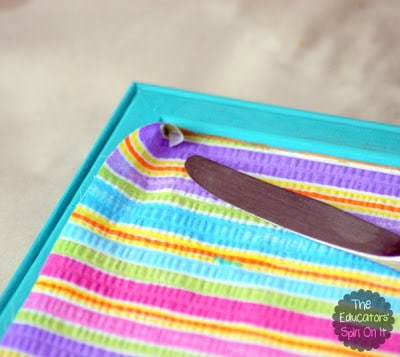 We used a blunt edge of a knife to get the fabric to go between the frame and the corkboard. Some frames will remove and make this process much easier but ours was an old recycled one that it would not come out from so we make do with what we have!
Once we got the fabric all laying flat it's time to hang it on the wall and attach our Summer Printables!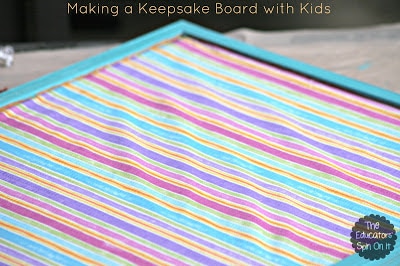 Now it was time to create a few printables to keep us motivated all summer long!
Summer Sight Words
There are many places to find the Dolch Word List that your child should be working on for this school year. We encourage you to use both the grade they just completed AND the grade they are going into as words to focus on this summer! Keep them posted on your Summer Learning Board!
Summer Reading List
Create a list together of books you want to read over the summer! Keep track on this Reading Log and set a goal for the end of 20 books! Check out your local library for their Summer Reading Program as they "Dig into Reading" this year!
Summer Bucket List
Have you made a list of things you'd like to do with your kids this summer?
If you haven't we think it's really a lot of fun to use these 4 words PLAY MAKE LEARN and GO to plan out your summer fun and learning this year.
Here's how we use our words to plan out last summer's Bucket List! We'll be sharing this summer on Monday!
Please Print these out and get ready as you create a Summer Learning Board with your child this summer.
You may also enjoy these summer activities for kids…