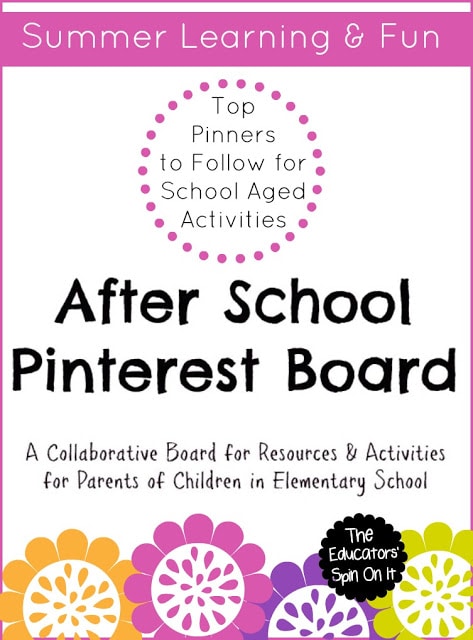 Top Pinterest Boards to Follow for Summer Activities for School Ages
Pinterest can be a go-to source for so many things. We highly recommend it to be one of your valued sources for summer learning. We've gathered many of our favorite bloggers who share amazing ideas for school aged children and invited them to join our After School Pinterest Board.
It's been a great source of information all year long. We just wanted to take a moment to make sure it's one of the boards you're following from The Educators' Spin On It .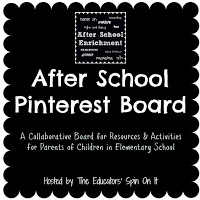 We're excited to announce we've added a few new pinners to our After School Enrichment Pinterest Board! It's a great board to stop to find ideas for what to do with your children after school and over the summer break.
Plus we are working together to create a board that you can turn to for additional resources when you feel your child need more support in certain subject areas. Some of the best Reading, Writing, Math, Science and Arts are all found in one spot our After School Pinterest Board.
Contributors to our After School Enrichment Board on Pinterest
The After School Team 
Bloggers of School Aged Kids

We've even asked a few of our favorite companies to join us…
Melissa and Doug Toys 
Steve Spangler Science 
We highly recommend you make sure you're following our favorite pinners for After School Activities!  We feel so lucky to be collaborative with them on our After School Board and also the Kid Blogger Network Activities and Crafts Board .
Plus we'll be participating in a School's Out Series very soon which you can follow on the School Out Board!  

We've got you covered this summer for tons of fun and learning all in one spot to save you time!  

Do you have a Pinner you follow for After School Activities?
Your child may also enjoy these summer activities for school ages…