A collection of Preschool Learning Activities for Ages 3 to 5 that feature reading, writing, math, sensory, art, science and more to do with your child.
Plan your PLAYFUL PRESCHOOL learning week with the amazing learning activities from our fellow kids activity bloggers. 
I know my preschooler is going to love learning about art by painting with the EARTH, working on his fine motor skills with beading, and getting some gross motor play and learning to read while searching for letters in the pool.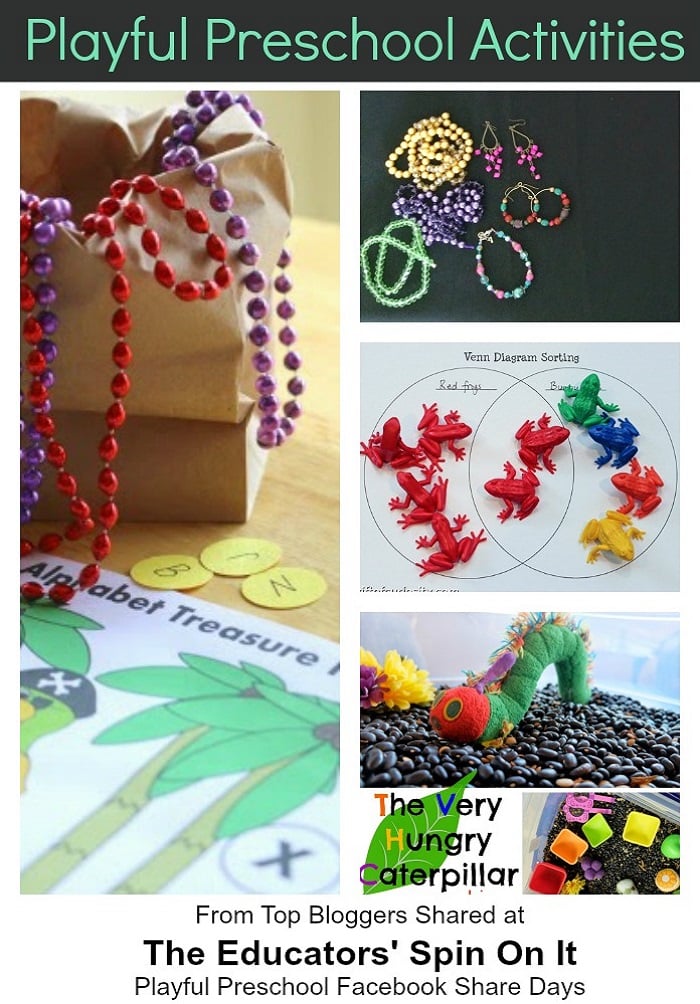 These articles were shared with us on the Educators' Spin On It Facebook Sharing Days. 
Stop by our Facebook Page every Wednesday and click to view posts to page on our wall.  I know I am always inspired!
* Articles pictured in the above collage are starred with *
Thank you to all the bloggers who generously share with parents and teachers their ideas!
Our Learning Week of Playful Preschool
I am SOOOO excited! My 4 year old (the kid who REFUSED to count to 3 until a few months ago) counted all the way to 20 on his own. This may (or may not) have to do with the new household "CHORE" that we have implemented which required the kids to pick up a minimum of 15 sticks after their morning outside playtime before they can come in.
I'm calling it a win-win learning activity. Our yard is getting cleaned up daily, the kids get a little bit of extra movement and outside time AND my preschooler is counting out load for a very real-life purpose. It does help that his big sister likes to go above and beyond.
Although I only ask them to pick up 15, they both try to get 20!
Even the baby (well, toddler) is getting in on the action. He picks up sticks and counts 1, 2, 3, then starts back at one again. It just warms my heart!
Need some playful preschool learning inspiration for this week?
Here are my TOP Preschool Picks for the Week!
Teach on MOMS (and Dad, and Grandparents, and Aunties, and Teachers!)
Playful Preschool Learning Activities: Geared for Ages 3-5
Science:
Learn about Wind Round-up from Left Brain Craft Brain
Ice Play and Learning from Little Bins for Little Hands

Reading:
Alphabet Treasure Hunt from School Time Snippits*
Pool Letter Search from Mom Inspired Life
9 Tools for Learning How to Write from Craftulate
Sensory:
Beading for Fine Motor from Wugs and Dooey *
Very Hungry Caterpillar Sensory Bin from Rubber Boots and Elf Shoes*
Social Studies:
Hands on Geography – Australia from Planet Smarty Pants
Art Exploration:
Negative Art Space from Mini Monets and Mommies
Painting with the Earth from My Nearest and Dearest
Math:
Sorting with Venn Diagrams from Gift of Curiosity*
Cooking with Kids:
Breakfast Muffins from The Educators' Spin On It
There is also 6 WEEKS of FREE PRESCHOOL Activities here
Use the hashtag #playfulpreschool to connect with other like-minded parents and teachers.