Did you know that today is National Chocolate Day? We're doing something special to celebrate Chocolate! You are invited to join Kim Vij and Kathleen DeCosmo celebrating National Chocolate Day on Blab. Did you know we have 5 Chocolate Bar Wrapper Gift ideas on our site?

Sharing Chocolate Links on Blab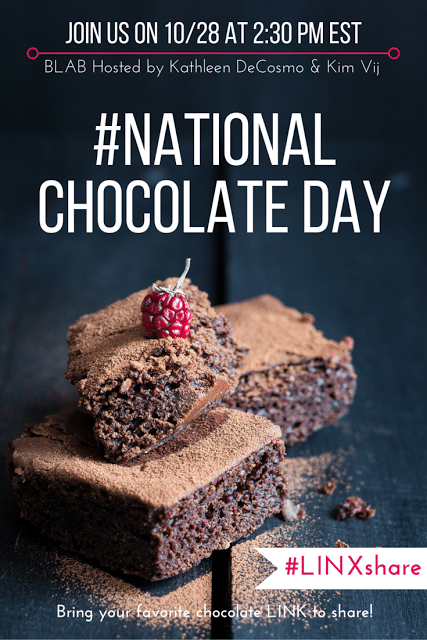 When: October 28th, 2015 at 2:30 PM EST
Where: Blab
Click here to Subscribe (RSVP) to the Event on Blab
Hosts: @KatieSheaDesign and @EducatorsSpin
Enter for a chance to WIN an Amazon Gift Card! ENTER HERE
What is a Blab?
"Blab is a conversation platform. It lets anyone push a button and broadcast a conversation between 2-4 people." ~ Shaan Puri Blab's CEO

Are you wondering how do sign up for Blab? You will need a twitter account to login Via Desktop
Go to blab.im Download the iOS App or search for Blab in the apple app store

We will be sharing and inviting those attending to Share a Link from the following:
Your own post about something chocolate

A favorite post about something chocolate

Your own Pinterest link containing something chocolate

A favorite Pinterest link or board containing something chocolate

A favorite chocolate product or brand
Come Join Us!
Please do not hesitate to attend if you are camera shy. You do not have to come on camera as a guest. You can participate by sharing your link in the comments column. We will open up seats sometime in the broadcast for those who would like to hop on with us!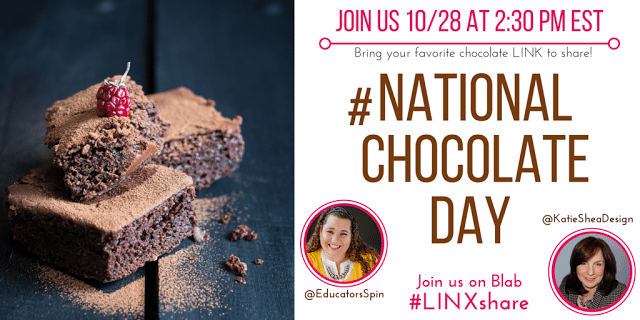 Books about Chocolate for Kids
Love finding ways to discover new days with the kids and National Chocolate Day is one of them. We'll be sharing some facts about Chocolate. Does your child know where chocolate comes from?
From Cocoa Bean to Chocolate (Start to Finish, Second Series: Food)
Curious George Goes to a Chocolate Factory
Max's Chocolate Chicken (Max and Ruby)
DK Readers: the Story of Chocolate
Lilly's Chocolate Heart
Grandma's Chocolate

See you 10/29/15 at 2:30 on Blab! Bring some Links to share about CHOCOLATE
Don't forget to RSVP for a change to WIN an Amazon Gift card!