When kids see their work hung on the walls of their rooms, it gives them a sense of pride and ownership over the space. Here are some simply DIY Wall Art for Kids inspired by books that you can make with your family.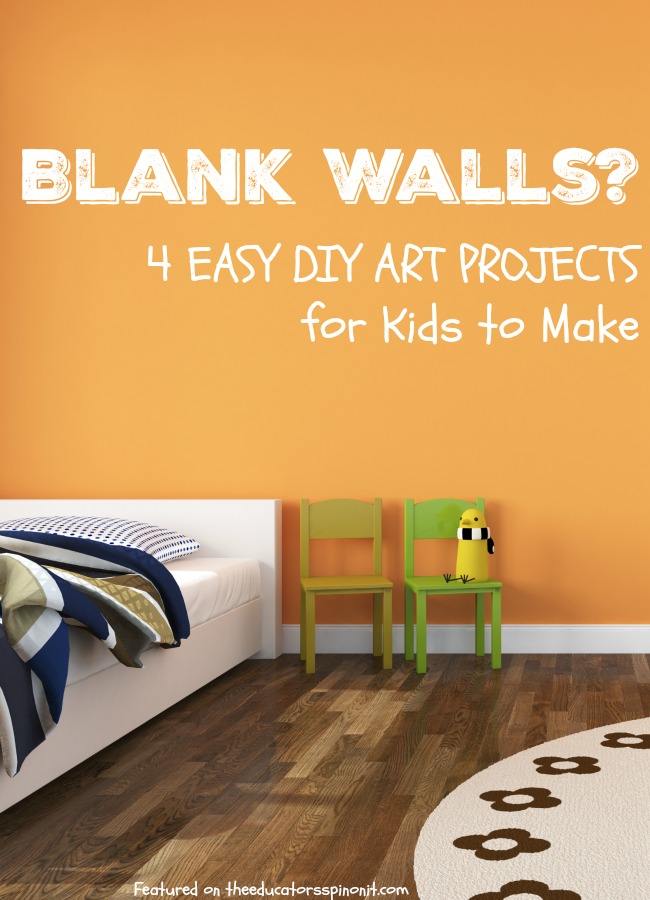 Affiliate links to books.
DIY Wall Art for Kids to Make and Display
Here are a few ideas of kid-made art projects to hang on the wall.
MAKE: Bring the natural world indoors with this rustic kid-made wall art from PLAYtivities. This DIY wall art project for kids is simple, sweet, and 100 made by kids using objects found in nature.
READ: Pair it with a nature book such as Trees, Leaves, and Bark or Leaf Man for an outdoor themed room for babies and toddlers. With a little paint and cardboard, what will your child create?
MAKE: Send your kids to the backyard to search for sticks and twigs to make this spring wall art. Add in a little science lesson by having them create a felt bird modeled after their favorite species of backyard birds.
READ: Flip, Flap, Fly!: A Book for Babies Everywhere or Birds, Nests, and Eggs.
MAKE: If you haven't tried spin art yet – it's sooo much fun to do with kids. The end result is a TON of paint spins. Combine them together to create a GROOVY masterpiece to hang on the wall.
READ: Combine this DIY wall art for kids with the board book Pantone: Colors for a full color inspiration. Maybe you will choose a monochromatic theme for your wall art?
MAKE: Using 2 Canvas, acrylic paint, and a few sheets of tagboard, this wall hanging was perfect for babies room. The whole family helped paint, cut and glue this project.
READ: The book, "It's Not My Truck," is one of my son's favorite books. It has pages full of great textures and bright colors. Not a truck fan? Choose any of the books in the series for room inspiration!
Do YOU have a fun DIY Wall Art Project for Kids? We'd love to see it! Stop by our Facebook Page and leave us a picture or blog post!