This retro chic hotel is one of the best hotels in Austin, Texas near The Domain for you to stay. It's called the Lone Star Court Hotel! Here's why it's my favorite pick for a unique stay at this fun boutique hotel in Austin while traveling with your family.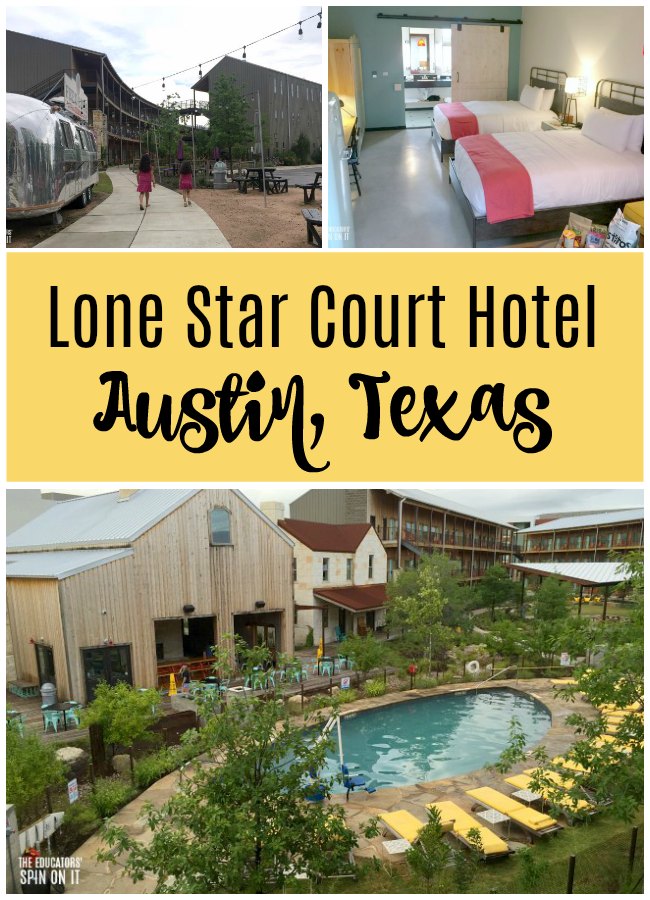 We were provided 2 nights of accommodation in exchange for our review of the Lone Star Court Hotel by Valencia Group Hotels. All opinions expressed are my own and my families from our stay. 
Making a decision on where to stay in a new place is always an adventure. As a traveler you look around the surrounding area and find the main attractions that are close by to the hotel. However there's one main focus which is the hotel and what experience your family will get from it. On our recent trip to Texas we discovered a gem of a retro styled experience stepping back in time in Austin, Texas.
We found an Austin style boutique hotel that was a big hit with our family, especially the kids.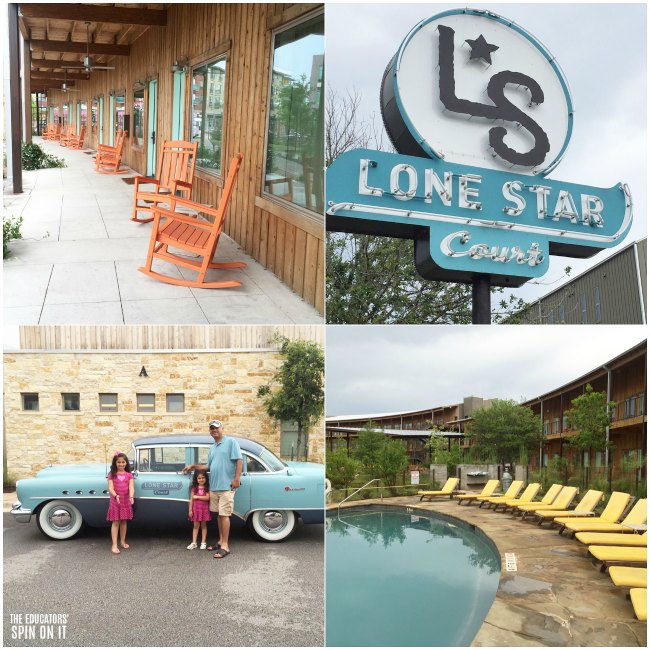 Lone Star Court Hotel: A Retro Chic Hotel in Austin Texas
The Lone Star Court Hotel is unlike any other hotel I've experienced with my family. From the moment you arrive with the old restored car out front, you know the stay will be memorable. As we checked in, the pops of color were inviting throughout the hotel.
The doors are a bright turquoise fun contrast to the wood exterior of the 3 story hotel. All the rooms face in towards the welcoming courtyard with two orange rocking chairs on your front patio. The entire space is warm and inviting as you check-in to the hotel.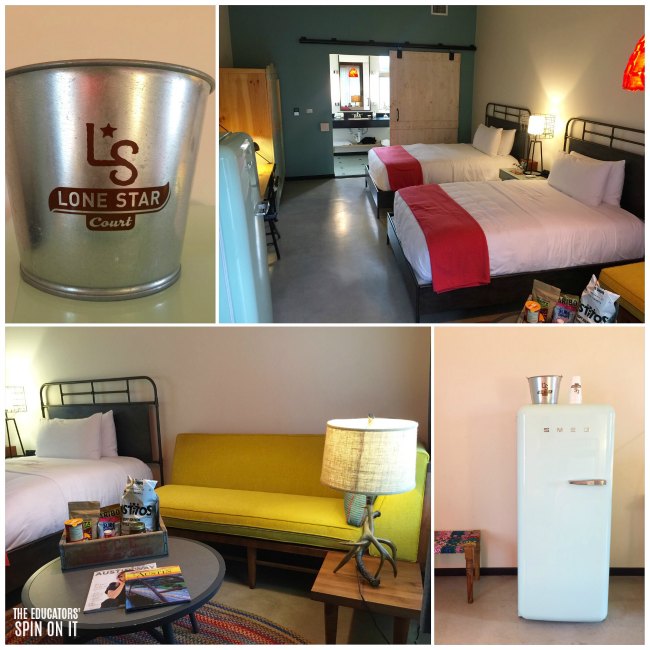 The kids loved the onsite greeter "Jack" who's the hotel's dog. Country chic with perfectly placed pieces for a retro pop makes it an unforgettable experience.
We were in for a bit treat, once inside our room, the hotel design had so many fun pops of retro design. With mason jar touches in the bathroom that has a wooden barn door to divide up the space. The sofa is a completely retro design inviting you to sit for a bit.
One of my favorites in the design was the retro turquoise SMEG refrigerator.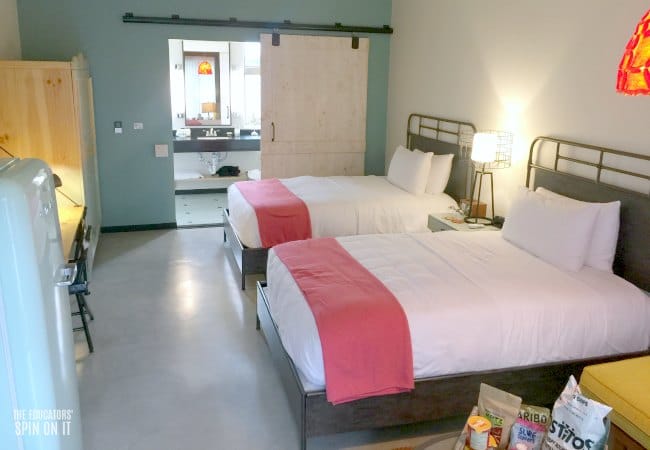 This hotel is perfect for out-of-town guests but honestly, I can imagine it's a pretty fun hotel for an Austin staycation as well for locals.
One of a Kind Hotel Courtyard in Austin
The courtyard area is what makes this hotel stand apart from any other place. There is a group area where local bands can perform or you could host a group get-together. Here's their calendar of upcoming bands.
At night the lights strung across the space making it quite magical.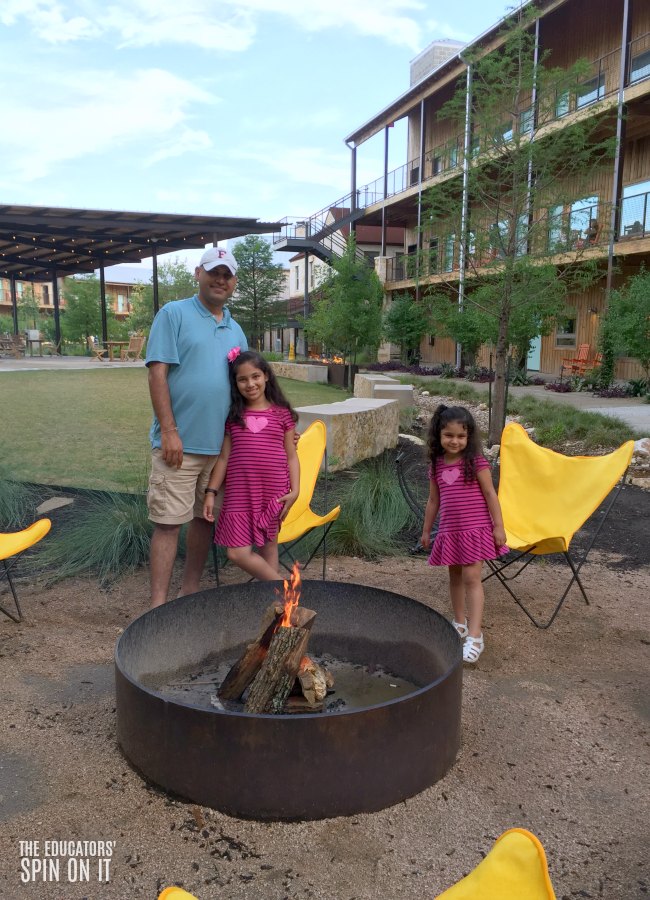 My husband and I enjoy a cocktail there from the hotel restaurant called the Water Trough while the kids were enjoying the nightly campfire. Bring stuff for smores or they even have a package deal you can book that includes them.
They also have a few fire features throughout the outdoor space at night that simply transforms the space for your experience every evening.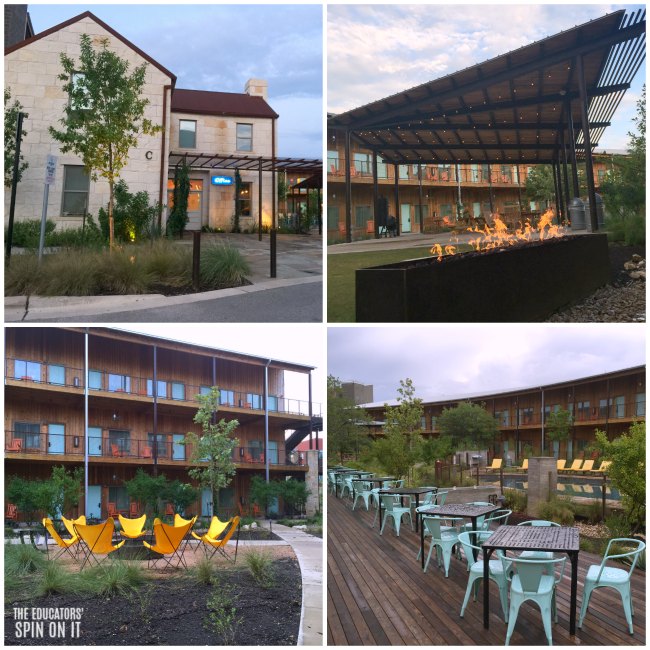 The swimming pool felt like it was designed to feel a bit like you're at a local swimming hotel hanging out with friends. My kids would have stayed there the entire trip if we would have let them.
There were a few water features nearby too that were nice to listen to at breakfast time.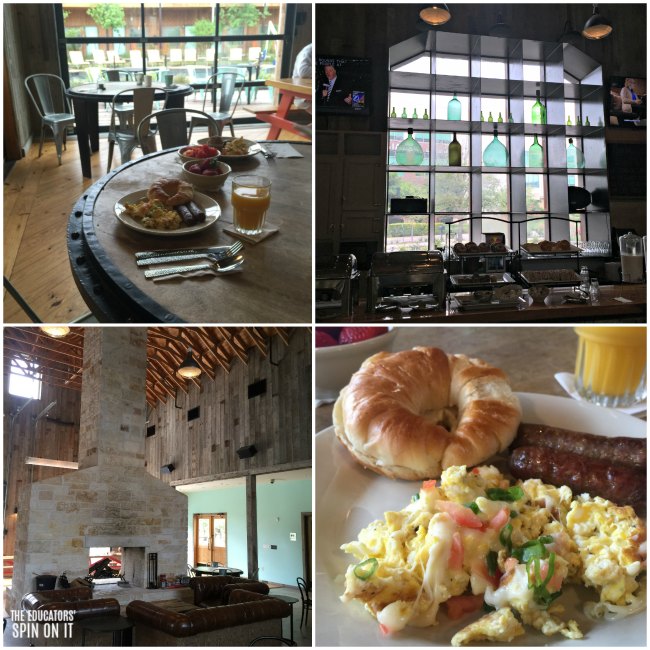 Homemade Breakfast at Lone Star Court Hotel
The Lone Star Court offers complimentary breakfast with your stay in the Water Trough Restaurant each morning. The fresh fruit stood out from the typical continental breakfast that hotels typically offer. The scrambled eggs with green onions and cheese, so yummy!
I loved that they had a few board games on the fireplace too to encourage the sit-back and relax atmosphere of the whole hotel.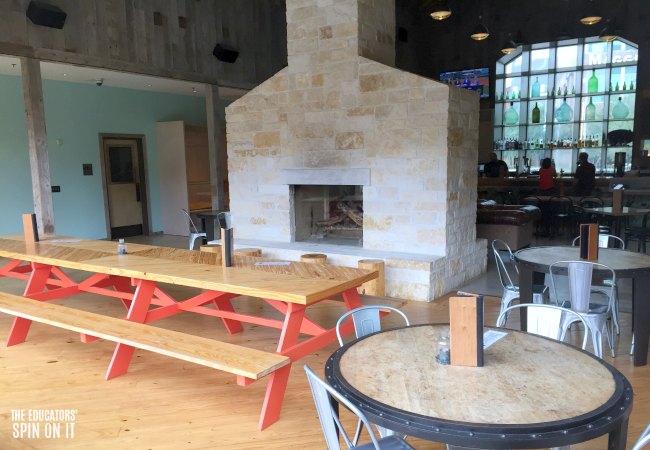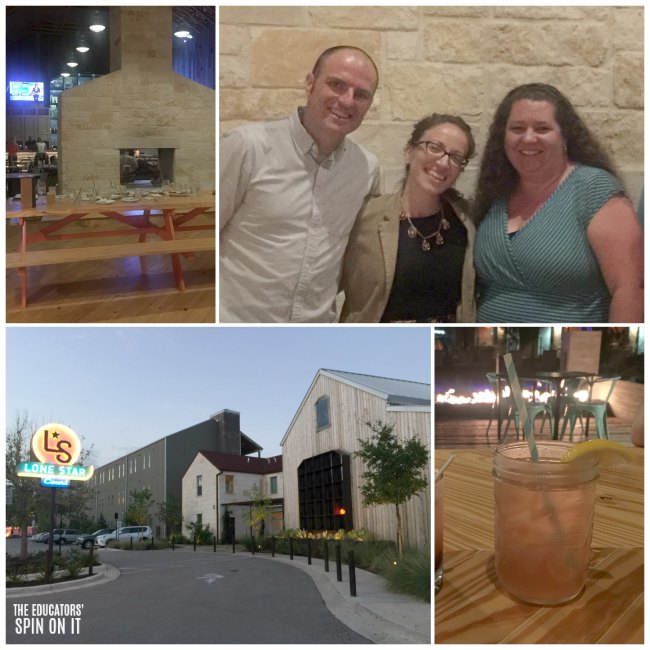 We had a very special opportunity to host an event for the Valencia Group Summer Book Drive campaign called Book Smart. They had a wonderful opportunity for both hotel guests and locals. Bring a book and get a drink from the bar at The Water Trough.
We hosted a group of bloggers on our last evening there and enjoyed the fun items featured on their menu. Many thanks to Volunteer Spot for sending Jessica and Arthur to join the event!
I can see this as a terrific spot for some of the shoppers at The Domain to stop in or from the Tech-Hub that surrounded the area too. Adding local bands playing, it seems like it's a buzz of the community for fun and food. One of the group's favorites on the menu was the handmade salsa chips and BBQ tacos!
Plus their happy hour drink choices were really fun. If you live in the area it would make a great happy hour spot near the Domain.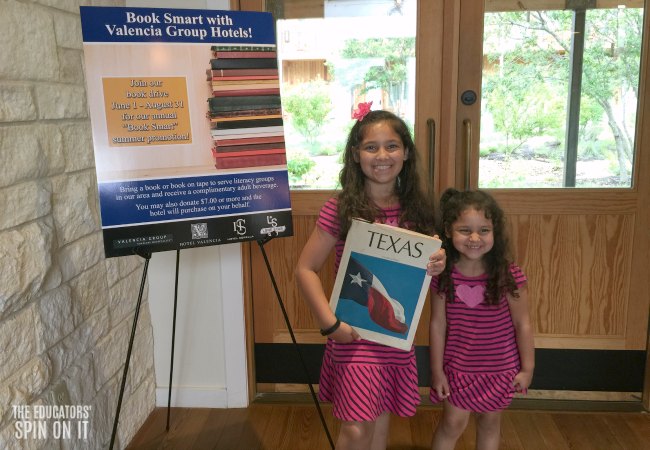 Lone Star Court's Book Drive
Lone Star Court's book drive benefits Recycled Reads. Recycled Reads is run primarily by volunteers with materials withdrawn from the Library's collection and community donations. They raise money for the Austin Public Library and are an active participant in the City's Zero Waste Initiative by ensuring obsolete materials are handled in an environmentally responsible way and kept out of landfills.
Recycled reads are proud to be celebrating its 5th year anniversary this year.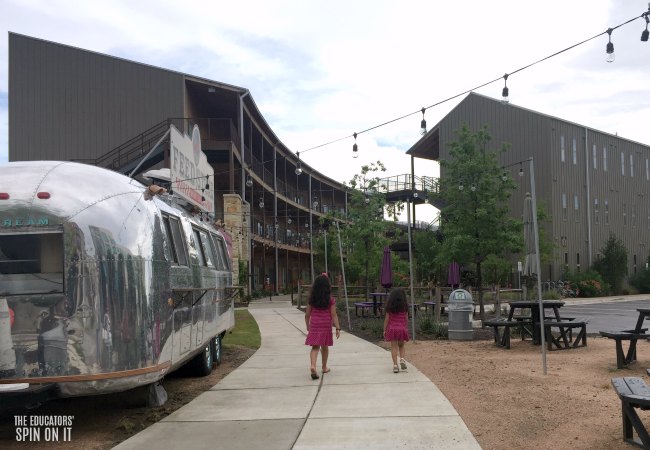 Vij Family Review of Lone Star Court Hotel
The kids were thrilled with just about everything that Lone Star Court had to offer. After driving from Florida to Texas the beds were absolutely amazing to sleep in with their deep mattresses.
When we returned back to the hotel one evening after exploring The Domain we discovered all of the lights on in the courtyard and fire blazing. It was a BIG hit!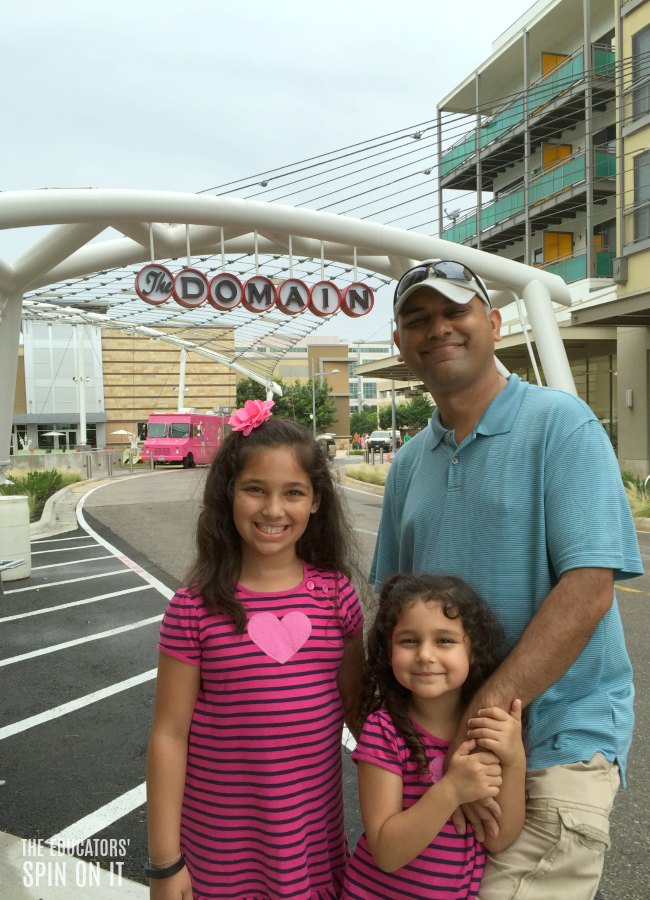 It's fun to think about how our parents may have experienced travel at motor courts back in the day with the pops of retro design in this. Ask for the third floor, it has the best view of the courtyard!
I personally would love to host a family reunion, wedding, or retreat for bloggers or teachers here, as the event space is just as fun too! As one may say who's a bit obsessed with Pinterest, it's a hotel with many pinnable moments!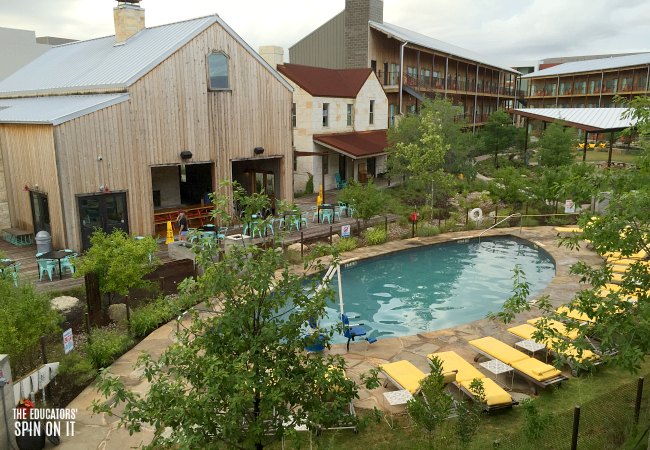 Be sure to Follow Lone Star Court onTwitter, Facebook, and Instagram for their latest bands and vacation packages!
Our Top Place to Stay in Austin, Texas
Many thanks to Lone Star Court for having my family as your guest! We can't wait to return when we visit my son in Austin on our next trip.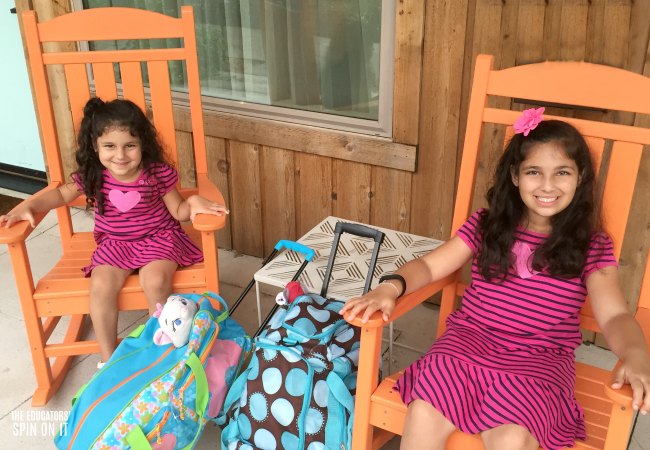 Click here for more Tips for Places to Travel…