More books have been written about Muhammad Ali than any other boxer.
The king of the ring.
The champ.
The Greatest.
The People's Champion
The Louisville Lip
With his recent passing, many families around the world are celebrating his legacy. Reading books with your child is a great way to learn more. Consider checking out or adding one of the Muhammad Ali Books for Kids to your bookshelf. Amazon affiliate links to books.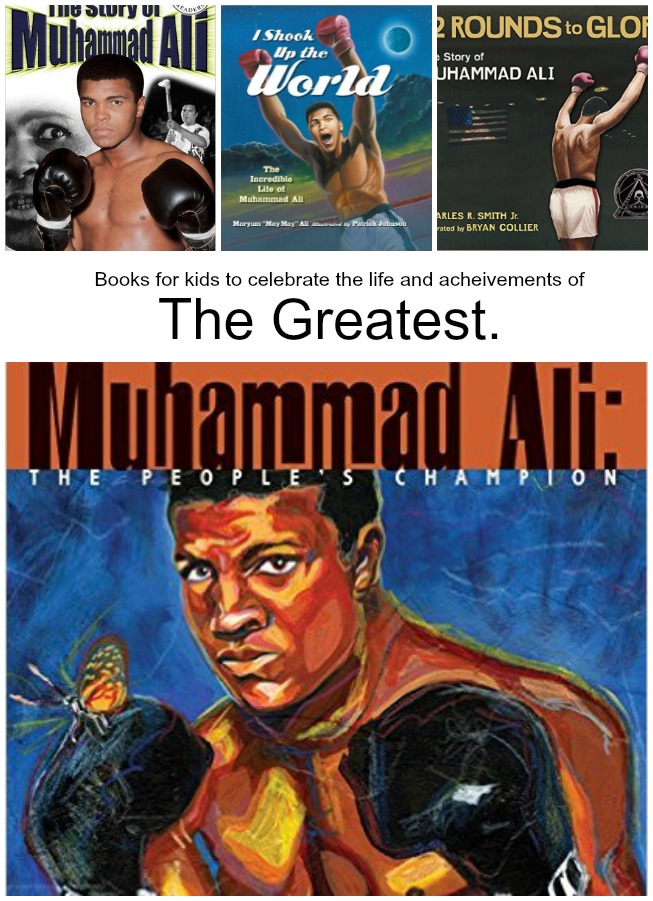 Did you know? Cassius Marcellus Clay, Jr. won the world heavyweight championship when he was 22 years old. After joining the Nation of Islam that same year, he changed his name to Muhammad Ali. He was well known for being inspiring and controversial in and off the ring.
Here are just a few of the books that celebrate his life and accomplishments in the ring:
Muhammad Ali Books for Kids
This picture book is simple for young children to follow. It tells the story of Muhammad Ali's life and recounts some of the most famous fights in picture book format. Read the 5 star reviews here.
Age Range: 4 – 8 years
Grade Level: Kindergarten – 3
Lexile Measure: 770L
This book is a tribute written by his oldest daughter, Maryam with an introduction by Muhammad Ali. Geared for younger readers, it covers
"how he started boxing,
earned an Olympic Gold Medal,
won the heavyweight championship,
worked for civil rights,
and made a principled stand against the Vietnam War."
Age Range: 6 – 10 years
Grade Level: 1 – 5
Follow the dramatic story of Muhammad Ali — both in and out of the ring." This book is packed with facts ideal for a proficient reader, or an adult read aloud. 48 pages.
"Although his athletic career ended more than 20 years ago, Muhammad Ali, three-time World Heavyweight Boxing champion, continues to be known and revered by young and old alike. From his modest beginnings in Louisville, Kentucky, to his selection as Athlete of the Century, Muhammad Ali is remembered for his incredible skill as a boxer, as well as his stance against the draft, his efforts for civil rights and justice, and his work against world poverty. Easily understood text and lots of colorful photos capture the talented young boxer, his commitment to Islam, and his battle with Parkinson's disease. A glossary is appended. A well-handled, accessible biography, in the Dorling Kindersley Readers series, for young readers." Karen Hutt
Age Range: 8 – 12 years
Grade Level: 3 – 7
Lexile Measure: 980L
Read more about the book here.
Discover "The Greatest" in this 112 page chapter book in the Who is (Who was) series. Read more about the book here.
Age Range: 8 – 12 years
Grade Level: 3 – 7
"This book is a beautiful poetic expression of the life of Muhammad Ali, his life as a legend, an eloquent speaker and his heart" – Autumn Blues Reviews Read more book reviews here.
A Coretta Scott King Honor Book
A National Council for the Social Studies Notable Trade Book for Young People
Age Range: 10 and up
Grade Level: 5 and up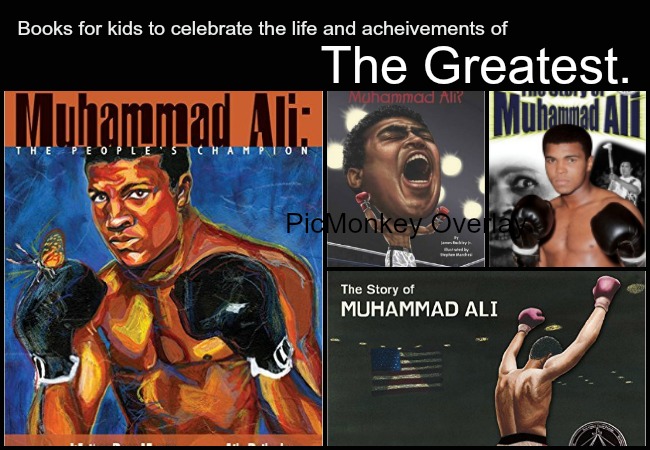 Save