The Museum of Northern Arizona is the perfect complement to a visit to the Grand Canyon or even for first time visitors to Arizona in general. It is a great place to learn more about the Colorado Plateau. It tells the story of each of the Colorado Plateau Indian tribes through word, picture and artifacts.
Disclosure: We received complimentary passes to the Museum of Northern Arizona in exchange for sharing about our experience. All opinions expressed are my own.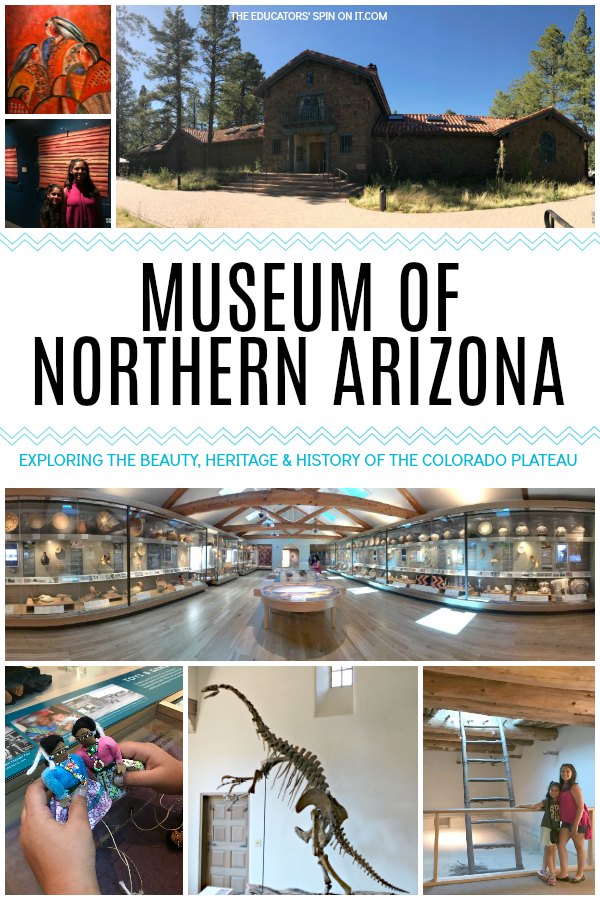 Our family learned quite a bit about the geology, animals, and native cultures found in Northern Arizona throughout history. In my opinion it's one stop you need to make before heading to the Grand Canyon with your kids. Here's why…
Click here to learn more about The Museum of Northern Arizona
This gorgeous museum has something for all ages. Kids will enjoy seeing the dinosaur bones and interactive displays which includes some fun hands-on exhibits with volcanic rocks and The Peoples of the Colorado Plateau Exhibit. Then there are several other sections that everyone will love with Native American art and artifacts, many of which are on rotation.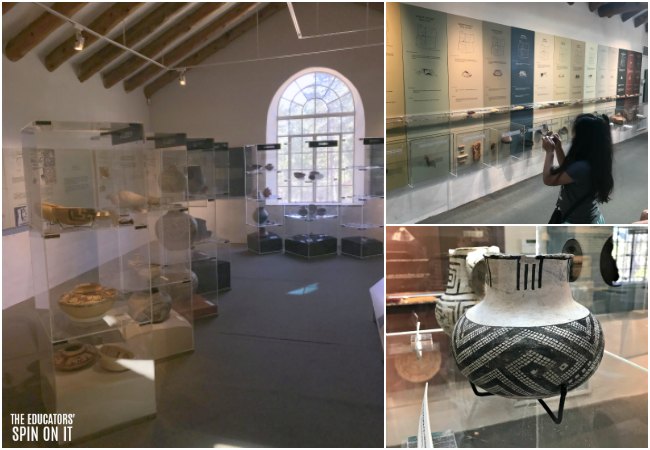 As you explore the museum building you'll discover that the rooms connecting in a circle, with displays from Geological and Archaeological to Native Peoples of the Colorado Plateau. It contains an impressively display of Ancient Pottery, Tapestries, Carvings, Ceramics, Jewelry and more. Plan to spend at least a couple hours if you want to see it all.

The Peoples of the Colorado Plateau
One of their most beloved exhibits is the brand new exhibit, "The Peoples of the Colorado Plateau". It tells of the various Native American tribes in their own words. The museum is definitely a must-see in Flagstaff. Below you can see a few of the hands-on displays that the kids enjoyed. Be sure to watch the video at the beginning of the exhibit welcoming you from various tribe members who helped to put this whole exhibit together with over 350 items from ten different native american tribes.
Have you check out our Arizona Activities for Kids?

Museum of Northern Arizona
The Museum of Northern Arizona is located in Flagstaff, Arizona at the base of the beautiful San Francisco Peaks, this 200 acre campus includes an exhibit building, research labs, and state of the art collections facilities for more than five million Native American artifacts, natural science specimens, and fine art pieces.
Founded in 1928, the Museum of Northern Arizona's mission is to inspire a sense of love and responsibility for the beauty and diversity of the Colorado Plateau through collecting, studying, interpreting, and preserving the region's natural and cultural heritage.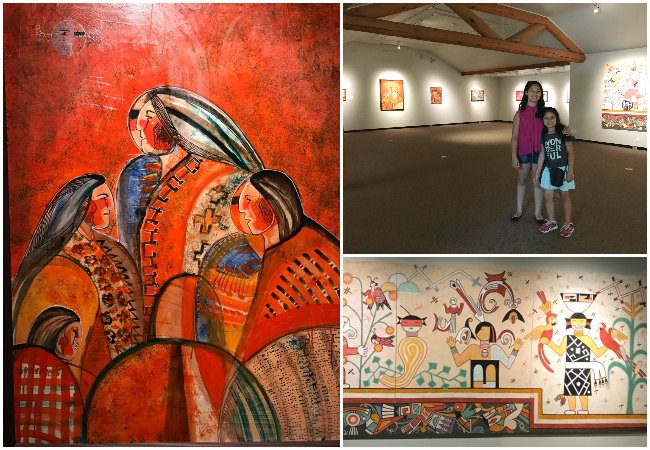 The two art pieces featured above were my favorite from the art exhibit at the Museum of Northern Arizona. The depth of color and warmth is something so unique to native american artwork.
Here's an example below of a Hopi Kiva that would have been traditionally created underground and used for a family's religious purposes.

Discover the Colorado Plateau
The Museum has evolved into a regional center of learning with collections, exhibits, educational programs, publications, and research projects that serve thousands of people each year. It plays a vital role as interpreter of the Colorado Plateau and the people that have lived here.
One thing that as a child growing up in Arizona I wish I would have learned more about is the Colorado Plateau, so glad there are places like this for me to bring my children to understand the people and uniqueness of the land. While touring the museum and exploring all the discoveries it only confirms how magical this region of the world is and how much we need to work on celebrating it and preserving it.
From dinosaur fossils, petrified wood and meteors and volcanic rocks this regions highlights so much of our earths geological history.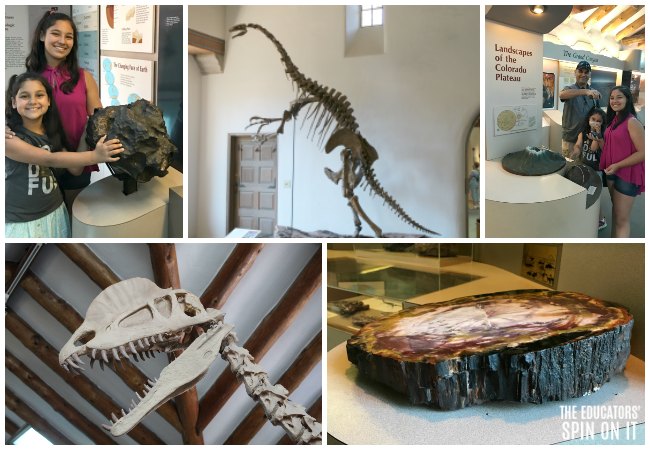 For a peek at the Colorado Plateau's beauty take a peek at this collection of photos on their website.
For you and I both to remember, the Colorado Plateau is a geographic province located in the Southwestern United States. It is known for the tablelands, volcanic peaks, and deeply etched plateaus that were created by the Colorado River and its tributaries. The Colorado Plateau consists of 130,000 square miles of Arizona, New Mexico, Colorado, and Utah. It's elevations range from about 1,200 feet (at Lake Mead) to 12,365 feet (Humphreys Peak, San Francisco Mountain).
It is home to one million people, including 10 Native American tribes and numerous rare species of animals and plants.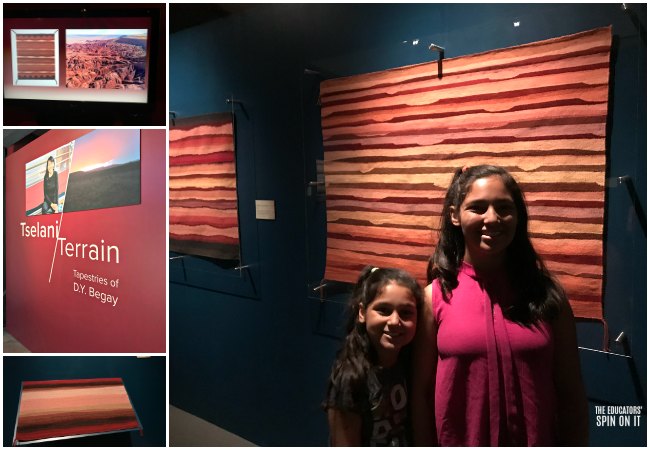 Their newest exhibition called Tapestries by D.Y Begay displays 23 colorful tapestries woven from 1994 to 2017. This is the largest showing of her work in one place. This internationally recognized artist draws inspiration for her contemporary textiles from the landscape surrounding her home on the Navajo Reservation. It was fun for the girls and I to read the names of her pieces and try to guess what her inspiration was.
Museum of North Arizona Programs for Kids and Families
There's so many things available for kids to enjoy at the Museum of Northern Arizona. Wish we lived closer to enjoy their discovery camps this summer or monthly story times with books featuring animals and people of the Colorado Plateau.
STEAM Saturdays
Discovery Camps
Tiny Tales
Thirsty Thursdays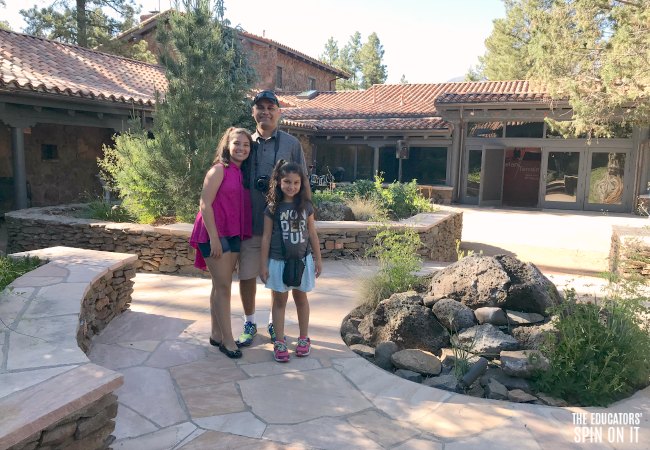 Heritage Festivals at the Museum of North Arizona
Here's peek at their courtyard that the museum surrounds where they hosts cultural events for locals and guests from all around the world. Thirsty Thursdays is a current event this summer inviting local bands and vendors in for family fun each week. Next to the museum there is an area where they set up large tents for a variety of festivals. In fact just recently they earned the Governors award for their Hopi Festival of Arts & Culture, recognized for 85 years celebrating & supporting Hopi culture.
Hopi Festival
Navajo Festival
Zuni Festival
Celebraciones de la Gente
The Museum works in collaboration with native peoples of the Southwest to protect and foster the cultures, traditions, and beliefs of the Colorado Plateau by encouraging artistic expression and supporting, empowering, and educating visitors about the region's art and cultures.
Click here to plan at visit to The Museum of Northern Arizona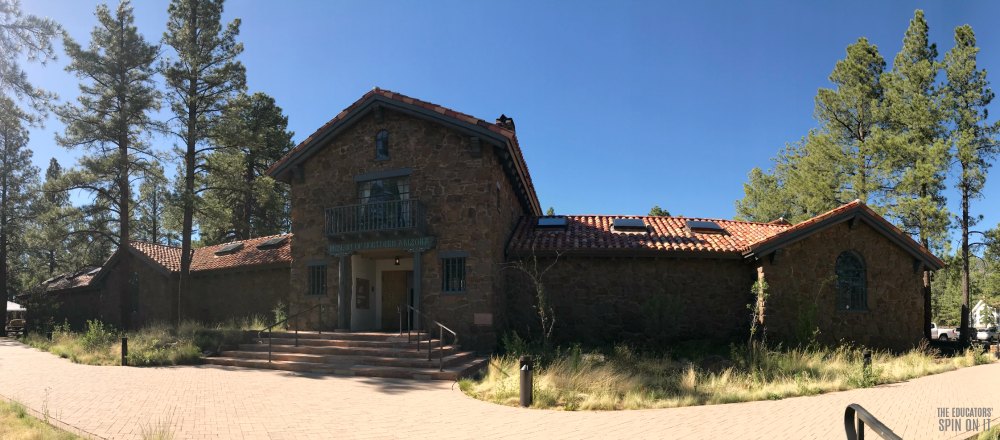 Books about the animals, people, and places of the Colorado Plateau
Here's a few books that I spotted on their display is the kids area of the museum that would be a start to learning about the Colorado Plateau with your child. I've linked them up to amazon for easy shopping.
Disclosure: they include my affiliate link which means I will earn a small commission from your purchase at no cost to you.

C is for Coyote: A Southwest Alphabet Book

The Adventures of Salt and Soap at Grand Canyon

Don't Call Me Pig! A Javelina Story

Desert Night Shift: A Pack Rat Story

Field Mouse Goes to War

The Navajo Year Walk Through Many Seasons

Big Horns Don't Honk

Dia de Los Muertos

There Was a Coyote Who Swallowed a Flea

Marisol McDonald Doesn't Match/Marisol McDonald no combina

Good Night Arizona (Good Night Our World)

G Is for Grand Canyon : An Arizona Alphabet (Alphabet Series)

Our Family's Review of the Museum of Northern Arizona
The Museum of Northern Arizona shares about the Colorado Plateau Indian tribes as you explore northern Arizona's geology, animals, and native cultures. It's one of the most amazing museums I've visited that highlights a variety of Native American Groups. This was exactly what I wanted for our kids to learn about since they are so different from what we focus on learning here in Florida History.
This museum is a true gem tucked away in Flagstaff and you can feel the sense of pride they have as they are so dedicated to preserving the history and cultures of Northern Arizona and the Colorado Plateau for generations to come. I hope you get a chance to visit on your trip to Arizona and the Grand Canyon!
Click now to learn more about Museum of Northern Arizona