We traveled to discover a special spot where the desert meets the ocean at the OdySea Aquarium in Scottsdale, Arizona. This one of a kind attraction features interactive exhibits and unique views of aquatic life to make lifelong impressions to love and appreciate water animals in rivers, lakes and oceans.
Disclosure: We received complimentary tickets in exchange to share our personal review of the OdySea Aquarium. All opinions expressed are my own.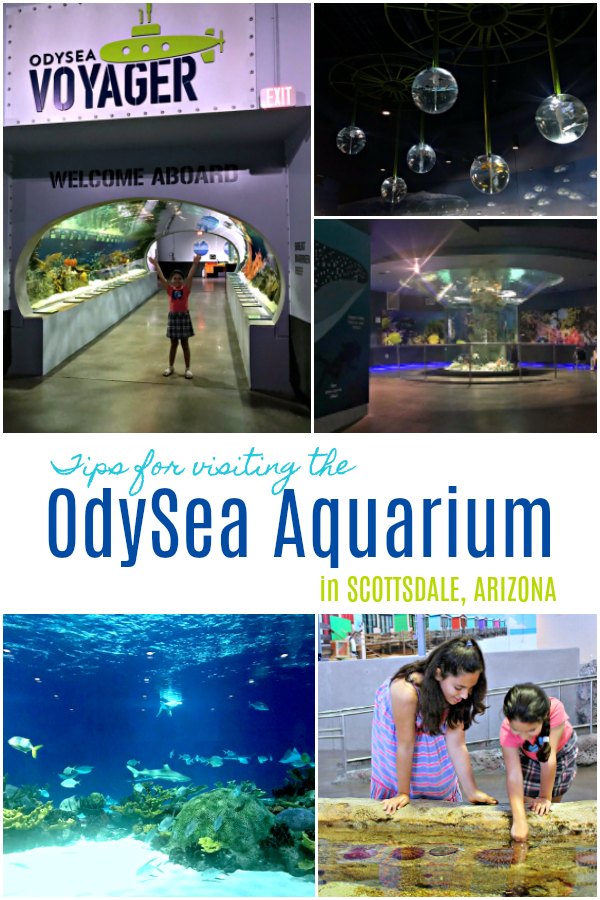 OdySea Aquarium
As you enter the aquarium you're immediately surprised by your adventure… LOOK UP! You'll discover nine massive globe-shaped aquariums, sparkling overhead filled with colorful schools of fish. An engineering marvel, I still can't figure out how they take care of these amazing tanks.
One of the welcoming staff insisted we head to the restrooms first, which this momma was thankful for the reminder, however we were quite surprised to discover we were not alone in the restroom, the sink area features a window instead of mirrors which highlights a view of the Deep Ocean, including sharks and stingrays.
This one of kind bathroom view earned them the claim to fame of Voted the Best Restroom in America, seriously!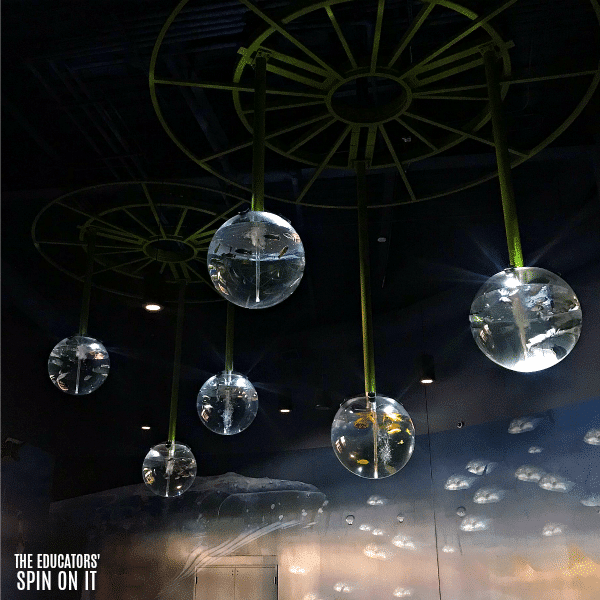 Here's some fun facts about the OdySea Aquarium
6,000 Animals Call OdySea Home
300 Species to Meet
65 Exhibits to See
200,000 Square Feet to Explore on Multi-levels
From sea turtles, sharks and penguins to octopus, sea lions, otters, and more, we were surrounded by some of the most fascinating aquatic life from around the world.
Our biggest surprise while visiting was the giant submerged escalator which allows guests to descend deep into the ocean while surrounded by thousands of sea creatures including sharks, stingrays and sea turtles.
Tickets INFO for OdySea Aquarium
Gallery Areas to Visit at the OdySea Aquarium
OdySea Voyager
Aqua Lobby
Rivers of the World
Otter Banks
SeaTrek
Touch Pools
Penguin Point
Kid's Cove
Deep Ocean
Bizarre & Beautiful
OdySea Aquarium Theater
Reef Jewels
Ocean Art
There are Daily events at OdySea Aquarium which include feedings, caretaker interactions with the animals, and Q&A sessions with aquarists. You can take a break for a snack or beverage, by visiting the Lighthouse Cafe through an actual lighthouse.
The Kid's Cove is located near the Lighthouse cafe for even more fun for the kids for a little playtime!
Rivers of the World
I was highly impressed by the scale of the The Rivers of the World gallery featuring 19 diverse freshwater fish exhibits in over 100,000 gallons of freshwater. Helping your child explore, locate and learn about the world's rivers through an interactive map. Freshwater turtles and crocodiles will greet you as you watch them dive, swim, and bask in the warmth.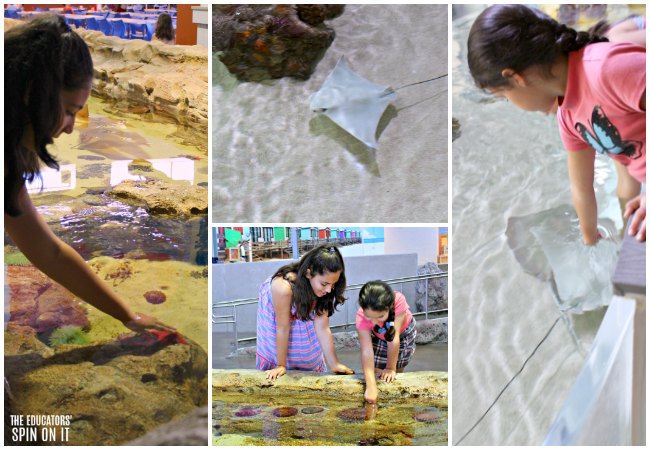 Touch Pools
Roll up your sleeves and head over to their four touch exhibits: Russian Sturgeon, Stingray Shores, Stingray Bay, and Tidal Touch. With these exhibits you'll get to see species like sturgeon, sea stars, pelagic rays, benthic rays, and anemone up close.
There are over 25 rays from four different species waiting to interact with your family.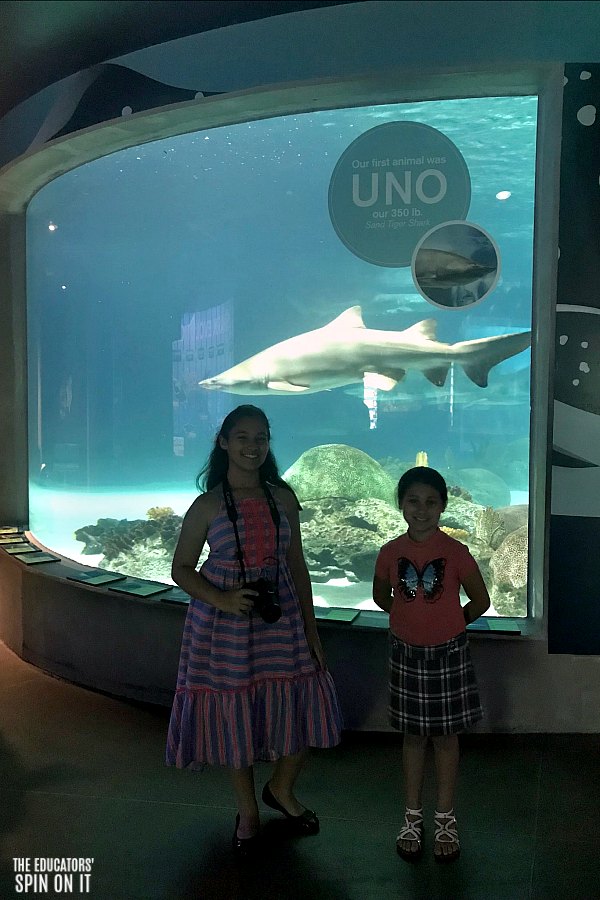 Deep Ocean
As we headed toward the sign to move downstairs we expected just a simple escalator but were to in complete awe as we stepped into a fully enclosed Deep Ocean Escalator and which transported us through the Sharks of the Deep Aquarium. The first of its kind, this fully enclosed escalator draws you deeper and deeper into an underwater world where you're completely surrounded by thousands of mysterious ocean creatures.
On your ride, you'll observe the giant rays flying overhead and white tip reef sharks. There were numerous rescued sea turtles, 8 shark species, and 3 different large schooling fish! We truly felt like we were under the ocean in a remote destination observing the sea life.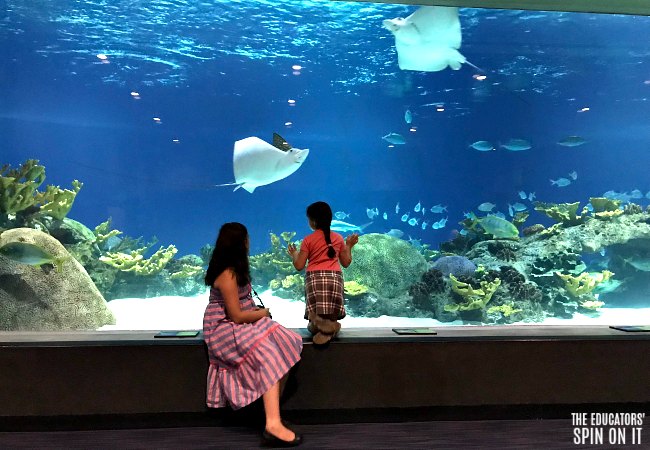 The OdySea Aquarium Theater
We looked at the schedule and discovered there was a 15-minute 3-D film which offers a close-up look at the lives and behaviors of Humpback Whales, Manta Rays, and Whale Sharks. The movie highlights a journey to meet this three Underwater Giants.
The fun surprise is at the end of each screening. The curtains behind the screen open up feature a wall of this beautiful Deep Sea Aquarium that we just enjoyed as we rode the escalator down through it.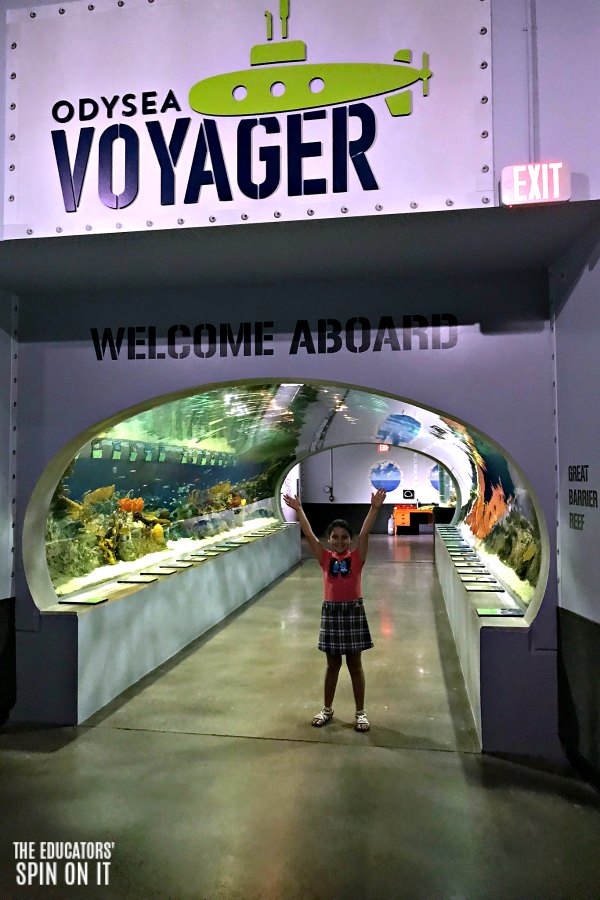 OdySea Voyager Ride
As the movie finishes the staff member encourages you to head to ride the OdySea Voyager, I had no idea the journey we were able to embark on. The journey begins at the Great Barrier Reef where guest enter the OdySea Voyager Research Station. Guest then step aboard The Voyager and embark on a journey through the sea. Guests take their seats in a stadium-seating style theatre with 46 ft. viewing windows for the "world's only revolving aquarium experience."
As the journey begins, you are then "submerged" into a "submarine" and taken through a narrated twenty-minute storytelling adventure where guests to OdySea Aquarium are invited to join the crew of the OdySea Voyager as they launch one of their five submarines to observe ocean life and search for answers in the deep blue! Along the journey they will encounter sea life varying from Sea Turtles and Broad Rays to giant Lemon Sharks and Sea Lions! It reminds you of a ride at Disney World's Carousal of Progress and former 20,000 Leagues under the Sea rides which were the inspiration for this exhibit.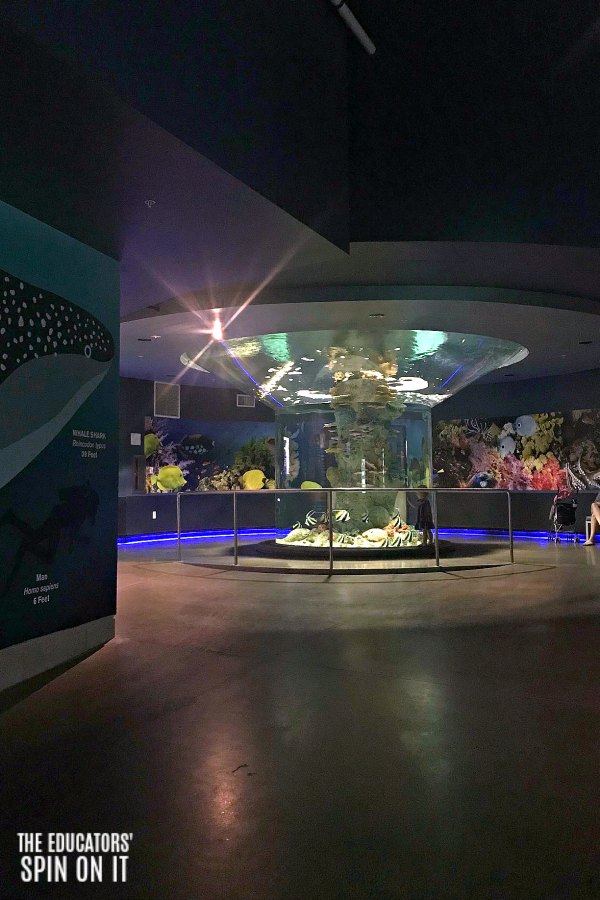 Click to plan your visit to the OdySea Aquarium
OdySea Aquarium Curriculum
To prepare for your trip to the Aquarium I encourage you to take a look at the Aquarium Curriculum for Parents and Educators. They have field trips available as well for schools and homeschoolers.
Ocean Themed Activities for Kids
After a visit to the OdySea Aquarium you can choose from a few of our favorite ocean themed activities to do with your child to continue the learning and fun at home. So many fun ways to connect and learn more about our aquatic animals and what we can do to protect them for our future.
OdySea Aquarium Review
My two girls and I had such a great day together at the aquarium learning about aquatic life from around the world. A treasure of this large scale is quite a special treat, especially hidden in the desert in Arizona. My family is so lucky living in Florida to be surrounded by lakes, rivers and ocean life but we still need a reminder of how precious this life is. The OdySea Aquarium is an unforgettable experience for families as we discover all the hidden life and beauty in the waters of our world.
Which aquatic animal would your child want to see the most at the Aquarium? SHARE!
Click to Learn more about the OdySea Aquarium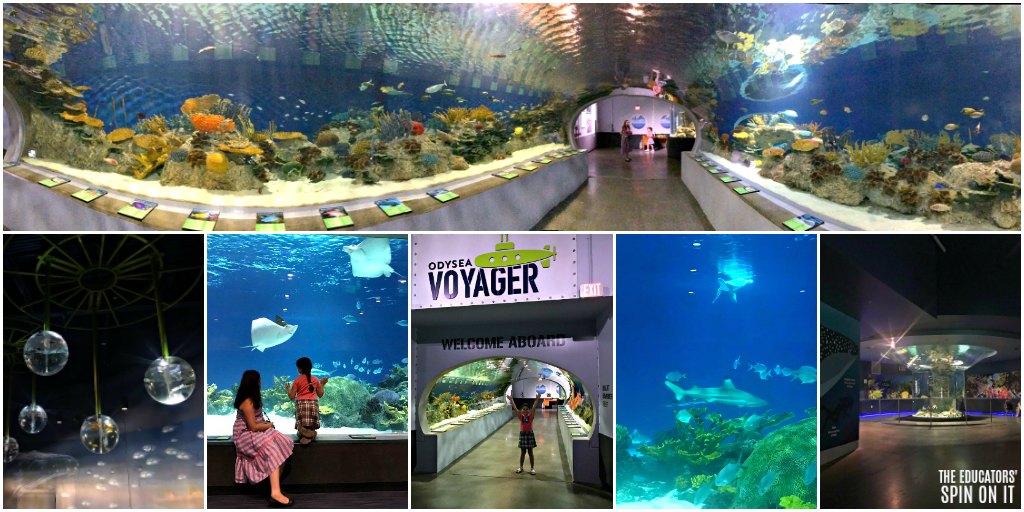 Click here for more fun ideas for traveling with kids!