This school year kick off the fun with spelling words and sight words with a little twist. Create these adorable pencil themed clothespins for back to school literacy games for your beginning reader.
They are so easy even the kids can paint them!
Here's how to make and play!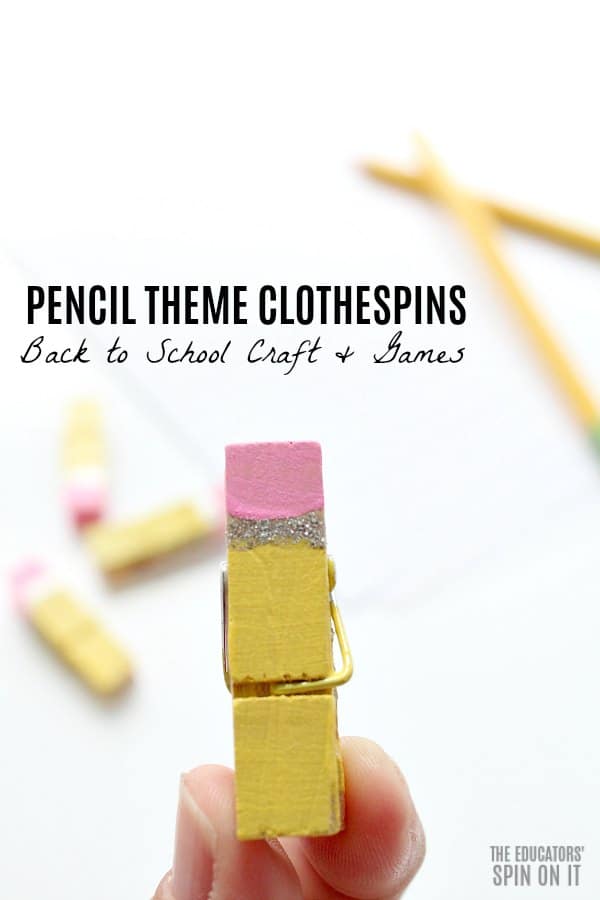 Pencil Themed Clothespins
This time of year is always a fun time to spark your child's love of learning and school. Playing games inspired by back to school supplies help you kick off the school year with a focus on taking good care of all those products you just spent your money on.
Here's how you can make simple but fun pencil themed clothespins with your child. You can even make them personalized pencils for a special school work art display to highlight their special work this year.
One way to prep your child for reading success is to start off the year by working on the Dolch Sight Word List.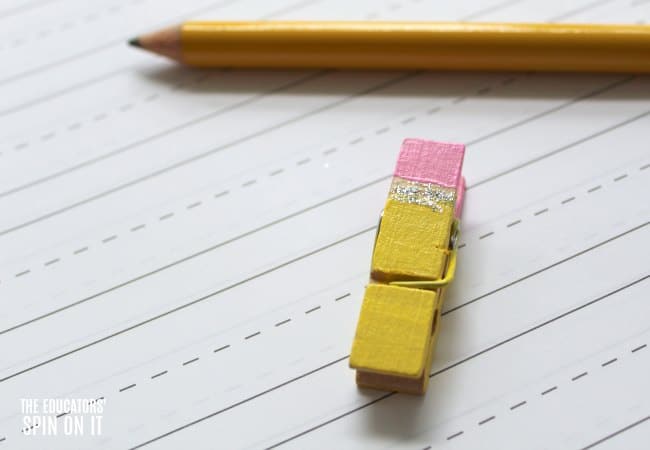 Disclosure: Affiliate links used to Amazon.
Materials Needed for Pencil Themed Clothespins and Literacy Game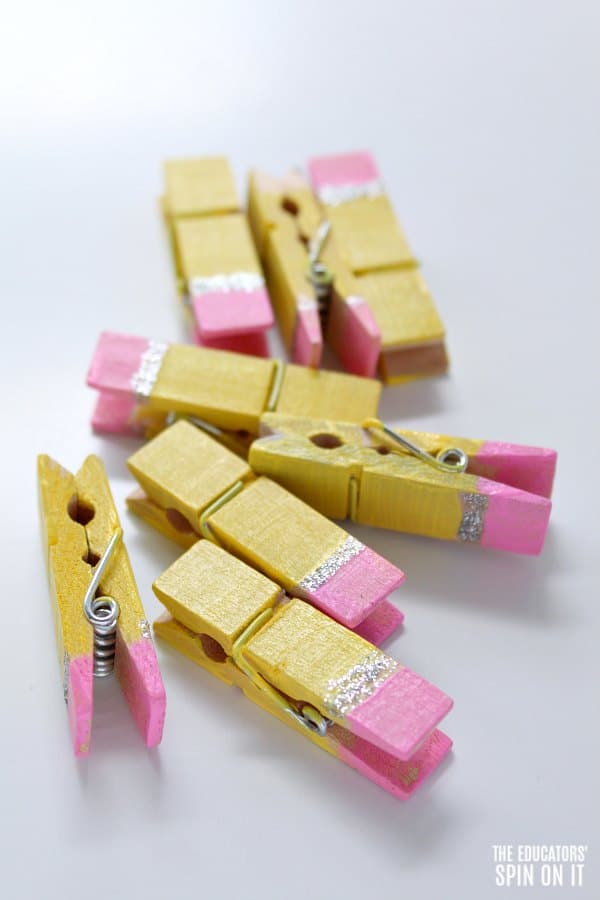 Instructions for Pencil Themed Clothespins
1. Use the yellow paint to create the pencil by painting on both sides of the chunky clothespin covering 3/4 of the wood. Be sure to also paint the sides too. Get your kids involved in this craft, it's really easy and a fun memory to do together.
2. Then using the pink paint, it's time to add the pencil eraser to the end of the pencil. I made the end where you pinch the eraser portion so I could also paint the inside portion too. Be sure to paint the edges on this task too pink.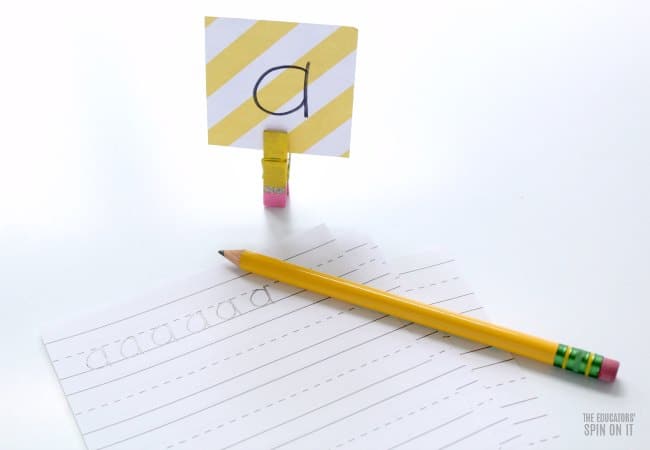 3. The last step is to use your silver paint to create the metal portion of your pencil. The Shimmering Silver Acrylic Paint adds a special sparkle to the whole pencil craft which I highly recommend. You can use it later in the year to create holiday crafts too, instead of using glitter.
4. OPTIONAL: You can paint a little black potion of the end for a pencil point, we left it off to make them easier to make. Plus, if you really want your pencil painting to last you could also add an Acrylic Paint Sealer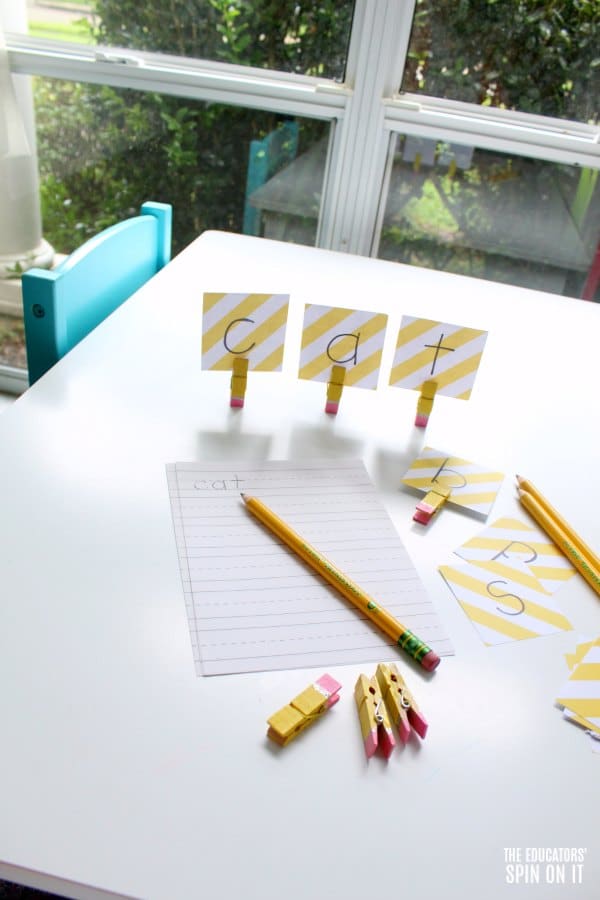 Pencil Themed Sight Word Game
This can be a fun hands-on way to work on those high-frequency words for Kindergarten & First Grade! To create the pencil themed literacy game for sight words take your Scrapbook Paper and cut out with Scissors 24 squares. They can be the size of around 2 inches by 2 inches for easy handling, you go make them smaller if you'd prefer. Add a few more if you're planning to do spelling words for those double letters in words like the word "that."
Write one letter per square with your Permanent Marker Black. You can do it with your child watching you write the letters and discuss letter formations for younger kids OR I would have my child do it and have an alphabet chart on the table close by so that they can work on proper letter formations with you watching their handwriting skills.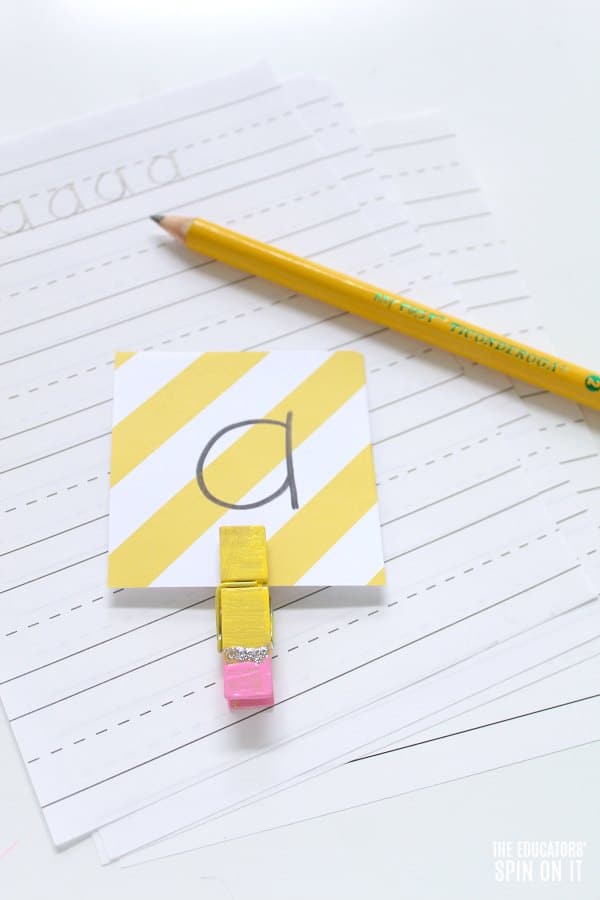 Once you write all of the letters, it's time to play! You can start off with letter writing practice by choosing a letter card and putting it onto the Pencil Clothespin as a stand.
Next, you can move to practice forming word families like choosing the word family -at and then selecting a few letter cards that would go with it like s, c, m, p, f, r. Then challenge your child to see if they can read those words.
This activity would be ideal for spelling word practice too! Have your child gather the letter cards and place them onto the Pencil Clothespins and then write them out on their Primary Handwriting Paper for spelling word practice in a hands-on way.
You can have them practice writing down each word that they made with the pencil themed sight word game!
Literacy Game with Pencil Clothespins
Work on Spelling Word Lists
Word Families
Alphabetical Order
Matching Upper Case to Lower Case Letters
Did you know that sight words make up around 75% of the words used in beginning children's print materials? Sight words can give your child a better start in learning to read.
If your child is able to quickly recognize sight words then as a beginning reader they will be able to spend more time concentrating on the meaning and comprehension of the words as they read them instead of having to decode every single word.
Learning Materials for Back to School Writing
Learn now Why You Should be Using Beginner Pencils for Handwriting Practice with young children.
Can't wait to hear how your child's pencil themed clothespins turn out and how they use them at your house. They would be a cute little teacher gift idea for their teacher too. You could even attach magnets to the back to create pencil themed magnets for their classroom.
You may also enjoy these activities with your child…
More Sight Word Games for Kids
** LIKE IT? PIN IT! **