Beginner pencils can make a big difference in your child's success in handwriting. Here are some playful tips for improving their proper pencil grip.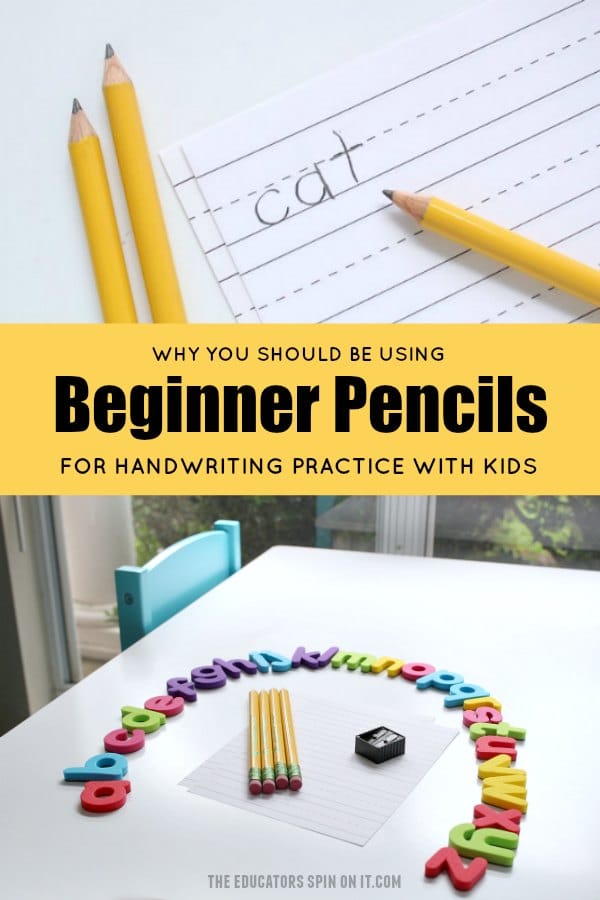 This is a sponsored post written by me on behalf of Ticonderoga. All opinions are 100% mine. Affiliate links included in this post.
Teaching young children to learn to write is one of my most favorite things to do. Giving a child the right writing tools to be successful is an important step. A large size round No. 2 pencil is easy for small hands to hold making them ideal for children in the early stages of their writing development.
Have you bought your Ticonderoga pencils yet for your beginner writer this school year?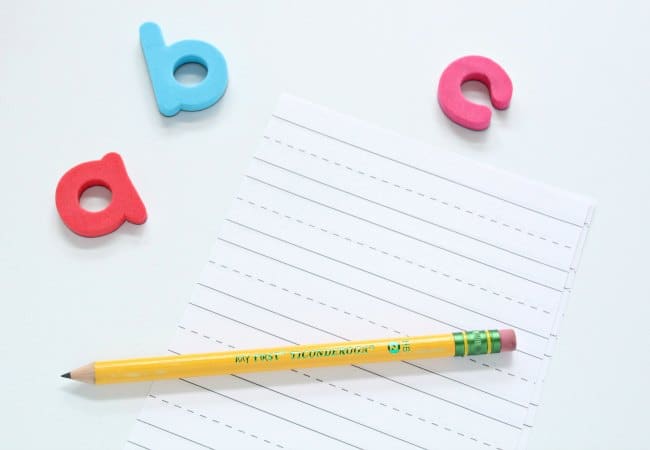 Using a Beginner Pencil for Handwriting
In my Kindergarten classroom, I prefer to teach how to properly write using large diameter pencils. This back to school season we're kicking off our writing with a very special pencil from Ticonderoga Pencils, just for beginning writers ages 7 or younger.
The larger pencil is so much easier for little hands to hold as they develop their fine motor skills and story writing skills. Plus it helps with learning to form the proper way to hold a pencil which can make a huge impact on handwriting in the future.
With oversized beginner pencils the thicker core of graphite helps to prevent the frustrations from the graphite breaking, and they stay sharper longer as your child practices writing with a pencil. It gives them time to be creative and write down their thoughts.
If they make a mistake the erasers remove marks easily without smudging. You'd be amazed how distractive little tasks like erasing can be to beginning writers.
Handwriting Skills for Preschoolers and Kindergartners
Handwriting skills start off at an early age as fine motor skills that you learn through hands-on play. If you have a preschooler at home I'd recommend starting off this school year by heading to your favorite store for school supplies and look for the My First Ticonderoga Pencil. These larger pencils come pre-sharpened plus they come with a bonus sharpener too.
If you've never seen them before, you need to know that they are much thicker than regular pencils which helps with easily being able to grip. The pencil's graphite is big enough to withstand even the hardest writers for smooth writing. These pencils are great for beginning writers who would like a substantial size that is easier to hold on to as they work on proper pencil grip.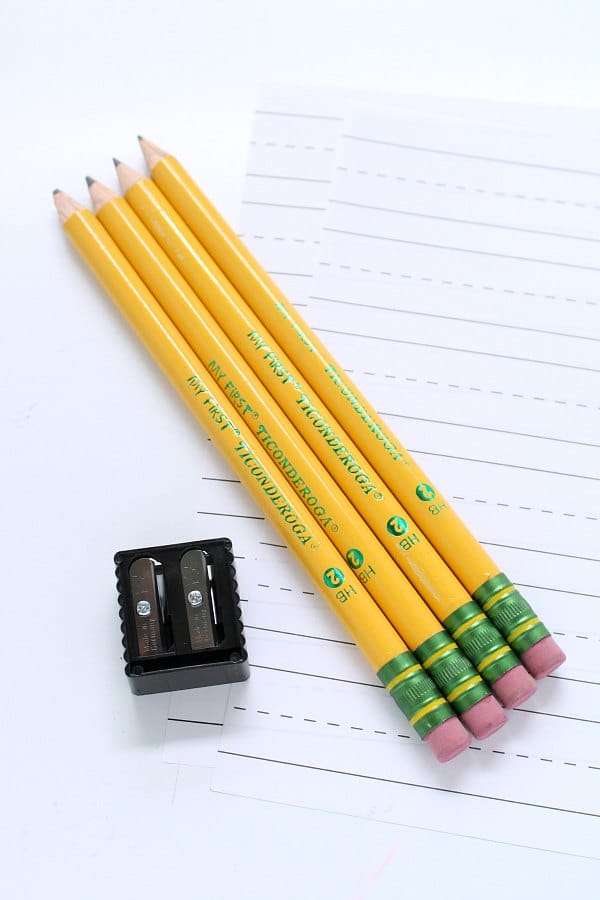 How to Development Proper Pencil Grip
You might be wondering how do I teach my child how to hold a pencil?
You start by developing the skills that are required, which requires a lot of hands on play and exploration. Playground time can make a huge impact in your child's handwriting as they grow up, so go PLAY! Below I've listed some of the things your child will develop for their handwriting skills and proper pencil grip.
Very young children even start by tummy time to build their postural strength through so they can sit up at a desk eventually.
Develop shoulder and upper arm strength and stability so they can hold their arm steady whilst they write by playing push and pull games and hanging from the monkey bars.
When writing you'll need to stabilize their wrists so activities like painting on an easel or using a rolling pin. Even holding onto swings is important in developing these skills.
One key element to proper pencil grip is the arch of the palm. Invite your child to play with the trigger of spray bottles, tongs, or hole punches to develop hand grip strength.
To help develop a child's pincer grip you can encourage them by threading small beads, using pegs, or pinching playdough.
Continue doing these activities while your child is developing their proper pencil grip.
To set your child up for success it's important to remember that very young children will not be strong enough to hold small pencils. They are working on the ability to control and stabilize their shoulders/wrists. Because of this kids tend to use chunkier writing tools, like My First Ticonderoga Pencils, and write using whole arm movements. As their strength and control develops, the movement of writing will move from the whole arm, to the wrist, and finally to the fingertips.
The goal is around ages 4-6 years old your child will develop a static tripod grip on their pencil.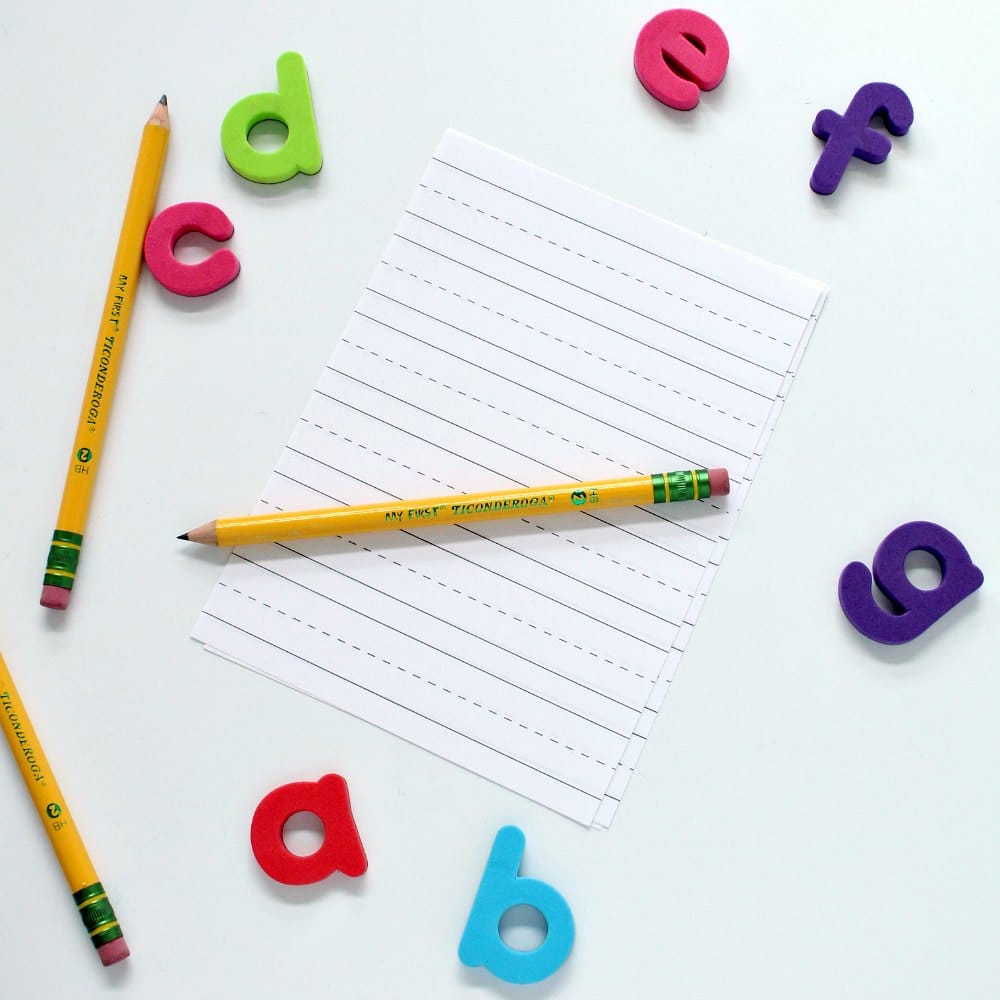 This is the ideal grip to help move the pencil efficiently, accurately, and at a good speed. Once your child masters these skills they are ready to start practicing and perfecting their letter formations!
Here are some additional tips to improve handwriting for your child.
Pencil Themed Handwriting Activity for Kids
For a playful idea for a handwriting activity you can create fun letter cards together that are inspired by pencils. The pencil clothespins help to develop hand drip strength and focus on letter recognition too. We used some chubby clothespins from a local craft store and some leftover paint to create these pencil clothespins.
Grab some paper and your beginner pencil for writing fun with your child. Or you can use these pencil themed clips to display your child's handwriting work for the school year!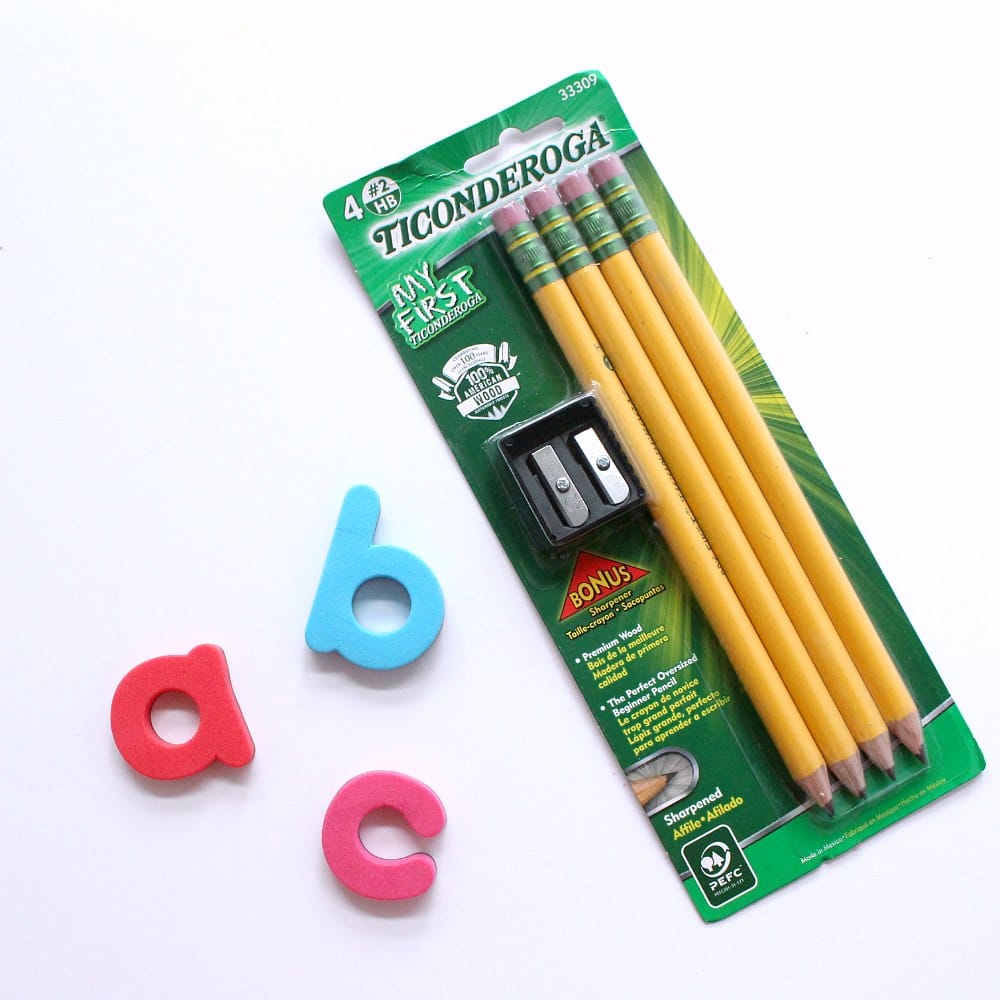 Head to the store this back to school season and look for the Ticonderoga large diameter pencils (also called primary or beginner size pencils) for young children (7 and under), or differently-abled individuals and start working on your writing skills.
They've spent 100 years of helping families tell their story. Ticonderoga focuses on being #1 in quality just for you!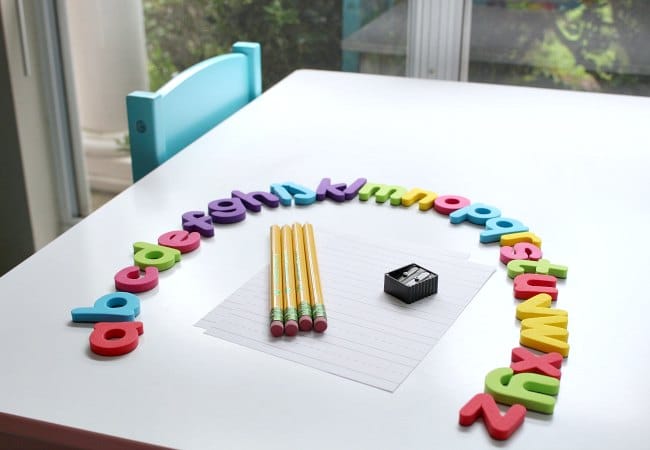 Looking for more ideas for handwriting and fine motor skills with kids? Try these…