Get into that creative mindset with your child as they head back to school with these 20 Back to School STEM activities for kids. Explore hands on fun with science, technology, engineering, and math to start off a new school year.
STEM fun for the first day of school!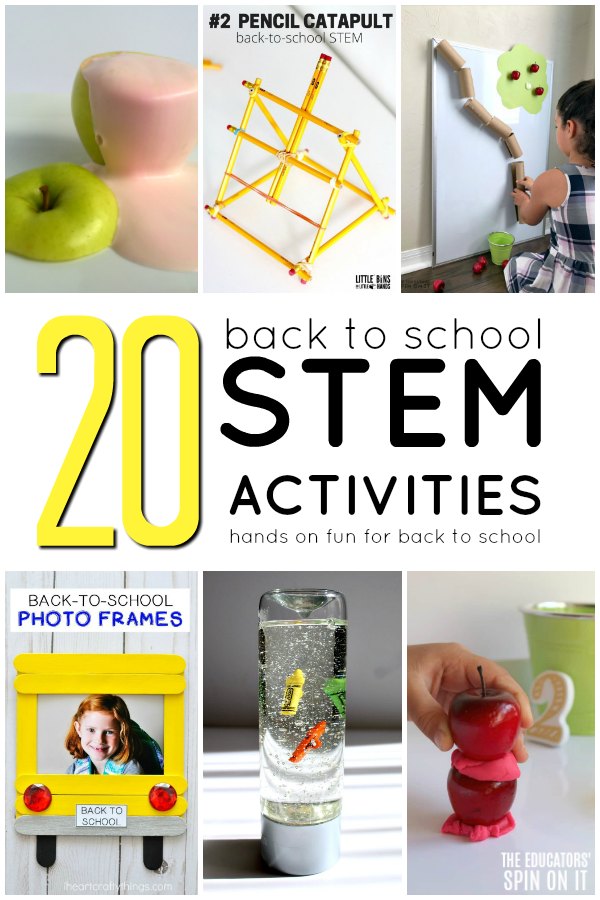 Back to School STEM Activities
Back to School STEM Activities
These Back to School STEM Activities are themed with school supplies like pencils, crayons and more traditional themes like buses and apples for a warm welcome into the school year.
As you kick off the school year start off by building your own DIY Dollar Store STEM kit. Here are some tips for storing STEM activities in a DIY STEM lab.
Plus for back to school fill your bookshelf with these popular STEM books for kids! We'd want to encourage you to make time for STEM activities the rest of the school year with our 50 Stem Activities for Kids!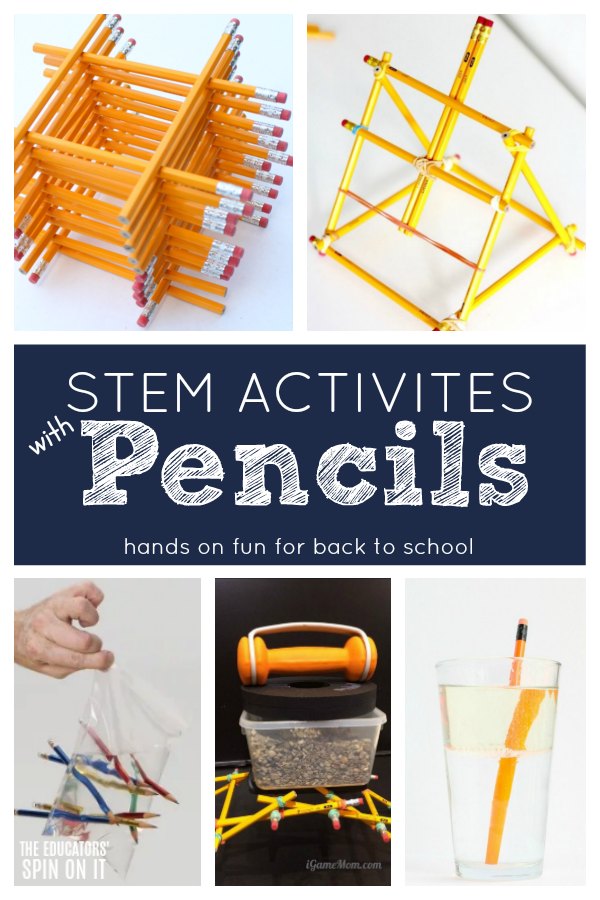 STEM Activities with Pencils
Pencils are a classic icon for Back to School so we put together a collection of five STEM Activities with Pencils to do with your child.
Can you build a tower with pencils? How tall can your pencil tower go?
Create a pencil catapult! With just a few supplies you'll be launching tons of back to school fun.
Get ready to build a bridge with pencils! Try your hands at a pencil Da Vinci Bridge.
The magic breaking pencil activity is a fun way to demonstrate how light waves work with kids
Explore the chemistry of polymers by making your very own leakproof bag experiment. Who would have ever thought that a plastic bag, some water, and a few pencils would be so much fun?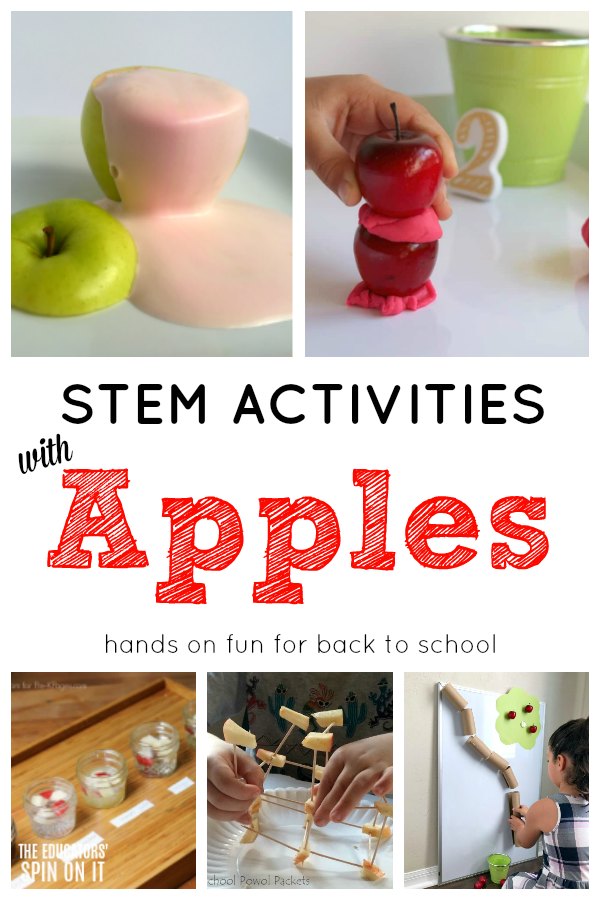 STEM Activities with Apples
Apples are the classic first day of school item, so why not have a little STEM fun with apples? Here are five quick and easy STEM Activities with Apples.
Can you pick your apples from the apple tree with the help of a few magnetic tubes? Take this Back to school STEM challenge with our apple STEM activity.
How high can you stack your apples? Try out this apple stacking STEM Game!
Make back to school snack time a STEM challenge too with this fun and easy apple toothpick STEM challenge
Pull out the containers for this easy apple science experiment and discover how different liquids affect apples.
Create an explosive apple volcano with just a few supplies in your cabinet.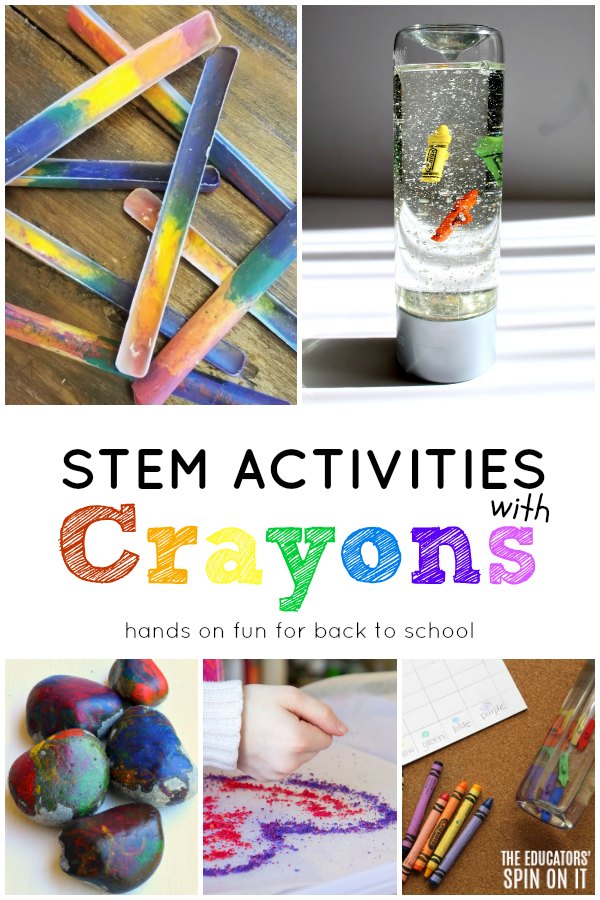 STEM Activities with Crayons
A fresh new box of crayons is a sign of a new school year. It also means there might be a few broken crayons looking to become a STEM activity for back to school. These five STEM activities with crayons explore all sorts of ways that properties of matter can change.
How many crayons can you count? This sensory bottle math game with crayons is tons of hands on fun!
Will it sink or float? Try this crayon sensory bottle science experiment!
Explore how crayons can change with heat with this beautiful melted crayon stain glass art project.
Back to school time, you tend to clean out the boxes and find old broken crayons, this hot rock melted crayon art is perfect for those crayons to find new life and explore how properties can change with heat.
Can you make a rainbow crayon? Discover the melting point of crayons, does the color matter?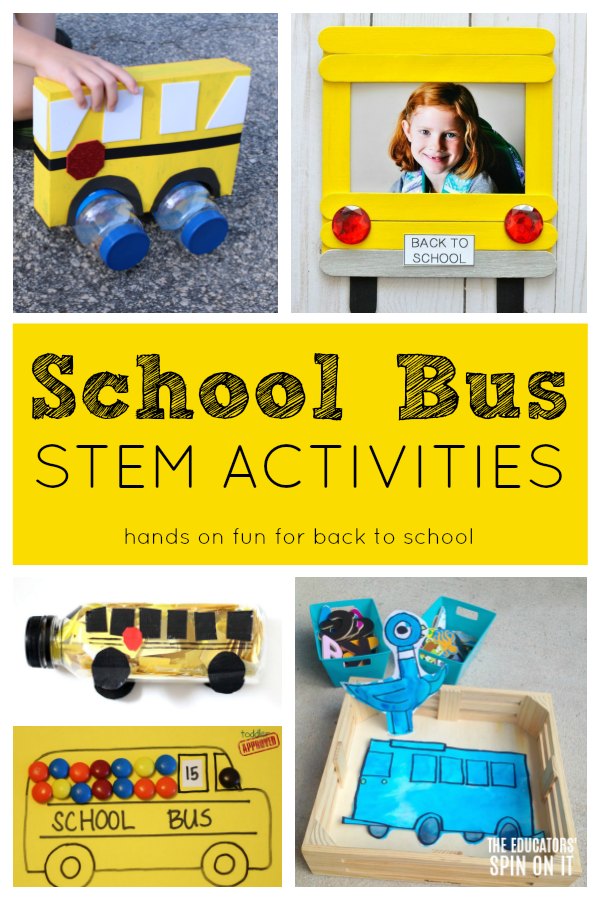 Bus Themed STEM Activities
For little ones, the school bus is one of the things they are super excited about, even if they walk to school. Take advantage of this interest and see how much fun they'll have with these five bus themed STEM Activities.
Can you make the wheels on the bus move? This Wheels on the Bus STEM Activity is perfect as we head back to school!
Work on numbers as you head back to school with this delicious school bus math game.
Build your own school bus photo frame with popsicle sticks for a back to school keepsake.
Create your own school bus with watercolors to work on math facts for the school year!
Sometimes it's all about simplicity and the challenge of building your own version of a bus with a fun challenge inside like this. school bus sensory bottle.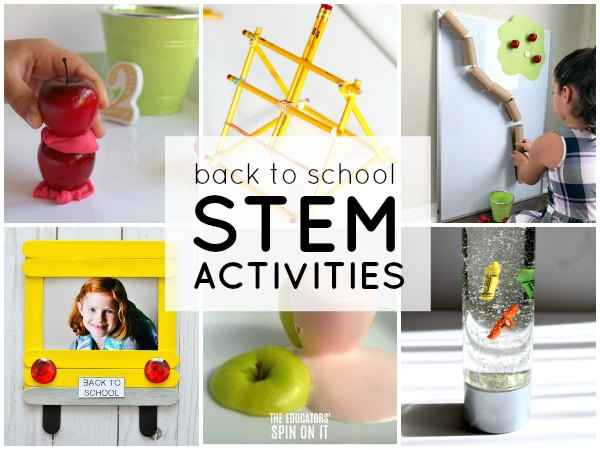 STEM activities provide hands-on and minds-on lessons for your child. Making math and science both fun and interesting helps your child to do much more than just learn.
STEM is in every part of our lives. Science is everywhere in the world around us. Technology is continuously expanding into every aspect of our lives. Engineering is the basic design of bridges and buildings. Mathematics is in every profession and family, every activity we do in our lives.
By exposing students to STEM at home and school and giving them opportunities to explore STEM-related concepts, our hope is that they will develop a passion for it and in the future express their interest in a STEM-related job.
We're excited that you can inspire your child to kick off their first day of school with tons of Back to School STEM Activities!
Which one will you start with as your first STEM Challenge for Back to School?
Your child may also enjoy these Back to School Resources…