Not sure how to organize your preschoolers day? Here are 5 different preschool daily schedules from real moms of little ones.
Many families are choosing to have their preschooler at home for play and learning. Or you might even have the opportunity to work remotely from home with your preschooler at home.
I am often asked, what does your preschool at home daily schedule look like. Because it looks different for each family, I have asked some friends to share their general schedule with you as well.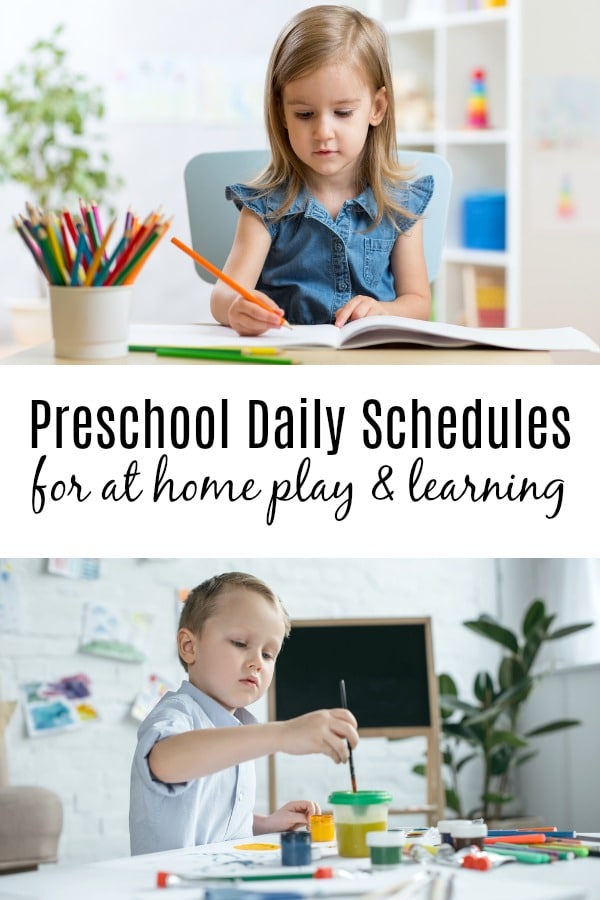 Disclosure: This post contains affiliate links.
Preschool Daily Schedules for at Home Play and Learning
A special thanks to education writers at Life Over C's, Powerful Mothering, Tiny Tots Adventures and Rainy Day Mum for giving us a peek into their daily schedules!
Everyday Preschool: Simple educational activities for busy families who never planned on homeschooling.
Tips for Designing a Schedule for your Preschooler
You may already have a successful preschool schedule and are just wondering what others are doing. You may love parts of your day, but not others. OR, you may be wondering where to start.
Consider the following options and write out a tentative schedule for your day.
Make sure to include:
1. Time for healthy snacks and meals.
2. Activities that get kids moving and shaking.
3. Outdoor time.
4. Enrichment activities to keep their brains active and learning.
You may even want to have your own stay at home mom schedule to help keep your day balanced and on track each day.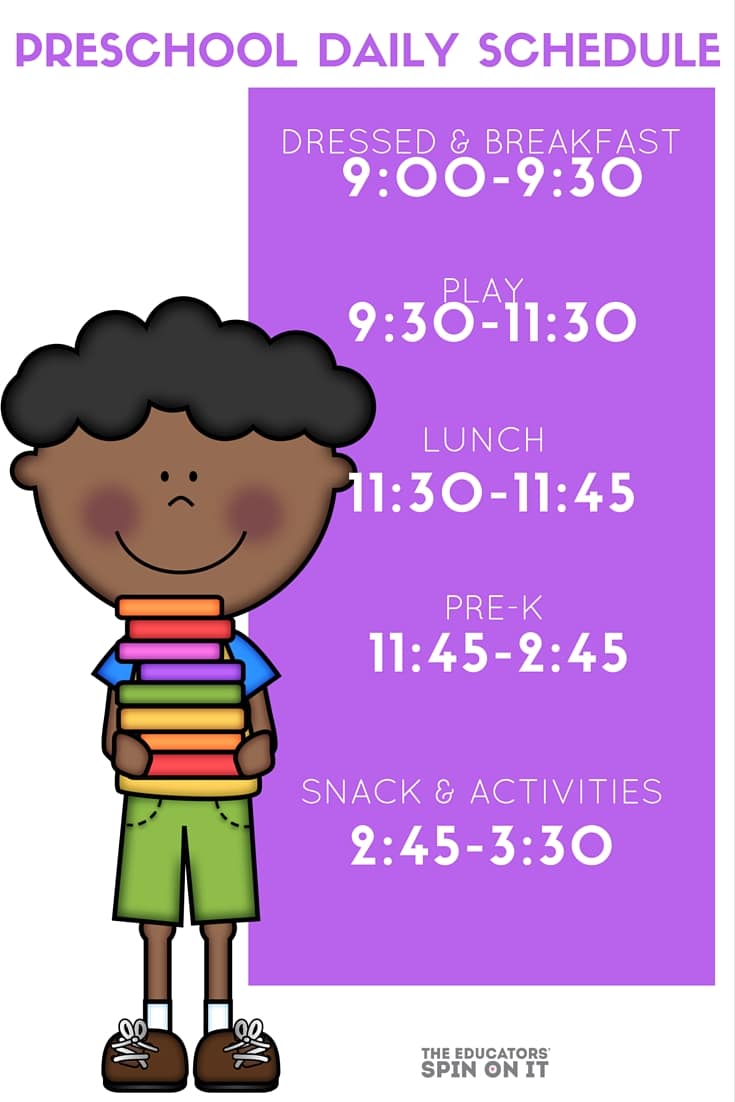 Preschool Daily Schedules (Option 1)
9:00-9:30am Get dressed & eat "breakfast" (never actual breakfast food)
9:30-11:30am Play with sisters (they take turns playing with her and doing their schoolwork) They do crafts, build with blocks, read books, etc. No set time for any activity.
11:30am-11:45am Eats lunch
11:45am-2:45pm Goes to Special Ed Pre-K (only Mon-Thurs.)
2:45pm-3:30pm Eats a snack and does hands-on learning activities
Note: Sometimes I'll suggest an activity for the girls to do together, but usually they come up with their own ideas. I'm always available to help.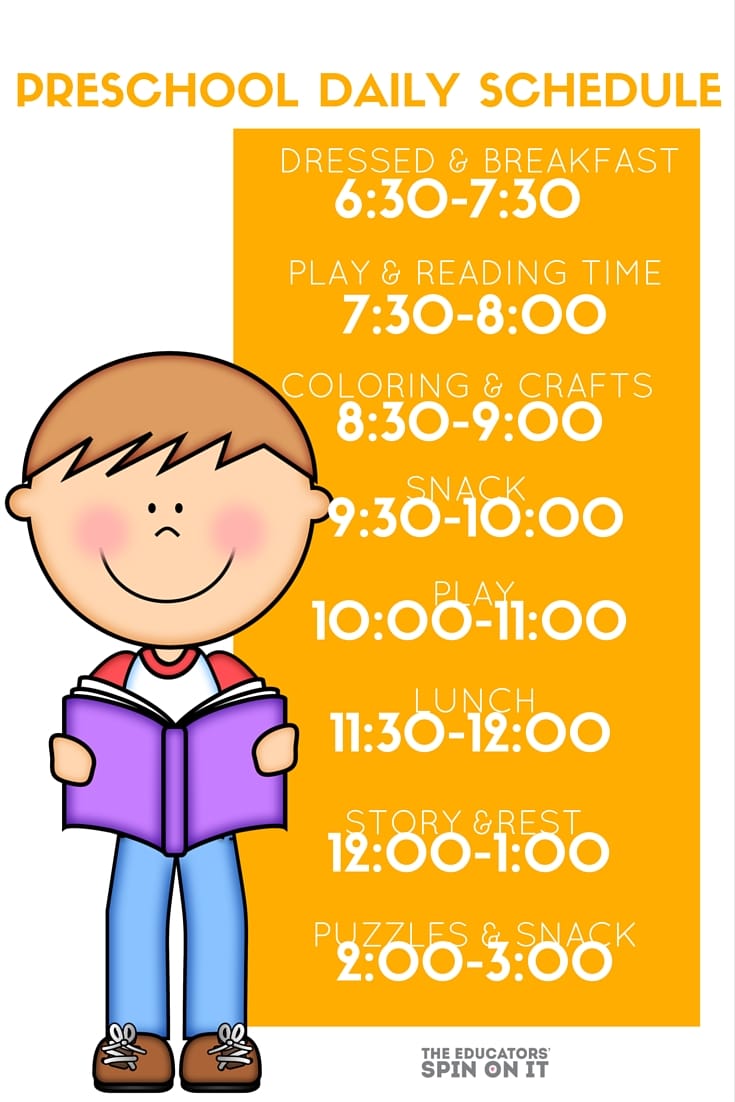 Preschool Daily Schedules (Option 2)
6:30 WAKE UP, get dressed, and eat breakfast.
7:15 Bring big kids to school.
7:30 Play toy cars with Papa
8:00 Reading time – stories and songs
8:30 Building with LEGO bricks, blocks, or Lincon Logs.
9:00 Coloring and crafts. *We attend music class one day a week at this time.
9:30 Snack
10:00 Outside play
11:00 Free play inside.
11:30 Lunch
12:00 Quiet story time.
12:30 Quiet time in bed. (My three year old doesn't nap, but I need a recharge break)
1:30 Pick up big kids from school
2:00 Puzzles
2:30 Afternoon snack and homework (my 3 year old colors or does playdough)
3:00 Outside play or errands
4:30 Pick up and dinner prep.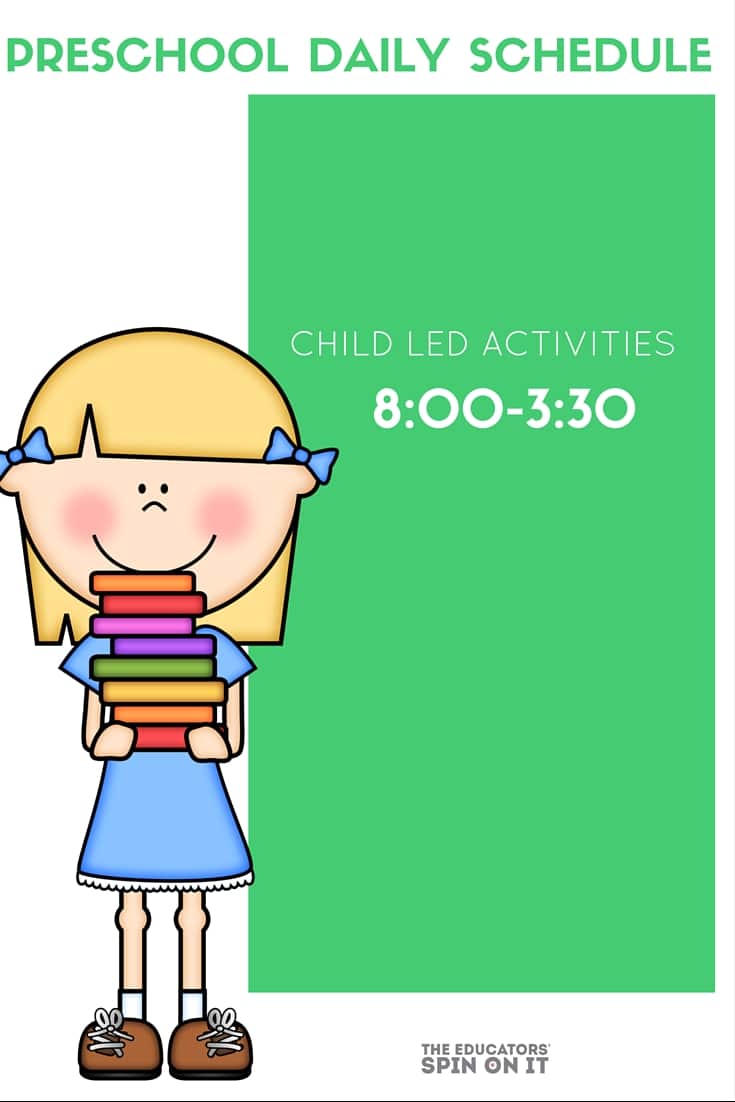 Preschool Daily Schedules (Option 3)
I wing it.. The older one is in school and the younger one we just play and do random things when we want.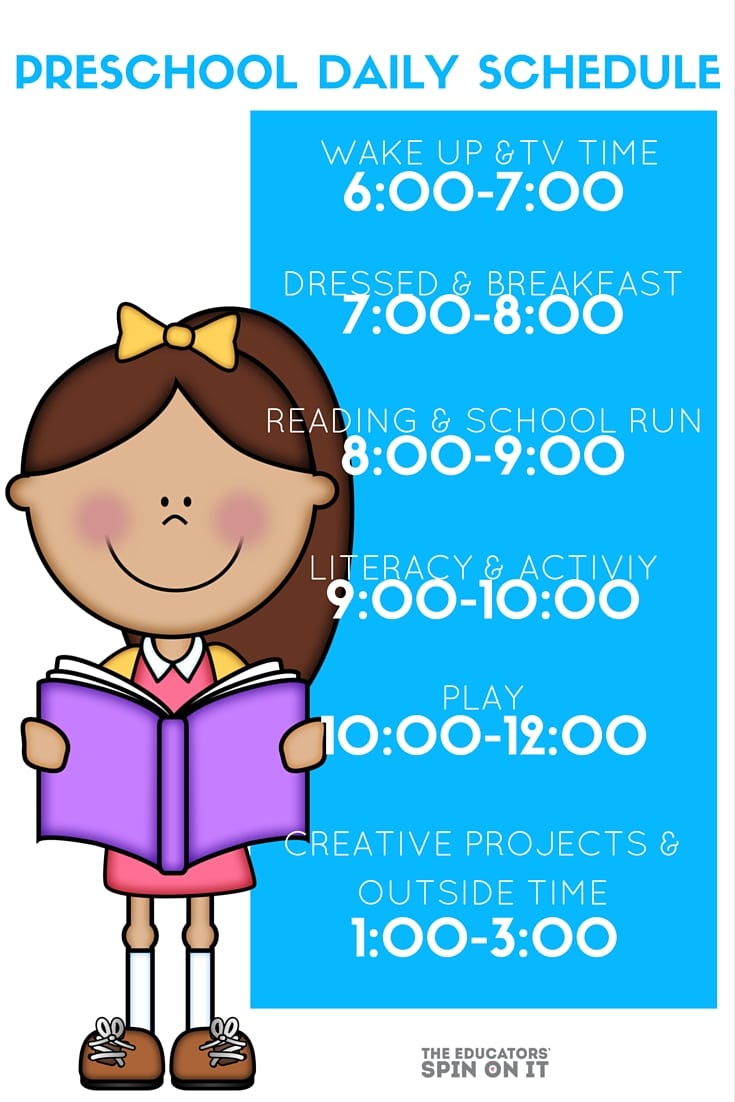 Preschool Daily Schedules (Option 4)
6 – 7 Wake up and TV time whilst I get up and dressed for the day
7 – 8 Breakfast get dressed,
8 – 8:30 Reading aloud
8:30 – 9 School run
9 – 10 Literacy/Maths Activity including new phoneme or digraph and hands on activity
10 – 12 Play 12 – 1 lunch with TV on
1 – 2 Creative projects from art to cooking
2 – 3 Outside Nature time
3 – 3:30 school run for oldest
3:30 – 4 TV time for both
4 – 5 reading out loud, art club, swimming lesson
5 – 6 dinner time and games, play
6 – 7 bedtime
7pm COLLAPSE IN A HEAP and work through to midnight!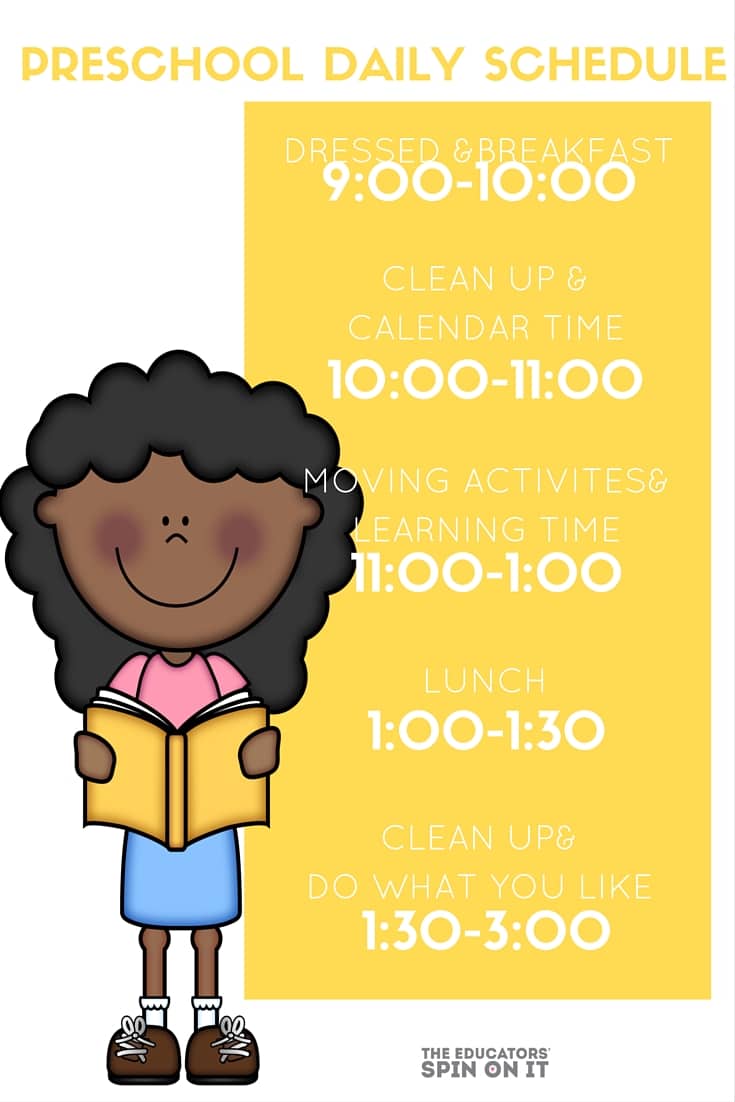 Preschool Daily Schedules (Option 5)
9-9:30 am Get dressed
9:30-10 Breakfast
9-10 Sensory bins or quite play if dressed and breakfast is done early)
10-10:30 Clear our space
10:30-11 Calendar time
11-12pm Shake the sillies out time (Yoga, karate class, movement games)
12-1 Learning is fun time
1-1:30 Lunch
1:30 -2 Clear our space (lunch and clear our space switches depending on the mess)
2-3 Whatever happens time (Usually a craft, game or anything that they like to do)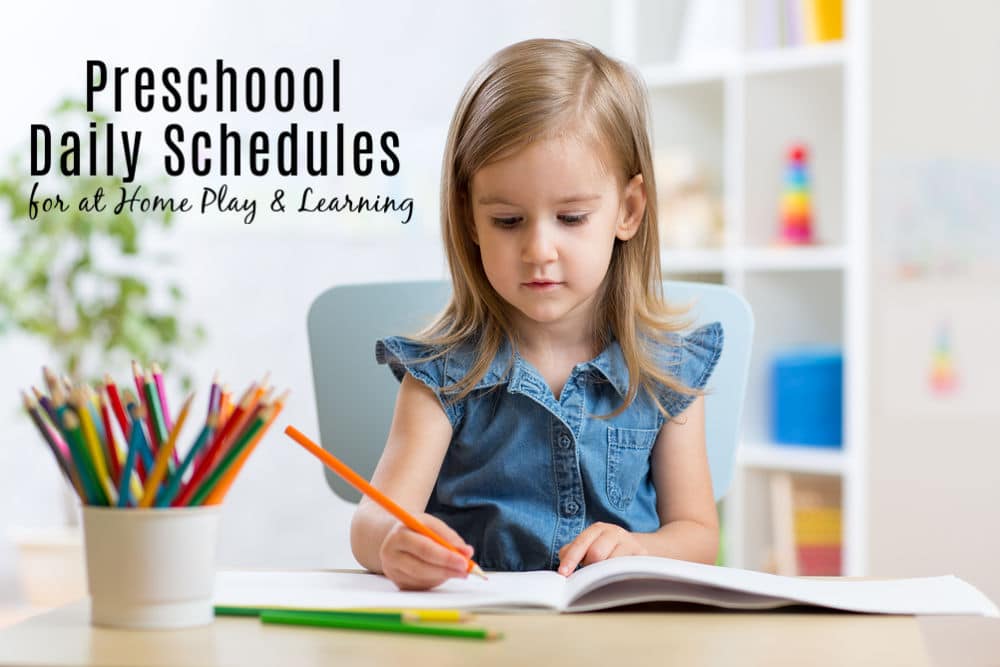 Sign up now for our Monthly Playful Preschool Newsletter to receive free ideas each month for your preschoolers.
Join our weekly Virtual Book Club for Kids! Free themed books and activity ideas each week for your preschoolers and toddlers.
Looking for more Preschool Activities for your child? Explore our Playful Preschool Lesson plans! Free weekly themed plans for you to do at home with your child.