The Virtual Book Club for Kids is the place to start with book activities for preschoolers. Discover storybook fun with your child with free weekly ideas! As parents, we know our kids need as many books read to them as possible when they are little.
Are you looking for more than just bedtime stories to do with your child?
The weekly Virtual Book Club for Kids is for you…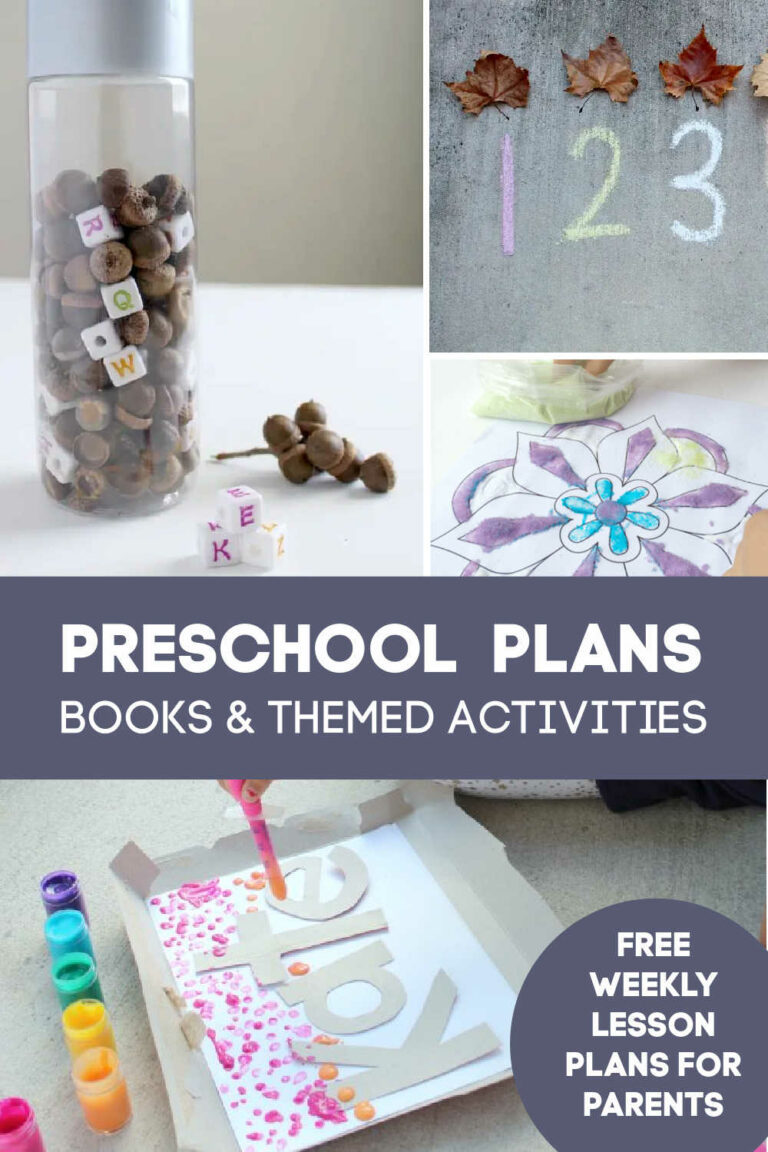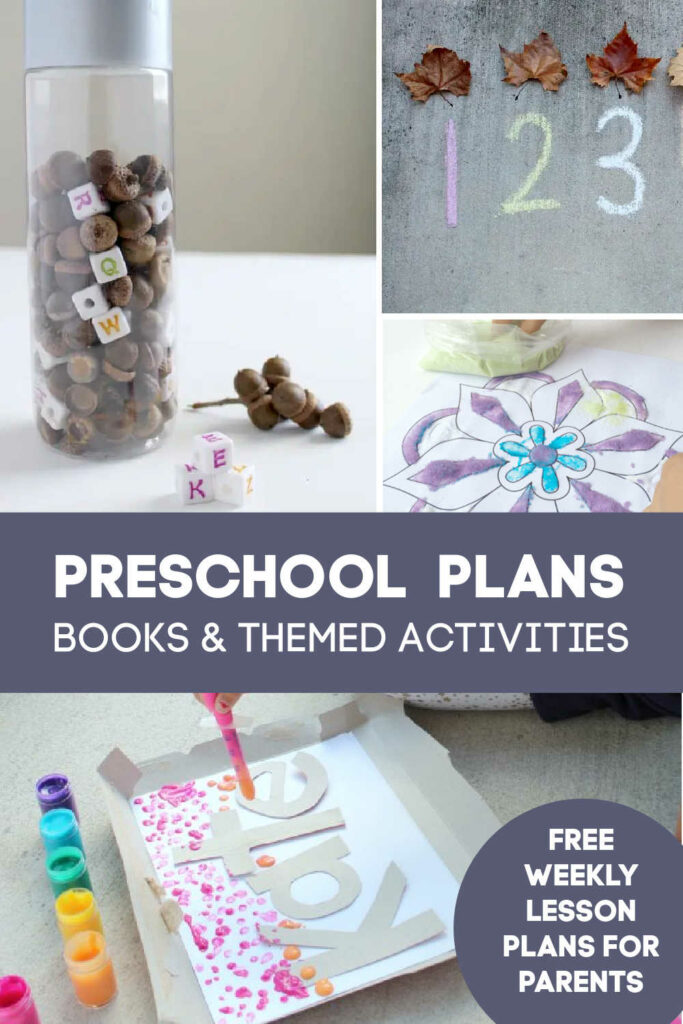 Fantastic themes, featured books, and 5 easy and simple activities delivered straight to your inbox each week to share with your preschooler at home.
Remember as a kid getting flyers from the scholastic book club? Have you seen the latest idea with monthly book club subscription boxes? Book Clubs are something that have always been around but now you can do them virtually in the online world with your child.
In our Virtual Book Club for Kids you can build your child's first library and inspire a lifelong reader themed around moments that parents and little ones experience together. The best part is that our book club shares activities based on children's books for free each week.
Here's a sample from our previous year's books, themes and activities.
Our Book Club features
Popular and diverse children's picture books
Fun themes to learn, create and play with
Active Facebook group for more ideas and inspiration each week
I invite you to join our Book Club for Preschoolers and Toddlers. It's fun and easy! The perfect way to encourage your child to fall in love with books!
Plus it's a way to explore other learning skills they need like ABC's, numbers, book-themed crafts and even play ideas!
BUY THE BOOKS NOW ON THIS AMAZON LIST
Book Club Activities for Preschoolers and Toddlers
Each week we'll share a popular children's book and 5 activities to go along with it.
You can do these book club activities with your preschooler or toddler…
Once a day
Once a week
Host a themed playdate with friends
Meet at the park and coordinate activities with friends
Do what works with your schedule as a parent. If you're at home with your child this virtual book club is ideal for you. A working parent who wants to do fun things when you're home together, this is for you. Or even caring for little ones, this book club is for you!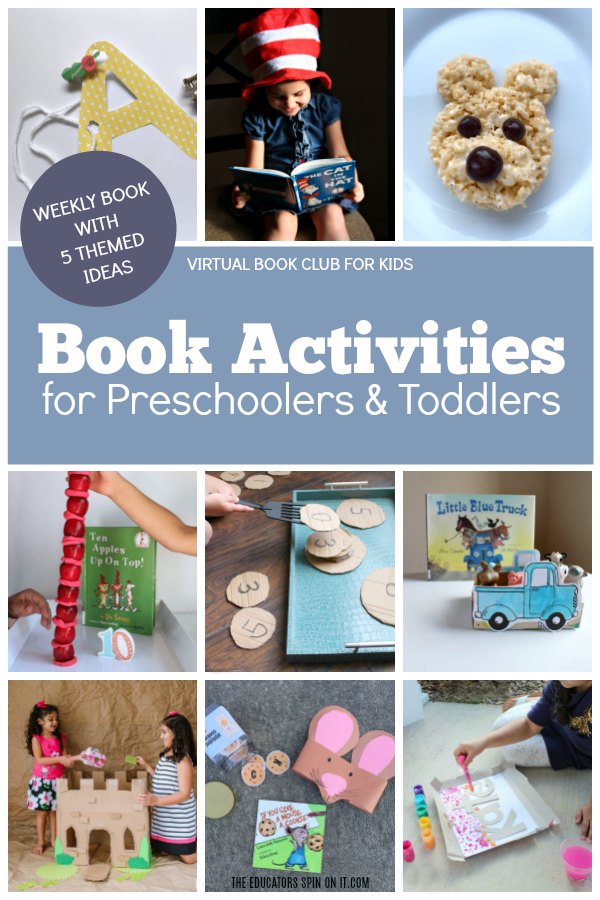 What is Weekly Virtual Book Club for Kids?
Our Weekly Virtual Book Club for Kids is a program created for families with children ages 2-5. Each week we feature a new theme and focus on a popular children's book related to that theme. Along with the book suggestion we share five activities each week that you can do with your kids. We've done the planning so you can have fun with your little one at home.
Have siblings? These activities and books can be used with children that are older than 5 or younger than 2 with a few modifications.
Fun and easy activities that are budget-friendly and tons of fun for your child. Plus we'll sneak in learning skills that they need to get ready for school.
How can I participate in your Weekly Virtual Book Club for Kids?
1. To get started, you'll want to join our Virtual Book Club for Kids Weekly Newsletter email list and our Weekly Virtual Book Club for Kids Facebook group.
2. Next, you'll want to check out our Book and Theme Lists for 2022-2023 (you'll get emailed them as soon as you sign up for our newsletter).
3. After that, gather the books you'll be using from your local Library or Book Store or online at Amazon.
4. Finally, pick which activities from our weekly newsletter you want to try and do them!
5. Then Share! Once you've done an activity, come share it in our Weekly VBC group! We love seeing photos or hearing what you're up to. You can inspire other parents to create and engage with their kids.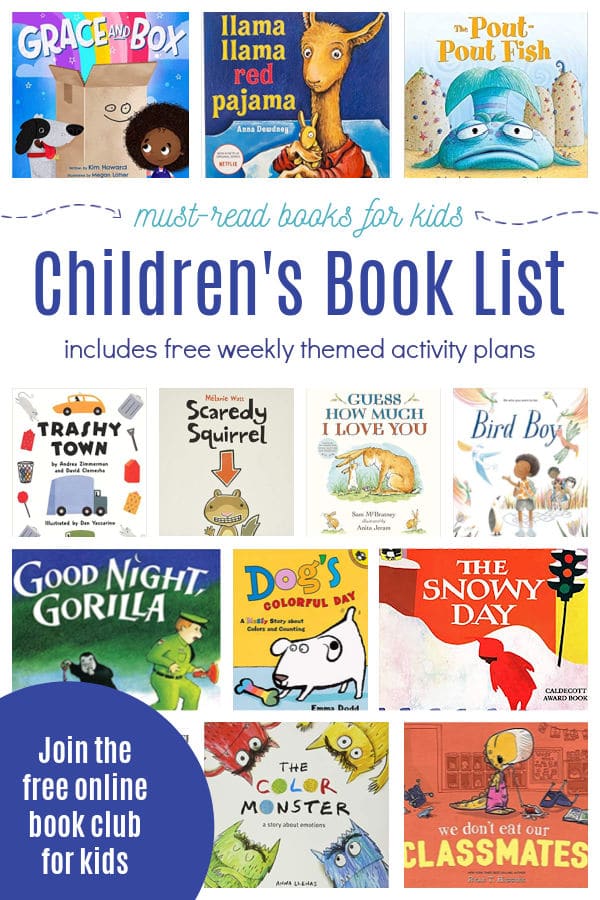 How Does the Virtual Book Club Work?
Each Friday, you'll get an email with the Theme, Book suggestions, and activity ideas for the following week.
Virtual Book Club Weekly Schedule
Monday: Sensory and Imaginative Play Activities
Tuesday: Alphabet Letter Activities
Wednesday: Math Activities
Thursday: Cooking and Science Activities
Friday: Art Activities
The activities are structured so that we have a specific type of activity shared every day. You can use the schedule below as a reference. This is the format we will be following, though you can mix it up and pick and choose activities based on how kids are feeling.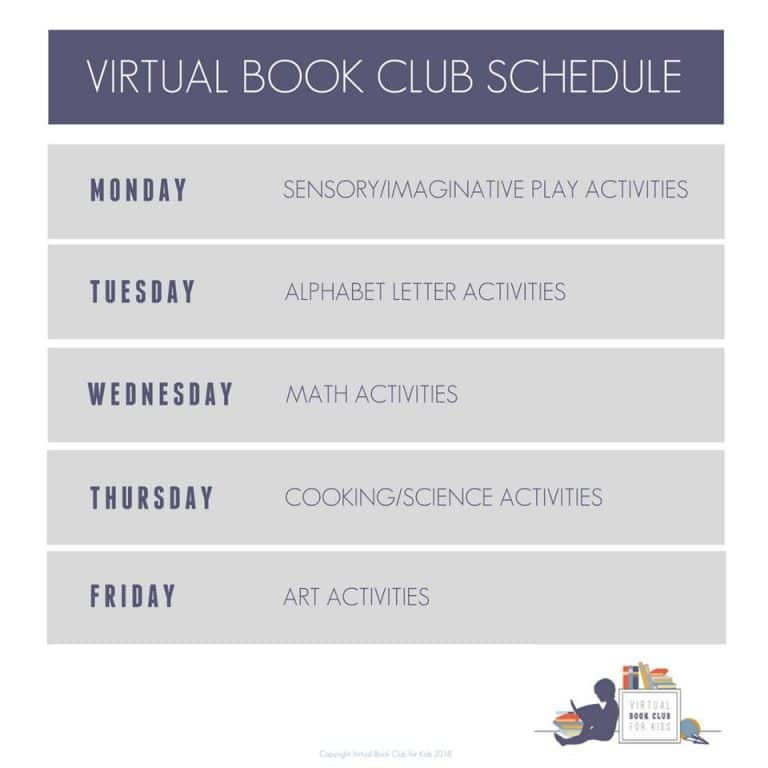 How do we get the book lists?
We have the book lists posted on our VBC website. We'd love to send you the list of books and themes for the 2022-2023 school year, all you need to do is subscribe to our Virtual Book Club for Kids Newsletter. 
Then you can download and print to hang on the fridge and get ready to join us this year!
Join our newsletter to get this year's themes and featured books plus the activities to your inbox each week.
When is the book club start?
Our 2022 Virtual Book Club is kicking off on Monday, September 5, 2022, and it runs through April 24, 2023.
We are so excited for our Weekly Virtual Book Club for Kids to get started next week and we hope you will be joining us! Grab a friend to join the fun too!
If you have any questions about our Weekly Virtual Book Club for Kids, please comment and let us know!