Explore ideas for a preschool learning week with the amazing ideas from our fellow kids activity bloggers.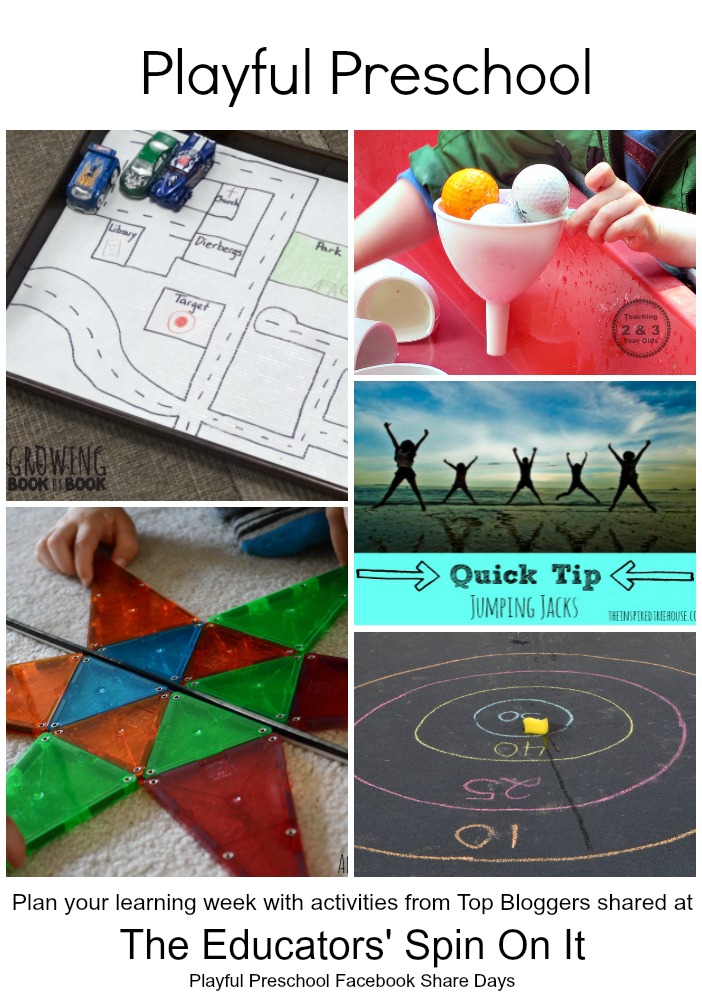 These articles were shared with us on the Educators' Spin On It Facebook Sharing Days.
* Articles pictured in the above collage are starred with * 
Thank you to all the bloggers who generously share with parents and teachers their ideas!
Preschool Activities
Science:
Human Anatomy from My Nearest and Dearest
Ladybug Science from The Educators' Spin On It

Reading:
Reading Readiness Ideas for 3 Year Old's from Carrots are Orange
Blue and Yellow Book and Activity Ideas from Buggy and Buddy
Sensory:
Tissue Paper Flowers from A Beautiful Ruckus
Water Table Ideas from Teaching 2 and 3 Year Olds
Social Studies:
Are We There Maps from Growing Book by Book*

Art Exploration:
PAINT! from Let Brain Craft Brain*

Math:
Exploring Symmetry with And Next Comes L*
Water Game with a Math Spin from Mamas Like Me*
Fine Motor Math Game from Pre-K Pages
Movement & Music:
Sound Box Listening Game from Let's Play Kids' Music
How to Teach a Jumping Jack from The Inspired Tree House*

Visit ourFacebook Page for more preschool ideas
PLUS share your own on Wednesdays!