Are you wanting a few activities about winter for your child or classroom? Here are Winter Themed activities to help your child learn about the season and be creative too!
From ice to snowmen there are so many winter activities to choose from.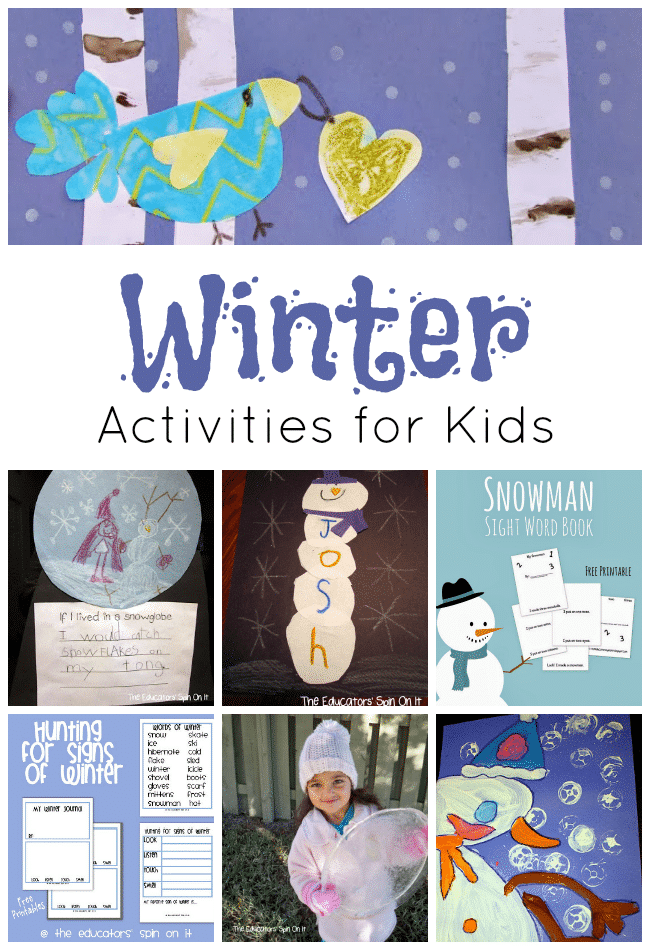 Winter Activities for Kids
We had lots of fun learning about the cold and snow this week as we learned about Winter.
This week's book choices for our Winter Books
Winter Bookshelf:
This is the only month I have 2 picture books with characters that wear glasses!!! We love the Tiny series and Tiny The Snow Dog is a winter favorite. I added "Frozen Noses" to our collection last year.  It is a little rhyme about outdoor play.
My only complaint is that the book shows the little boy losing his glasses on 2 different pages. As a parent of a young child in glasses – this just doesn't happen! I don't know why illustrators feel the need to draw a kids glasses off their face???
I think kids in glasses are adorable and I can at least appreciate having a book with one of the main characters in glasses.
Here's what we were up to with our After School Winter Projects
Snowman Perspective Painting
Our spin on this Pinned project from Deep Space Sparkle, a blog about art activities and lessons to do with grade school children. To read the directions and see some of her student samples, stop by! She recommends making snow with Q-tips, but we love to use the ends of empty thread spools!
I love my 5 year old take on this project, she explained that the snowman was looking down at the snow on the ground!
Our Easy Birch Tree Painting Project is a fun one to do with a Winter Themed too.
Winter Writing Prompt
We read this cute story from Hallmark about the snow families that live in a snow globe which prompted a story writing called "What's Shakin in Snowflake City".
The writing prompt came from Mrs. Jump's Class Website that I pinned on our Winter Pinterest Board. Mrs. Jump has some great snowman ideas that you should check out. The Prompt is If I lived in a snow globe…
Snowman Name
We sent big brother back to college today so my 5 year old made this for him for his dorm room. She cut out the circle and hat and scarf by herself. She made them Orange and Blue for GO GATORS and GO BRONCOS!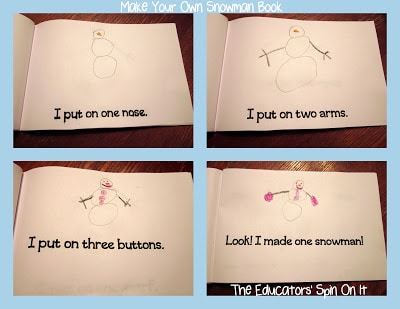 Winter Sight Word Book Printable
We practiced number words and plurals in our Winter Sight Word Book. Here's your own printable. I love how they have to remember what they have added on each page to check for comprehension.
At the very last page have your little one write the words under each number that matches, under one would be mouth, hat, scarf etc.
Or they could draw it if they aren't ready for writing words just yet.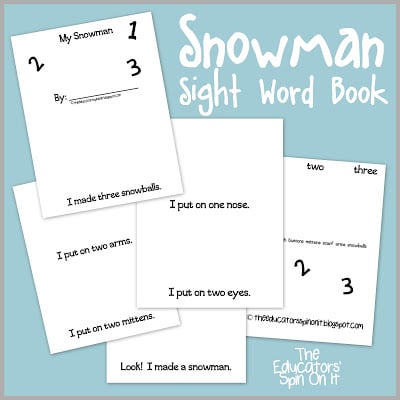 Click here to print your own Free Snowman Counting Book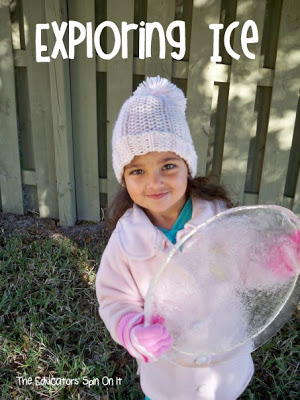 Ice Exploration
Since we live in the South where it never snows and hardly ever gets very cold, we have to celebrate a little when it freezes things. We're lucky that both of our parents live where it's very cold so our children have experienced snow too.
However we've learned through teaching it's important for children to observe these changes in weather.
This week we actually got down to 22 degrees one night, which broke a record, so we decided it was time to freeze some water outside. We filled up all sorts of containers, even our bird bath, and froze them overnight. It was a fun science experiment for my daughter. We used the afternoon to go outside and fill up some random containers with water.
She was so excited to go out the next morning to see what had happened. And to watch what happened as the day progressed. Water tables are great for this science experiment.
We even tried our water beads in the frozen water table!
Make your own stamps from foam snowflakes and bottle caps. Great for little hands to use and build find motor skills. You could also work on patterning with different designs or colors.
Signs of Winter Printables
We've created our own Winter Journal and Observation Sheet. Click here for the printable.
Next week we're hoping to cut out snowflakes and created a Valentine Colored Snowflake Garland…look for more snow to come! And learn about Martin Luther King Jr!
Looking for more Winter Ideas? Try this Winter Virtual Field Trips!
What are some of your favorite Winter Activities? We'd love to hear from you!