Connect diverse literature with a love of family, add in a little learning and you have a fabulous LOVE diverse book basket! This activity is designed for multi-age groups, which makes it a perfect sibling activity.
Have each child make their own book for a loved one or contribute a page to make a family book.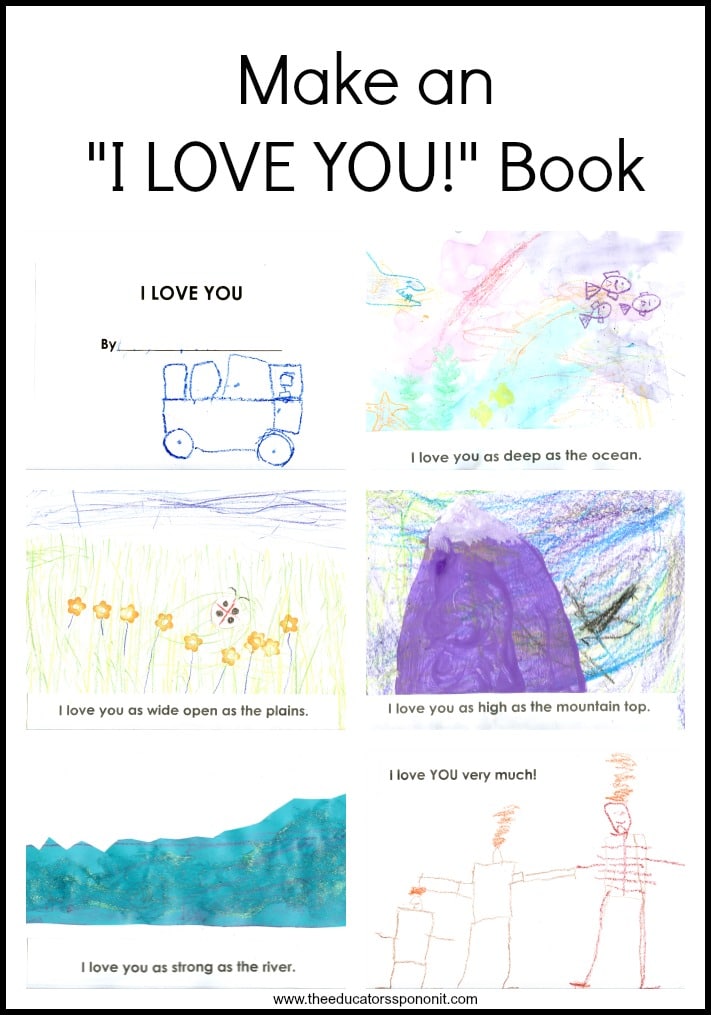 Great for Grandparents Day!
Great for Mothers' Day!
Great for Fathers' Day!
Great for ANY day – because making connections with our family is truly one of the most important things we can do.
How to Build a Family Theme Love Book Basket
Disclosure: Affiliate links included in this post.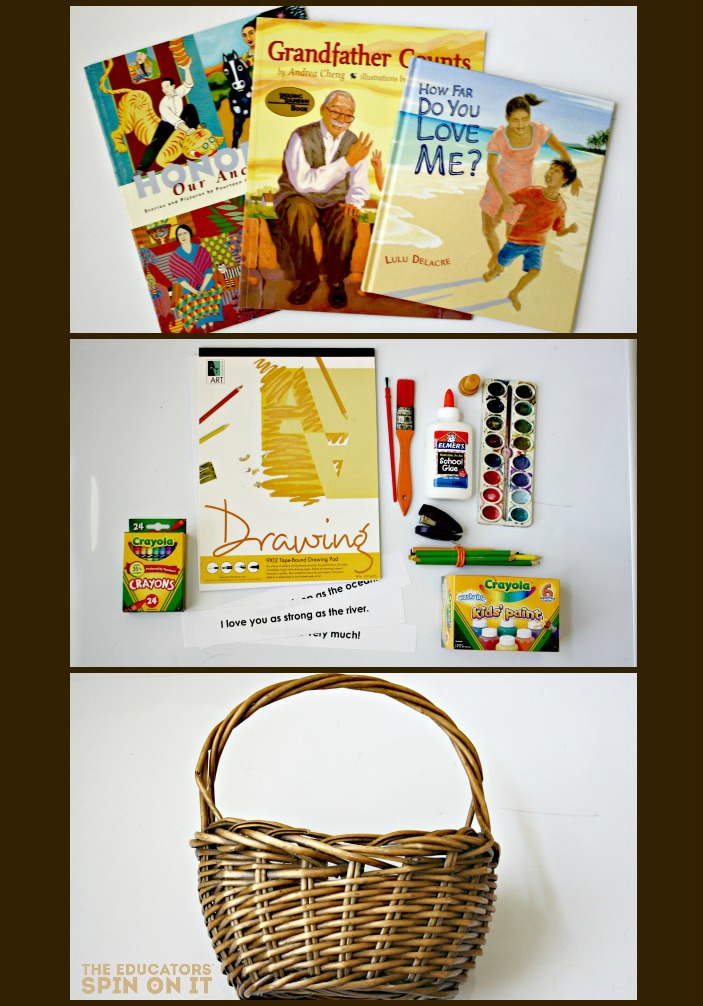 1. Choose a Book
Select themed literature that is appropriate for your child's age.  Younger children may enjoy shorter stories.  Older children may like more detailed picture books.  Consider both non-fiction and fiction text. Lee and Low Publishing Company sent me the 3 books to read with my children for this article.  All thoughts and opinions are 100% my own.
How Far Do You Love Me?
How Far Do You Love Me?
 is a delightful tale of families all around the world and how much they love their children.  Each page introduces a new place on the globe, with a sweet sentence about their love. Geared for 3-6 year olds Click here for the Teachers Guide
Grandfather Counts
Grandfather Counts (Reading Rainbow Books)
 is a picture book about making connections with your family, no matter what the language may be.  Author Andrea Cheng draws upon her own family and friends experiences to weave this tale of love and family. Geared for  6-8 year olds It is a Reading Rainbow selection Click here for the Teachers Guide
Honoring Our Ancestors
Honoring Our Ancestors: Stories and Paintings by Fourteen Artists
 is a non-fiction picture book highlighting some AMAZING artists: Carl Angel, Enrique Chagoya, George Crespo, Mark Dukes, Maya Gonzalez, Caryl Henry, Nancy Hom, Hung Liu, Judith Lowery, Stephen Von Mason, Mira Reisberg, JoeSam, Patssi Valdez, and Helen Zughaib.  Each short story and accompanying artwork gives the reader a snapshot into the importance of family to that artist. Geared for  8-10 year olds.
 2. Gather the Supplies for the Selected Activity.
In this activity, children make an "I Love You," book for a family member. This can be done with art materials around the house. Directions for each page below.
3. Arrange and Display.
Arrange the materials and books in a pleasing manner in a basket, bag, or container.  Then, leave it on a table or desk area as an invitation to explore.  Snuggle in and read.  Then make the activity!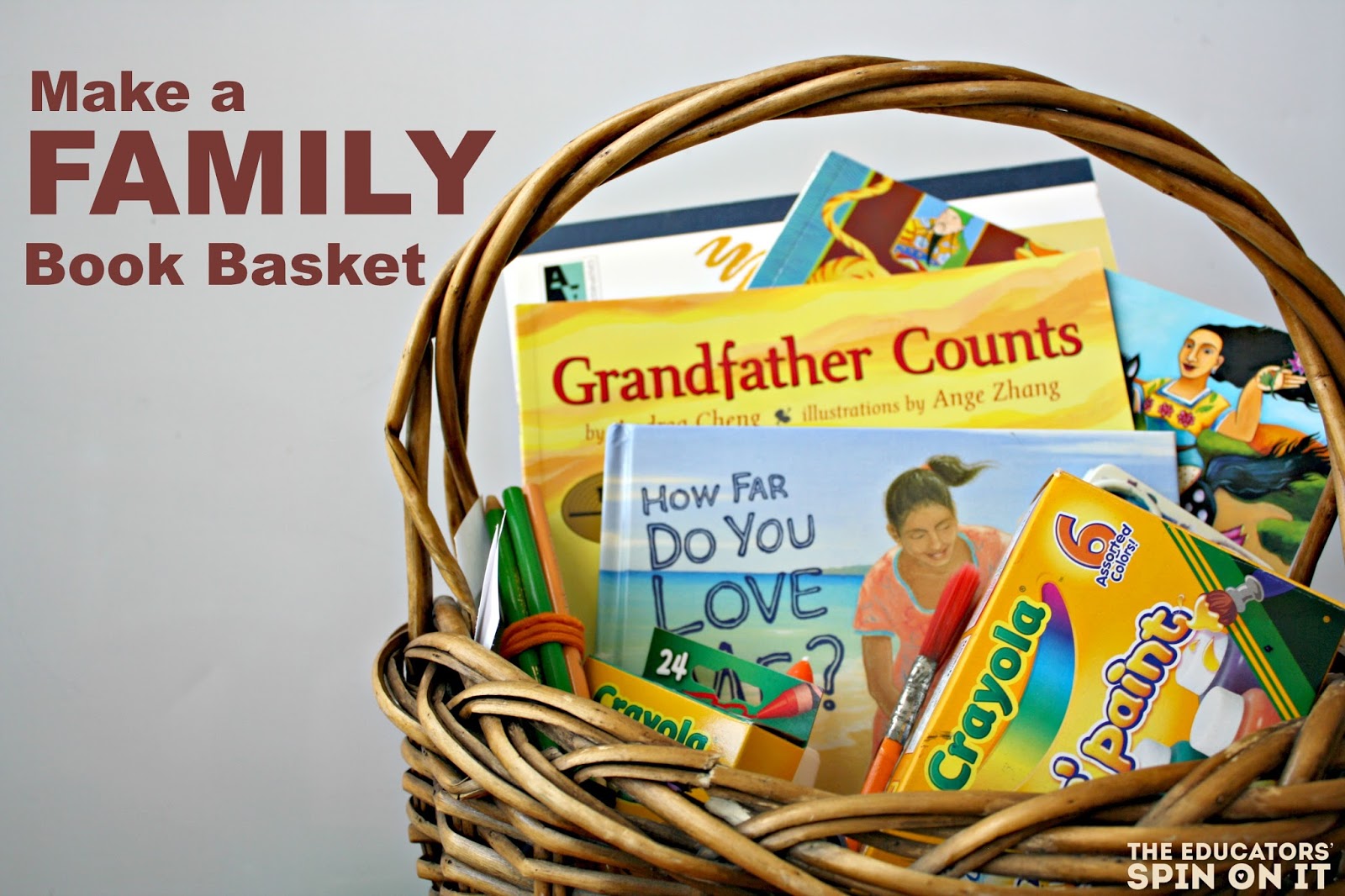 Directions for Making an I Love You Book
How does this work? Just Click HERE and a PDF document will open up on the next screen.  It is a two-page document with the sentences and title page to cut and glue on the child's illustrations. This document is in English only. Please feel free to translate the words into the language of your choosing.
1. Title Page
Glue the title onto a blank piece of paper.
Have the child (or children) write their names on the line.
Encourage them to draw a picture of the person they are writing the book for, something that reminds them of that person, or even hearts.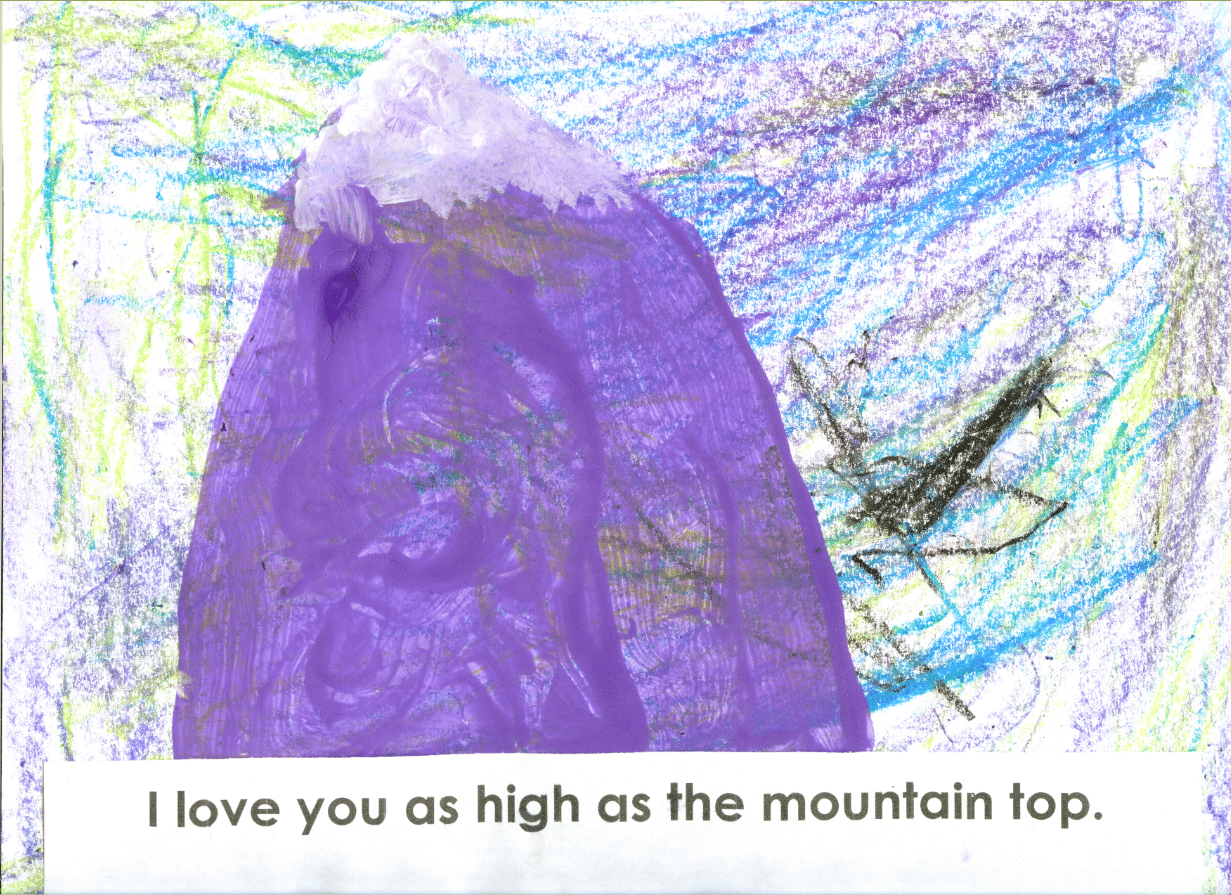 2. I love you as high as the mountain top page.
Peel a crayon paper off.
Set the crayon on its side and rub it for the background.
Use purple tempera paint to paint a tall triangle mountain.
Top with white paint for a snow-capped mountain.  
Glue the sentence to the bottom.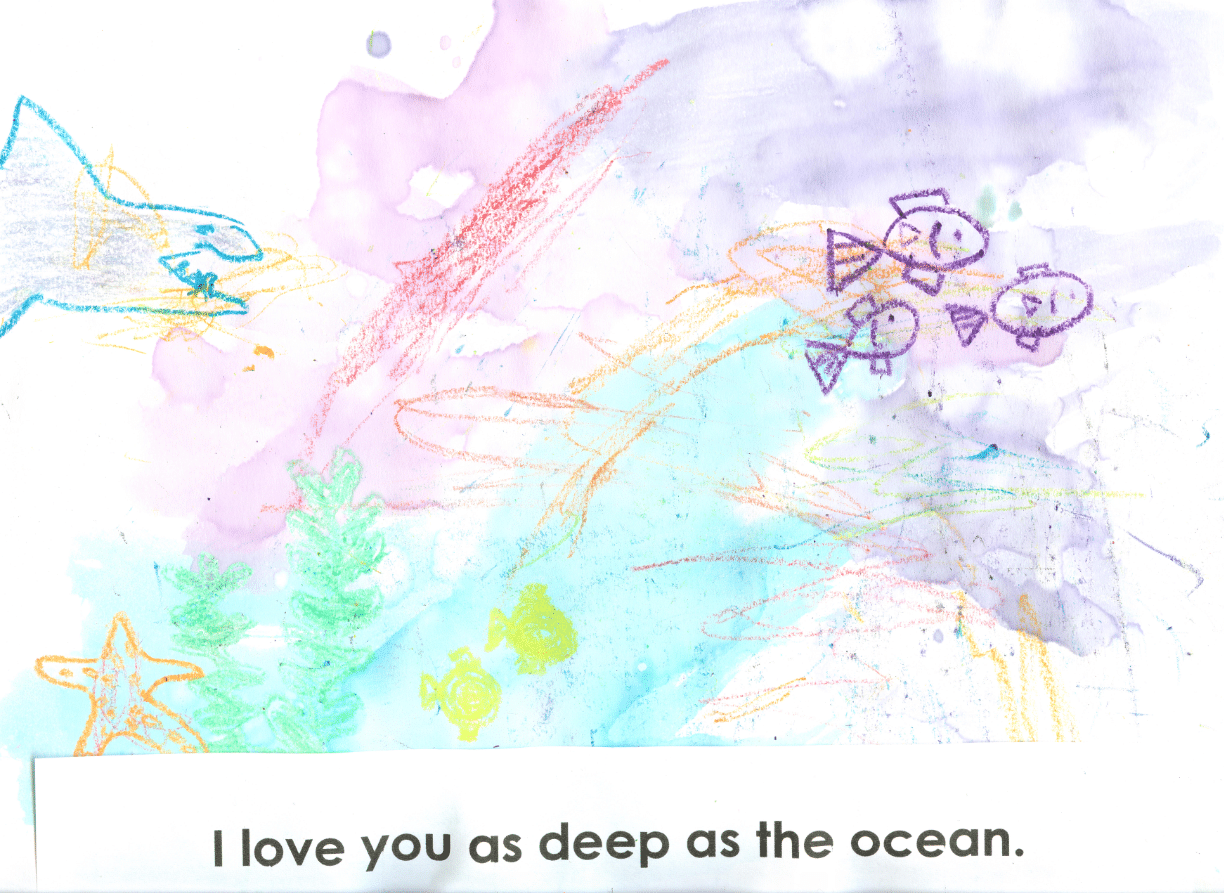 3. I love you as deep as the ocean page.
Color ocean life with crayons. Press hard. (this page was done by my 1 year old with parental help)
Using watercolor, paint over the crayons with cool colors: blues, greens, and purples. This is called watercolor resist.
Glue the sentence to the bottom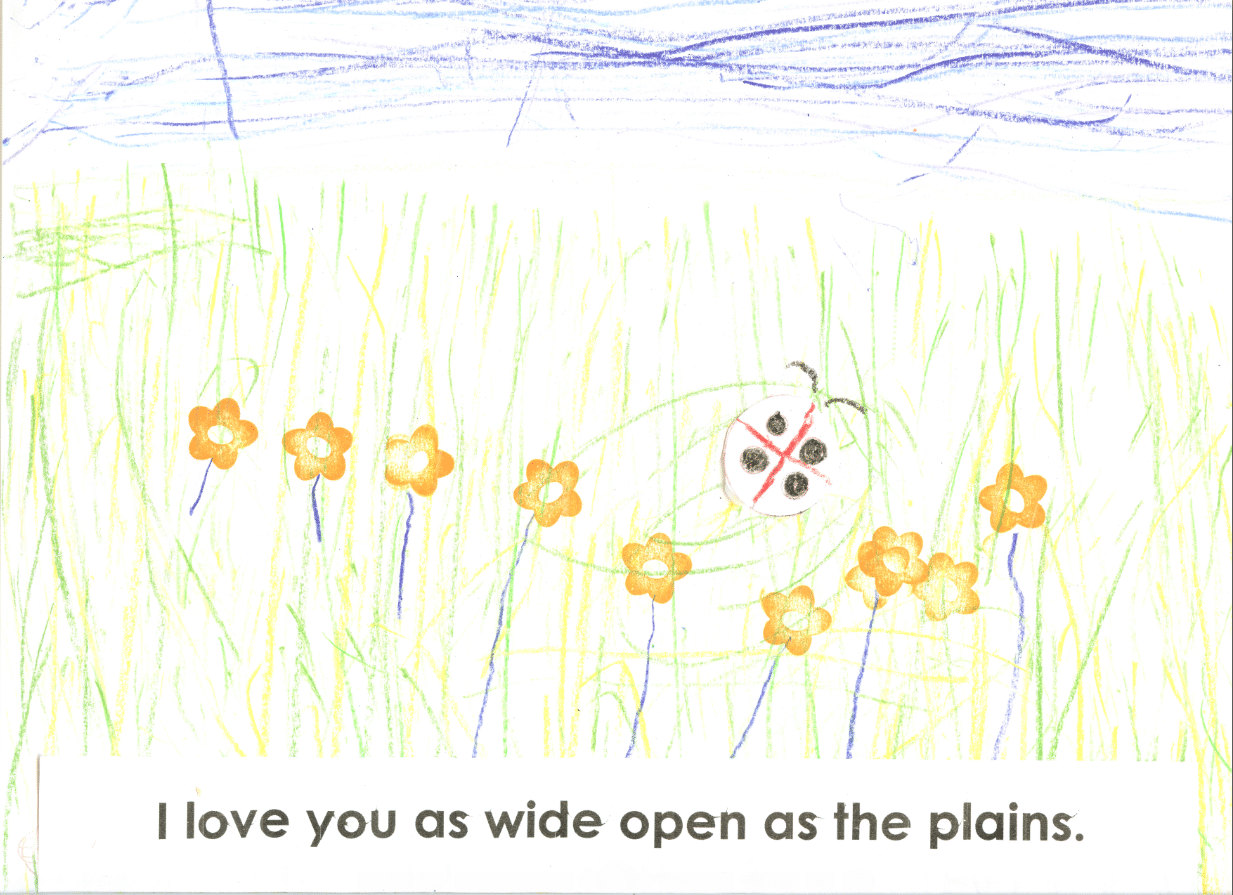 4. I love you as wide open as the plains page.
Bundle yellow and green colored pencils together with a rubber band. Let your child make the grass by pulling the bundle down over and over again. (this is great for strengthening fine motor and writing muscles)
Bundle blues and purple colored pencils together with a rubber band. Turn the paper vertically. Let your child make the sky by pulling the bundle down over and over again.
Use stamps or stickers to add flowers and insects.
Glue the sentence to the bottom.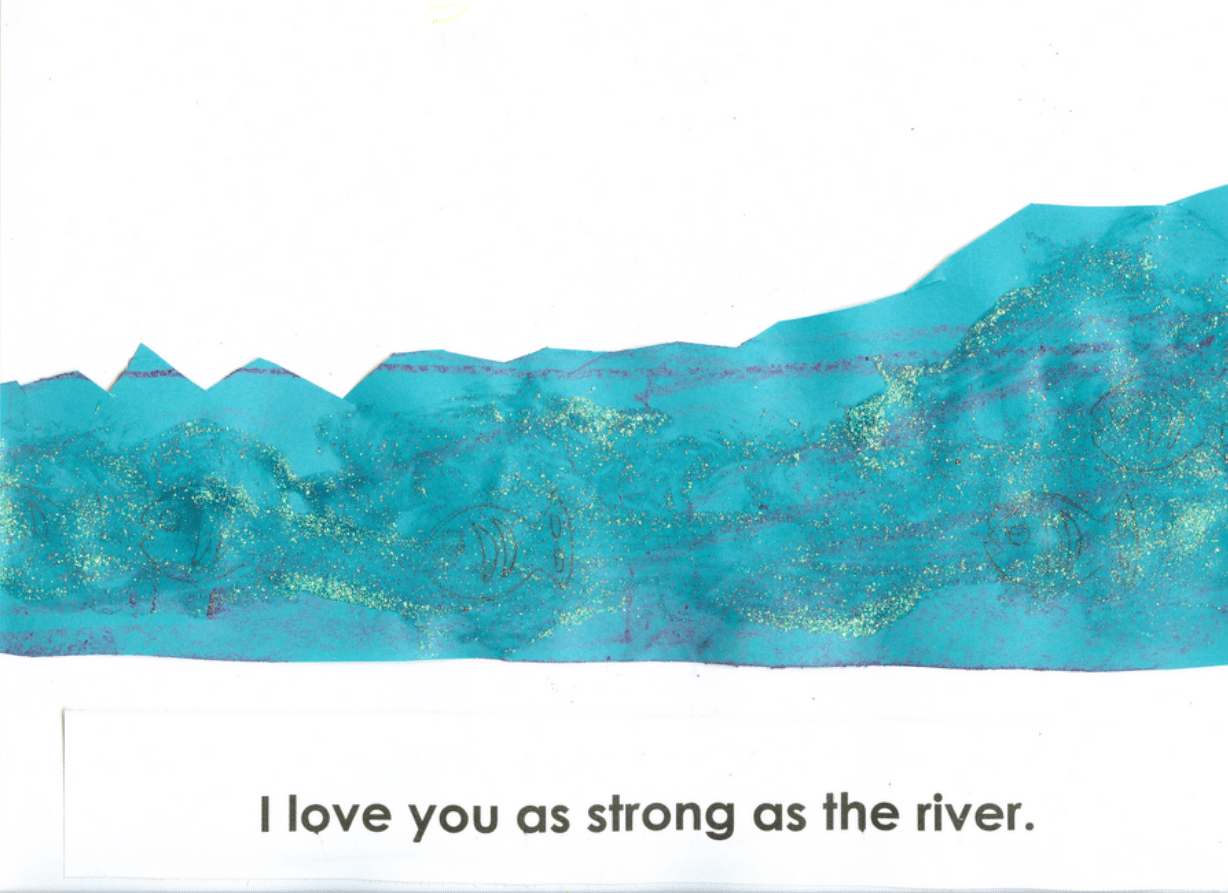 5. I love you as strong as the river page.
Let your child cut a river out of blue construction paper.
Encourage them to use crayons, stamps, and glitter glue to decorate the river.
Glue the sentence to the bottom.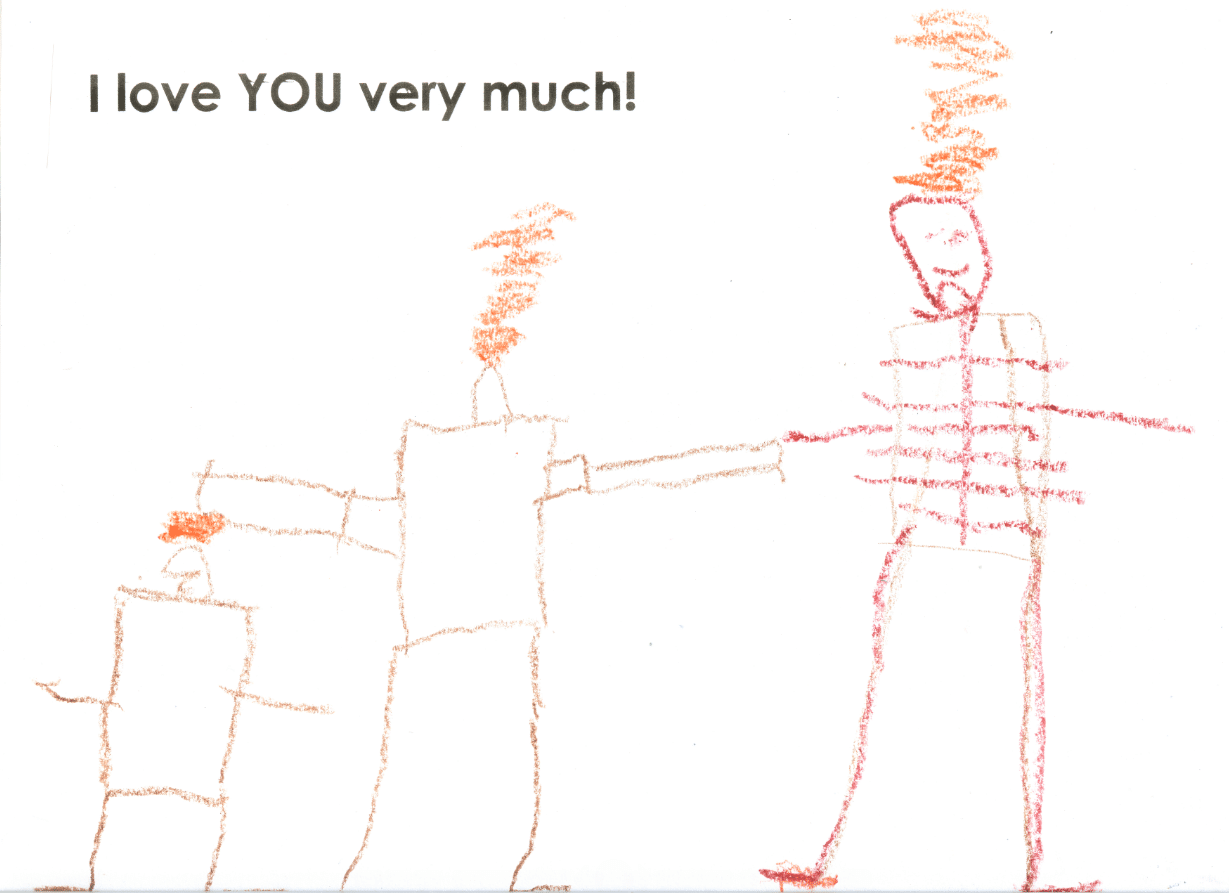 6. I love you very much page.
Encourage your child to draw a picture of themselves with the person (or people) they are making this book for. My 4 year old made his for his Grandma and Grandpa!
Glue the sentence to the bottom.
Once all the pages are complete. Pile them on top of one another and staple them along the left side to form a book. Deliver to the person you LOVE!!!!!!!!
Stay TUNED!!!!
Next week, we will be highlighting author Andrea Cheng, author of Grandfather Counts. Here is a sneak peek…
Make your #LOVEdiverseBooks Basket today!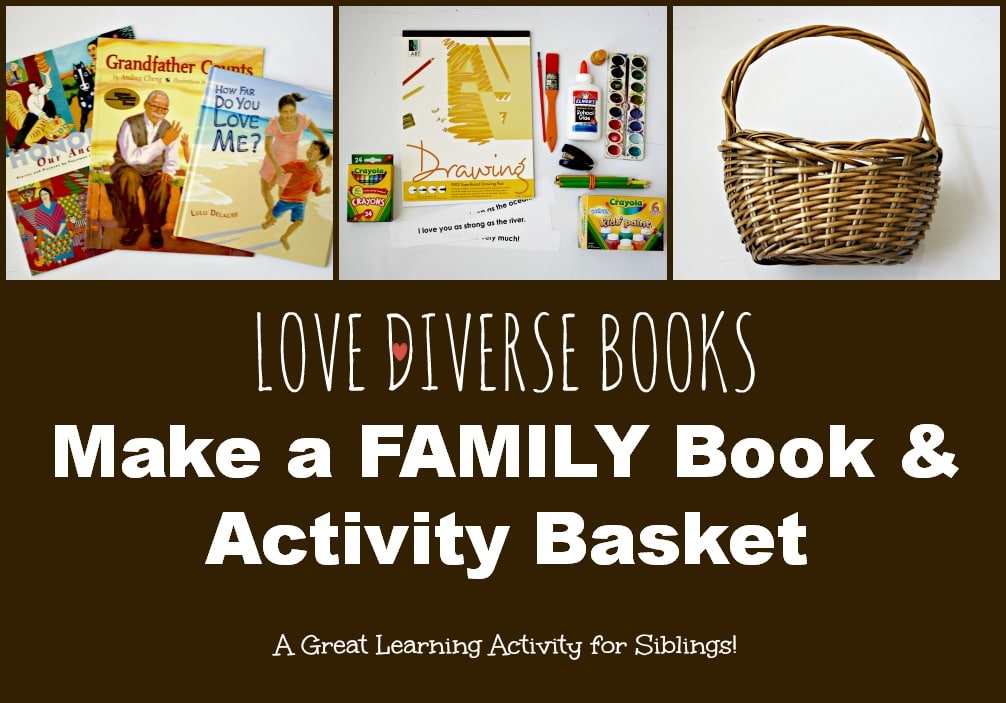 If you enjoyed this article and activities from The Educators' Spin On It, we encourage you to stay a while!