I adore the holidays. They are a chance to slow down and re-connect with family and friends.
Children laughing.
Hugs from long distance cousins.
Grandma's kisses.
The smell of cinnamon and spices
Warm bread rolls out of the oven.
and long, melt in-your mouth meals with family and friends.
This year, we are adding a roast to our traditional turkey dinner. It's not just any roast, it's a Certified Angus Beef Roast, smothered in portobello mushroom gravy.
Are you salivating yet?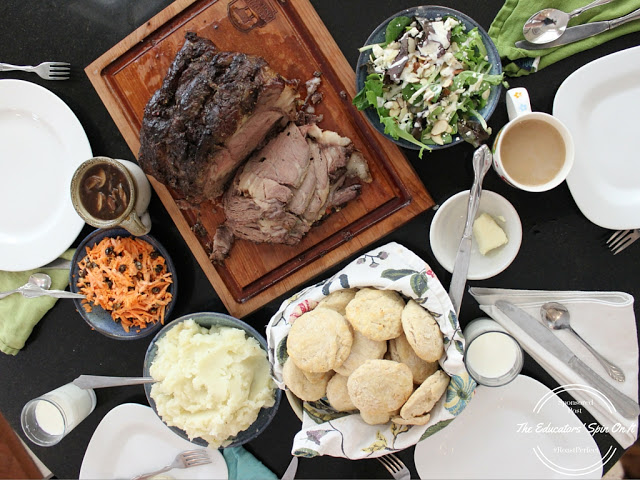 FYI: The table was styled courtesy of my 5 and 9 year old!
They are wonderful kitchen helpers 25% of the time..
My 3 year old made the biscuits. 
I had to re-shoot this photo several times, because his hand kept stealing the biscuits.
And yes, we use cloth napkins every day & for holiday dinners!
Disclosure statement: This post is sponsored by Certified Angus Beef® brand in conjunction with a social media campaign through Sunday Supper LLC. All opinions are my own.
Shopping for Holiday Roasts
This holiday season, do not be overwhelmed by the choices in the meat department.  (see app information for how to get more details on each roast) Here are the most popular.  If you are preparing a celebration meal, tenderloin or strip roast would make a delicious choice.
If you are like me and looking for a
1. Fabulous tasting.
2. Easy to prepare
3. Roast on a budget…
The chefs at Certified Angus Beef recommend starting with the top sirloin roast.
Find out more about Certified Angus Beef here:
Who we are
Beef cuts for Roasting
Roasting Instructions with Chef Michael
Herbed Rotisserie Rib Roast with Portobello Mushroom Gravy
Ingredients
1 (8 lb) Certified Angus Beef® brand Rib Roast (See App for selections based on your guest list)
For the Rub:
3 Sprigs of Rosemary
1 Dried Hot Pepper
2 Cloves of Garlic
1 Teaspoon Sea Salt
1 Teaspoon Black Pepper
For the Portobello Mushroom Gravy
2 Cloves of Garlic
1 Tablespoon of Butter
1 Small Onion Finely Chopped
1 12 Ounce Package of Sliced Portobello Mushrooms
1 Cups of Beef Stock
1 Tablespoon of Corn Starch
Salt and Pepper as desired
Directions to make the Herbed Rotisserie Roast with Portobello Mushroom Gravy

Step 1. The night before roasting, place the rub ingredients in a food processor. Pulse until finely ground.  Rub on roast.  Tightly cover the roast with plastic wrap and place in the fridge.
NOTE: for less of a garlic flavor reduce the amount of garlic to 1/2 – 1 clove.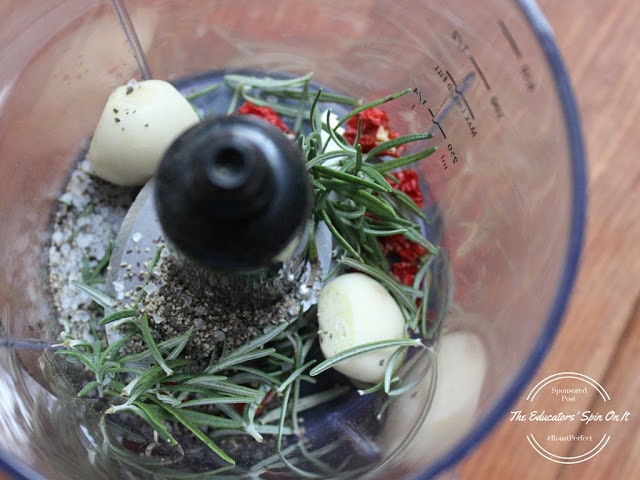 Step 2.  Remove plastic wrap, bring to room temperature, and place on rotisserie.
Sear at 450 °F for 15 minutes.  Reduce temperature and cook at 450 °F for an additional 2  hours to an internal temperature of 125-128F (medium). * NOTE, the rotisserie will cook differently than the oven or grill.  Remove earlier for a rare roast. (my kids like a well done roast)
Remove from rotisserie.
Allow the roast to rest for 10-15 minutes prior to slicing. Put a tent of tinfoil over the roast to hold the heat in.  The internal temperature of the roast will increase after cooking by around 10 degrees.
*Although tempting, resist the urge to peek at your roast while it is on the rotisserie.  Every time you open the lid, heat escapes and you will need to lengthen the cooking time.
Portobello Mushroom Gravy
Step 1.  Mince 2 Cloves of Garlic.  Add the garlic, onion, and butter to a medium satay pan. Cook at medium temperature until the onions become opaque. Add in the mushrooms. Continue cooking until the mushrooms are golden brown. Add a splash of beef stock to keep the mixture from sticking to the bottom of the pan.
Step 2.  Add in the remaining beef stock, saving 2 Tablespoons in the measuring cup.  Warm to boiling.  Mix the cornstarch in with the remaining cold stock.  Slowly add the cornstarch/ stock mixture to the gravy mixing thoroughly. For thicker gravy, use 1/2 Tablespoon more of cornstarch. Return the gravy to boiling. Boil for 1 minute then remove from heat and serve.
Salt and Pepper as desired
Serve and enjoy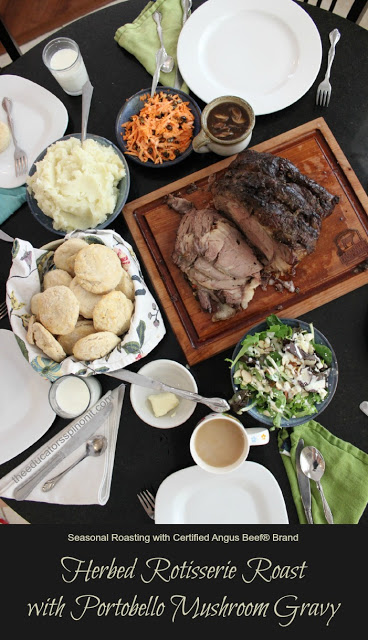 You may also like
Steak and Mango Flatbread Recipe