Create a fun and easy St. Patrick's Day Craft for Kids as they explore STEM concepts with a Sensory Bottle! This St. Patrick's Day STEM Activity uses magnets that are sure to discover GOLD or at least stir up some lucky shamrocks with kids!
This activity is a perfect addition to your after school fun or even part of your STEM education for preschooler.
Here's how to add a little STEM this St. Patrick's Day with Kids.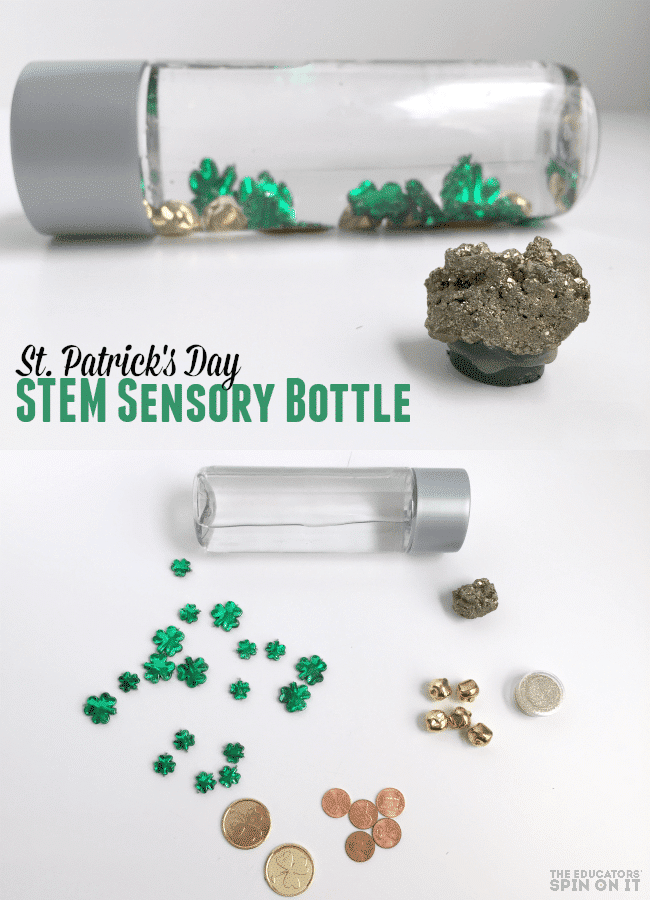 We wanted to add a little fun to this St. Patrick's Day Discovery Bottle by adding an element of STEM learning.
What is STEM? It involves using Science, Technology, Engineering and Math and making them work together with what you know and what you can do with those skills to problem solve, evaluate and create new things.
For this project it's encouraging even our littlest ones to begin their path of STEM learning through exploration by exploring magnetism.
St. Patrick's Day STEM Activity: Sensory Bottle Experiment
This post contains affiliate links to Amazon
Children are born speaking the language of science with their inherent ability to wonder, discover, explore and be curious. This activity encourage and fosters this sense of curiosity with a few items you can found around your house.
Are you ready to learn how to create this St. Patrick's Day STEM Activity?
Materials Needed for Shamrock STEM Activity:
Directions for St. Patrick's Day STEM Activity Sensory Bottle:
1. Find an empty recycled water bottle and fill it up with water. Leave a small portion of space to be filled with additional contents. SCIENCE:a good time to talk about water displacement.
2. Go around the house on a Leprechaun search to discover gold with your child. We added Shamrocks from an old necklace, golden jingle bells, pennies and gold glitter.
Be sure to encourage your child to find things that they think will be magnetic.
3. Before adding items to the sensory bottle stop and having them count the items for some MATH fun. Consider making matches of items for even or odd numbers as you extend math into this activity.
4. As your child add the items talk about whether they think they will sink or float for more SCIENCE vocabulary and discovery.
5. Once all the items are added it's time to add a little golden dust to sparkle in the sensory bottle. Now the bottle is done so you can close it up as tight as possible. If you want you can also hot glue it closed or tape it close to avoid any spills.
6. It's time to explore with the St. Patrick's Day Sensory Bottle. Give your child lots of time to shake and see what happens. Try rolling it on the table to see what happens next.
As you explore it's time for SCIENCE by discussing the movement of the items and how they react with the water.
You'll notice over time that this bottle will turn more golden because of the gold glitter. Take it outside to let the light bounce around the gold glitter more to make it even more magical.
7.Now it's time to discover which items are magnetic. Challenge your child to find the items in the bottle that are attracted to the magnet. Depending on what you added to bottle the answers may change. Better yet think about surprising them in the night by adding a new magnetic element, perhaps the leprechauns could be mischievous and do so?
8. One big challenge it to see how many magnetic items you can capture at once. This is part of the ENGINEERING challenge. With increased magnetic force from a magnet your child may be able to capture more items if lined up strategically.
This will vary per age group how challenging you make it. Also challenge your little scientist to see if they can make the magnet hold onto the edge with them holding it.
9. Grab your cell phone and take a video of them demonstration the magnetic force to add an element of TECHNOLOGY to this STEM St. Patrick's Day STEM Activity Project.
CHALLENGE
Next STEM challenge we're going to add Corn Syrup or cheap Hair Gel to see how it changes the movement within our water bottle adding more SCIENCE fun to our Sensory Bottle as part of our STEM Education.
Magnetic Wands
Book:What Makes a Magnet?
Click Here for more STEM Toys and Games for Kids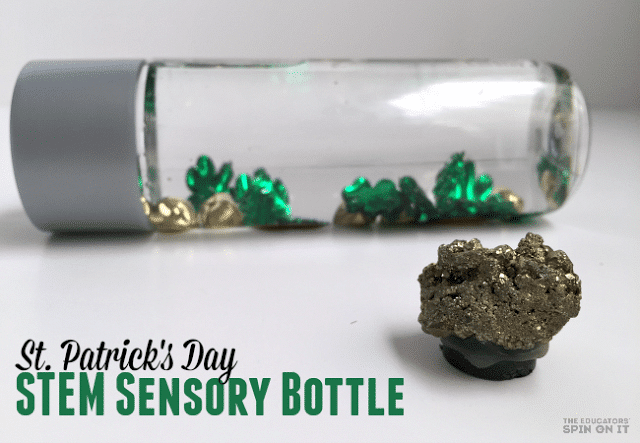 STEM Education for Kids
STEM Education for Kids is a skill that we need to begin at early ages. This St. Patrick's Day STEM Activity Sensory Bottle is a fun way to start the conversations needed for kids to be confident in stem learning.
We have additional Stem Activities on our site here at The Educators' Spin On It, even quite a few for STEM education for preschoolers.
For more STEM Activities visit this post about 50+ STEM Activities for Kids
GRAB a book to read with this activity for St. Patrick's Day here are a few of our family's favorites. The Night Before St. Patrick's Day and Hooray for St. Patrick's Day!.
Have a Happy St. Patrick's Day! Maybe take your next challenge into the kitchen with these Irish Cookies in the form of a Celtic Knot.