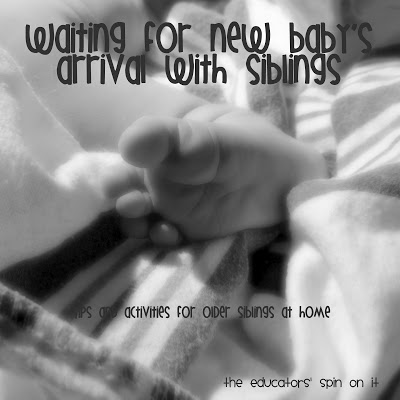 We are so very excited here at The Educators' Spin On It! Someone very special has arrived! We'll have to wait for Amanda to share more details with you once she's ready but I thought I'd share I was the lucky one to stay home with Amanda's little ones while she went off to the hospital to have a baby!
Tips for Waiting for a New Baby to Arrive with Siblings
Here's the question… What do you do at home while you're waiting for a baby to arive? We found some fun things to do that I thought you might find useful as you may have siblings waiting with family members to bring home their newest sibling.
Keep routine as normal as possible.
It's already the most exciting thing that ever happened in their lives, keeping their routine familiar will help them maintain calmness. Before your anticipated due date, write up a daily schedule of what your children do each day. That way no matter who's with your children while you're at the hospital they'll know what to do.
Talk about their own birth stories
It's important for them to know where they were born and what cute stories you have associated with their birth. A simple activity before baby arrives is to write a book together about when they arrived. Then while they are asking quesions at home they can read their own stories and probably answer a lot of their own questions.
Look at baby albums together
Older siblings can begin to have worries about what the new baby will look like. Truthfully I think it's because they want to know if the baby it will look like them. It's fun to pull out their own baby albums to see how they looked when they were first born. It's important to point out that we all look very different from when we were first born. Keep them out on the table the first few weeks the baby is home so that they feel just as special as the new baby.
Make something for Mommy at the hospital
Create a special picture or card for mommy to hang up in the hospital room. Since Owls seem to be the theme for Amanda's baby. The kids created special owl family pictures.
Visit the baby
Once you get the call it's time to pack up and go visit the new baby! Have a special outfit set aside for this day that they've selected with you. It's a visual cue for them to know it's time and the baby is here. Plus that means you've already prepped for those adorable first shots of the baby and their siblings. It was so much fun to get the call and tell them the baby had arrived!
Sibling Gift at the Hospital
Have a special gift for your baby's siblings at the hospital. It makes a special memory for them to take home and remember their visit with and to also know that you still love them very much. Books can be a good gift since it will also keep them occupied at home while they are waiting for the baby to arrive.
Create an easy Transition Home
Leaving the hospital can be one of the most difficult things for small children. They just don't understand why Mommy and Daddy and new baby can't come home yet. Prepping them before you go in is a good tip. A simple we're going to see the baby for a little bit and then we'll leave so the baby and mommy can rest and then we'll be back to pick them up soon or have dinner with them soon. Then once you arrive at home I used some pictures I had taken at the hosptial and I video to help them feel like we brought baby home too on our minds. They even said goodnight to the baby on the screen as they went to bed. I assured them we'd be back in the morning to visit the baby again! Prebought snacks or sibling gifts can be a good thing to take home in the car that Mommy packs.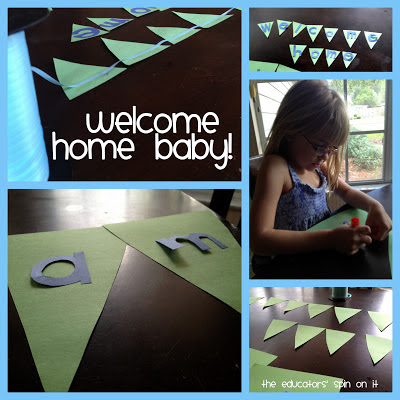 Make something for Baby at Home
We created a special Name Banner for the baby once we found out his name. We cut up triangles and then glued letters onto the triangles. Then we hung it up together. They had so much fun making it together and it really made them excited about his name. We alos created a dot stamp with the letter in his name to hang on his door.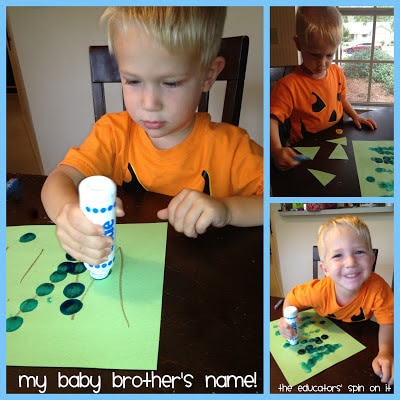 Reading Books about Welcoming a New Baby
Anytime you can read about what's happening in your child's own life it's a great way to help them understand what's going on. It gives them a chance to discuss any concerns they may have and also introduce concepts they have not thought about.
Talk about expectations and safety rules
It's important for children to hear what's expected of them around the new baby and have them talk about it with parents and also those moments before baby arrives home. Make a simple book with your child about expectations and illustrate it together
Most importantly give them time to play and be a kid.
Having baby and baby items available for role playing will help them with many of the feelings that are going through their thoughts. Even a train sets, doll houses are ways to role play what's happening. Just having time to go outside on in the yard is important too.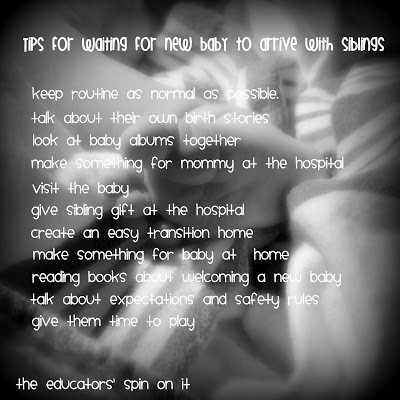 Soon enough before you know it it will be time for the baby to arrive at home! Many thanks to Amanda's family for allowing me to be a part of such a special time in your life!
Click below for More Tips for Sibling Connections to new Baby during Pregnancy