We have all heard the saying "monster-in-law". The derogatory phrase used to refer to a mother-in-law who happens to be a monster. I feel terrible for anyone out there who has a monster-in-law, it sounds awful. I, on the other hand, am extremely fortunate to have a wonderful mother-in-law, a woman I admire and more importantly that my children adore.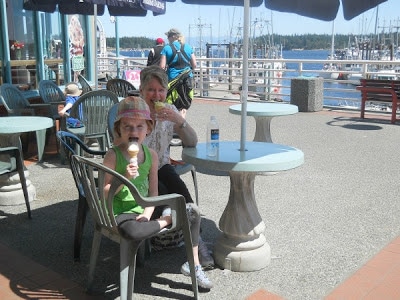 The role of a grandparent can be so important in a child's life. There is something about a grandparent's unconditional love that can truly help build a child's self esteem.  There are few things I enjoy more than watching my girls excitedly await the arrival of their Grandma Lou. The moments before she walks through our door  are filled with giggles of anticipation. Once Grandma Lou is in the house it's all about my girls sharing every little story, about every little thing that has been happening in their lives…Grandma Lou just sits back and listens. She is genuinely interested in what they have to say. These are the moments they will always remember. As they grow, they will always remember how present their Grandma was in their lives.
Grandma Lou tries to make it to every one of their performances; school, dance, soccer, whatever. And if she can't make it, she always follows up with a phone call to see how the event went. Her presence is so important to my girls. I suppose that is one of lessons that their relationship with their grandmother teaches them…the importance of being present. It is one thing to live your life day in and day out, but if you are truly present with those around you, they will know that they are loved.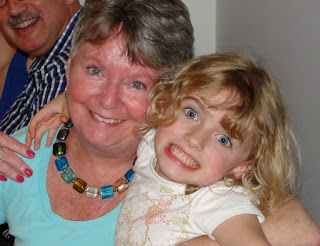 What I have learned from Grandma Lou is that children need a positive influence and a positive voice in their lives. Her positivity shines through. While life has not always been easy for Grandma Lou, she has faced many challenges, she has always remained positive. When I think of all the difficulties and challenges that my girls will face as they grow up, I hope that I can hold on to this lesson from their grandmother.
My daughters are so very fortunate to have a fabulous woman in their lives. I am very fortunate as well. My mother passed away 3 years ago and Grandma Lou has become a welcomed guiding light in my life. My only wish is that my girls will take the valuable lessons their grandmother is teaching them into their own lives and someday become amazing grandmothers as well.
In my "previous life" I was a mental health professional…in my current life I'm a stay-at-home mom with 2 beautifully adventurous kids. I share everything that lands on our kitchen counter over on my blog, Kitchen Counter Chronicles. Swing by and learn how we are greening their lives; what we are crafting; what we are cooking and what we are reading. While you will often find the girls and I inside the kitchen, you will also find us out getting our hands dirty, exploring and learning outdoors. I also tweet at @kcchronicles and can be found on Facebook and Pinterest.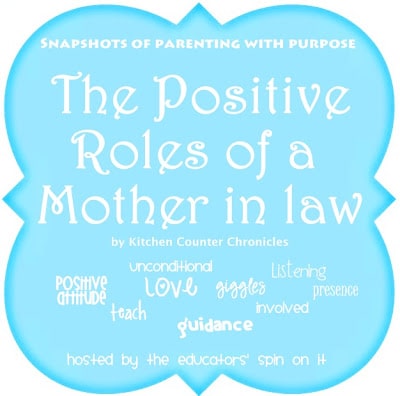 Kim's "Spin On It"
We were so excited that Jenn from Kitchen Counter Chronicles emailed us her Snapshot. We know her best from joining up with her each month in our Around the World in 12 Dishes. and we are both a part of the Kid Blogger Network.  This past months we've enjoyed her Outdoor Pumpkins and Leaves Blog Hop and her Halloween Books and Activities. 
Thank you so much Jenn for sharing about your Mother in Law, Grandma Lou on our Snapshots of Parenting with Purpose.  It's so much fun to see how your children interact and engage with her.  You can see how much they love and cherish each other and how you value her as an important role model in your own life.  What a treasure she is to your family! 
Grandparents
truly are a blessing in our lives and it's often times something we forget to stop and say thank you to them for all that they do for our children and for us.
As I always say to Amanda without my inlaws I wouldn't have my husband and I am so thankful for that.  I am grateful each day for who they are and for bringing him into this world so that I could be so very blessed with my husband and my children.  It's sad but true, as my son reaches 20 this year, soon enough I need to start taking notes of what a good mother in law does for my future daughter in law and grandchildren…. OH MY did I just say that out loud ????
Want to share your own Snapshot?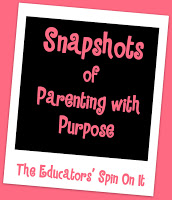 More resources for Snapshots of Parenting with Purpose
We would love to feature you in a future blog post and inspire the word to be better parents! E-mailing us your snapshot of parenting with purpose gives us permission to share your story with others with hopes that it may inspire =) If you do not want us to share your awesome parenting moment with others, but want to tell us, just let us know in your e-mail and we will read it, but not share it!