Let's go to our nation's capital on this Washington, D.C. Virtual Field Trip for Kids! Get prepared to fully immerse yourself in U.S. History as you explore Washington, D.C.
Which popular Washington, D.C. destination will you explore first?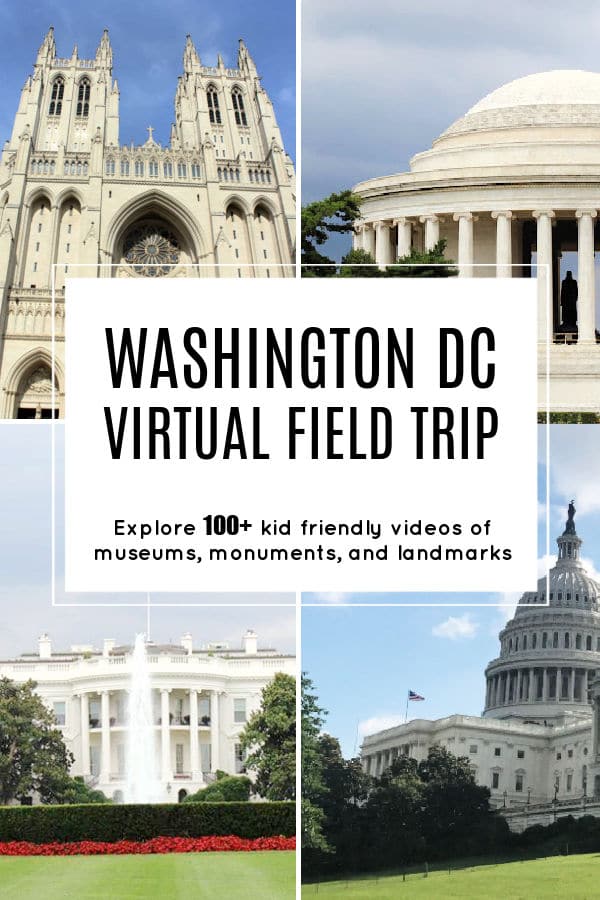 TIP: Use this Table of Content to help you navigate which locations you want to take a virtual tour of.
Explore 30+ Virtual Field Trips for Kids
Washington DC Virtual Field Trip for Kids
Are you planning a trip to Washington, D.C. with your child? You might be wondering what are the best things to do in DC?
Here's the honest truth, kids of all ages will love visiting here but only if you keep it at a pace that's set for them and their age group.
The first tip is to start with a Virtual Field Trip to Washington, D.C.
There's something quite magical about a child discovering a real-life building or statue after seeing it in a short video online. Somehow all the details are enhanced for them and they search to find the interesting elements of each historic building. It almost becomes like a real-life I-Spy game!
I've put together a collection of Virtual Tours within Washington, D.C. to prepare your child for their visit to our nation's capital.
This collection of Washington, D.C. Virtual Field Trips will include locations that…
Honor Past Presidents
Honor Those That Have Served
The Seat of Power in the United States
National Treasures
Must-See Sites in Washington, D.C.
Grab our virtual field trip log to track your virtual field trips.
Facts About Washington, D.C. for Kids
Washington, DC, the United States capital, is a compact city on the Potomac River, bordering the states of Maryland and Virginia. It's defined by historical monuments and buildings – including the iconic ones that house the federal government's 3 branches: the Capitol, White House, and Supreme Court.
It's also home to iconic museums and performing-arts venues. Many of the most popular destinations are located on the National Mall.
Let's get exploring our Washington, D.C. Virtual Field Trip starting here at the National Mall, the center of the capital.
The National Mall
The National Mall is basically a long, rectangular public park stretching from the U.S. Capitol Building on its east end to the Lincoln Memorial on its west end. It is 1.8 miles long by .3 miles wide. It consists of iconic monuments and memorials on 1,000 acres of green space in Washington, D.C.
National Mall and Memorial Parks is responsible for more than 1,000 acres of parkland, including 14 individual units of the National Park System. Here's a map to take a closer look.
National Mall and Memorial Parks monuments and memorials honor the bravery, sacrifices, and beliefs of those who have served their nation, its people, and all humanity.

The National Park Service
Discovery Education and First Lady Dr. Jill Biden welcome students to a behind-the-scenes Virtual Field Trip to experience the history and beauty of our nation's capital.
You can track your virtual tours with our Printable Virtual Field Trip Log!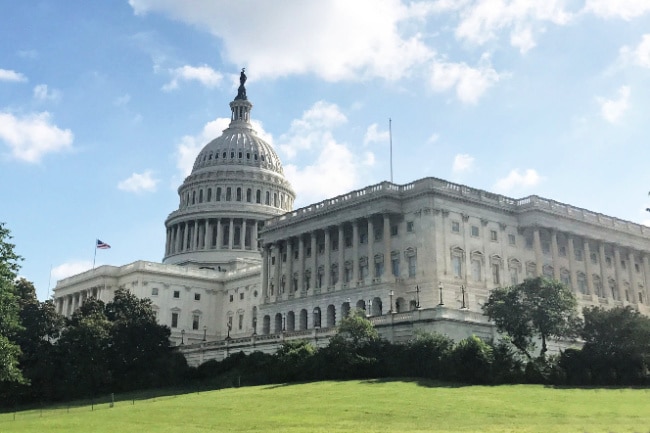 The U.S. Capitol Building
The U.S. Capitol is home to the U.S. Congress and its two legislative bodies, the U.S. House of Representatives and the U.S. Senate. It's considered to be a monument to the American people. It is where the issues facing the nation are considered, debated, and written into law.
The U.S. Capitol also houses an important collection of American art and is an architectural achievement in its own right.
Did you know that the Capitol campus is made up of more than 18.4 million square feet of facilities, and 570 acres of grounds?
As you plan a visit to the U.S. Capitol, students can learn more from these guides.
Here are some resources for parents and kids to learn about advocacy and our U.S. voting system.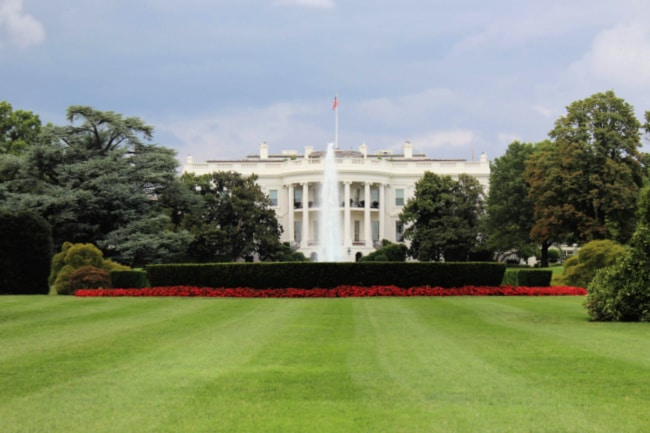 The White House
The White House is the official residence and workplace of the president of the United States. It is located at 1600 Pennsylvania Avenue NW in Washington, D.C., and has been the residence of every U.S. president since John Adams in 1800.
"The White House is where the President and First Family of the United States live and work — but it's also the People's House, where we hope all Americans feel a sense of inclusion and belonging."

The White House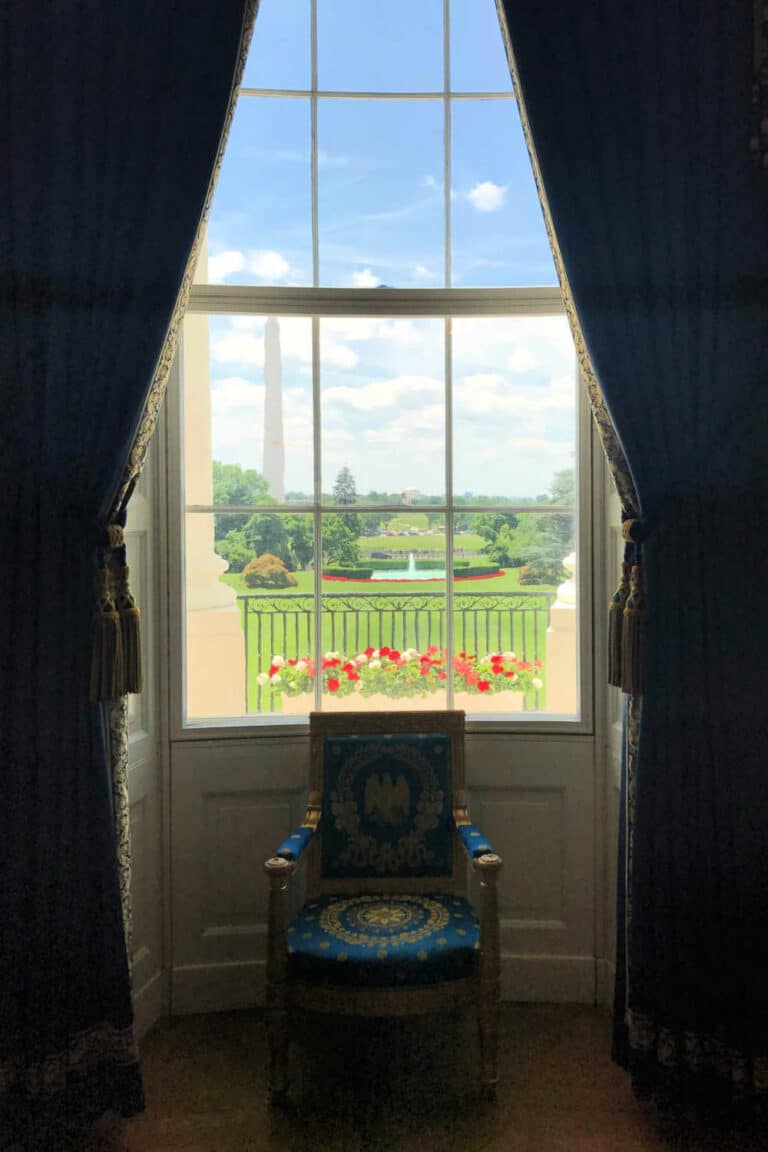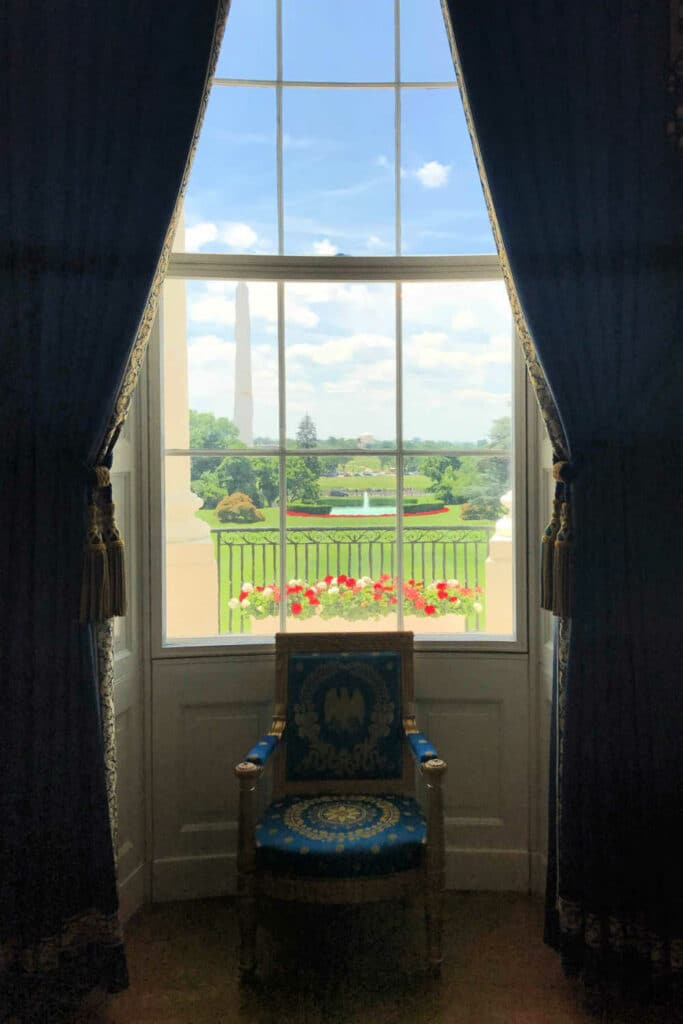 Supreme Court of the United States
Although located off the National Mall, we want to include all three branches of our US Government with the Supreme Court Building. The construction, begun in 1932, was completed in 1935 when the Court was finally able to occupy its own building. Here are the current members of the Supreme Court.
The Washington Monument
The Washington Monument is one of the nation's most recognizable structures in Washington, D.C.
Built to honor George Washington, the commander-in-chief of the Continental Army and the first president of the United States, the Washington Monument was once the tallest building in the world at just over 555 feet. The monument to America's first president still holds the title of the world's tallest stone structure and obelisk. At its base are 50 American flags, one for each state.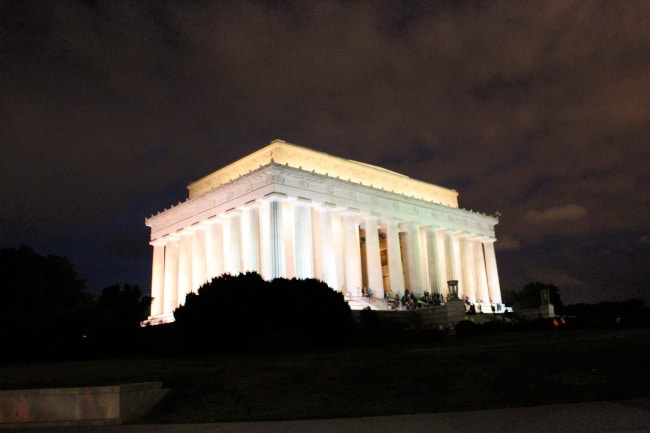 Lincoln Memorial
The iconic Lincoln memorial was built to honor the 16th U.S. president and is a must-see for every visitor to the nation's capital. There are 36 columns, each one representing one state in the U.S. at the date of President Lincoln's death. The memorial itself is 190 feet long and 119 feet wide and reaches a height of almost 100 feet. The statue of Lincoln stands 19 feet tall.
The walls have carved inscriptions of Lincoln's quotes including the Gettysburg Address, one of the most famous speeches in U.S. history.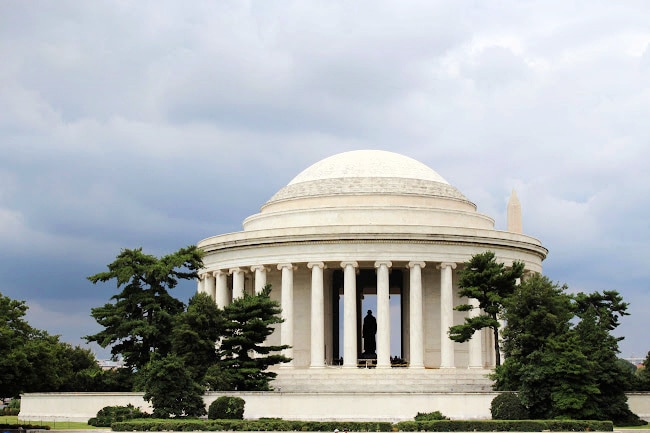 Thomas Jefferson Memorial
The Thomas Jefferson Memorial honors America's founding father and primary author of the Declaration of Independence. The location and architecture of the Thomas Jefferson Memorial make it stand out among DC's amazing array of monuments and memorials.
This memorial is our family's personal favorite in DC.
Martin Luther King Jr. Memorial
The Martin Luther King, Jr. Memorial honors Dr. Martin Luther King, Jr., the movement he led, and his message of freedom and equality. A wall of quotes from Dr. King's long civil rights career presents his ideals of peace, democracy, justice, and love.
The memorial is the first to honor an African American individual on the National Mall, as well as the first on the National Mall to honor a citizen activist, rather than a United States President or war hero.
Franklin Delano Roosevelt Memorial
The FDR Memorial uses elements of stone, water, and landscaping to tell the story of FDR's presidency in a more approachable way. Quotes are at eye level and the statues are at or close to ground level and were meant to be touched.
"Memorials play a part in both remembering and forgetting major events and historical figures. The meaning of memorials—such as the Statue of Liberty, the Trail of Tears National Historic Trail, and the USS Arizona in Pearl Harbor—may change significantly over time and across generations."

Susan Crane, a UA historian
World War II Memorial
56 pillars surround a central fountain, commemorating the efforts and sacrifices of those who served, supported, and died in World War II. Each gold star represents 100 Americans who died in the war. Just over 4,000 of these stars clearly reflect the loss of 405,399 Americans in this struggle. In the center of the memorial visitors find themselves surrounded by statements from President Franklin D. Roosevelt, President Harry S Truman, author Walter Lord and commanding officers of the U.S. military.
Vietnam Veterans Memorial
Honoring the men and women who served in the controversial Vietnam War, the Vietnam Veterans Memorial chronologically lists the names of 58,318 Americans who gave their lives in service to their country.
Be sure to stop by the Vietnam Women's Memorial while you're there.
Korean War Memorial
The memorial commemorates the sacrifices of the 5.8 million Americans who served in the U.S. armed services during the three-year period of the Korean War.
The triangular monument consists of Walls and a Pool of Remembrance, and 19 stainless steel statues that are approximately 7-feet tall and represent an ethnic cross-section of America.
"Our nation honors her sons and daughters who answered the call to defend a country they never knew and a people they never met"

Dedication Stone at Korean War Memorial

Arlington Cemetary
The Arlington National Cemetery is the country's largest military cemetery and serves as the final resting place for more than 400,000 military veterans and their immediate family from the fronts of Iraq and Afghanistan, as well as World Wars I and II, the Korean conflict, Vietnam, the Cold War, and America's Civil War. This cemetery consists of 639 acres.
The Tomb of the Unknown Soldier is Arlington National Cemetery's most iconic memorial. Here is where you will witness the Changing of the Guard ritual—an elaborate, somber ceremony.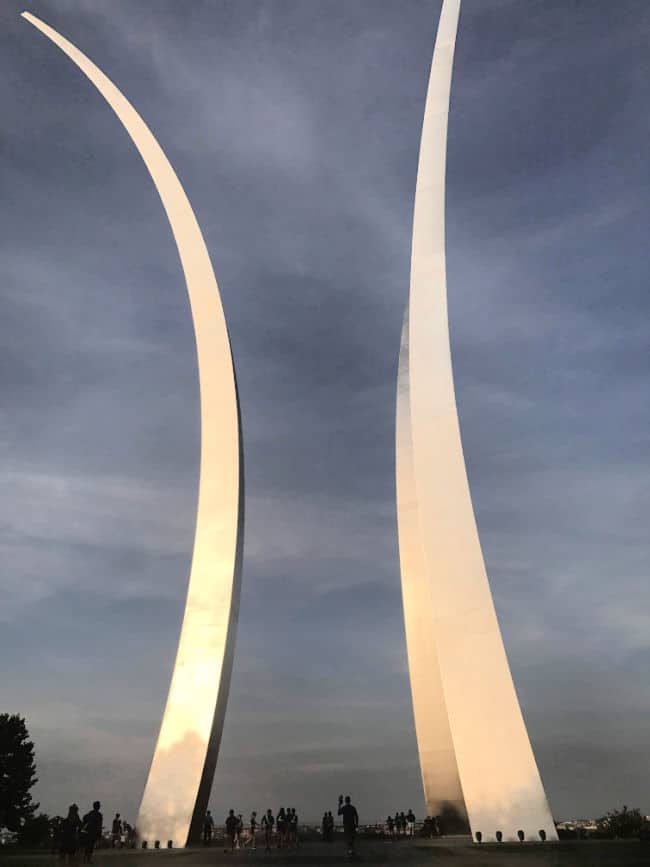 U.S. Air Force Memorial
Three stainless steel spires reach a height of 402 feet above sea-level. It is adjacent to the Arlington National Cemetery and overlooks the Pentagon.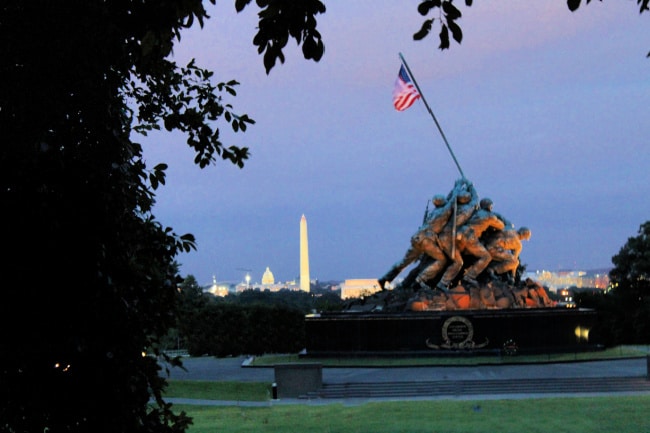 Marine Corps War Memorial (Iwo Jima Memorial)
The United States Marine Corps War Memorial represents this nation's gratitude to Marines and those who have fought beside them. While the statue depicts one of the most famous incidents of World War II, the memorial is dedicated to all Marines who have given their lives in defense of the United States since 1775.
Watch a video about The story of what the US Marine Corps War Memorial symbolizes
Library of Congress
The Library of Congress is the largest library in the world, with millions of books, recordings, photographs, newspapers, maps, and manuscripts The Library of Congress serves as the main research arm to committees and staff of the U.S. Congress, other government agencies, libraries throughout the country and the world, and the scholars, researchers, artists, and scientists who use its resources.
It is the home of the U.S. Copyright Office.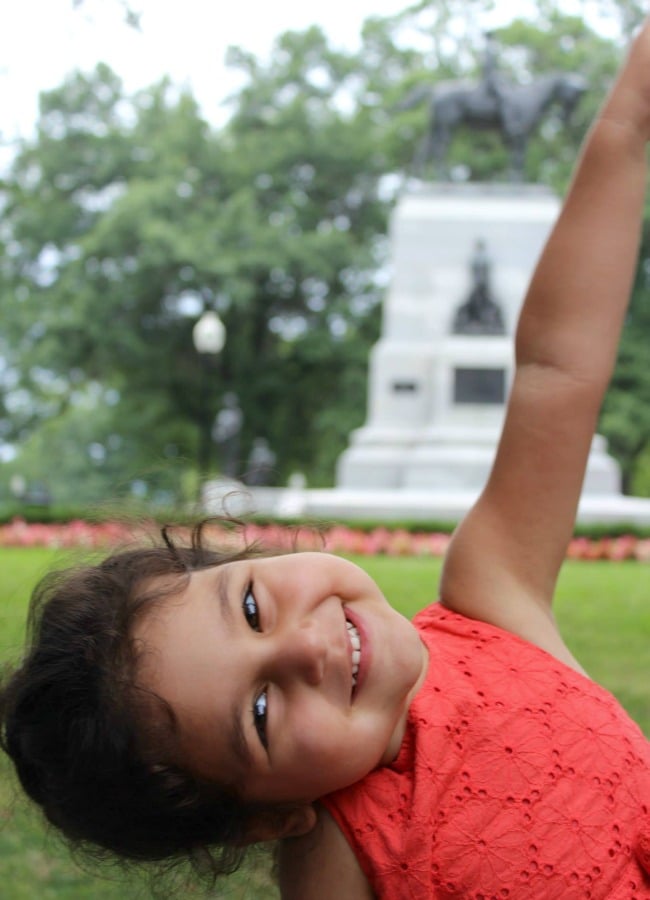 National Archives Museum
The National Archives Museum in Washington, DC, is home to the Declaration of Independence, Constitution, and Bill of Rights.
National Gallery of Art
The National Gallery of Art, founded as a gift to the nation, serves as a center of visual art, education, and culture. Our collection of more than 150,000 paintings, sculptures, decorative arts, photographs, prints, and drawings spans the history of Western art and showcases some of the triumphs of human creativity.
For your young artist, take advantage of their Learning Resources for Art.
National 9/11 Pentagon Memorial
The National 9/11 Pentagon Memorial is a national memorial dedicated to the tragic events that occurred on Sept. 11, 2001. The memorial has an emotive power that few other memorials have, even to the youngest of visitors.
United States Holocaust Memorial Museum
The United States Holocaust Memorial Museum is a living memorial that encourages visitors to remember, reflect, and act to confront hate and promote human dignity.
This is one that you'll want to discuss with your child prior to visiting and decide what's appropriate for their age group.
Mount Vernon
Mount Vernon is an American landmark and former plantation of George Washington, the first president of the United States, and his wife, Martha. The estate is on the banks of the Potomac River in Fairfax County, Virginia.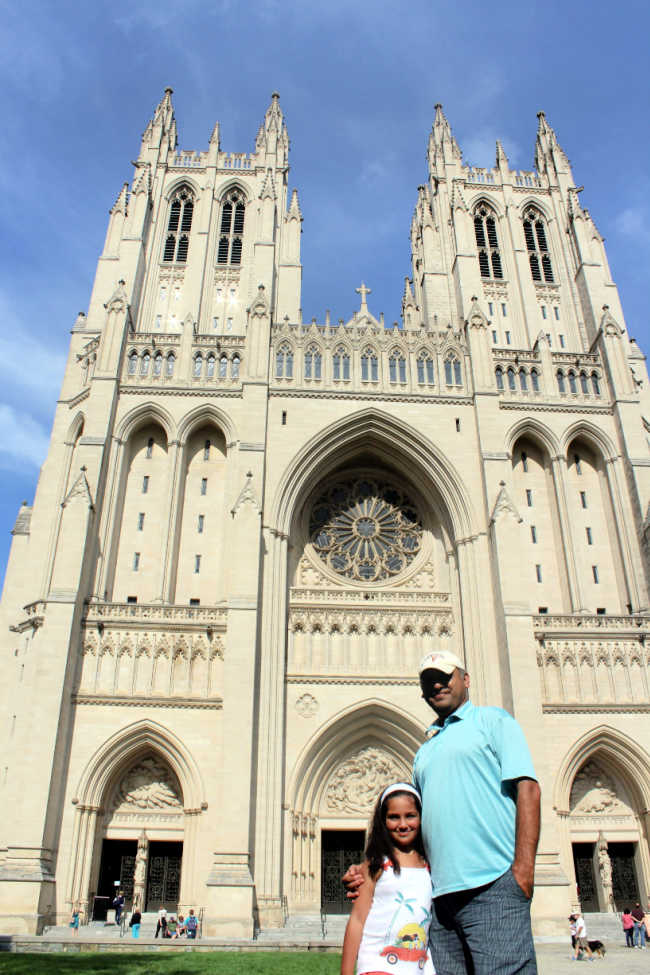 Washington National Cathedral:
Stonemasons and builders erected the cathedral beginning in 1907, completing it 83 years later in 1990. Carved from Indiana limestone, the structure boasts a 30-story-tall central tower, an interior nine-bay nave and 215 stained glass windows, including one embedded with a moon rock.
National Museum of Natural History
The National Museum of Natural History is organized into seven departments: anthropology, botany, entomology, mineral sciences, invertebrate zoology, paleobiology, and vertebrate zoology. The museum holds more than 146 million objects and specimens, making it the largest natural history collection in the world.
National Air and Space Museum
The Smithsonian's National Air and Space Museum maintains the world's largest and most significant collection of aviation and space artifacts, encompassing all aspects of human flight, as well as related works of art and archival materials. It operates two landmark facilities that, together, welcome more than eight million visitors a year, making it the most visited museum in the country.
The National Air and Space Museum in Washington, DC is temporarily closed through fall 2022.
National Air and Space Museum's Steven F. Udvar-Hazy Center
The Udvar-Hazy Center displays thousands of aviation and space artifacts, including the Space Shuttle Discovery and a Concorde, in two large hangars
Take a look at their Programs and Activities for Kids
U.S. Botanic Garden
Established by the U.S. Congress in 1820, the U.S. Botanic Garden is the oldest continuously operating botanic garden in the United States. Since 1934.
National Museum of African American History and Culture
The National Museum of African American History and Culture is a place where all Americans can learn about the richness and diversity of the African American experience, what it means to their lives, and how it helped us shape this nation.
The museum's collection of artifacts is astounding: 3,500 are on view, with another 35,000 or so in the collection.
National Museum of American History
National Zoological Park
Lions, tigers, elephants, giraffes, and the zoo's beloved giant pandas are just some of the 1,500-plus animals that call the 163-acre park home. The zoo's habitats feature animals from 300 different species and about 25 percent of the zoo's residents are endangered.
All of the animals at the National Zoo – which is also a global research center and conservation center – are cared for by world-class zoologists and veterinarians.
The Smithsonian
We listed out several of these locations individually on this Virtual Field Trip guide but thought it would be good to see how many options are available in Washington, D.C. through the Smithsonian.
When you visit the Smithsonian, you're entering the world's largest museum, education, and research complex, with approximately 155 million artifacts and specimens in its trust for the American people. The Smithsonian Institution includes 19 museums and the National Zoological Park.
Anacostia Community Museum
Arthur M. Sackler Gallery
Arts and Industries Building
Freer Gallery of Art
Hirshhorn Museum and Sculpture Garden
National Air and Space Museum
National Air and Space Museum's Steven F. Udvar-Hazy Center (Chantilly, Virginia)
National Museum of African American History and Culture
National Museum of African Art
National Museum of American History
National Museum of the American Indian
National Museum of Natural History
National Portrait Gallery
National Postal Museum
Renwick Gallery
Smithsonian American Art Museum
Smithsonian Institution Building ("Castle")
Explore their Fun Stuff for Kids section on their site for cool things to do.
The Smithsonian has its own Education channel on youtube, take a look!
International Spy Museum
The International Spy Museum is a private non-profit museum that documents the tradecraft, history, and contemporary role of espionage. It holds the largest collection of international espionage artifacts on public display.
Newseum
Sadly the Newseum has closed (2019), which was quite interesting to experience. Luckily they are maintaining an active online news curriculum packed full of resources to explore with your child.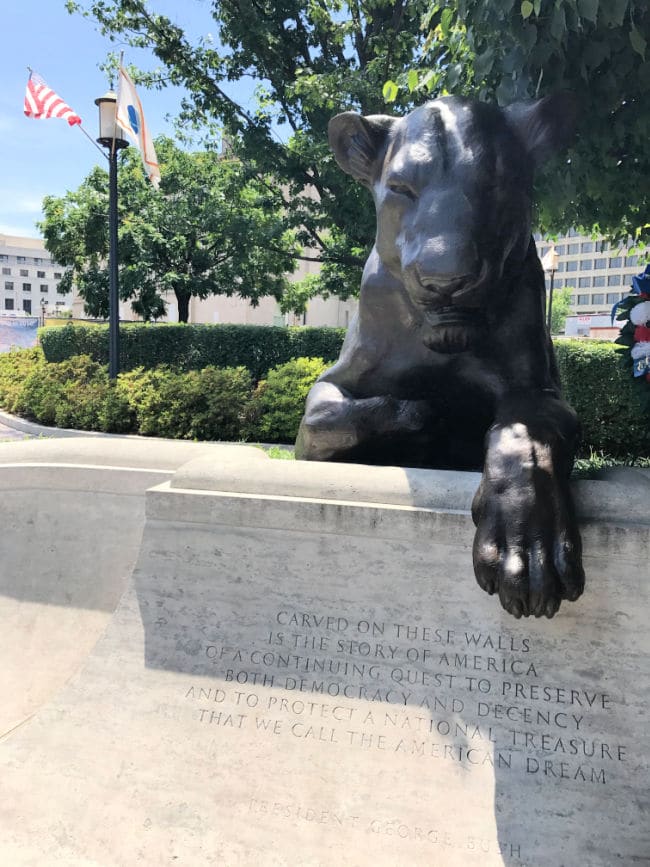 The National Law Enforcement Officers Memorial
They also have a National Law Enforcement Officers Museum which offers online workshops for kids.
Dwight D. Eisenhower Memorial
The Dwight D. Eisenhower Memorial tells the story of one of America's greatest leaders of the 20th century.
Disclosure: This post contains Amazon affiliate links.
Tips for How to Discuss Monuments and Memorials with Kids
One overwhelming feeling children may experience at DC, is that many of the monuments and memorials are dedicated to significant citizens in U.S. History that we've lost. It's something you'll want to talk about before and after you visit virtually or in person.
In our typical daily life, we don't often discuss death, which can impact your experience at these memorials and monuments.
The topic of death and the topic of war look different at various ages. A few times over the years as a mom and teacher, I've observed visiting a large number of locations in a short period of time focused on famous and heroic people in U.S. History, which may weigh heavy on their hearts.
One positive way for many who visit Washington, D.C. is that they feel motivated to get involved.
Here are some tips and resources for parents and kids to learn about advocacy and our U.S. voting system. Plus a few ways to support and honor military members.
Virtual Tours of Washington, D.C.
Washington, D.C. Printable Lessons for Kids
Children's Books about Washington, D.C.
Ready to Go in Person? How to Get Around Washington, D.C.
In this virtual field trip guide to Washington, D.C. I shared my tips for how to go site-seeing in our country's capital with your child, even if it's just virtually for now.
Pick a few of each family member's favorite locations from this virtual field trip and plan a visit there. The good thing is most of the museums in DC are free.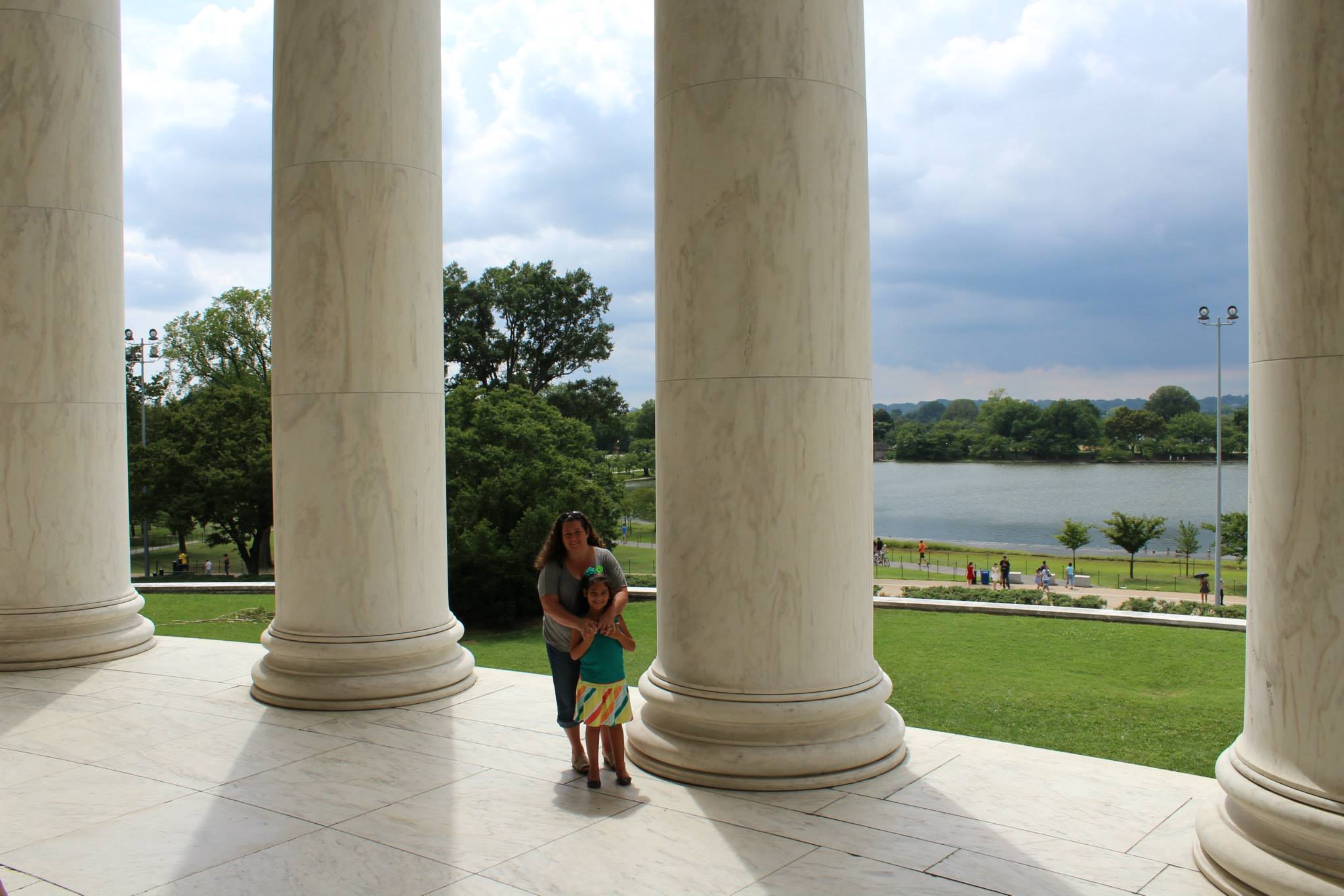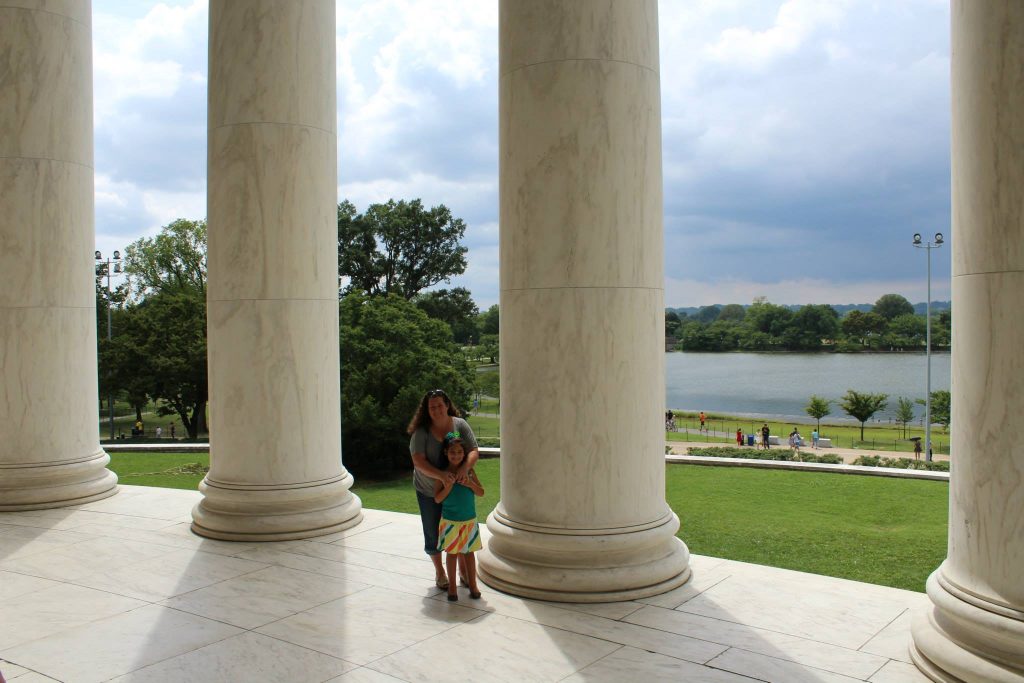 Be sure in person to balance out indoor and outdoor times to keep them entertained. Parents may want to read all the signs, but kids will give you about 20 minutes in one spot at most.
Washington, D.C. Mall area is a very compact space. If you're ready to walk, this whole area is walkable. You'll need to plan your adventure and give yourself at least 3 days to be able to see your top picks, especially when traveling with kids.
Washington, D.C. has so many famous sites that it's difficult to keep track of all there is to see and do. One of the best ways to explore this city is on an Old Town Trolley Tours or the classic Big Bus Hop-on Hop-off Tour, seeing the sites from an open-top red bus and getting on and off wherever you choose.
Washington, D.C. has so many locations to visit, which one will you visit first? Which virtual field trip location was your favorite?
Did I miss your favorite? Leave a comment below and let me know your favorite location to site see in the nation's capital.
Looking for more virtual field trips for kids? Try these…