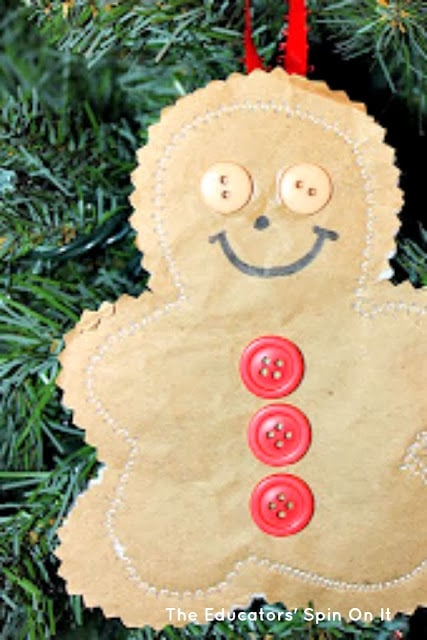 This little Gingerbread Man Ornament have been in our lives for many, many years.  A retired teacher I know showed me hers and I have tweaked it and have made a class set each year for my students and children. They make sweet little parents or grandparents gift, even package toppers! The above picture is my sample.
I pre-make the gingerbread and they decorate.  I set out ribbon, buttons, markers, and sometimes glitter glue.  Their creations are so much more creative and interesting than mine!  I love when they add bows and bow ties, make button mouths, draw on a necklace and more.  I show them mine and let them know that they can use the same ideas, but that I would really like to see a gingerbread boy or girl with more creative decoration. (Then I hide my sample from view so that they use their own ideas, not mine) Affiliate links
Materials Needed for Gingerbread Man Ornament
paper bag,
white felt or fleece,
a small ribbon,
scissors,
a sewing machine and
buttons
How to make a Gingerbread Man Ornament:
1.Trace a gingerbread shape on the paper.
2.  Layer 2 pieces of the paper bag and the white felt and cut the gingerbread shape through all layers.
3. Zig zag around the edge slipping the ribbon in at the top.
4. Hand it to your child and let them decorate any way they choose.
Parenting Tip:
It is ok and preferred if it doesn't end up looking like mine!!!!
For more ideas on hand-made ornaments, Mom to 2 Posh Divas has some great posts up here and our pinterest board has many more too!
Save