Keepsake ornaments are my favorite thing to make with my kids. This fingerprint train ornament is so adorable and inspired by one of our favorite train book Freight Train by Donald Crews.
If your child loves TRAINS, come see how much fun this train ornament is to make!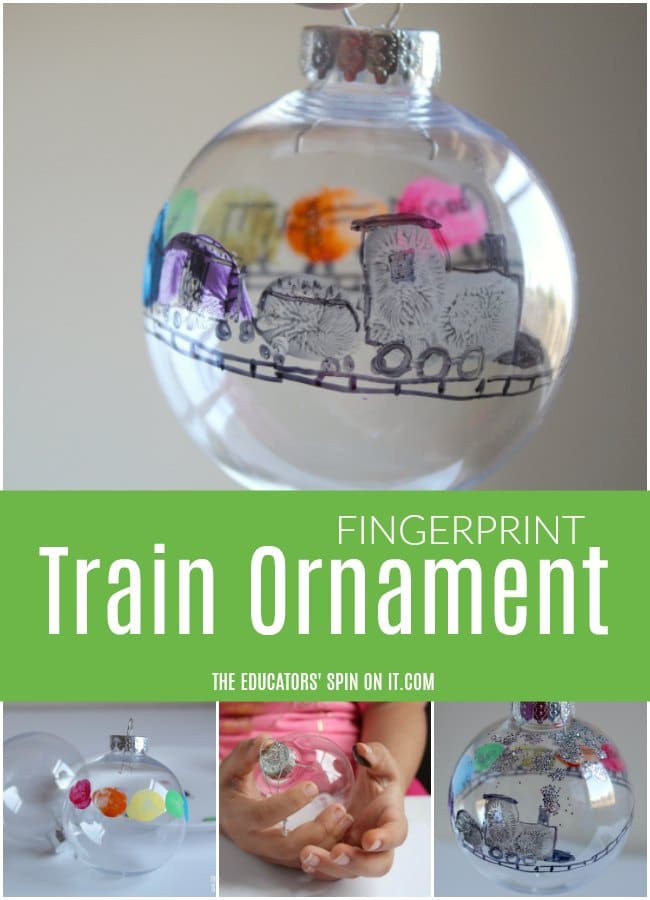 Disclosure: This post contains affiliate links to Amazon.
This train ornament craft was inspired by our featured book at The Virtual Book Club for Kids calledFreight Train by Donald Crews. In the story the author uses simple but powerful words with colorful illustrations to capture our childhood memories of trains rolling by. It's a Caldecott Honor Book that featured bright colors and bold shapes which inspired this colorful fingerprint Train Craft.
"Red caboose at the back, orange tank car, green cattle car, purple box car, black tender and a black steam engine . . . freight train."

Freight Train by Donald Crews
Fingerprint Train Ornament for Kids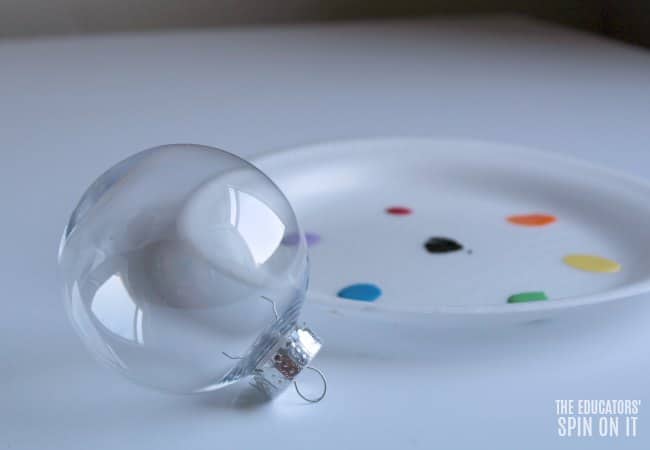 Materials for Train Ornament
black permanent marker
clear plastic ball ornament
colored paint
glitter
clear glue
paper plate or plastic lid
cotton swab
Baby Wipes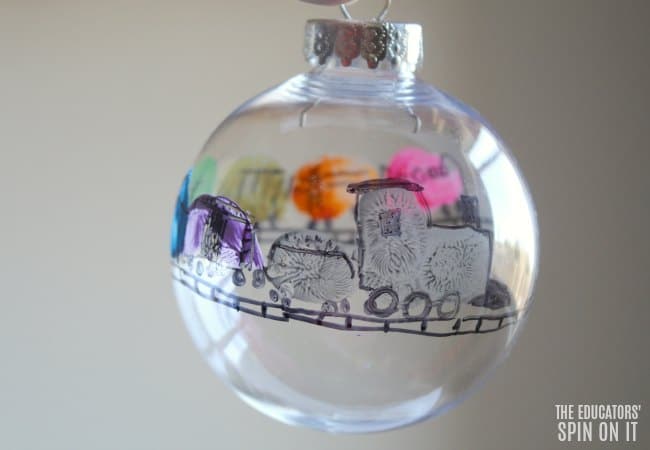 Directions for Train Ornament
1. Set up an area with your paint to dip their fingers into to paint the train. I set mine up by putting the colors onto a large paper plate. I put a small dot of paint to represent the colors of the rainbow from the book Freight Train.
So grab red, orange, yellow, green, blue, purple and black paint!
TIP: I also set baby wipes at the table for easy clean up.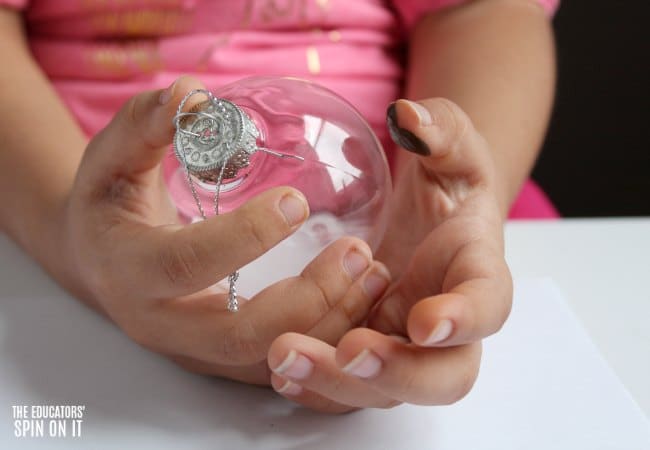 2. Have your child carefully dip their finger into the pain and then lightly press onto the clear ornament. Depending on the size and age of your child you may need to use to prints together to make a train car visible on the Christmas Ornament.
3. Continue to use a finger print for each of the colors to complete the train. For the Engine of the train use 2 fingerprints, one that goes verticle and one print that goes horizontal. Allow to dry.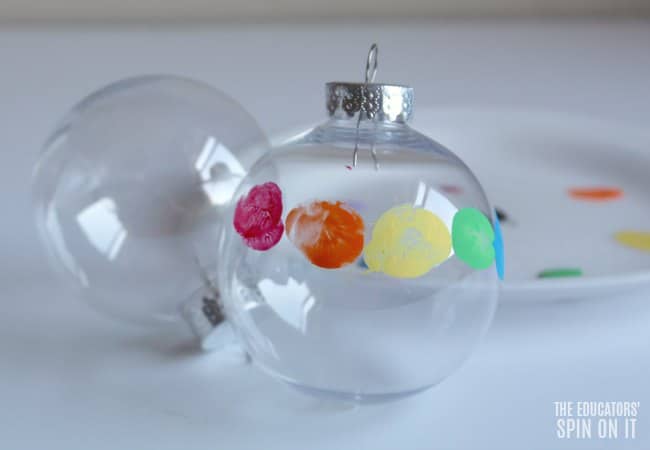 4. Once the finger prints are dry you can add the train details to the ornament with a black permanent marker. Start with the wheels and then the details of each type of train car.
Depending on the age of you child they may need to have you do it with them or you might be able to give them the market to draw certain elements to make the fingerprints look like train cars.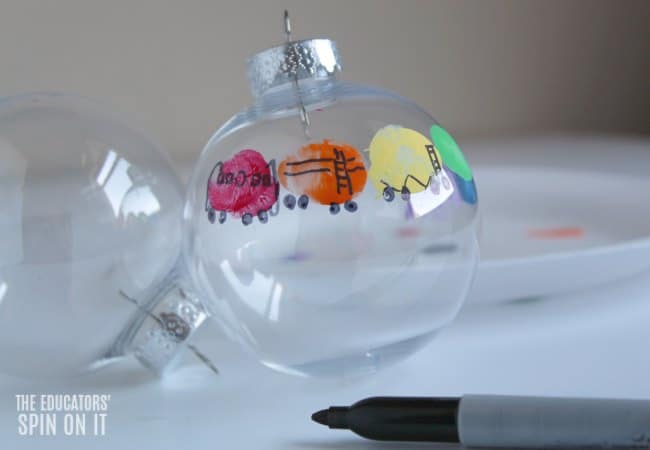 TIP: You can create a copy of what you're making on a sheet on paper so that you child can get an idea of the concept of how to transform fingerprints into train cars.
5. Then add the train tracks below the wheels to go all around your Christmas Train Ornament. The best part is when you spin it, it will begin to look just like the end of the book… Going Going, Gone!
6. Add with glue the smoke coming form the train engine and then sprinkle glitter onto the glue for a little Christmas glitter shine with the Christmas lights.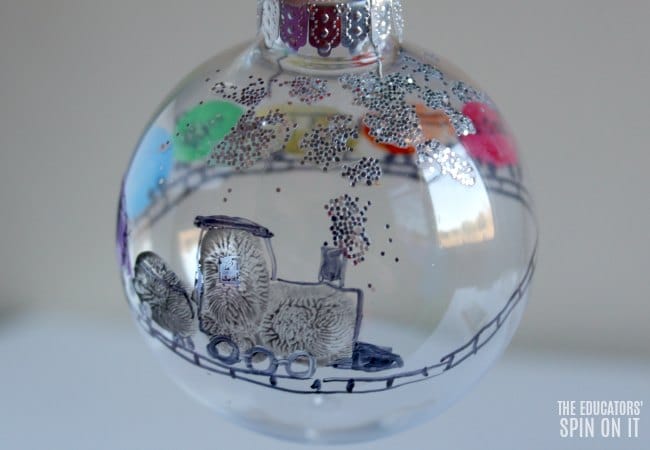 7. You can personalize the ornament by adding a name or date of birth with the permanent marker .
8. Allow to dry and then share this handmade ornament with someone special to hang on their christmas tree.
Train Themed Activities for Preschoolers at The Educators' Spin On It
Be sure to visit my other Train Week Cohosts at the Virtual Book Club for Kids to see what train themed activities they are sharing with you! They are featured here below.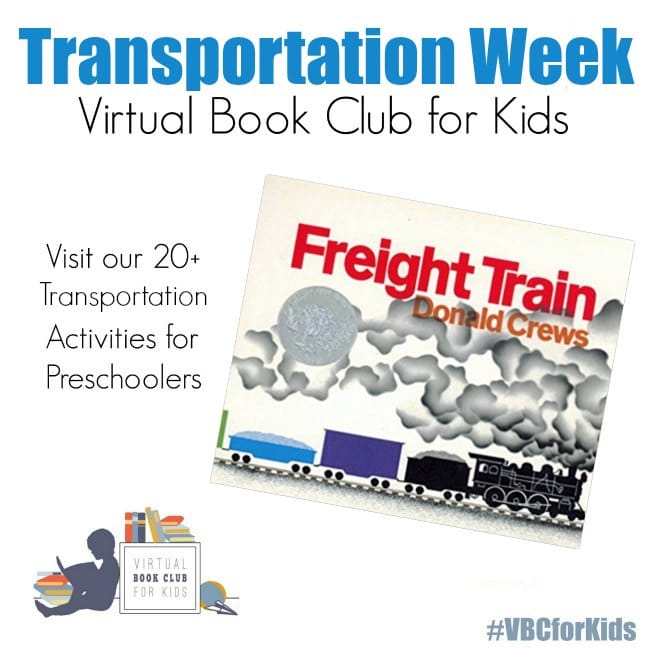 Virtual Book Club for Kids Train Week Activities
Alphabet Train- Teach Beside Me
Train Carriage Counting Game – Rainy Day Mum
Transportation I SPY & Graph Printable – School Time Snippets
Train Track Card Game for Preschoolers – Preschool Powol Packets
Transportation Playdough Mat – The Moments at Home
Transport Sand & Water Play – My Bored Toddler
Chocolate Train Cookies – Inspiration Laboratories
Fingerprint Train Ornament for Kids- The Educators' Spin On It (THAT's HERE!)
Freight Train Drawing Prompt by My Storytime Corner
Easy DIY Paper Train Table for Kids- Toddler Approved
Geometric Shapes Train – Mama Smiles
Looking for more ideas for the holiday? Try these 50+ Christmas Activities for Kids!