A baby's first Easter basket can be filled with hours of fun. Here are a few suggestions as you think of Easter baskets for babies and what to include for a special baby Easter toy.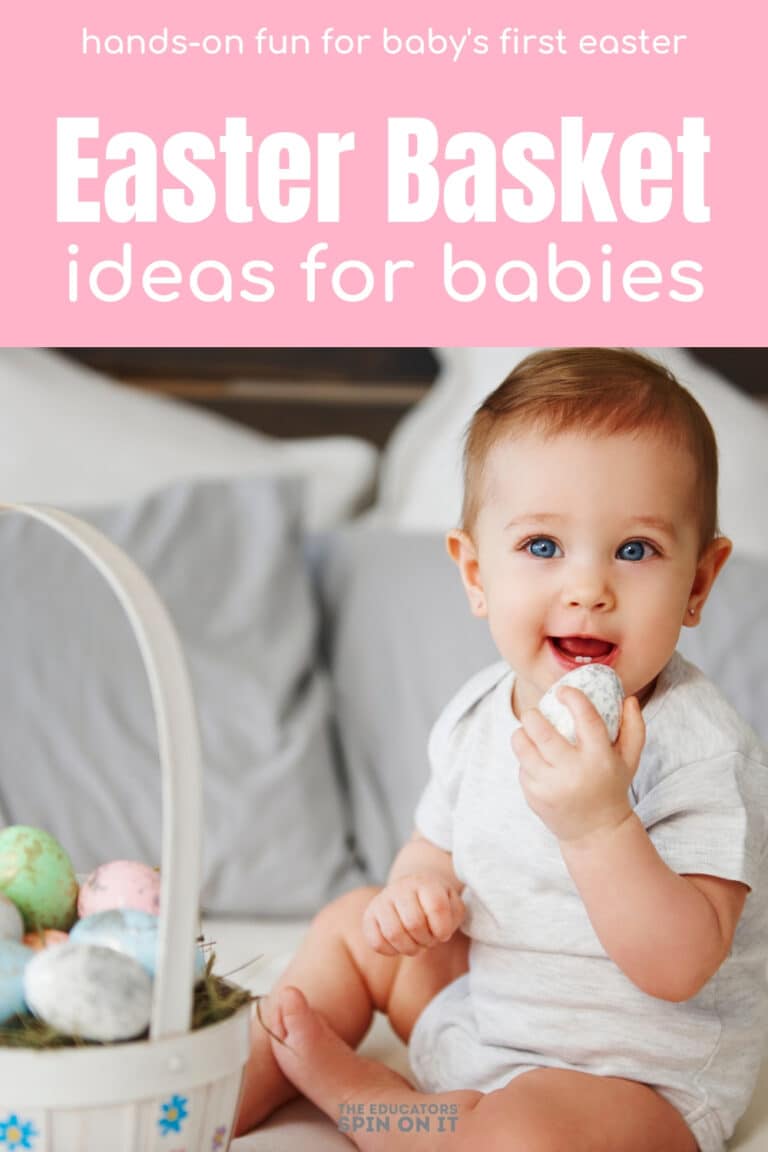 This post contains Amazon affiliate links.
Looking for creative ideas for an Easter Basket for your baby?
Here are some baby friendly ideas that are hands-on, healthy, and will inspire your baby's imagination. A few ideas are even handmade that you could put together quickly with felt fabric scraps from home.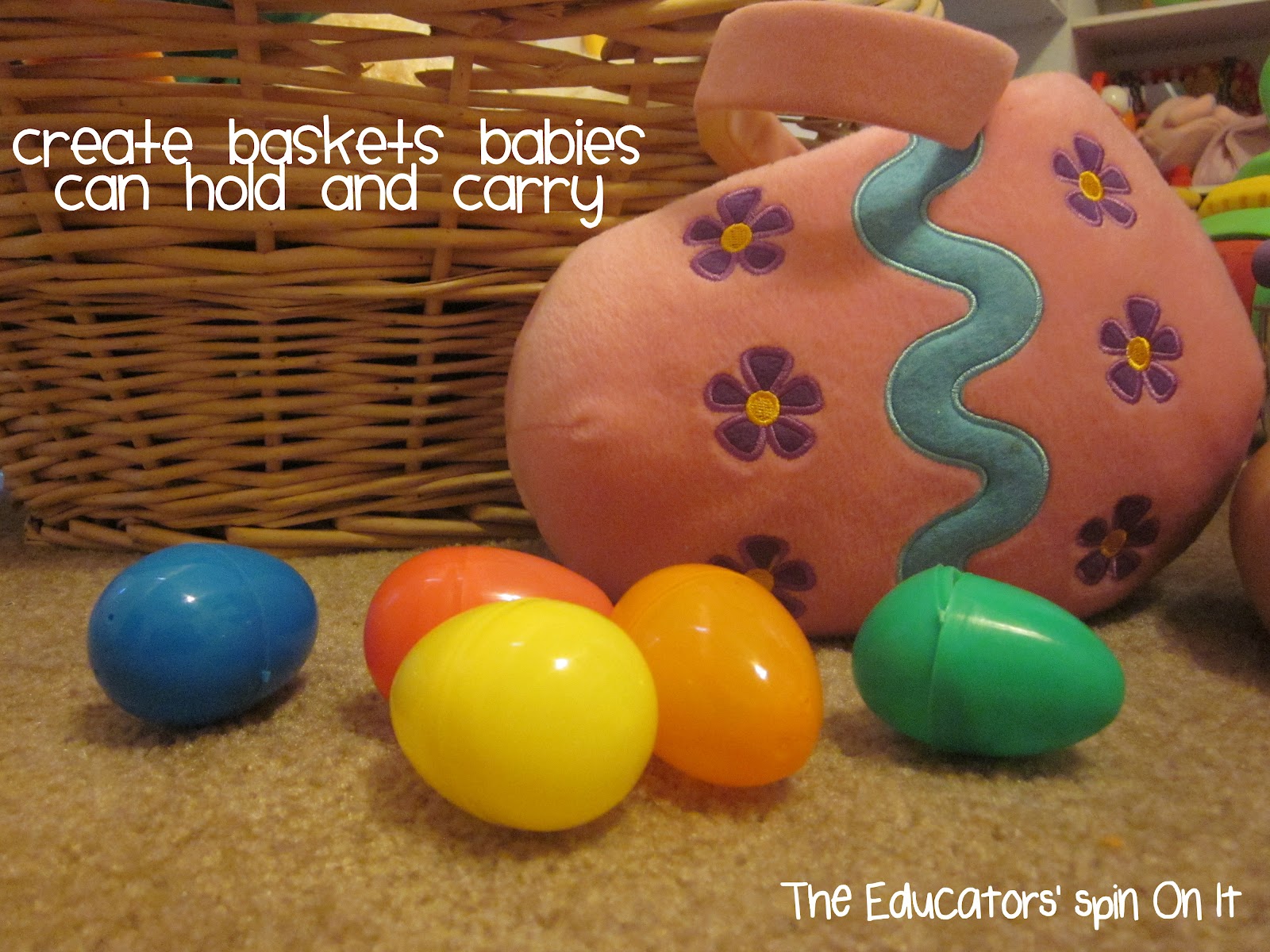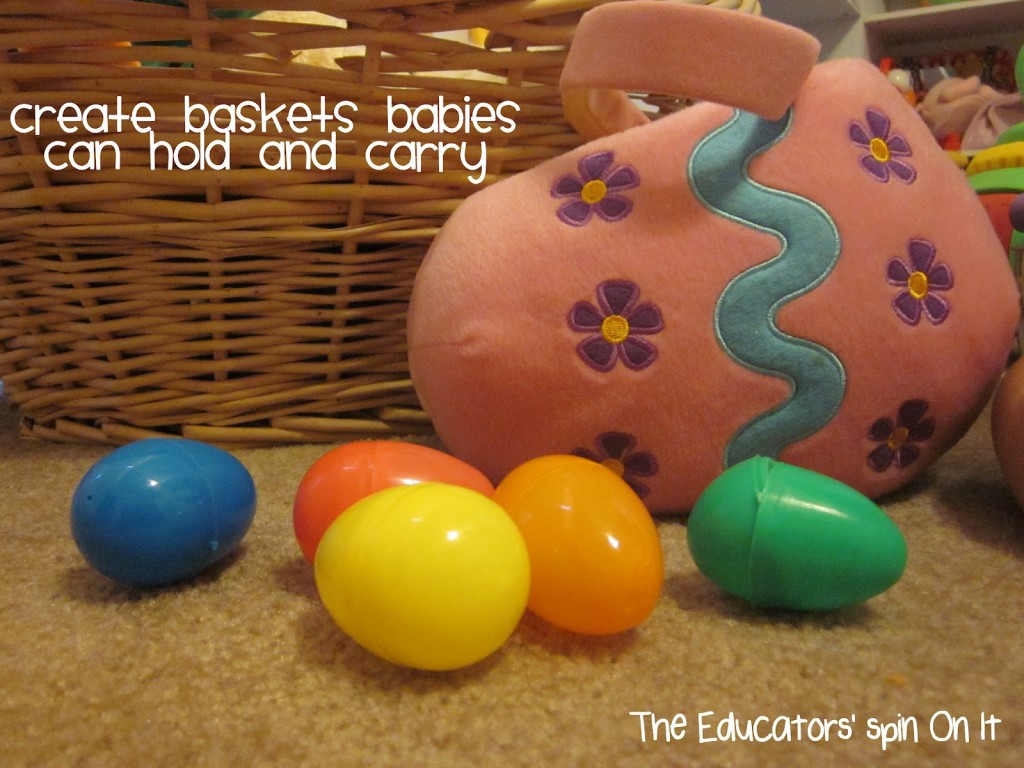 Baby Easter Basket Ideas
As you're picking out a basket consider picking a basket that your baby or toddler can easily carry around when it has eggs inside of it.
Little hands love putting eggs in and out of baskets and it's great for their fine motor and gross motor skills.
This Cuddly Bunny Plush Easter Egg Basket or Personalized Plus Blue Bunny Easter Basket would be a fun surprise for your baby.
If you have a baby younger than 4 months for Easter, this Baby GUND My First Easter Basket Playset Stuffed Plush, 5 pieces would be perfect. I can only imagine how cute your baby's easter photos would be.
Plastic Easter buckets can be fun too and you can explore with sand and water too once you're done for outdoor sensory play.
What Can I Fill a Baby's Easter Eggs With?
An Egg Can Be Just an Egg
Truthfully don't feel like you have to fill them. They will enjoy just playing with the eggs. My older daughter first learned to throw using plastic eggs, they were light and easy to hold and she loved playing the egg game with them.
At the time she was 7 months old and loved just sitting and throwing them. Now my youngest daughter is 15 months and she loves trying to open them and discover things, every age is different.
If you are concerned with them coming open, you can just tape them closed.
You could always fill them with something too and seal them closed to make music. Consider items like rice, beans or beads. Just make sure that they are sealed closed to avoid any choking hazards.
Electrical tape seems to do that job the best.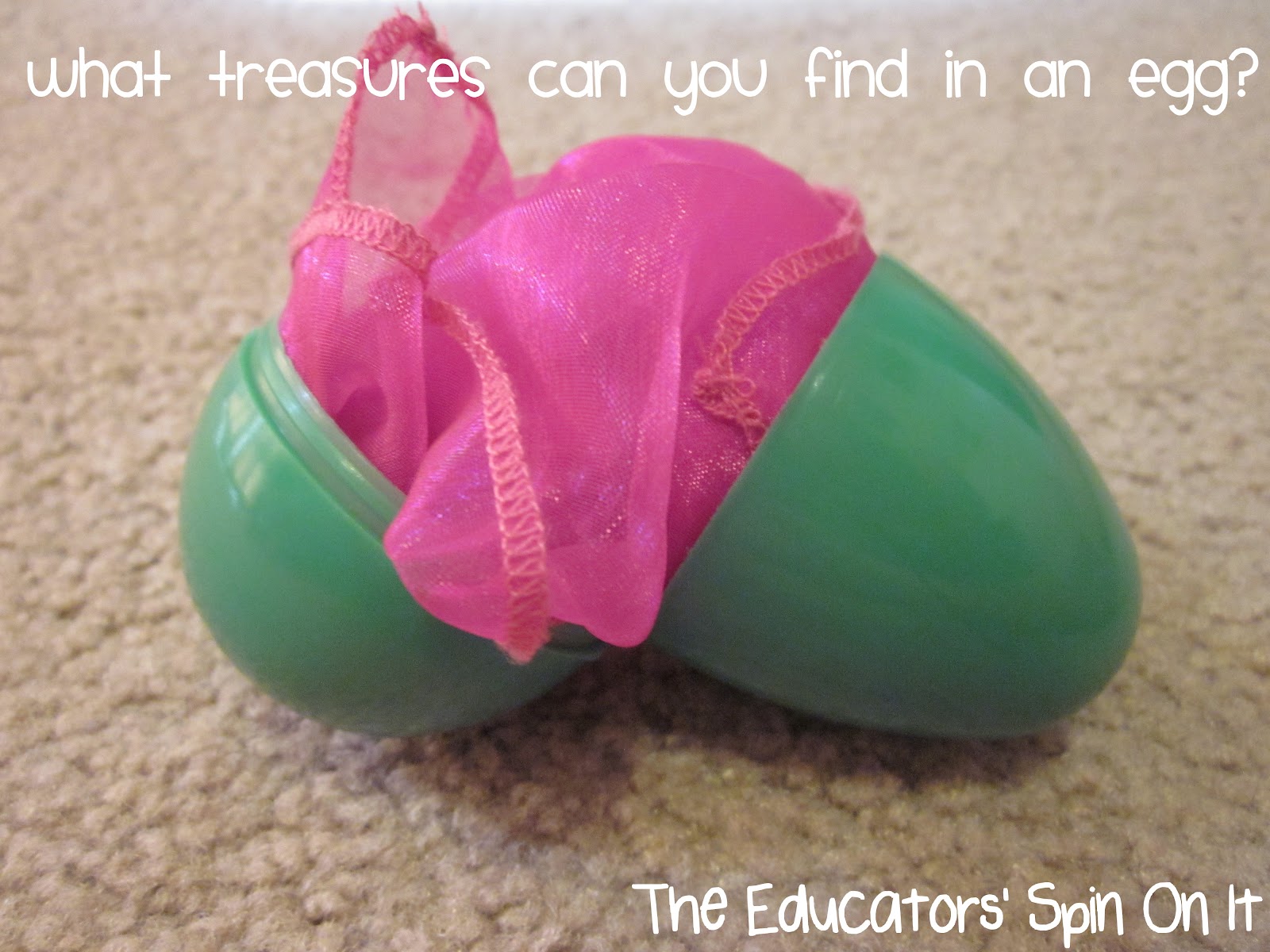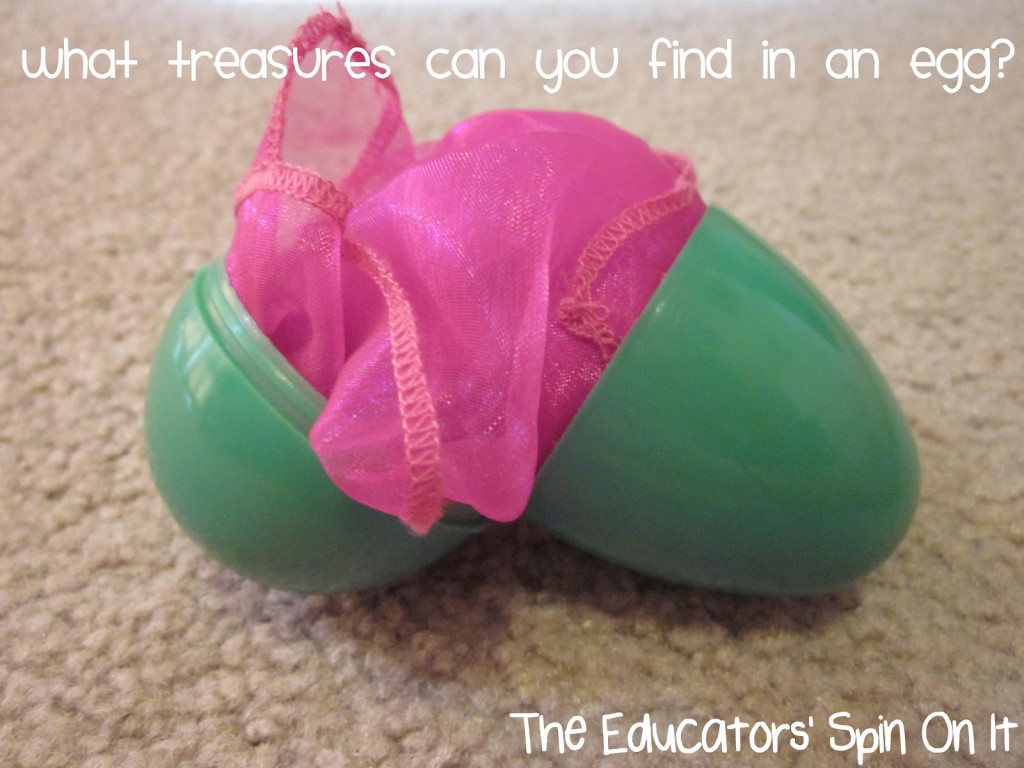 Easter Bubbles (tiny wedding ones, much easier for little mouths to learn with)
Chick Bean Bag
Eggs filled with finger foods like cereal, goldfish, puffs, raisins (instead of candy items)
What Can I Fill a Baby's Easter Basket With?
Spring Animal Puppets like a rabbit puppet or lamb puppet or Felt Eggs for encouraging Imaginary Play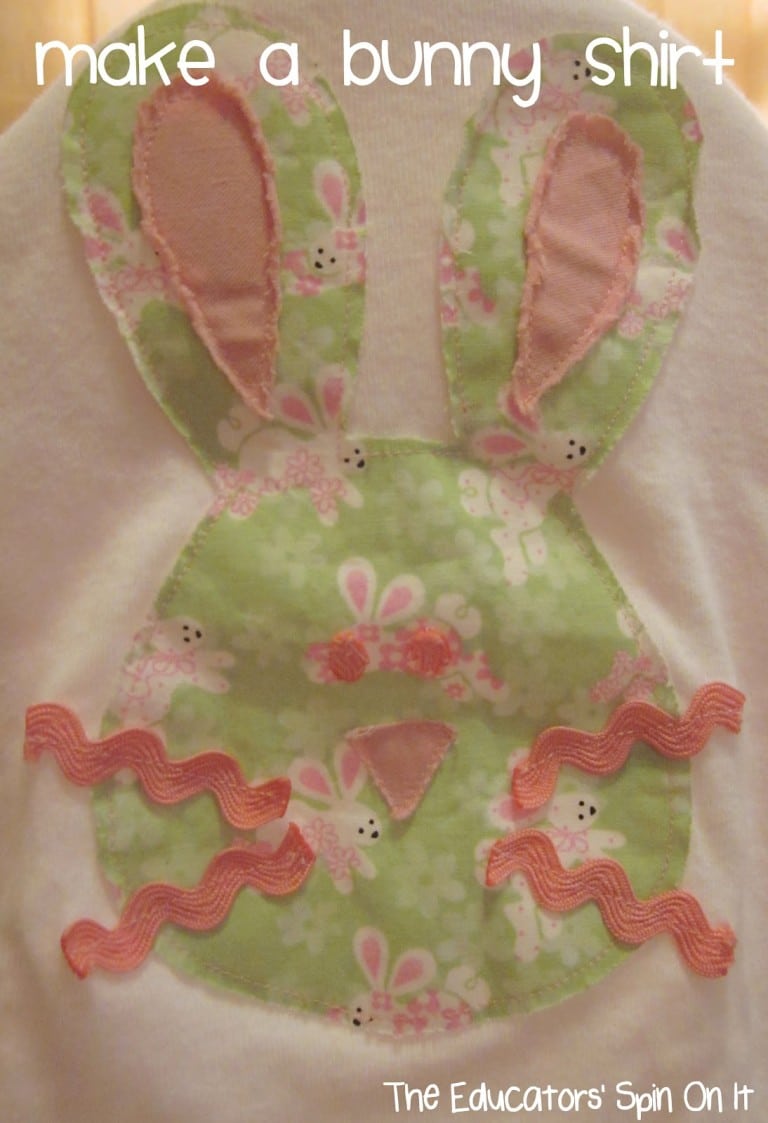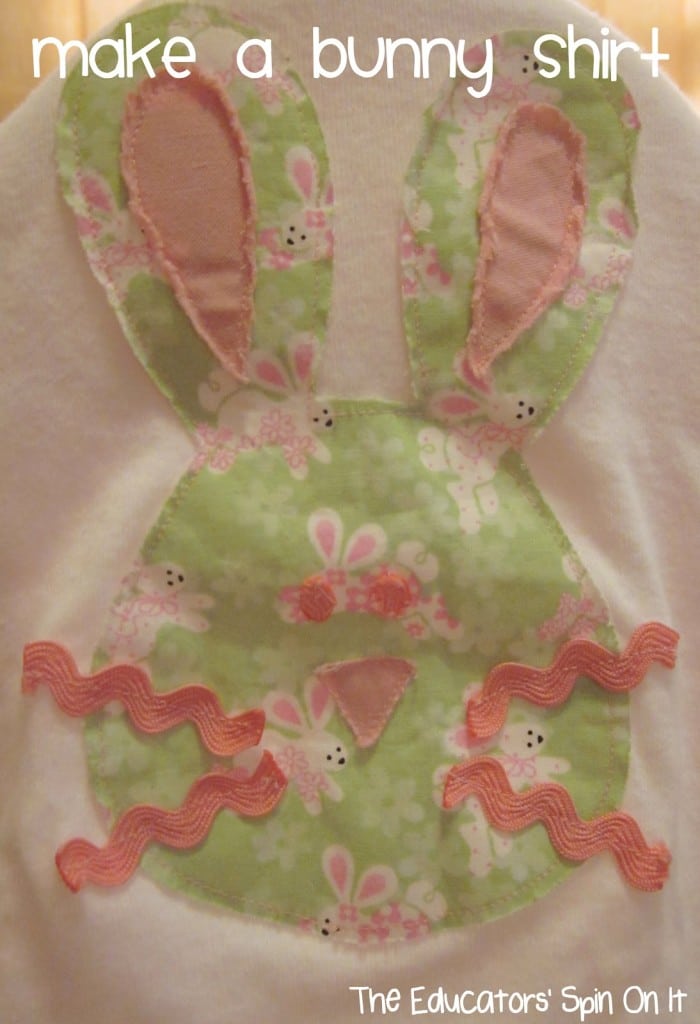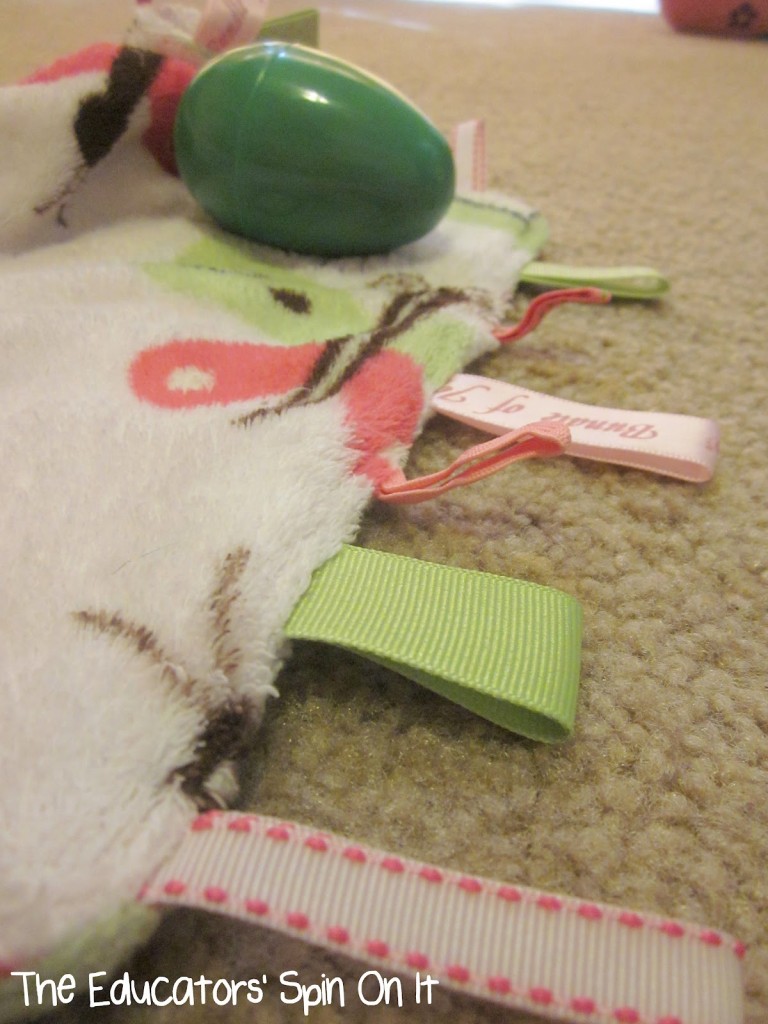 For younger babies, you can Make a Personalized Onesie with fabric Applique or a Handmade Tag Blanket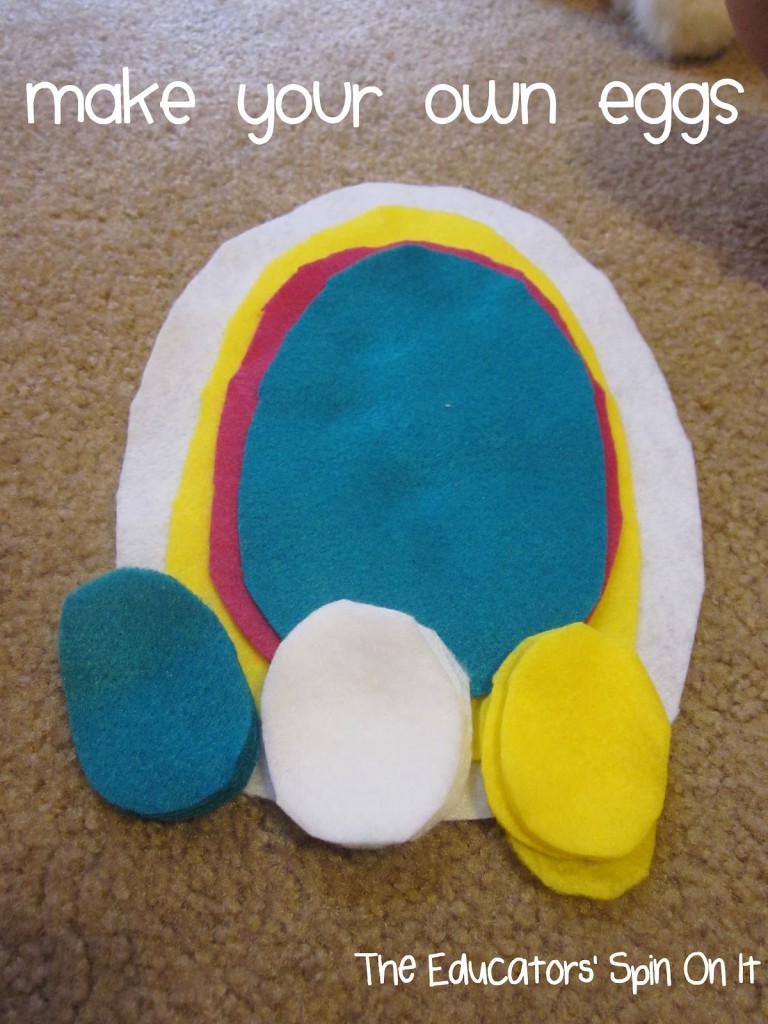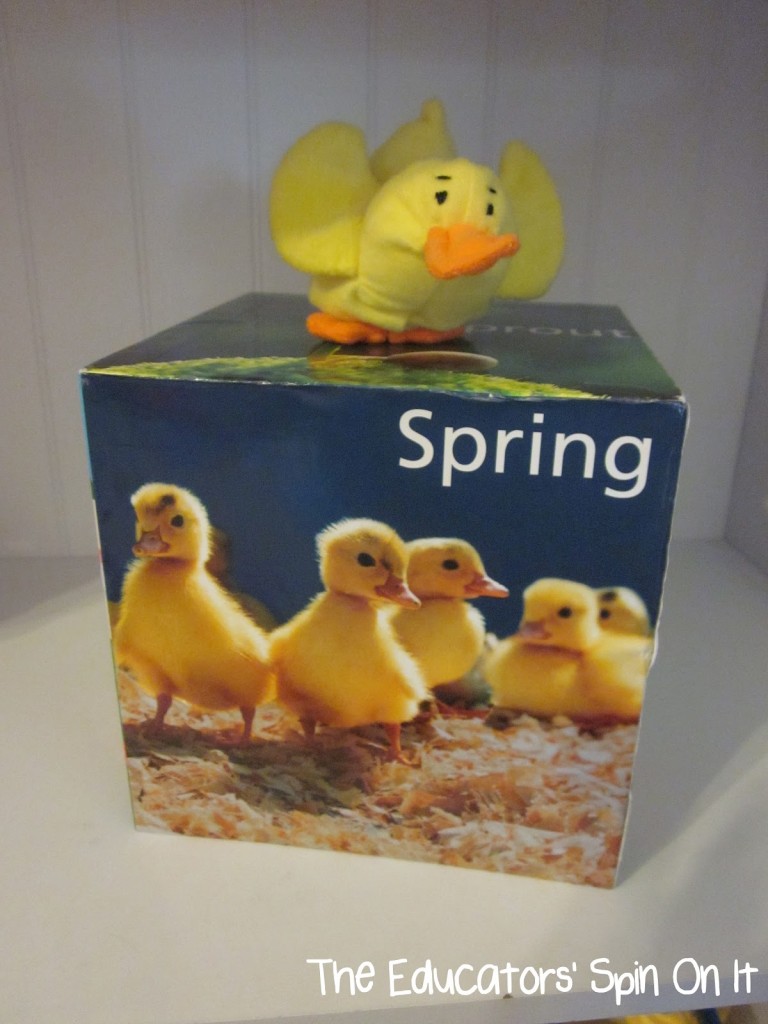 Fill their basket with one or two toys that can be played with again and again
Here's a post about Making Your Own Personalized Photo Blocks for their basket.
You could do family members or spring photos!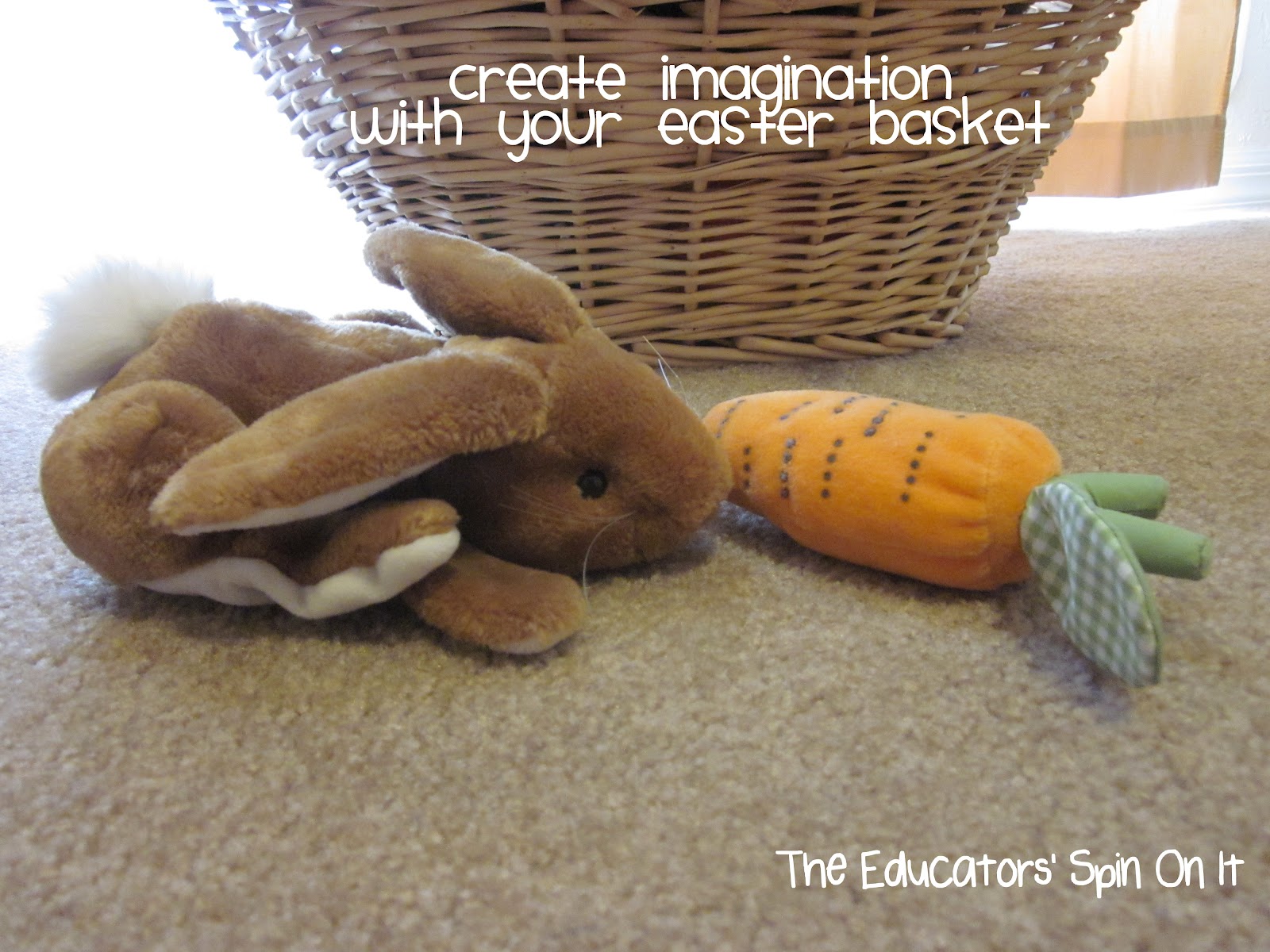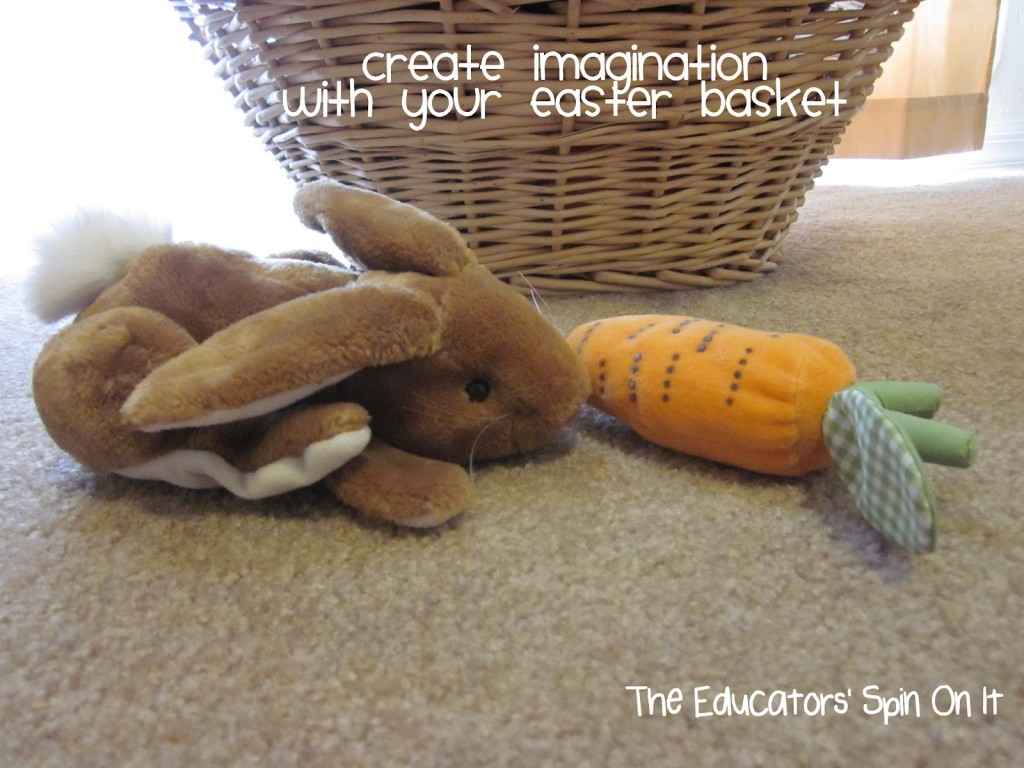 Easter Basket Ideas for Babies
Click here for More Easter Crafts and Books for Babies & Toddlers
We hope that these ideas have made creating an Easter basket for your baby or toddler a little bit easier and provide hours of fun together with your baby.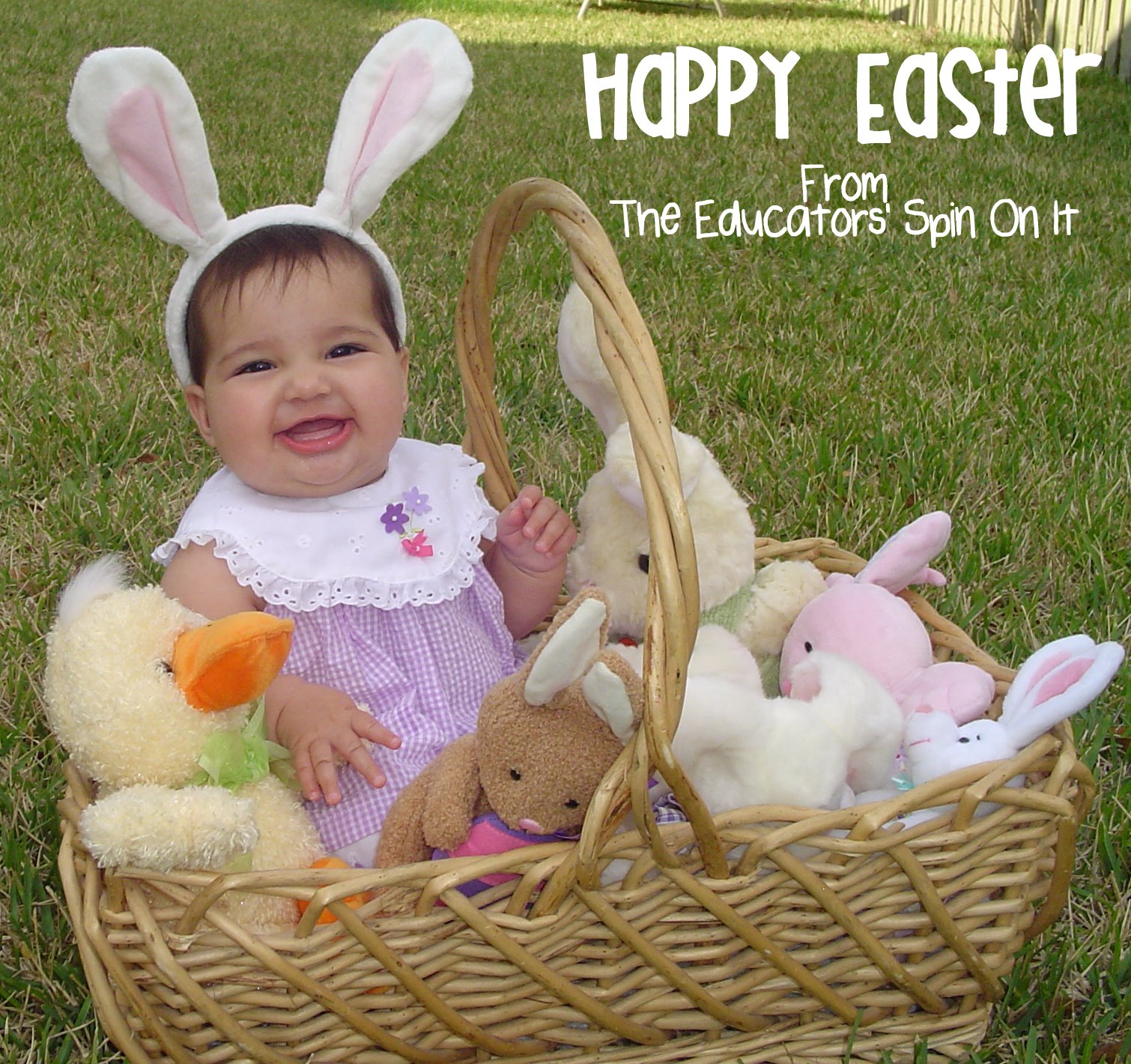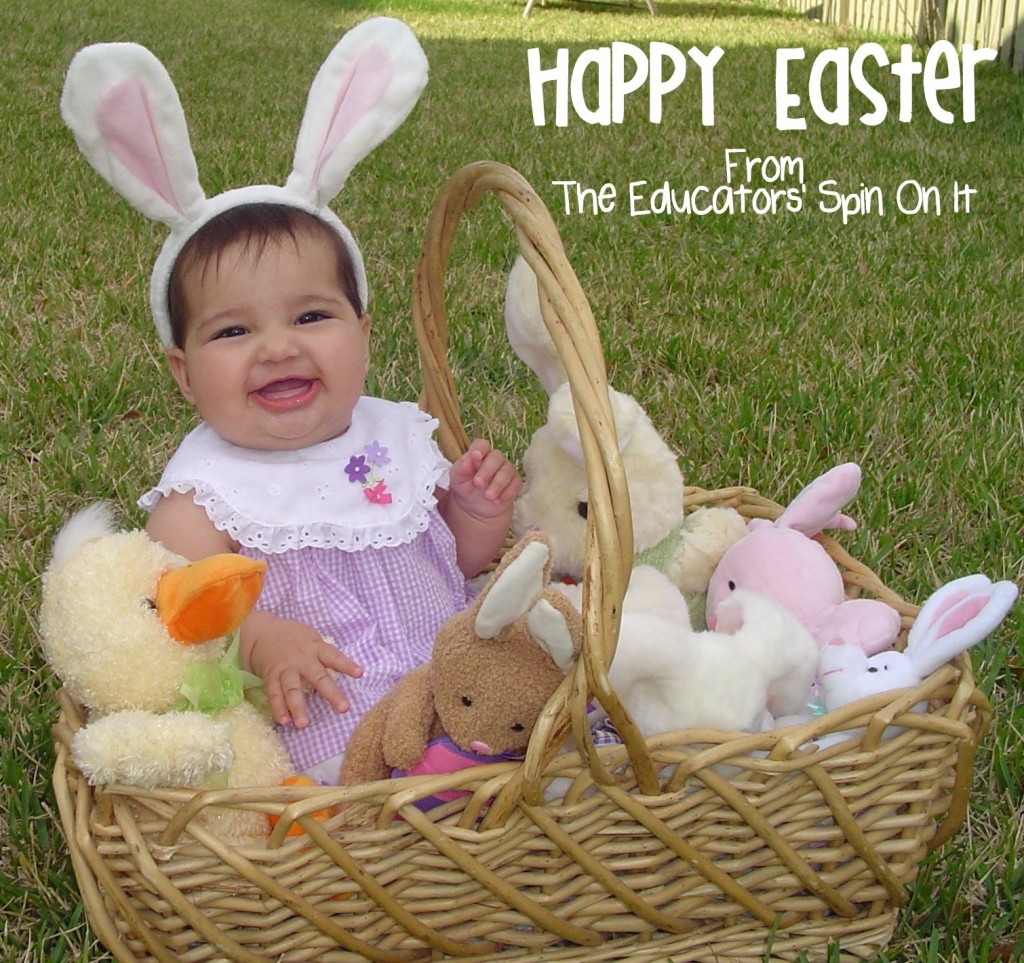 Baby Easter Toy Ideas
If you're looking for a few baby easter toy suggestions to add to your baby's first Easter basket I would start with these Eco Friendly Easter Eggs – 18 Count.
You could add a few finger puppets inside for a special Easter surprise like this 10pcs Velvet Animal Style Finger Puppets Set .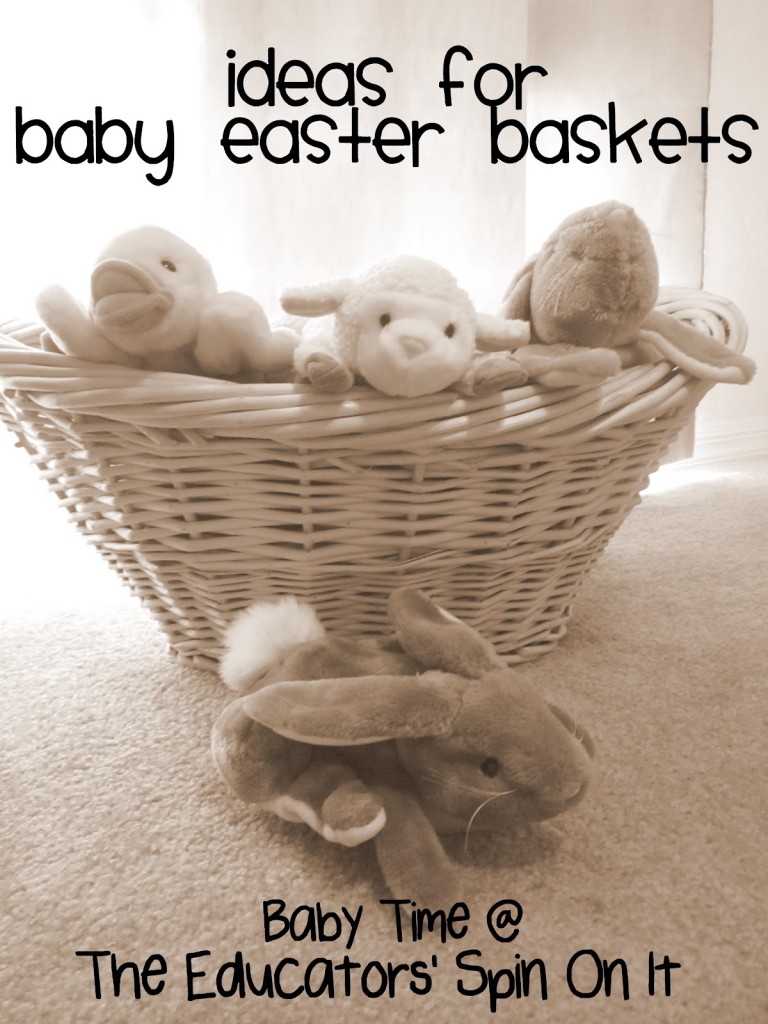 Easter Books for Babies
One item that's a must in your baby's Easter basket is an Easter Book. A tradition that I've always done with my 3 kids is to add a book to their Easter basket each year.
Here are a few of my favorite Easter books to start with.
Here are some more fun Easter Books for your baby or toddlers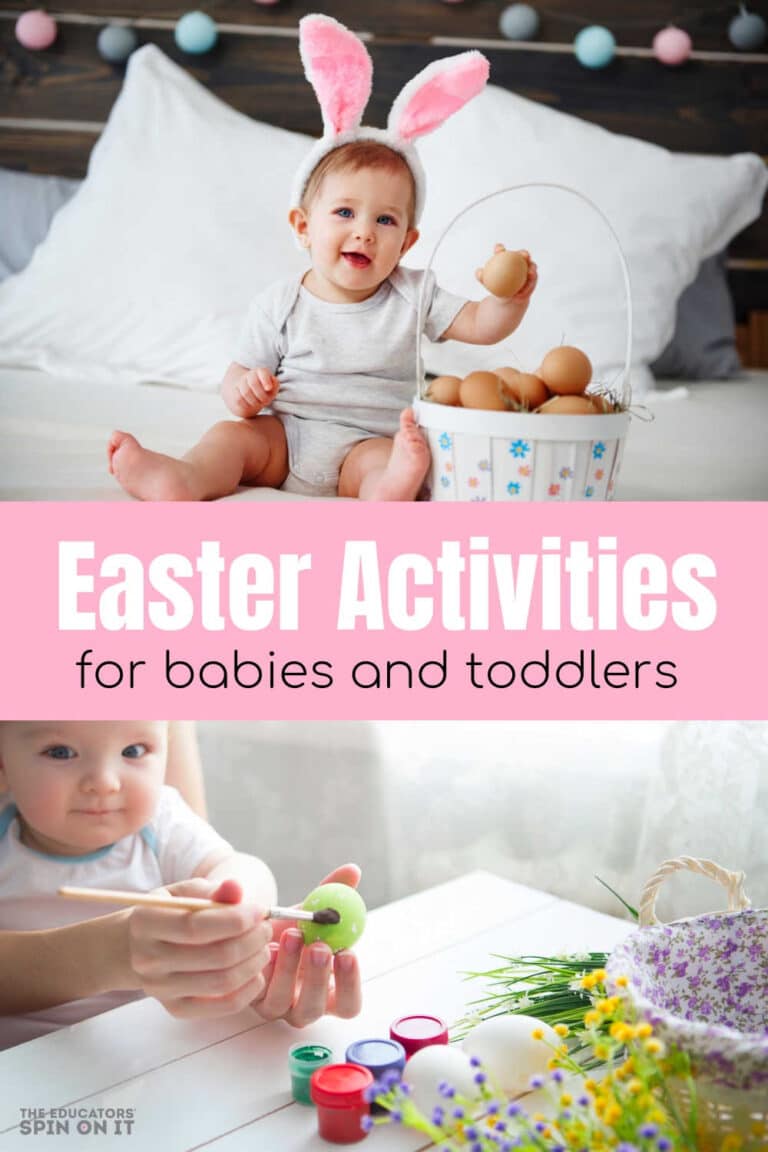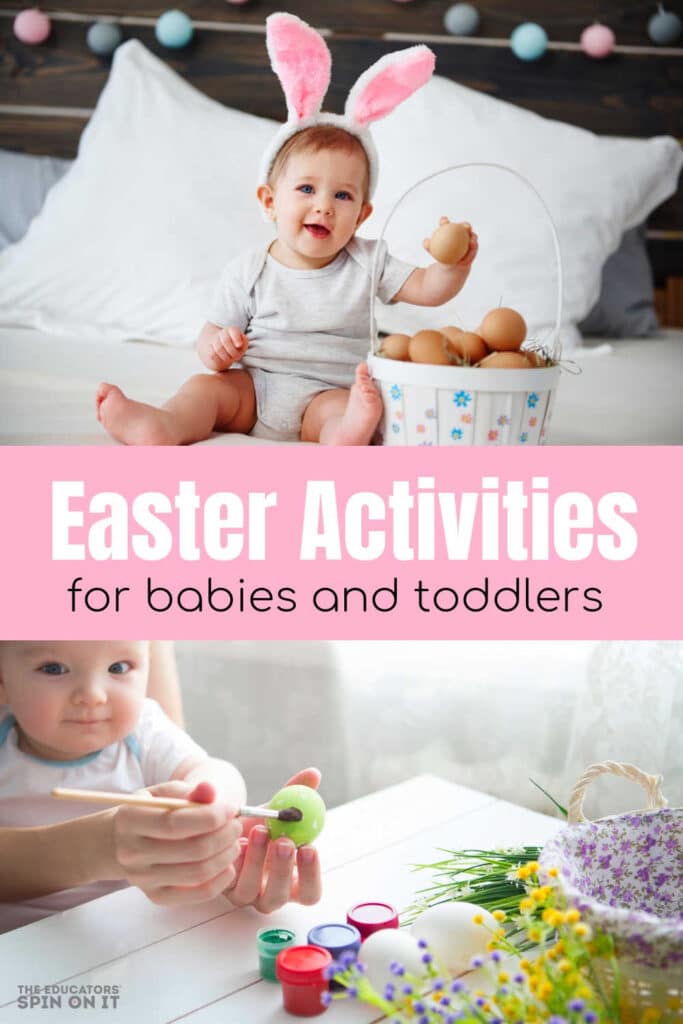 Looking for more Easter Activities for Babies and Toddlers? Try these…
Happy Easter from The Educators' Spin On It
You may also enjoy these activities for your baby…