One of the quickest ways to teach the letters of the alphabet to your child is to explore these adorable alphabet books for preschoolers. This collection is full of colorful inviting children's books packed full of alphabet fun for your child.

A must read alphabet book list!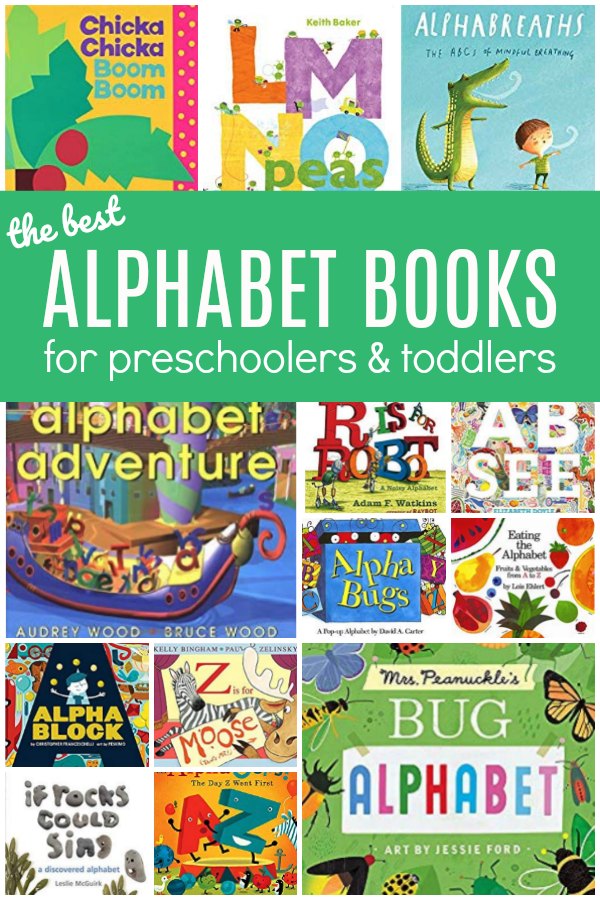 Disclosure: This post contains Amazon Affiliate links for online shopping.
The Best Alphabet Books for Preschoolers
There are many options when it comes to alphabet books for your child. This book list features our favorites that have been read over and over again with my littlest ones for years and even in my own Kindergarten class.
Alphabet books come in a variety of styles and versions. You often can find them with your child's favorite character, topic or even focused on where you live. Like this S is for Sunshine book, which is all about Florida. Have you read the one about your state yet?
Here's a book list of our favorite alphabet books for your child. The perfect pair with a fun alphabet activity or our favorite alphabet toys for kids.
Alphabet Themed Book List
What are popular Alphabet Books for Preschoolers?
Take a peek at each one of these tells a colorful story about the letters and letters sounds that you child will need to explore and learn to get ready to read on their own.

Are you ready to learn more about these adorable alphabet books?
AlphaOops!: The Day Z Went First by Alethea Kontis
AlphaOopos! The Day Z Went First is filled with visually humorous details, and colorful illustrations make this silly story comes to life when the letters of the alphabet, like a class of unruly children, step out of order and show that each one has a mind of its own.
LMNO Peas (The Peas Series) by Keith Baker
This fun alphabet book features bright colors, bouncy rhyming text, and silly pea characters who highlight the wide variety of interests, hobbies, and careers that make the world such a colorful place! Who know how cute and busy little peas could be?
Alphabet Under Construction by Denise Fleming
Through adorable illustrations, mouse is hard at work constructing each letter of the alphabet. He carves the C, dyes the D, erases the E, and folds the F. The busy mouse works his way right through to Z, constructing an alphabet with quite an artistic imagination!
The Alphabet Tree by Leo Lionni
In this story the powerful wind threatens to blow all the little letters out of the alphabet tree. So they band together in words—and then sentences—to create a message that's even stronger than the wind: peace on earth.
Alphabet Adventure by Audrey Wood and Bruce Wood
Two of my favorite authors, the Woods, create a story where all the little letters from Charley's Alphabet have learned their proper order, from a to z. They're ready to go to school, but suddenly something is wrong! Little i has lost her dot, and none of the letters can find it. A great book to help with identify both upper case and lower case letters as you go on the ultimate hide-n-seek adventure with the alphabet.
You might also enjoy Alphabet Mystery and Alphabet Rescue.
Eating the Alphabet by Lois Ehlert
Explore a colorful variety of fruits and vegetables with Lois Ehlert's classic ABC book. You can focus on learning upper- and lowercase letters with your preschooler, as the author introduces fruits and vegetables from around the world. There is a glossary at the end that provides interesting facts about each food too.
Z Is for Moose by Kelly Bingham
Zebra wants to put on a show as simple as ABC, but Zebra's friend Moose has other quite unexpected and funny ideas! This story brings to life two friends and one silly sequence of errors that's about sharing, friendship, and compromise.
Alphablock (An Abrams Block Book) by Christopher Franceschelli
Explore the retro ABC peek-through guessing game around the letterform itself. As readers interact with the pages, they will explore not only with the 26 letters and associated words, but also with each letter's physicality—angles, holes, and curves.
A B See by Elizabeth Doyle
This story is a beautifully illustrated, graphic alphabet book with a fun search-and-find element. Hidden in each letter graphic are tiny ABC treasures waiting to be found by your child.
Chicka Chicka Boom Boom by Bill Martin Jr.
When all the letters of the alphabet race one another up the coconut tree, will there be enough room? The story brings to life rhythmic text that reads along to the best. Plus one of my favorite illustrators Lois Ehlert using her cheerful and bold talents to the most colorful coconut tree. A must read book for children learning their letters of the alphabet.
Alpha Bugs: A Pop-up Alphabet by David A. Carter
From boogie-woogie Bubble Bugs to upside-down Umbrella Bugs,this fun-filled pop, pull, and peek book makes learning the alphabet so much fun. This book is full of moveable multi-colored insects that pop, flip, spin, and lift. There's even a scratch and sniff for the letter F!! David Carter delivers an adorable awesome bug for each of the 26 letters of the alphabet.
R Is for Robot: A Noisy Alphabet by Adam F. Watkins
These noisy robots make the alphabet a hilarious adventure! In this noisy alphabet book the silly robots are building the alphabet. Featuring hilarious robots making goofy noises inviting readers to into the letter fun.
If Rocks Could Sing: A Discovered Alphabet by Leslie Mcguirk
This story features amazing rocks, found on a stretch of beach near the author's home, that comprise this unique alphabet book. A is for Addition, and there are rocks in the shape of real numbers, too. B is for Bird, and there is a bird rock on a nest with an egg. Inspiring perhaps you to start your own alphabet rock collect of your own.
Shiver Me Letters: A Pirate ABC
The captain of this pirate crew has ordered them to capture the entire alphabet–and they'll walk the plank if they're missing a single letter! The pirates set sail on an alphabet adventure unlike any other, and they can't rest until they've found an A, a Z, and everything in between.
Mrs. Peanuckle's Bug Alphabet by Mrs. Peanuckle
This story introduces your young child to all sorts of interesting bugs. Perfect to read aloud, this creepy, crawly adventure will invites children and parents into its vibrant illustrations and facts about bugs.

Alphabreaths: The ABCs of Mindful Breathing by Christopher Willard PsyD, and Daniel Rechtschaffen MA
Through beautiful illustrations you child will learn their ABCs and the basics of mindfulness through playful breathing exercises in this story. One you'll want visit again and again.
Eric Carle's ABC (The World of Eric Carle)
You child will be drawn to unfolding the full-page flaps to reveal an ant, bear, camel, and duck! This story takes my love of Eric Carle and his illustrations to a whole new level with his alphabet and animals.
I Spy Letters by Jean Marzollo
Simple picture clues and rhyming riddles guide the youngest readers through 14 interactive, fun-filled spreads al the explore the letters of the alphabet.
Why should I read alphabet books to my child?
Alphabet books encourage literacy development in many ways:
Unlock the symbols of language with letter and sounds.
Build connections with objects around us.
Give a child a chance to explore a how book works.
Provide an opportunity to experience a shared excitement of books.
Help early readers in becoming independent readers and writers.
Helping your child learn the alphabet involves more than just teaching letter identification. They need to understand the alphabet as a system and learn how letters function in our written language.
Providing your child with a range of activities that offer both broad and more focused experiences will help you achieve this goal.
A Week of Alphabet Activities
Will you join us for Alphabet Week? Head over to explore 5 themed alphabet activities at our weekly Virtual Book Club for Kids! Join along with your child as we explore our favorite children's books with these fun Book Activities for Preschoolers and Toddlers .