Talented female bloggers are making a big impact in the parenting world every single day. These 50+ women have created websites that you need to know and read as a mom! As the world celebrates International Women's Day, will you join us? 
Take a moment to pause and think about all those around you who impact your life each day who is a women. For me personally and professionally one huge factor are female bloggers, many of which are now authors with books I love!
How do female bloggers impact your life?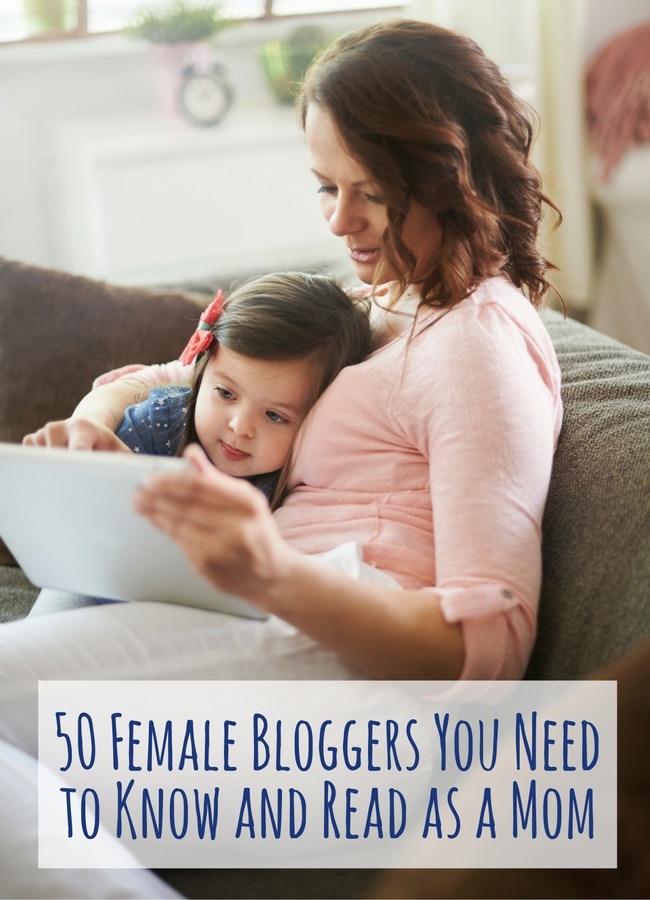 Female Bloggers You Need to Know
Over the past few years, as I've been working on our blog The Educators' Spin On It, I've had the chance to connect more and more with women from all over the world. From the talented women in the Kid Blogger Network and the Multicultural Kid Blogs and even participants in the Multicultural Children's Book Day. When I was helping to organize the twitter chat Teacher Friends and in our own Love Books Exchange I was so fortunate to connect with so many talented female bloggers. It continues with our Virtual Book Club for Kids CoHosts who have worked to build up a facebook group of 6000+ moms!
As I entered into the speaking world, sharing about Pinterest Marketing, I had the chance to connect with even more women who impact the business world each day in what they do. Their uses their voices and backgrounds to empower others, especially women. They actually inspired me to start INSIGHT Blogger Retreats.
A little background about me, I went to college to major in early childhood education which sadly meant I was surrounded by most of my career in schools by just women. Take a moment now to think of all the teacher that impacted your life over the years. Chances are you're thanking a female teacher. Why are there not more male teachers? Salary unfortunately plays a big factor is this decision, which needs to see change. Confession…. It's one of the reasons I haven't gone back into a classroom to teach again.
Which teacher made an impact in your life?
Affiliate links used in post
Joining a Moms Group
Once I gave birth to my daughter, I took a leave from teaching. Once she was around a year old, I become heavily involved in organizing our local mom group. I planned activities for our little ones and met so many amazing moms who also were putting their careers on pause to provide care for their baby and toddlers at home. I had always worked as I raised my oldest son and this was a whole new world for me.
Joining a moms group was one of the best things I did not only for my child but for me personally. I've many lifelong friends through it. We even formed a little Tot School for 6 of us from the group that met weekly.
Besides providing social interaction for our babies, our mom's group worked on charity causes together like the March of Dimes and the Hope Lodge for the American Cancer Association. It was quite empowering to see how talented and powerful these young women can be.
Are you part of a local moms group?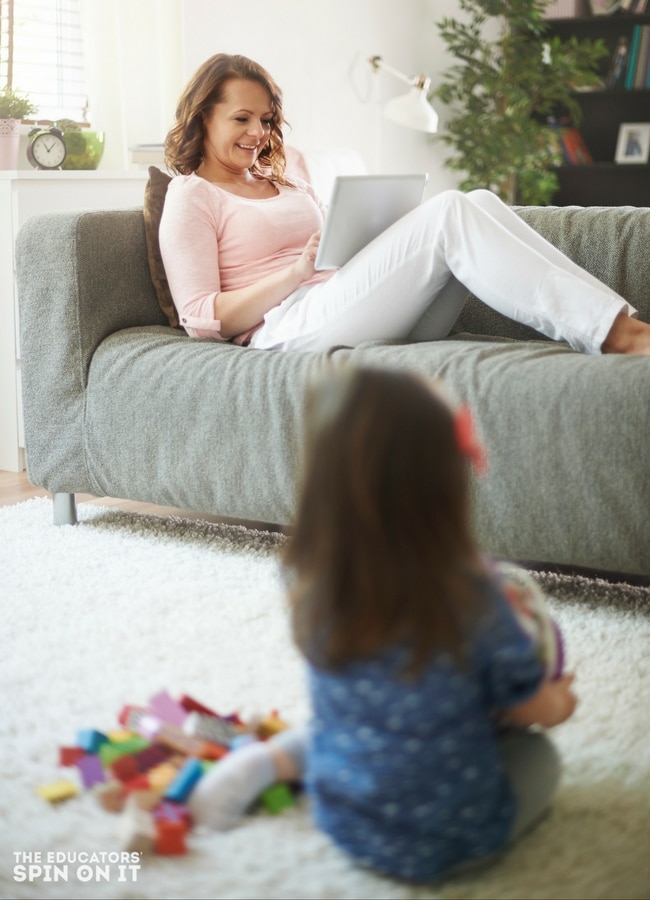 Bloggers Connecting Moms and Building Family Resources
In this newer stage of life, I'm having the chance now to connect with female bloggers. I was reading a few when I first had my daughter and become a stay at home mom to get ideas like No Time for Flashcards, I Can Teach My Child, Living Montesorri Now and 1+1+1=1 and even from Ree at The Pioneer Woman to feed my family.
After hosting, what seems like 100's of playdates, I realized that the ideas that float around in my head that help children learn don't always come to everyone's mind. It's the reason that we started The Educators' Spin On It. To share ideas with busy parents so that you could sneak in learning in your everyday moments of life. It's the reason we wrote our book 100 Fun and Easy Learning Games for Kids
Over the past almost 10 years the world of blogging has blossomed. There are so many websites out there for you to connect with individuals and the ideas they share with you. Some of the most powerful sites in our lives are ones that simply help you realize you're not alone in your journey as a female. They encourage us as females to share our voices and RISE UP for those without them through advocacy.
Do you have a favorite female blogger you connect with?
The articles we see shared over and over again of facebook are ones that discover someone who's brought our feelings and thoughts to life with words and images. Over the years, I've seen sites like Six Sisters Stuff and ScaryMommy and even Blogher curate content and write original work with contributors that does just that… connect with our everyday moments as a woman. 
There are some talented and creative writers and business owners that I want to celebrate today for International Women's Day. They are individuals that I've been so fortunate to connect with through our website and speaking and attending blogging conferences.
Their ideas inspire me.
Their wisdom motivates me to learn something new.
Their creativity keeps me active.
Their community surround me with support.
Their energy and drive motivates me to do more.
They've become my online moms group for me as a woman and female entrepreneur.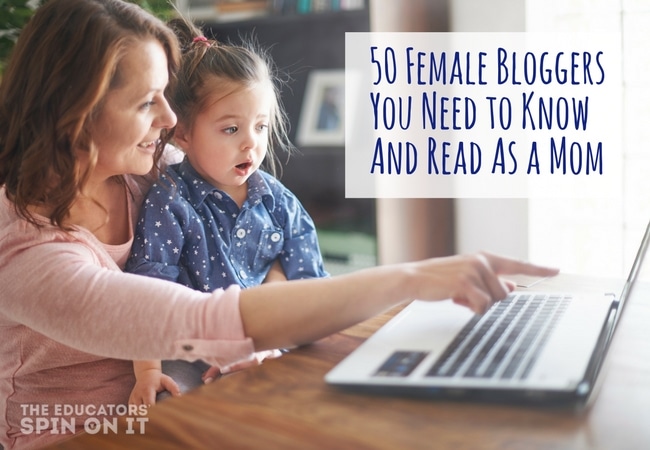 Female Bloggers Inspiring and Empowering Parents
The following bloggers are ones that I've had the chance to connect with over the past few years of blogging and are who I share links to when my close friends are looking for resources for their children.
Wanting ideas to support learning and parenting for your child?
These sites tell you what you can do and how to manage it most of the time as a mom! As you read over this take a moment to do these few steps…
Click on the links to check out their blogs.
Subscribe to their newsletters.
Click on their names to LIKE their Facebook pages.
Discover & join their Facebook groups to find like minded parents needing ideas for niche topics.
Before you start clicking…. Are you following The Educators' Spin On It on Facebook?
Once your do this, your facebook feed will be so much more empowering and filled with creativity and resourceful ideas. I promise you they will inspire you as a female. They are in no particular order, just as they came to mind I'm sharing them with you and the voices that motivate me personally.
This is just the tip of the iceberg of amazing female bloggers who put their energy, time, experience and creativity into writing blogs for you. I wish I had space to mention them all. Plus I know I have yet to connect with thousands of creative writers sharing about all types of topics.
Which blog do you enjoy reading?
My focus at The Educators' Spin On it continues to be finding educational ideas in the everyday moments of parenting. A great place to start connecting with these mentioned blogs and their content is on our Pinterest boards where I pin my favorite resources from each of these bloggers almost every single day. Their blog content simply ROCKS!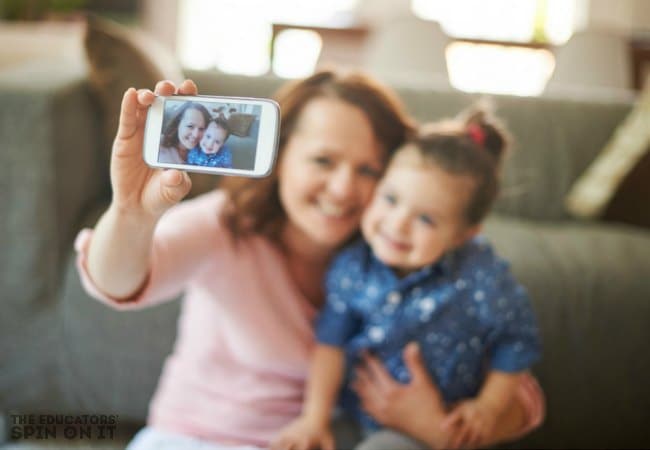 Female Bloggers Providing Resources for Online Entrepreneurs
Since we started our business at The Educators' Spin On It nearly 6 years ago I branched off and also started my own consulting business focused on Pinterest Marketing. I've had the chance to meet so many woman who are teaching other online business owners how to grow their brand online and monetize what they are doing. Many of these peers have created facebook groups for you to be a part of and be surrounded by peers who are focusing on similar goals and honestly going through similar struggles too. Including my own Facebook Group called PinChat that I cohost with Kelly Leiberman.
There are far too many to mention but I wanted to share those that I've personally connected with and am inspired by each day. If you're wanting to start a blog or grow your online business as a female entrepreneur…. Be sure to check out their facebook groups, events and courses!
Female Authors That Inspire Me to be a Better Mom
Once I started listing out my favorite female bloggers, I realized that quite a few of them are either hosting their own blogging conference or courses or are actively writing books. Their passion for sharing their knowledge with others and help them grow continues off their websites and into our lives and homes and our bookshelves. Here's a sample of some of the books they have published so far.

Raising a Rock-Star Reader: 75 Quick Tips for Helping Your Child Develop a Lifelong Love for Reading

Sensory Processing 101

STEAM Kids: 50+ Science / Technology / Engineering / Art / Math Hands-On Projects for Kids

The Garden Classroom: Hands-On Activities in Math, Science, Literacy, and Art

Red Ted Art: Cute and Easy Crafts for Kids

Tinkerlab: A Hands-On Guide for Little Inventors

How to Manage Your Home Without Losing Your Mind: Dealing with Your House's Dirty Little Secrets

The Best Homemade Kids' Lunches on the Planet
Prep-Ahead Meals From Scratch: Quick & Easy Batch Cooking Techniques and Recipes That Save You Time and Money
 150+ Screen-Free Activities for Kids: The Very Best and Easiest Playtime Activities The Artful Parent: Simple Ways to Fill Your Family's Life with Art and Creativity The Global Education Toolkit for Elementary Learners
       100 Backyard Activities That Are the Dirtiest, Coolest, Creepy-Crawliest Ever!
The Superkids Activity Guide to Conquering Every Day
Awesome LEGO Creations with Bricks You Already Have
     The 101 Coolest Simple Science Experiments
100 Fun & Easy Learning Games for Kids
101 Kids Activities That Are the Bestest, Funnest Ever!

Which book will you start reading first?
I hope that you continue to grow and connect with female writers online as you begin to see the stories they share and how empowering they can be in your own life. Each of these woman listed above have made a dramatic impact in my own personal and professional life.
In honor of International Woman's Day to all of these amazing female bloggers….
I simply want to say thank you.