Are you looking for a lovable, cute book that deals with kid-issues from a hamster perspective? That's right. Big tough issues like bullying, making mistakes, and being faced with new situations are all things that Humphrey, the hamster encounters in the Humphrey book series by Betty Birney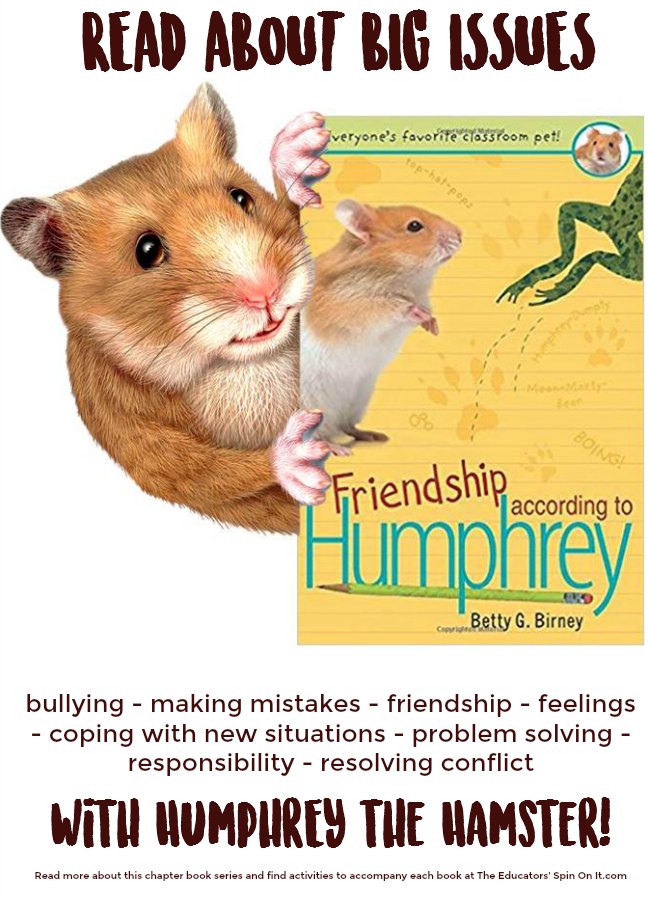 Modified Image via © lightsource. Affiliate links.
Reading Activities with The Humphrey Book Series by Betty Birney
Interest Level: Grades 2 – 5
Reading Level: Grade level Equivalent: 4.2
Lexile® Measure: 670L
DRA: 34
Guided Reading: O
Type of Book: Chapter Book
Written by Betty G. Birney, the series follows the story of a likable hamster brought to room 26 by a substitute teacher. The temporary teacher first begins by explaining to the class that they can learn a lot about themselves by taking the opportunity to take care of another species.
What is The Humphrey Book Series by Betty Birney ?
The Humphrey series is an excellent book for children in the second to the fourth grades. It is a novel suitable for children of diverse ages.
The Hamster narrates the story to the independent readers throughout the series. Unlike the substitute teacher, Mrs. Brisbane is not very enthusiastic about taking on a class pet upon her return to the school and is at first not aware of the tremendous impact that the hamster has had on the children, as well as the families where it has been spending the weekends. Humphrey, the Hamster, is able to bring out qualities such as kindness and courage to the different families he gets to visit while on the student rotation.
During his weekend rotations, he is able to convince the members of one family to switch off the T.V and enjoy the company offered by each other. He also manages to encourage a very shy girl to speak up ad express her opinion, while also helping the principal regain control over his less than obedient children.
Throughout the series, Humphrey is in a unique opportunity to observe the students in room 26, both at home and when in class, and is thus able to paint a very compelling picture of all the pupils. By spending time with each family, Humphrey gets to understand their problems and devise a way to help each child overcome the problems that he or she is facing. This in turn helps the child understand important life lessons. By reading this series to your young ones, you will be helping underscore the importance of knowing the entire story before rushing to make a conclusion. The presence of the hamster in room 26 makes a positive impact on the lives of all those present, including Mrs. Brisbane, the class teacher.
What Issues are addressed in The Humphrey Book Series by Betty Birney ?
The series is compelling and is appealing to children who like tales about animals, friendship and school life. You can use the stories in the series in real life situations with your kids. By using the stories, you will not only keep them entertained, but you also get to impact important lessons to them, in an easy to understand manner. They can learn from the problems experienced by the occupants of room 26 to solve real life dilemmas. Some of the issues addressed include:
Responsibility
Understanding differences
Making friends
Learning from mistakes
Dealing with conflict and coming to resolutions.
Coping with change
Problem solving
Building positive relationships
Meet the author of The Humphrey Book Series, Betty Birney
Would you like to see the writing house where Betty Birney does most of her writing? Visit her website here. She has a complete list of books she has written and information on how you can schedule a school visit. You can also contact her via e-mail at the bottom of each page using the contact me form.  If your child wants to hand write a letter or draw a picture, Betty Birney asks that you scan it and send it in using e-mail!
ACTIVITY IDEA: Write a letter to the author. Tell about the part of the story that you most connected with. Explain this connection.
Fun and Easy Activities to Accompany The Humphrey Book Series by Betty Birney
As a teacher and mom, I like to extend our reading experiences with a hands-on activity. These activity ideas are meant to inspire you to explore some of the book themes in further detail. Book activity extensions are often helpful for children when developing vocabulary and can lead to a greater understanding of the text.
CLICK to print the Official Curriculum Guide for Books 1-6 by Betty Birney
Unofficial: The World According To Humphrey Book Trailer by LHIS LMC
The World According to Humphrey Use a video recording device to make a short video book review. (Like the one above!) My kids use the video function on our camera and MovieMaker. Make an outline of the things you want to talk about. Get a friend or family member to assist if you can. Edit. Then, show your family when you're done!
Friendship According to Humphrey Think about a time when you saw friends get sad or mad with each other. Brainstorm and write a list of ways they could solve the issue.
Surprises According to Humphrey Put a surprise item in a paper bag.  Don't let anyone see what it is. Ask friends or family to guess what is inside by asking yes or no questions.

Adventure According to Humphrey Plan and go on an adventure in your community. (Park, museum, zoo)

Summer According to Humphrey Summer gets HOT!  Cut out or draw a picture of Humphrey.  Set it on a dark colored construction paper.  Place it in a sunny area.  You may want to hold your paper Humphrey down with a rock so he doesn't blow away.  Leave it for 2 or more hours.  Remove and observe.
School Days According to Humphrey  Take a digital camera to your classroom and photograph where you sit, read, and learn.  Make sure to get adult permission first.  Get the pictures developed and make a school days book.
Mysteries According to Humphrey Everyone loves a good mystery. Hide a toy and give a friend or family member clues to help them find it!
Winter According to Humphrey Using white and blue construction paper – create a winterscape for Humphrey.  Stamp snowflakes over the scene with que-tips or empty spools of thread for a snowstorm look.
Secrets According to Humphrey Research hieroglyphics on the internet or check out a book from the library.  Create a story on construction paper using hieroglyphics.
Imagination According to Humphrey – Bring out the dress up box.  Even big kids need the opportunity to use their imagination.  No costumes? Let each child create a headband to represent an animal or character.
Spring According to Humphrey  Collect tadpoles from neighborhood creeks and ponds or order this grow a frog kit. From tails to tiny legs, then no tails, the transformation of frogs is life changing for kids to watch.
Even MORE Humphrey Books and Activity Ideas
Humphrey's World of Pets Visit your local pet store. Read and talk with employees about pet care for different animals. *We usually call ahead and schedule a time to tour. They have better times when there are extra employees available for tours. If you have your own pet. Take a picture of it – and submit it to Humphrey's very own website: Fun with Humphrey
Humphrey's Book of FUN-FUN-FUN – Get inspired by all the fun. Use a large sheet of construction paper, a die, and a pencil to make your own Humphrey board game. Don't forget to write the rules down. Play with a friend or family member when your board game is complete.
Humphrey's Ha Ha Joke Book – Practice your favorite jokes until you have them memorized. Then try them out on someone in your family!
Humphrey Books for Younger Children
For Younger Students ages 5-8, Humphrey stars in Tiny Tales like, Humphreys School Fair Surprises – Set up a fair game, like bean bag toss, in your living room. Make and hand out prizes for the winners.
Search all of the Tiny Tale Humphrey Adventures here.
What Others Have to Say about The Humphrey Book Series by Betty Birney
"As with all of Betty Birney's Humphrey series books, this one is a huge hit! You have the same wonderful, caring hamster telling the story from his point of view. It's now spring with Humphrey's 2nd classroom of students.
I love how the series teaches respect, consideration of others, good manners, doing the right thing, and problem solving in a setting that kids can understand and relate.
I started reading this to my oldest when he was in 2nd grade although he could've read it himself. My kindergartener would listen until he fell asleep. Now I'm going through the series again for my youngest who is now in 3rd grade. Sometimes my older boys (now teenagers) will come in and listen as well. Super good memories being made with Humphrey!" ~ Mom of 3 Boys on an Amazon Review.
Click to read more reviews on Amazon for The Humphrey Series by Betty Birney
More Middle Grade Chapter Books and Activity Ideas here at The Educators' Spin On It: