Quick ideas for kid-made Valentine's Day Decorations! Felt hearts, beaded hearts, heart art and even a heart-shaped pizza for tons of heart-inspired fun with your child.
This year, I am letting the kids do most of the decorating. We are trying to stay within a budget and be eco-friendly. This means, we are trying to use what we have to make what we want. I told my kindergartner she could design and make a themed entryway for our family.
This is what she came up with!
Kid Made Valentine's Day Decorations
We look at our Pinterest Boards together for inspiration, (they are not any fun unless you DO them!) close the computer up and GO! 
Heart Garland with Felt
She cut and sewed the heart garland and then said, "I have an idea!"  Using a similar method, she began making these sweet little multi colored hearts, only she stuffed them with felt rectangles so they would be like mini-rainbows! I just love how she is able to put her own "spin" on it!
She then saw these fabulous Queen of Heart paintings at Pre-K and Sharing and thought they would be neat hung up on either side of the mirror. 
We cut up a cardboard box (which happened to be the one Critters and Crayons sent us from the LOVE Books exchange – so thanks for helping out with another fun activity!) and got busy painting, cutting, gluing, and oil pastels. 
When she was done, I hot glued ribbon on the back and hung them up! As the table was empty, she kindly requested to bring out our "egg tree." (The stick that was painted white for last year's Easter Egg tree.)  Each day, she is adding new hearts.
Beaded Hanging Hearts
Some are sewn from felt, others are cut from paper, strung from beads… the list and possibilities are endless! 
I am sure as we get closer to Valentine's her display will grow and change! I am excited to see what she comes up with!!!
Heart Shaped Pizza
In between crafting, reading, and gardening, we try to sneak in a few hearts into our cooking! Pizza, pancakes, even fruit in the shape of hearts. See if you can sneak a few in this week and spread some love!
Ohhhh, spread, I bet you could spread a peanut butter heart onto your kids whole wheat toast for a healthy breakfast!
Lunch Box Notes for Valentine's Day
Last, but not least, I make her little notes for her lunch box to let her know how much I love her. Sending cards is a simple way to let your children know you are thinking about them, but they do take time to make.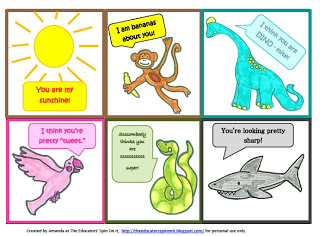 We'd love to hear what you have been doing? Do you let your children decorate for the holidays? Please share by linking up a post or leaving us a comment. We love to hear from you!!!