Looking for a special way to celebrate Valentine's Day with your children?
Give a Book!
Here are some of our favorite Valentine's Day books to add to your child's library.
Top 40 Valentine's Day Books for Kids
This post contains affiliate links 
We create a few selections of lists based on age groups for your Valentine's Day Book Selection. Add with a little heart-shaped object for the perfect gift your a little to celebrate this special Valentine's Day.
Board Books About Valentine's Day for Younger Children
These books are ideal for babies and toddlers since they are sturdy board books.
Happy Valentine's Day, Mouse! (If You Give…)
Where Is Baby's Valentine?: A Lift-the-Flap Book
My Fuzzy Valentine (Sesame Street)
Elmo's World: Love! (Sesame Street) (Sesame Street(R) Elmos World(TM))
Elmo's Valentine (Sesame Street) (A Chunky Book(R))
Maisy's Valentine Sticker Book
Max's Valentine (Max and Ruby)
Baby Touch and Feel I Love You
Books About Valentines' day for Older Children
Splat the Cat: Funny Valentine
Amelia Bedelia's First Valentine
The Night Before Valentine's Day
There Was an Old Lady Who Swallowed a Rose!
Be My Valentine, Amelia Bedelia
Valentine's Day Fun! (Max and Ruby)
One Heart (Valentine Counting Books)
I Spy With My Little Eye Valentine's Day: A Fun Guessing Game Book
Books About Valentine's Day
This collection of books focuses more on explaining the holiday of Valentine's day to your child or students.
Celebrating Valentines Day: My Special Valentines
Valentine's Day (Holidays and Celebrations)
Book About Love
I Love You Through And Through
Mommy Hugs (Classic Board Books)
Just click on the Book Images and it will take you to Amazon for easy shopping!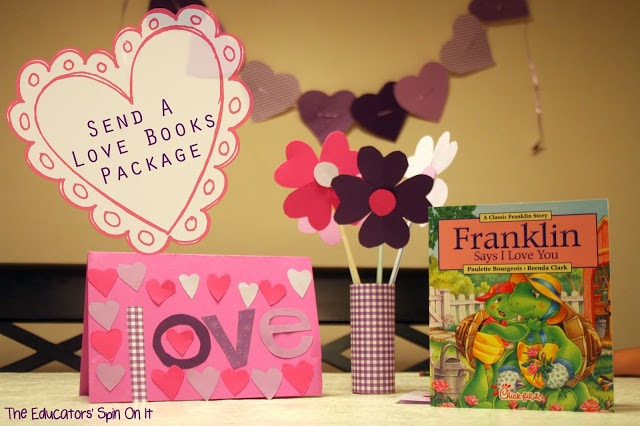 Want to make your book extra special?
Include a few budget friendly activities with your Valentine's Day Books
and make a Love Books Gift! 

For some crafty ideas and games to go along with these books, check out these 101+ Valentine's Day Activities for Kids!