Learning about dairy foods with your child or class?  Here's a creative way to create a yogurt parfait and learn about the dairy food group.  Plus add a little heart fun to it too!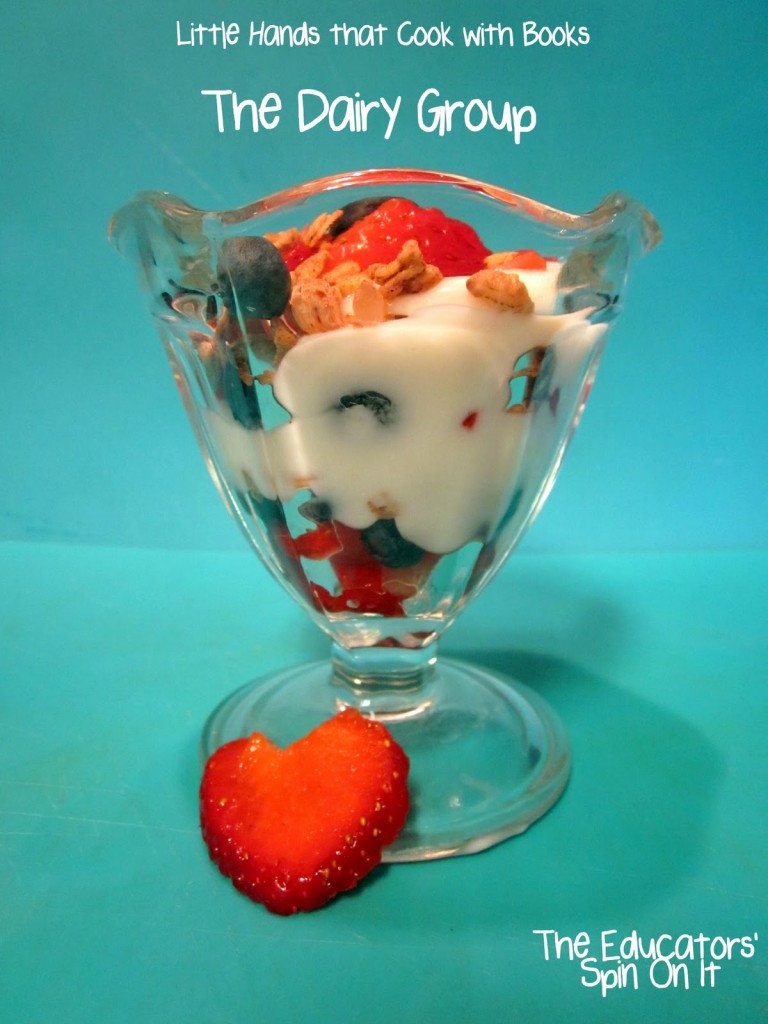 We're working on learning about all the Food Groups in our Balanced Eating Fun Series with Little Hands that Cook with Books.
So far we've learned about the:
Fruit Group
Vegetable Group
Meat Group
The Dairy Food Group
This week we're focusing on the Dairy Group!  If you have the opportunity I would take your Little Ones to a dairy farm.  It's an unforgettable experiences and they will understand in a concrete way where milk products come from.
The USDA states that …
Consuming dairy products provides
health benefits
— especially improved bone health. Foods in the Dairy Group provide nutrients that are vital for health and maintenance of your body. These nutrients include calcium, potassium, vitamin D, and protein.
The amount we need varies check the USDA website for more info but here are their recommendations for children.
Daily recommendation for Dairy
Children
2-3 years old
2 cups
4-8 years old
2 ½ cups
How much is a cup?
Amount That Counts as a Cup in the Dairy Group
Common Portions and Cup Equivalents
Milk
(choose fat-free or low-fat milk)
1 cup milk
1 half-pint container milk
½ cup evaporated milk
Yogurt
(choose fat-free or low-fat yogurt)
1 regular container
(8 fluid ounces)
1 small container
(6 ounces) = ¾ cup
1 cup yogurt
1 snack size container
(4 ounces) = ½ cup
Cheese
(choose reduced-fat or low-fat cheeses)
1 ½ ounces hard cheese (cheddar, mozzarella, Swiss, Parmesan)
1 slice of hard cheese is equivalent to ½ cup milk
⅓ cup shredded cheese
2 ounces processed cheese (American)
1 slice of processed cheese is equivalent to ⅓ cup milk
½ cup ricotta cheese
2 cups cottage cheese
½ cup cottage cheese is equivalent to ¼ cup milk
Milk-based desserts
(choose fat-free or low-fat types)
1 cup pudding made with milk
1 cup frozen yogurt
1 ½ cups ice cream
1 scoop ice cream is equivalent to ⅓ cup milk
Soymilk
(soy beverage)
1 cup calcium-fortified soymilk
1 half-pint container calcium-fortified soymilk
Most Dairy Group choices should be fat-free or low-fat
Source: http://www.choosemyplate.gov/food-groups/dairy-counts.html
There are a few more tips to include Calcium into your daily meals, check out this USDA Dairy Tips Link
Here are an Activity about The Dairy Group
Nurish Interactive Milk Group Printable
Books about The Dairy Group
The Milk Makers by Gail Gibbons
.  Gail Gibbons is probably my most favorite Non-Fiction Authors!

The Milk Group by Mari C. Schuh
  (Has many books about Food and Non-Fiction)

Yogurt and Cheese and Ice Cream that Pleases: What is in the Milk Group by  Brian P. Cleary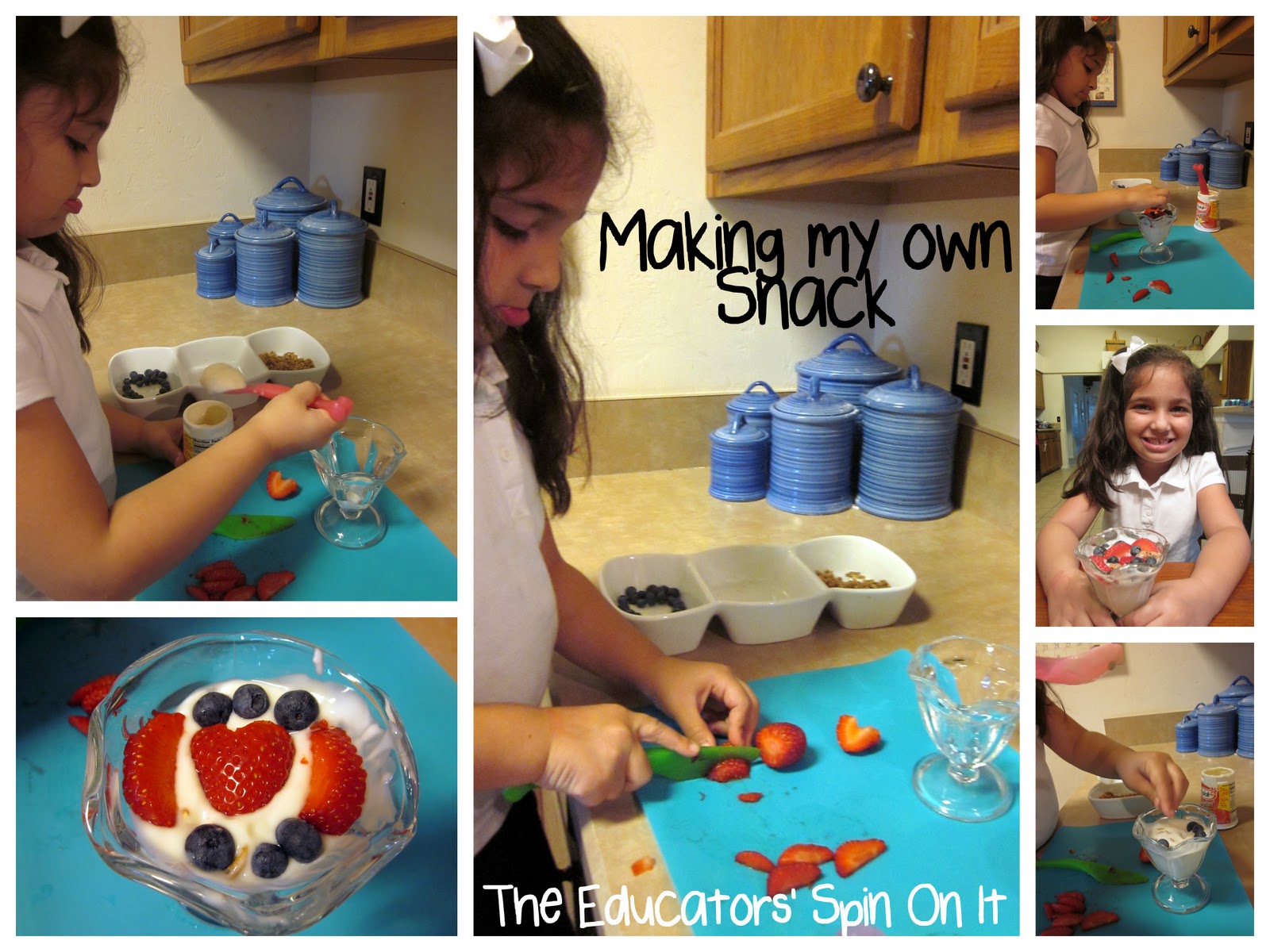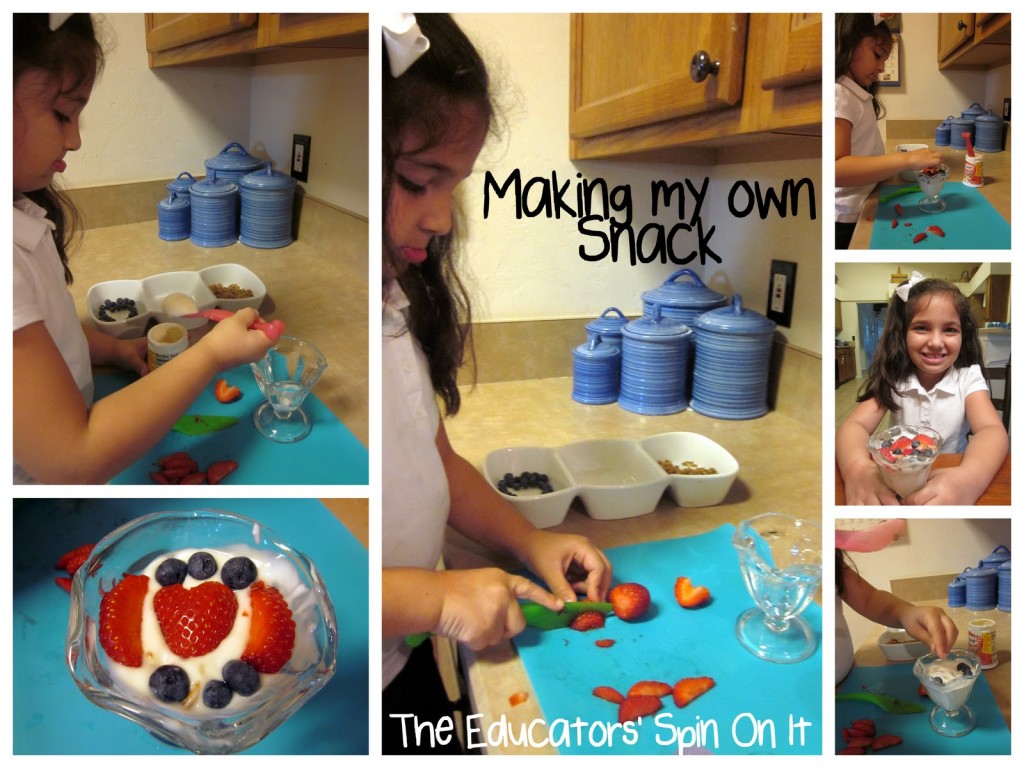 We enjoy making things with yogurt to try to fit in more Healthy Dairy Foods into our day.  We like to just use our favorite plain yogurt and then throw in whatever fruit we have in the kitchen.  Some of our favorites to add are blueberries and strawberries, but you can add all sorts of things banana, pineapple, cherries, peaches, pears, apples, craisins, mango and many more!  We also put in a little granola to add some protein to our Parfaits.
Here's an adorable idea for Strawberry Prints by Dot Painting by Dilly Dali Art that would make any strawberry playdate fun. My daughter had fun creating this snack.  We've also enjoyed making parfaits with our friends when we go strawberry picking together. Making strawberry prints with paint is fun too!
Amanda just posted this week that her strawberries are starting to bloom and she made some special 
Plant Labels
for her "The Learning Garden."  We like to read
The Little Mouse, The Big Ripe Strawberry and The Big Hungry Bear
 by Don and Audrey Wood when we make our strawberry parfaits.
Make your Own Yogurt Parfaits
Ingredients
Yogurt
Strawberries
Blueberries
Any in season fruit
Nuts or Granola
Directions
Rinse and Cut fruit.  Then add yogurt, fruit, granola by layering it in container.  Enjoy!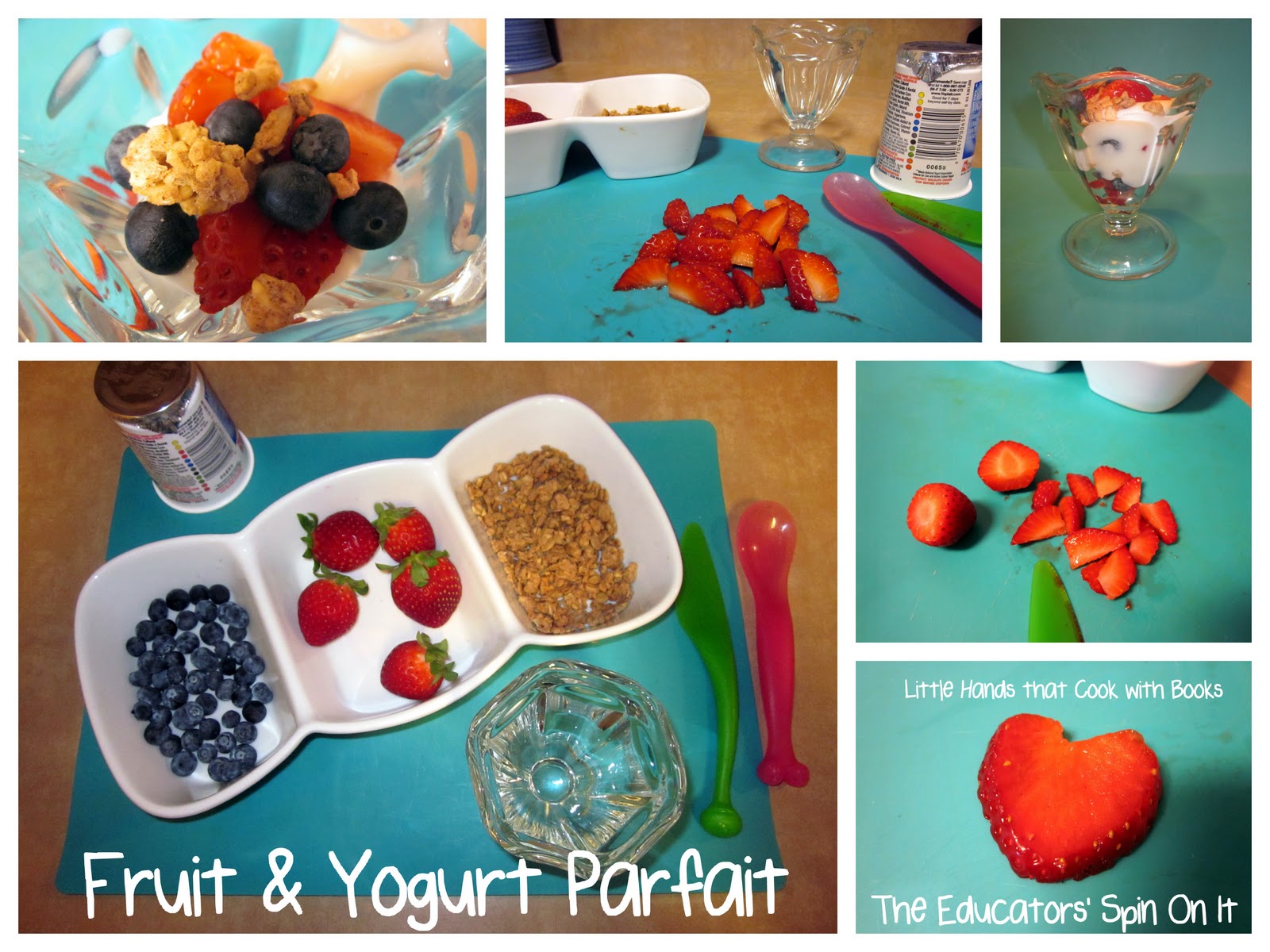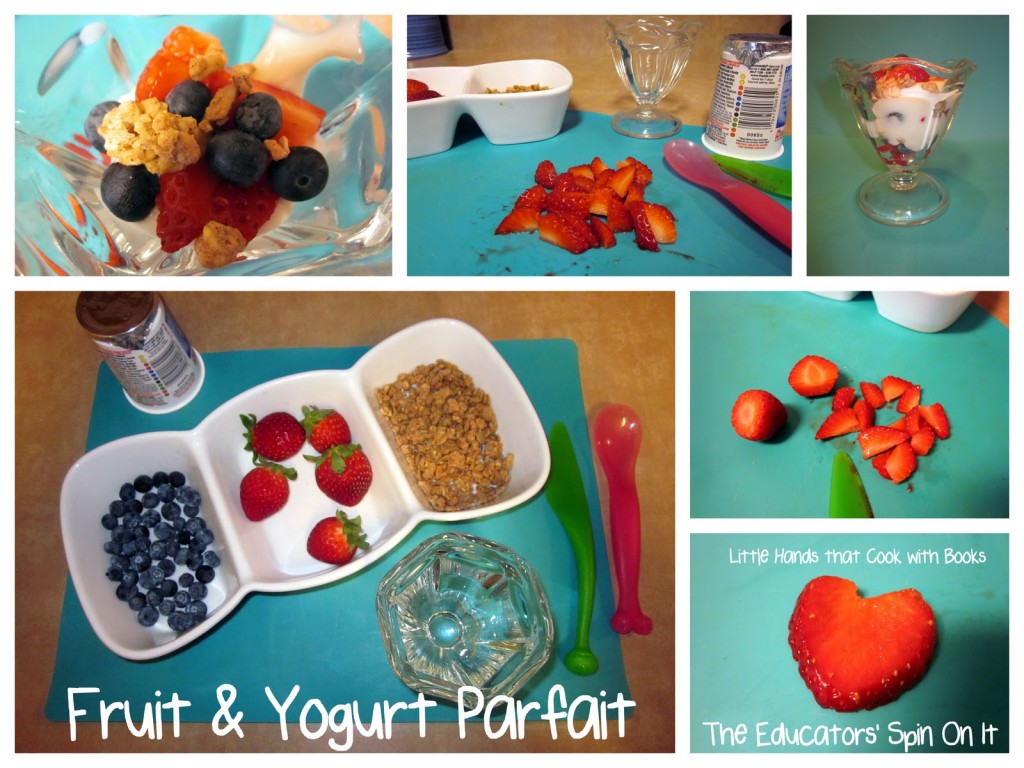 Big sister even made a special treat for my One Year old too!  She also enjoyed coming up with the idea to create a heart out of the strawberries when you cut them in half.  We just might be doing some prints with paint for Valentine's Day soon too.  However I think we're going to be Finger Painting with a yogurt recipe I found on our Art with Children Pinterest Board this afternoon!  Here's an adorable Valentine Bag Idea with yogurt paint too from Hands On: As We Grow.   Check out our Baby Time posts for more info!
Interested in Making Your Own Yogurt? 
I found this Make Your Own Yogurt site with downloadable instructions.   It seems that everyone one their own way, I'm sure if you've found one that works for you.  Here are two more sites Kitchen Counter Cronicles and No Doubt Learning showing how you can create yogurt with your kids.  I encouraged you to at least try the process once and allow your child to observe and talk about the changes in property that happens in the process.  When you involve children with cooking sometimes they are a lot more willing to try something new.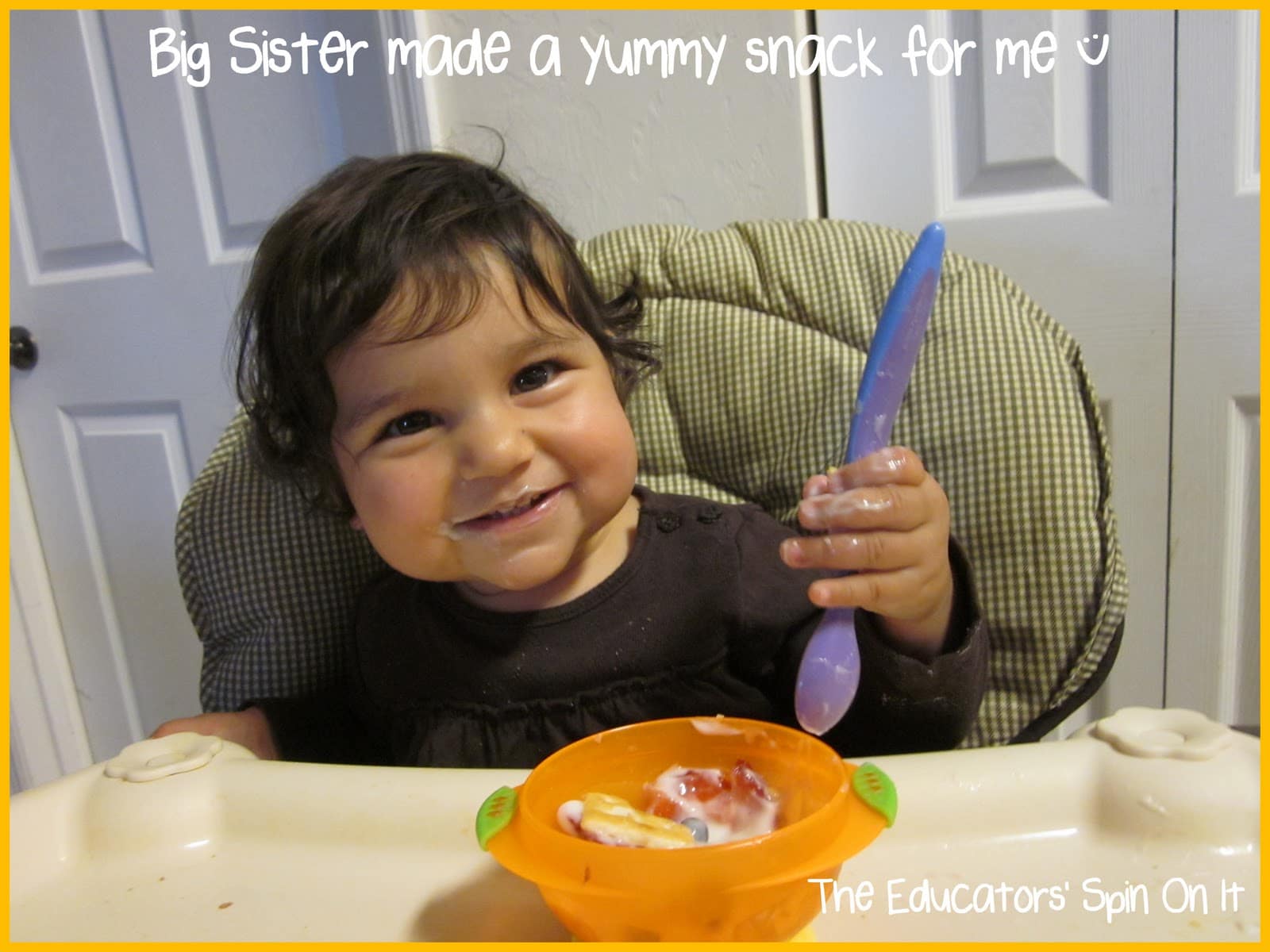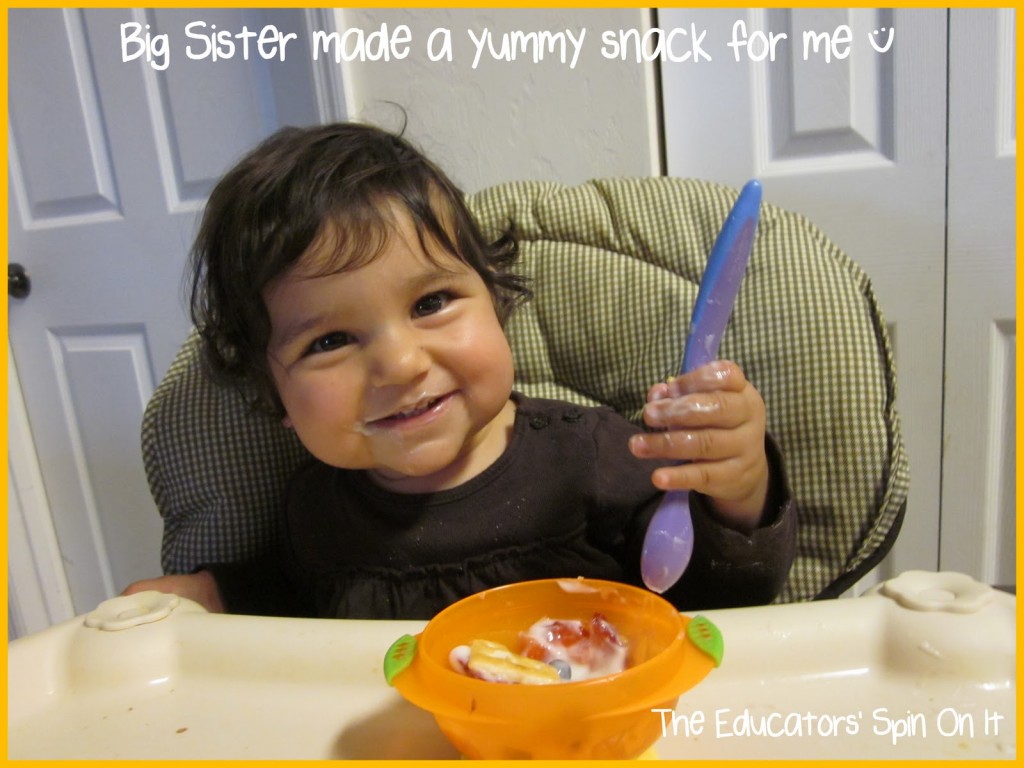 My inlaws are from India and they make their own Yogurt, curd or dahi,  all the time in our home.  They use it plain but also make Raita, which is a yogurt with cucumbers with salt and spices, there are all sorts of combinations to make your Raita unique. It helps to cool your palate while eating spicy Indian dishes.   Many other Indian dishes include it from Lentils to Tandoori Chicken, my personal favorite!  Homemade yogurt tastes different from our "store bought" yogurt but is an everyday item within many Indian homes.  I would say that it is more similar to Greek Yogurt if you were to compare it.
There are all sorts of ways to incorporate Yogurt into your snacktime and Mealtime.  We like to make smoothies for breakfast or snacktime and to encourage my family to eat more fruits and veggies we use yogurt based Dips to make them yummy and a little more healthy.
Fruit Smoothie
Ingredients
1/3 cup orange Juice
1 4oz container of yogurt, any flavor
3 -5 strawberries
approx 10 blueberries
or any in season fruit of your choice
1 cup of ice
Directions
Add ingredients and blend away and enjoy!  Serves two!
Vegetable Yogurt Dip
Ingredients
2-1/2 cups Plain yogurt
1 Packet onion soup mix
1 tbsp Minced parsley
1/4 tsp Garlic salt
1 tsp Dill weed
Pinch black pepper
Vegetables of your choice – carrot sticks, celery sticks, green pepper rings, broccoli, zucchini sticks, radishes, etc…
Preparation
Mix ingredients. Best to make dip day before and refrigerate overnight so flavors will blend and dip will thicken slightly
There are lots of recipes but a simple way is to just use flavored yogurt plain or whip in a little bit of Whipping cream or Cool Whip for an extra treat
Next week~ The Grains Group Updated.  It's here NOW!
I'd love to hear other ways that you incorporate The Dairy Group onto your children's day.  Just leave a comment below!