The storage containers for our toy cars no longer shut because they are so full. We've tried to donate some, but my youngest cannot bear to part with any. "They are all my favorite," he says hugging them tightly to his chest. Luckily, he's also at the age where he wants to learn the alphabet so that he can read like his big brother.
So, we are connecting the two with a little outside learning with this fun to play, easy to make alphabet car activity for kids.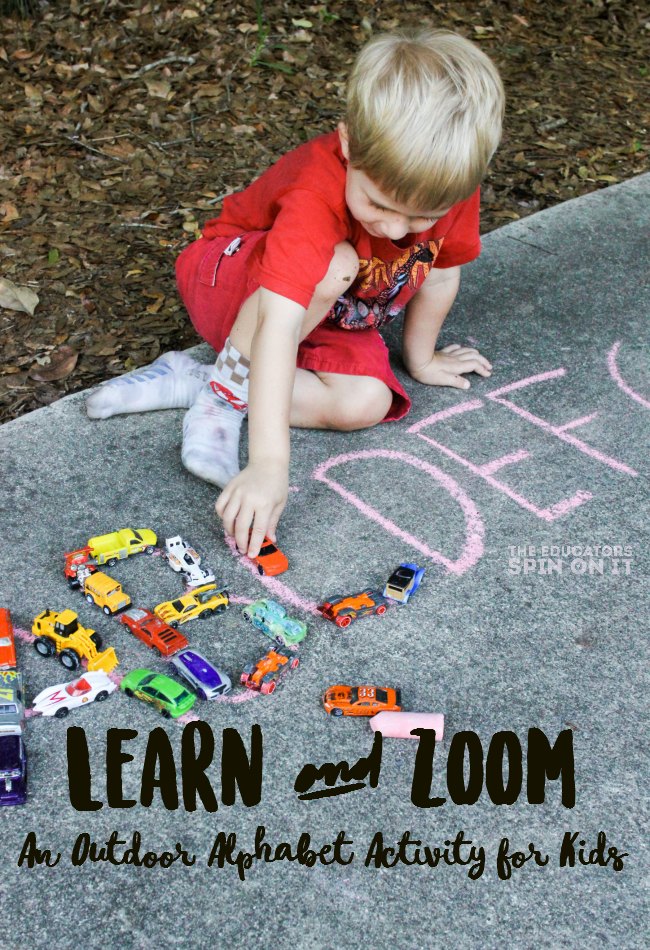 An Alphabet Car Activity for Kids
Ages: Best for ages 3-6
Learning Objective: Children will identify the letter names in alphabetical order.
Affiliate Links.
Materials Needed for Alphabet Car Activity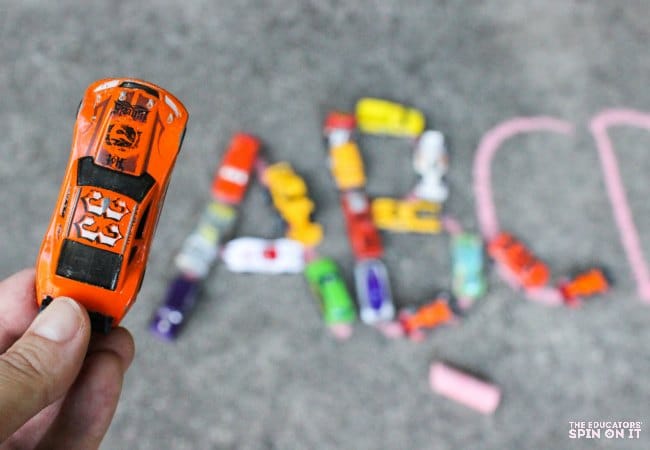 Directions for Alphabet Car Activity
Draw the upper case letters of the alphabet with the sidewalk chalk on the driveway.
Set the cars near the alphabet. Point to each letter and say the letter name. *
Let your child build the letter with cars by zooming them in a line or curve on top of the chalk letter. Say, "This is the letter A. The letter A makes the /a/ sound. Let's zoom our cars to make a letter A ."Encourage them to say the name of the letter as they ZOOM the cars in place. When the cars are covering the letters, point to the letter and ask the child, "What letter is this?"
Let the child select 2 -5 letters to say and build with their cars.
Re-visit the chalk alphabet on the next day and repeat steps 2-4, building and naming a few more letters.
Young children automatically begin singing the alphabet when you begin with A, B, C. It is a great way to begin to associate alphabetical order – BUT – for this activity, we want kids to say the letter names. This helps children separate the letters better. When singing, the letters l-m-n-o-p are often strung together as one.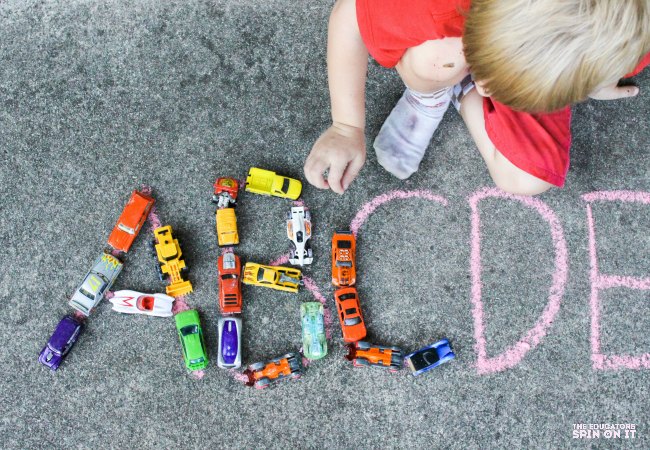 Alphabet Car Activity Variations
If your child loves learning and playing with cars, try one of theses alphabet car activity variations.
Write a giant letter on the sidewalk or driveway. Use the cars to build that letter.
Let the child write the letters they want to build. Use the alphabet chart as a reference.
Switch the letters in the alphabet for the letters in children's names.
After making the uppercase alphabet, write and make the lower case letters. Compare the letters.
Make alphabet car activity into a game. Call out a letter name. Have the child go to that letter and build it.
Switch up the above game. Call out the letter sounds. Have the child find the letter that sounds makes and build it with the cars.
For Even More Playful Learning Car Activities for Kids, you may enjoy
Learning about Weight with Cars
Save
Save