We're traveling to Sweden! Explore these fun activity ideas that include a watercolor dala horse craft and sweden printables. Plus fun books about Sweden for kids.
Let's go on a virtual tour of Sweden!
Let's go! We're traveling to Sweden with Around the World in 12 Dishes! This little video clip can transport you and your child all the way to Sweden from your very own home.
Don't forget to pack your bag, print your passport and carry a detailed map of Sweden!
As you're watching the video ask your child to discuss what they see…
How does it looks similar and different to where you live or places you've visited?
What types of land forms do you see?
Did you see any animals? Which ones?
Where there any special buildings you saw? I wonder what they are called?
Did the people have special clothing?
Did you learn something new about Sweden?
What was your favorite?
You can keep track of their responses inside their printed suitcase. As they learn about Sweden have them illustrate the outside of the suitcase with those facts.
Activities About Sweden for Kids
National Geographic for Kids: Sweden (facts, map, photos & video for kids)
Visit Sweden.com has lots of resources about Sweden. The photos on this site would make a great personal Coloring Book as we did with the UK!
Sweden Dala Horse Watercolor Craft
We created a suitcase full of facts and fun as we learned about Sweden this week. My daughter enjoyed using her Watercolors to paint the flag of Sweden blue and yellow. She also made her very own Dala Horse. You could use crayons, markers or colored pencils to create these activities too.
To extend her learning, she used the Dala Horse and the Swedish Paper Doll during playtime too. We even made a special Flag of Sweden for our traveling Bear to hold by cutting blue and yellow paper.
Dala Horse Coloring from Making Learning Fun
Printables about Sweden for Kids
I've done the research for you about Sweden and saved you some time.
Here are the printable's, Links included, that we used to learn about Sweden!
Swedish Paper Doll from education.com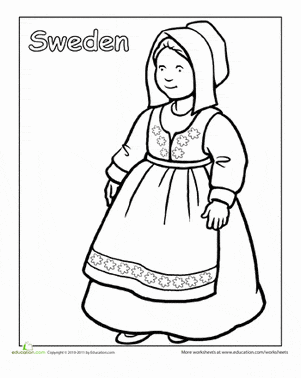 Swedish Girl from Education.com


Dala Horse Coloring from Making Learning Fun
Sweden Word Search from dltk-kids.com
Dot to Dot Map of Sweden from Making Learning Fun
Lapbook about Sweden and Annika's Secret Wish from Homeschool Share
Disclosure: This post contains Amazon Affiliate links.
Books About Sweden for Kids
Go to your local library or book store and find books about a new culture! We found a variety of books available about Sweden. We have one special author that we're going to share in our next post about Sweden! Don't miss it!
We have a very special Swedish Author, Elsa Beskow that we've created a special sewing activity for the book Peter in Blueberry Land.
Swedish Recipes for Kids
All of these activities are designed to encourage your child into engage and experience a new culture without having to physically go there. Food is one of the best ways to experience it.
Need a snack for the trip to Sweden?
Check out how Amanda and her daughter made Rosenmunnar: Swedish Thumbprint Cookies: Swedish Coffee Bread
Here's How You Can Join the Fun of Around the World in 12 Dishes
Explore more Global Activities for kids or try one of our Virtual Field Trips for Kids