Fun ideas for spring with your child. Follow along with our March Activity planner for kids as your explore concepts of gardening, rainbows, Dr. Seuss and Easter in this colorful month of childhood.
Let's get started as we welcome SPRING!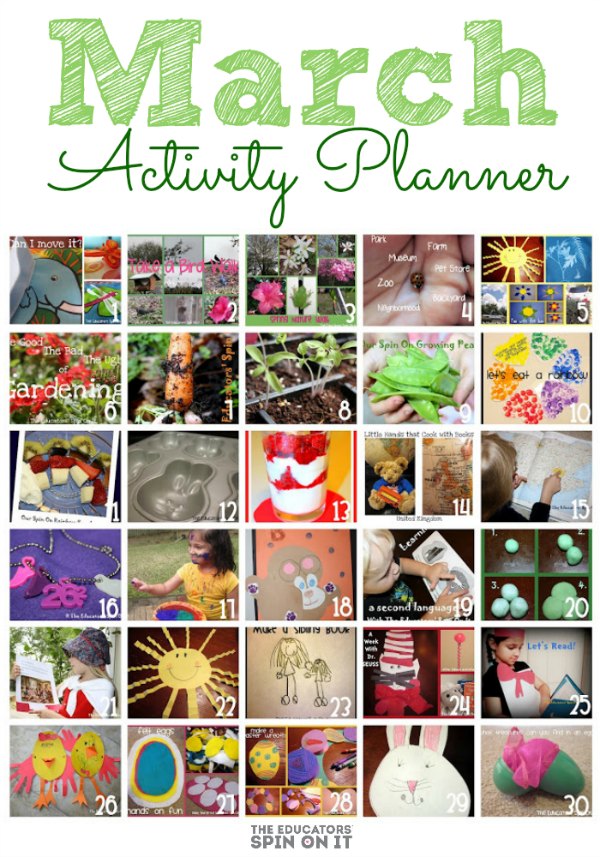 We want to extend a warm welcome to all of our newest followers! We are so excited that you have discovered our site!  We also want to express our gratitude to our continued followers! We're amazed daily how many of you are returning and bringing new friends with you.  It inspires us to share more and more ideas with our readers!
Here at The Educators' Spin On It we try our very best to Parent with Purpose. We enjoy sharing "Our Spin" on things that we post each week. As educators and as parents we're always looking for ways to make learning playful and play time meaningful.
For our newest followers each month we do a little recap of the month, a Monthly Planner of Activities.  We do this just to keep you up to date and it works as a helpful resource for anyone looking for something you saw on our site previously.  This March had been a happening place between Reading, Cooking, Gardening, and Getting Ready for Spring and Easter.  The numbers on the photos match up to the links listed below, have fun exploring what we've been up to in the month of March!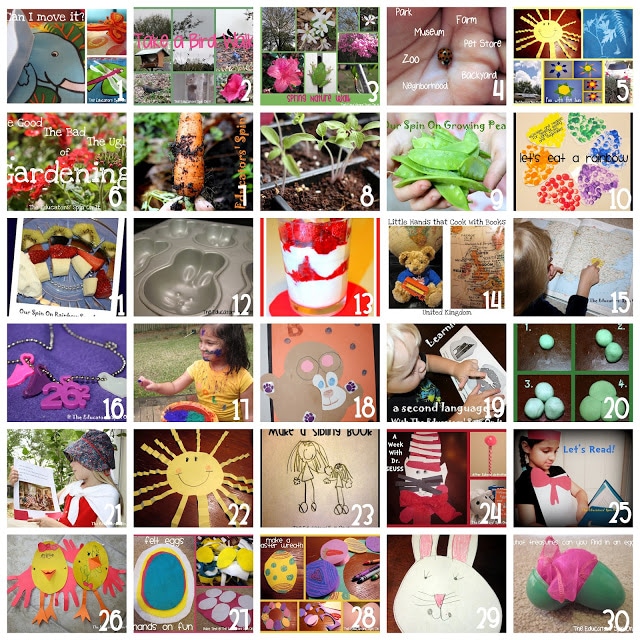 "Our Spin" on March Activities for Kids 


1.       Baby Time: Tips for Reading Books to an Active Babies and Toddlers
2.       Baby Time: Staying at Home is for the Birds
3.       Printable Spring Journal
4.       Baby Time: I have a Zoo in my Backyard!
5.       A weather post about sunshine and solar panels
6.       The good, the bad, and the ugly of gardening
7.       How to Grow Carrots and 5 reasons why you should a…
8.       Starting Seeds Indoors
9.       Our Spin On Growing Peas
10.   Little Hands That Cook with Books: Let's eat a RAINBOW
11.   Little Hands that Cook with Book: Let's Talk Nutrition
12.   Little Hands that Cook with Books: Bunny Bread
13.   Reading Across America
14.   Kim's Spin On Around the World in 12 Dishes: United Kingdom
15.   Amanda's Spin on Around the World in 12 Dishes: United Kingdom
16.   Before School – Our First Marathon
17.   Bilingual Babies: Holi Fun to Welcome Spring
18.   Tot School – The letter B 28 months
19.   Bilingual Babies: Finding Second Language Resources
20.   Saint Patrick's Day Smash a Shamrock activity
21.   Living History Museum
22.   Weather Crafts and Activities
23.   Afterschool Express: Making Time for Siblings
24.   Afterschool Express: A Week with Dr. SEUSS
25.   Reading Across America
26.   Easter Crafts and Activities for Toddlers
27.   Baby Time: Easter Activities, Crafts and Books
28.   Love Books: The Easter Egg by Jan Brett
29.   Bunny Writing Prompt
30.   Baby Time: Easter Activities, Crafts and Books
Our Most Popular Post for March was…
We are so happy to see that reading is starting from the very beginning with our followers and that you're sharing it's importance with your friends and families!  We've had so many new books added to our LOVE BOOKS page from some amazing bloggers, you should stop by and browse for a good read and activity.  There are over 100 to choose from!
We can't wait to see what Spring brings into your homes!  Thank you so much to those who shared your pictures and stories with us on Facebook for Read Across America,
Gardening Stories
and your Spring Photos and Links with us!
Did you miss a Monthly Wrap Up?