Are you looking for fun ball activities for babies? You're in the right spot. There are so many fun activities with balls for a baby.
Here are several that are a big hit with my baby.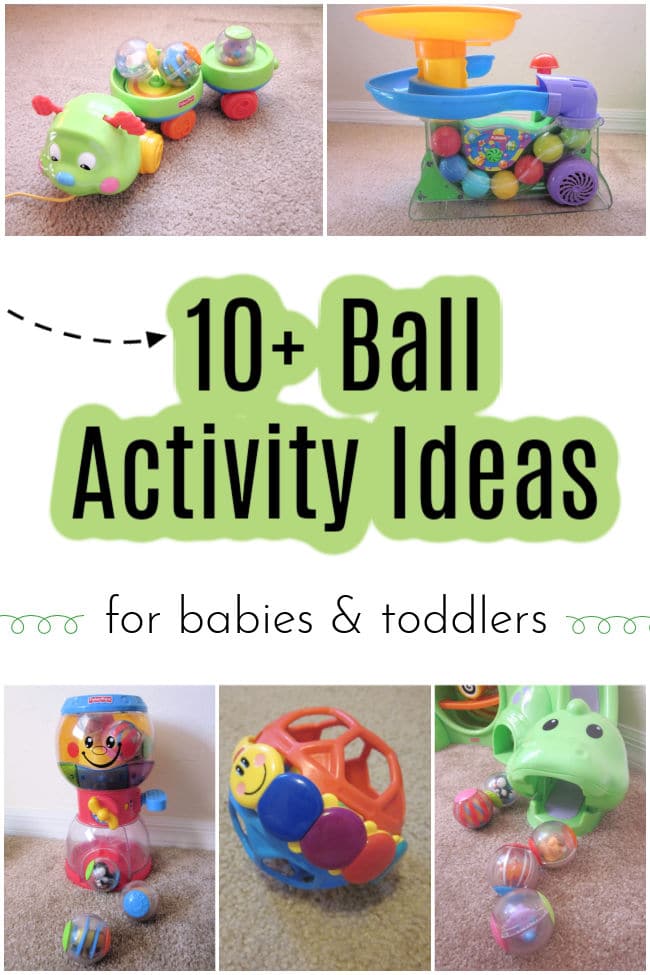 We're having a "Ball" at our house recently with all of our balls.
My one year old just started saying the word ball, it's super cute. You can tell it's one of her favorite activities to do. There are so many types of balls available for your little ones to play with and can offer hours of entertainment and encourage their development.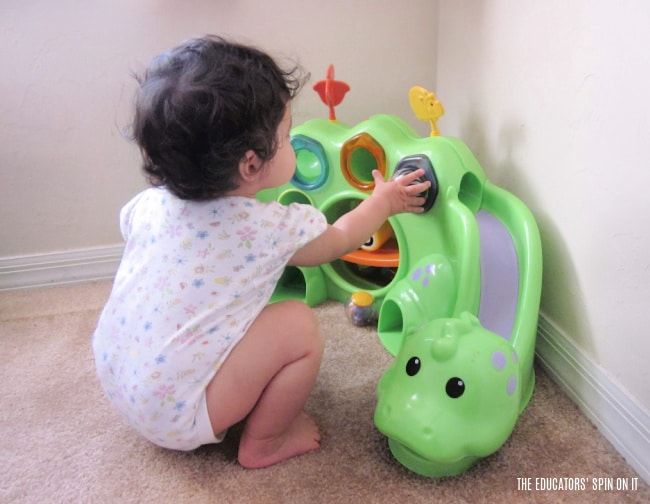 Disclosure: This post contains Amazon affiliate links.
Ball Activities for Babies and Toddlers
Playing with balls helps your child to develop in many areas…
Hand-eye Coordination
Eye Tracking
Prediction
Temporal Awareness
Object Permanence
Gross Motor Skills
Pincer Grip
Spatial Awareness
Problem Solving
Builds their Language Skills
At our house, we have all types of balls to play with. We have a fabric ball that my littlest one has loved from very early on. She could easily grab it and through it from around 6 months when she first started sitting up.
Then we started using the balls with things inside to encourage her to start crawling toward them as they moved.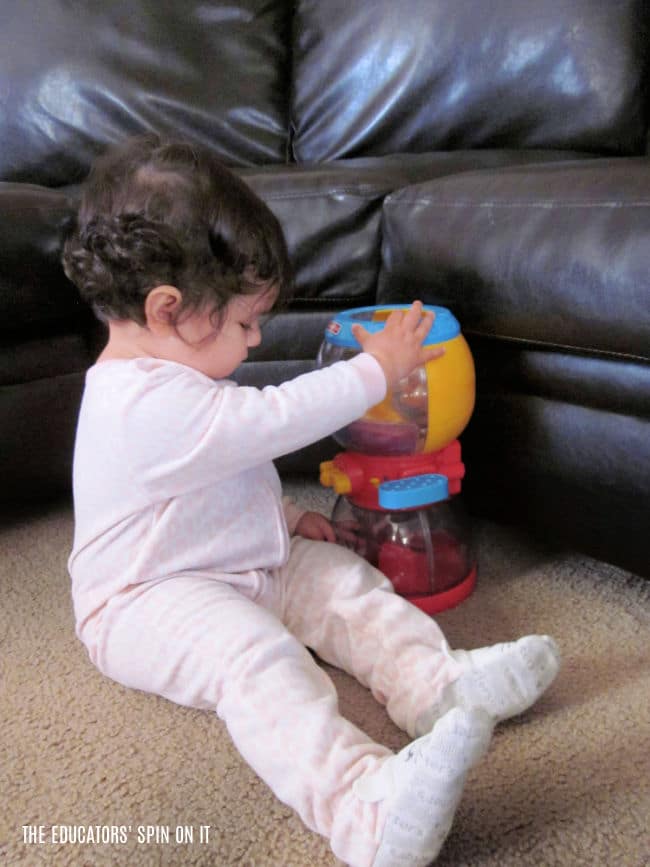 We have a few toys now that she can interact with her little balls. She can put the balls into the holes and see various things happening which helps her to learn and develop.
We also have a toy where she can watch them pop up and chase after them, which she absolutely loves.
That being said the simplest of all things to do with a ball is to simply play a game of catch. We use a larger plastic ball for catch and now she LOVES to kick the balls too.
The amount of skills your child can build from engaging with a ball are tremendous.
Our Favorite Infant and Toddler Ball Games right now are…
Roll the Ball
She sits across from me and we roll the ball back and forth to each other
Drop the Ball
She enjoys picking up the balls and dropping them into a big metal bowl or a big box
Go Get It
She throws the ball and Mommy goes to get it and then we switch and Mommy rolls the balls and she goes and finds it.
Kick It
She loves to kick the ball all over the place.
Way up High
We throw the ball up high and she giggles, it's very funny. It's great for tracking with their eyes a skill later needed in reading.
Parachute
We put the ball on the parachute and bounce and bounce it around with big sister. Once it pops out she runs to get it and puts it back on.
Throw It
Simple games of throwing it to a family member she has a blast with. Easter Eggs work well for little hands because they are light. Just tape them up or hot glue them so they stay together.
Catch It
She sits down and we toss the fabric and big plastic balls to her and she tries to catch them, super funny now but soon enough she'll figure it out. It becomes a chase game too at times.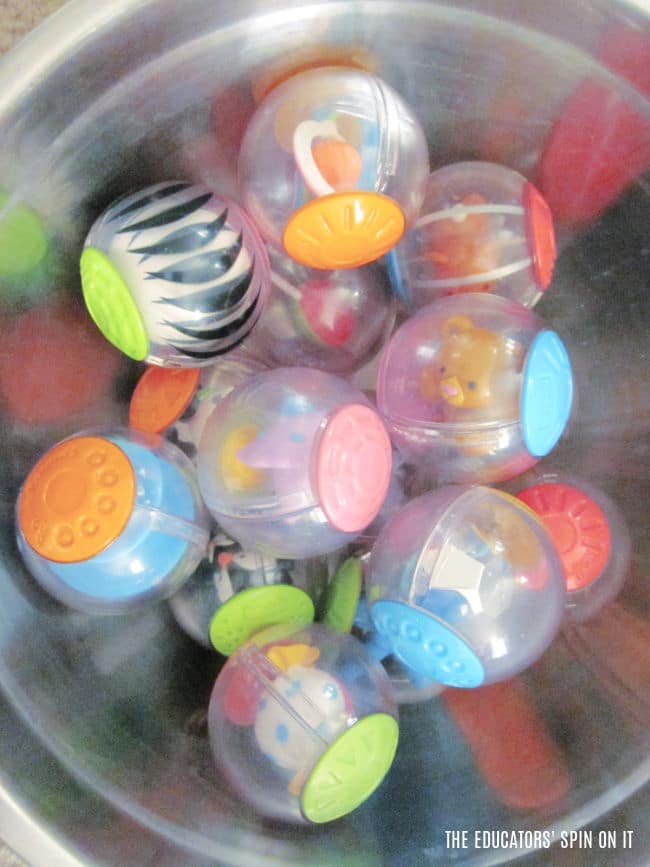 Here is a Tutorial on How to Make Your Own Fabric Ball
Your little one might also be interested in making their own baby blocks using recycled cardboard.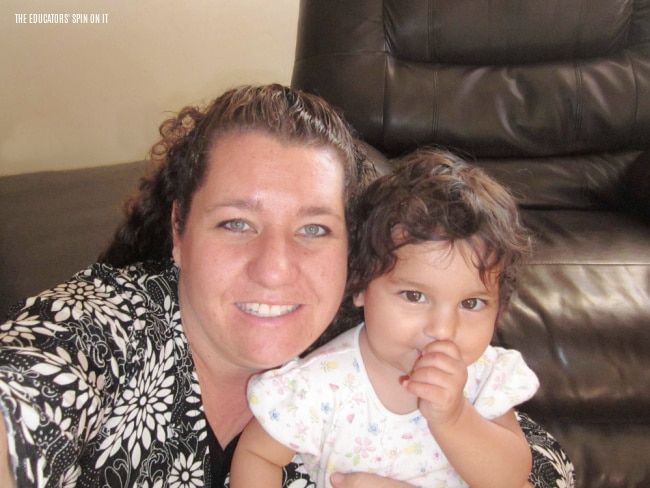 Playing with balls with my little one can be so much fun! She's learning a variety of skills that she'll need when she's older but most of all it's time spent together bonding.
We'd love to hear from you…
What are your favorite Ball Games that you play with your little ones?
If you have older kids in the house you may enjoy these ball activities, ball games, and even ball themed books!
Want more Baby Time Ideas? Check out our 20+ Baby Activities!