One toy that all children are drawn to are balls. Big, small, textured you name it, balls are a sure hit with kids. Here are 6 Ball Games for kids that they'll love to play outside.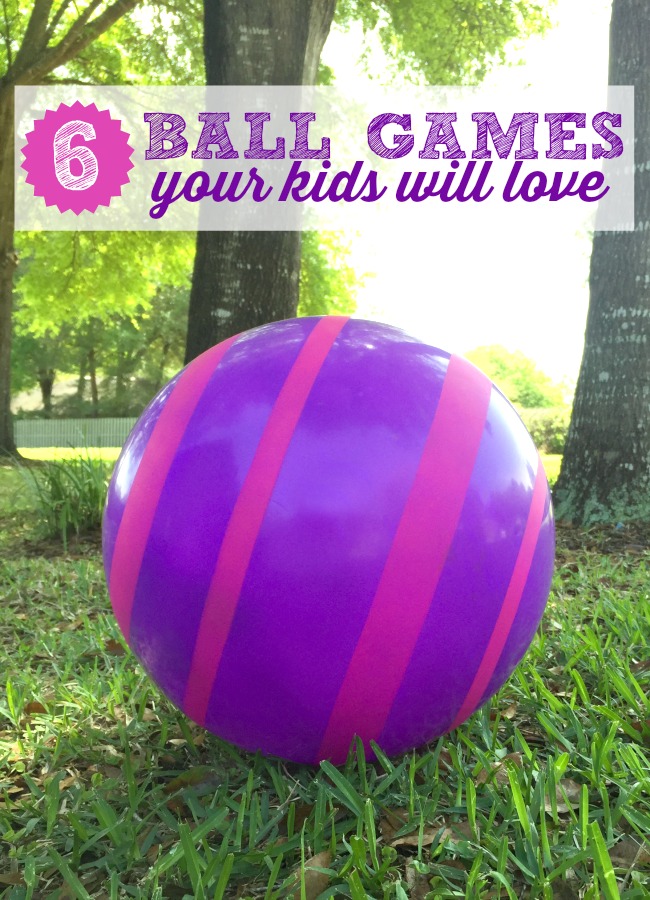 One gift that we tend to get as a family each spring is a new ball. There's just something pretty special about bouncing balls that scream come play. Let's be honest at the store the bright shiny fully inflated balls scream, buy me!
Have you seen some of the new designs they have come up with? I think ball games are such an easy way to create outdoor games for kids to get them moving and playing together with friends and siblings.
Let me share with you a few new games with balls to add to your list of fun outdoor games.
Outdoor Ball Games for Kids

Outdoor Ball Games for Kids
This post contains affiliate links.
Make a Basket
One of my favorite ways to store all of our toys, especially balls is in a Large Plastic Tub with Rope Handles. A Laundry Basket or Rubbermaid Storage Container can work too. Plus you can use these for practicing making a basket with your balls!
Trust me, simple is good with ball games with kids.
Through the Hoop
Take your child's Hula Hoop and use it for a target for the ball. You can lay it on the ground and challenge your child to make the ball land in the hole, almost like golf or you can hang it from a tree and try to make the ball fly through the hula hoop.
Great target practice for learning to throw which is useful for ball games.
Over the Line
The skill of learning to bounce a ball at just the right speed and height takes talent. These skills are needed for additional bouncing ball games like tennis, ping pong and even volleyball. Start early with this Over the Line game. Two player bounce a ball to each other by laying down a Jump Rope or drawing a line with chalk. The challenge is to bounce the ball once on your side and then once on the other side. The player who misses the bounced ball first loses.
You can pretend it's a snake, hot lava, or even a log across a river to add a little creativity to the game.
Sidewalk Targets
Using Sidewalk Chalk, create an obstacle course with your child for the ball to bounce on. It's really practice in aim for throwing a ball but it makes such fun for your child's imagination too. Create circles around the driveway and make believe to bounce from one to the other. They can be spaceships, lily pads, flowers.
Encourage your child to create a scenario for the game.
Box Bowling
Recycle a large box to create a game called Box Bowling. Simply cut out a half circle large that the ball and then challenge your child to roll the ball into the opening. Player that gets the most balls inside the box wins!
You can have your child decorate the box based on their interests from animals to rockets. Click here for more box ideas for kids.
Bottle Bowling
Recycle your juice, milk, or soda containers to create a bowling game for your ball. You can make it fancy by decorating the bottles or keep it simple. Surprisingly wrapping paper can be a great way to cover them easily. Click here to see how we decorated our recycled containers.
Ball Themed Activities for Kids
We have a few more Ball Resources including 
Grab a Ball on Amazon for your child
What Types of Ball Games are your favorite? Share!
You're invited to share what you've been doing with your kids at home. We'd love to hear from you! Come join the FUN!
Want more ideas for outdoor fun? Try our Ultimate list of Sidewalk Chalk Games for Kids!