Here's a tutorial of how to make your own baby blocks that you can customize with images of your family or holidays too.  An Eco-Friendly toy idea for baby.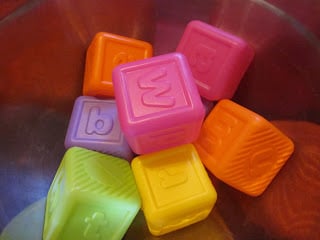 It's block time at our house!  One of the best investments you can make with toys is to invest in blocks for your little one.  Fabric ones are available for the youngest of babies that makes fun noises for them to enjoy.  Lighter plastic ones are a good choice as they are easy to pick up.  Then there are all sorts of Peek a Boo blocks available that are fun to stack and also to shake and rattle and look inside.  Nesting blocks are a great choice to help your little ones begin to about varying sizes.
By around 12 months your little one should be able to start stacking the blocks on top of each other.  Playing with blocks can help both your child's brain and body.  It also helps foster creativity.  By playing with blocks your little one will naturally start to learn to organize, balance, and stack.  These skills help to build their hand eye coordinating and fine motor skills.   We started around the time my little one was sitting with the fabric blocks and lighter plastic blocks.
Activities with Blocks
My daughter is having so much fun right now at 10 months watching Mommy stack up blocks and then she knocks them down.
She also enjoys helping Mommy fills up the Bowl with blocks and then she dumps them all out
As she grows older we will start sorting them by colors and by what is inside
How to Make your own Eco Friendly Baby Blocks
My little one loves pictures of people right now so I decided to make blocks out of photos.  We had so much fun making Blocks using Magazine photos and Family Photos.  She sits and touches the pictures and talks to them, it's so cute.  Here's a tutorial of how to make your own baby blocks.
Materials you will need
Cereal boxes or cardboard
Photos from Old Magazines or your own photos
Glue stick
Packaging Tape or Contact Paper
 Trace Pattern onto cereal box…I just traced a post it note, the size I wanted
Cut out the pieces, making sure to leave the tabs
Glue block all together
Select your favorite photos or themed photos from a magazine or personal photos.
Using same size that you created your squares out of.
Attach your photos with glue.
Now cover the block with contact paper or packaging tape
to make it more durable and baby friendly.
Now's time to have fun and play with!!!
You can create all sorts of designs with the block design.
Here are some ideas for designs…  Family Album, Baby's First Year, Letters,  Numbers, Favorite Character, Birthday Party Themes, Halloween, Thanksgiving, Christmas, Valentine's Day, Easter, Fourth of July!  Have Fun and ENJOY!
(Homemade toys are meant to be played with an adult present at all times and at your own risk)
The Educators' Spin On It Activities are suggestions to play with your child with together. 
Please use at your own risk and provide adult supervision at all times. 
You know what's best for your child and are your child's first and most important teacher.