Looking for non-toxic Edible Finger Paint for the just in case moment.  Here's a solution that my kids loved doing together as a sibling activity.  Plus it's a fun sensory activity for the baby too.  There are so many benefits of Finger Painting so let's get started!
Finger Painting helps to develop
Eye Hand Coordination
Sensory Integration
Color Mixing
Fine Moter Skills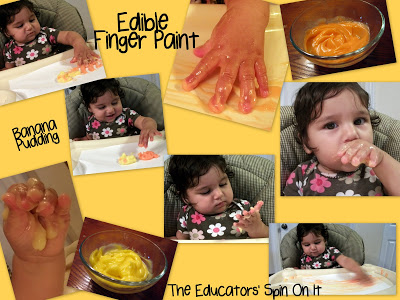 The biggest thing I'd like to stress is that Art with children is about the PROCESS and not necessarily the Product.
I was inspired and thought I would do an activity that both my 5 year old and 1 year old could do together.  Finding activities for them to do together is not always a simple task so I figured I'd share it with you.
To begin with my 5 year old wanted to make the banana pudding by herself.  She measured  the milk and wisked away with a timer that she set.  We love cooking together and she's really become very good at it.  We have a whole series of Little Hands That Cook I invite you to check it out!  Once the pudding was ready we put a little coloring in half of it so that we could work with two colors.  I think it's important with figure painting for their eyes to see the contrast.
Here's what our afternoon of Finger painting Fun looked like with my two girls…
The next time we create our paint I'm going to try these ideas that I've Pinned on our Art with Children Board
Colored Yogurt to Paint  No Time For Flash Cards and Make and Takes and Hands On: As We Grow
Homemade Nontoxic Paint from The Imagination Tree
A recent blogger at Dilly Dali Art asked her viewers to Finger Paint with our little ones.  On her blog she talks about the things your child learns and experiences while finger painting, I LOVE what she wrote!  Check it out!
Can't wait to share with you!