Having a new baby means finding new ways to explore nature activities to do with babies. It's such an important role of a caregiver to explore your surroundings with them and build language around it.
Here are six ideas for exploring nature with your baby.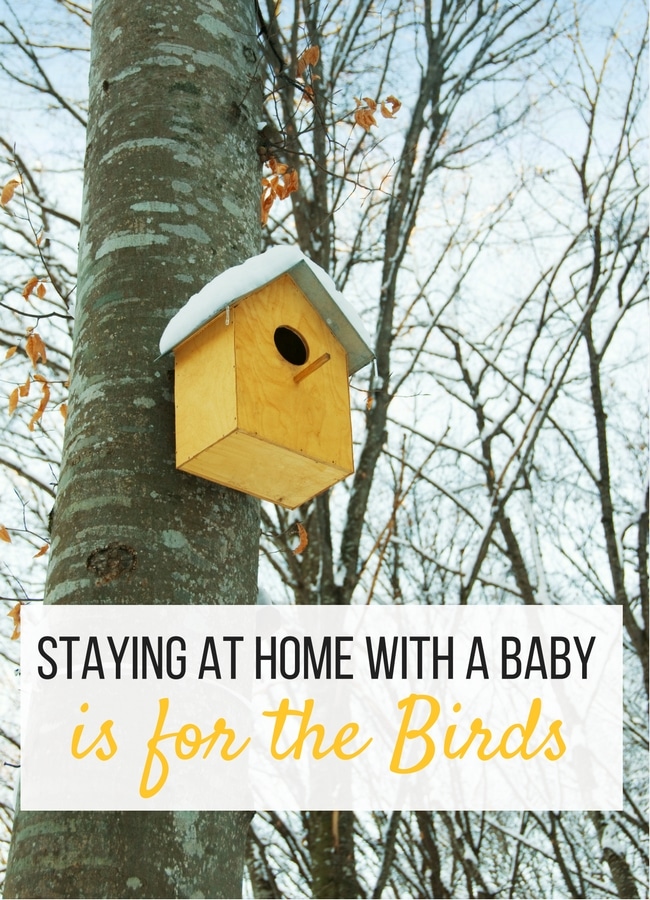 Staying at Home is for the Birds
It's not what you think, I LOVE staying at home with my baby.
It's that very statement "I'm staying at home for the birds" that is the underlying reason I am at home with my children each day instead of working outside of the home. I want to experience those everyday learning moments with her.
Showing her all the elements of nature for the very first time. One of my daughter's first signs was bird.
Can you tell what we spend a lot of time doing?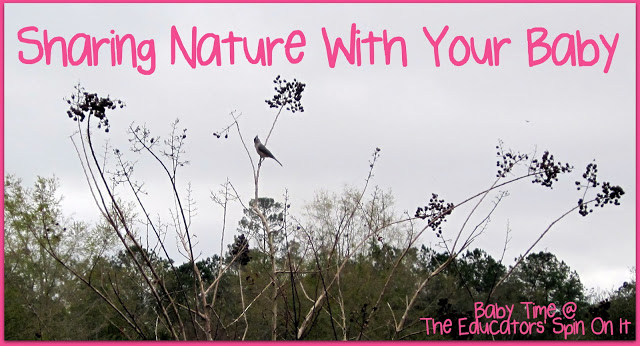 6 Ideas for Nature Activities with Babies
We spend some of our time going on adventures and seeing the world. I stay at home with my daughter so that I can share moments of her day talking with her about all the things she's discovering in her environment. I love how babies get excited when they realize they are going outside for an adventure.
When my middle child was fussy as a baby all you had to do was step outside for a moment and the whole world changed and she was calm… it was like magic.
My youngest really enjoys dropping off big sister at school and watching all the big kids.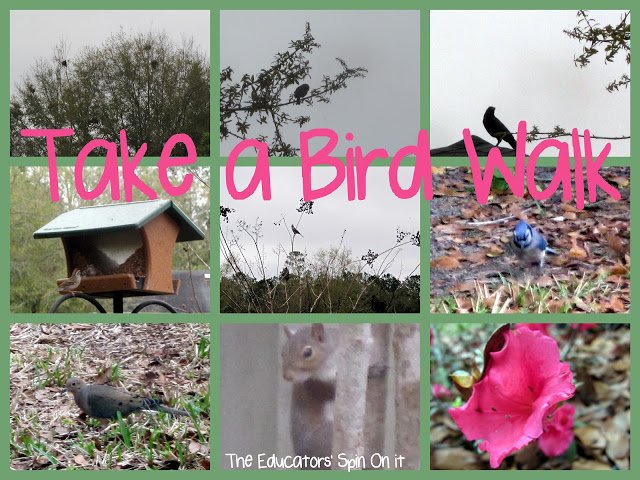 Take a Bird Walk with Your Baby
Go for a Walk
We go on walks in the backyard, in the front yard, in the neighborhood, at the store, at the mall, at the duck pond, at the park, at the zoo, and even at the library. It's my job as her Mom and as her primary caregiver during the day to SHOW her EVERYTHING and TALK to her about EVERYTHING she's observing and experiencing both inside and outside.
The photos above were taken this morning from our back porch with my daughter and I watching the brave birds and squirrels.
Set Up a Bird Feeder
We set out a bird feeder and bird bath outside our window too where she enjoys pulling up and standing at the window to watch the birds who come to visit our yard each day. She gets so excited to see the bird when they come.
We like to sit on the back porch together and watch the birds come to the feeder too. They are very brave birds and let us watch, even though we're not the quietest bird watchers.
The neighborhood crows like to come and land on our fireplace and Caw across the field, it's very loud down the chimney.
It's so cute she stops whatever she's doing tells me that the Birds are here. Of course, it sounds more like buh buh buh when she tells me but because she also knows the sign for bird she uses that too.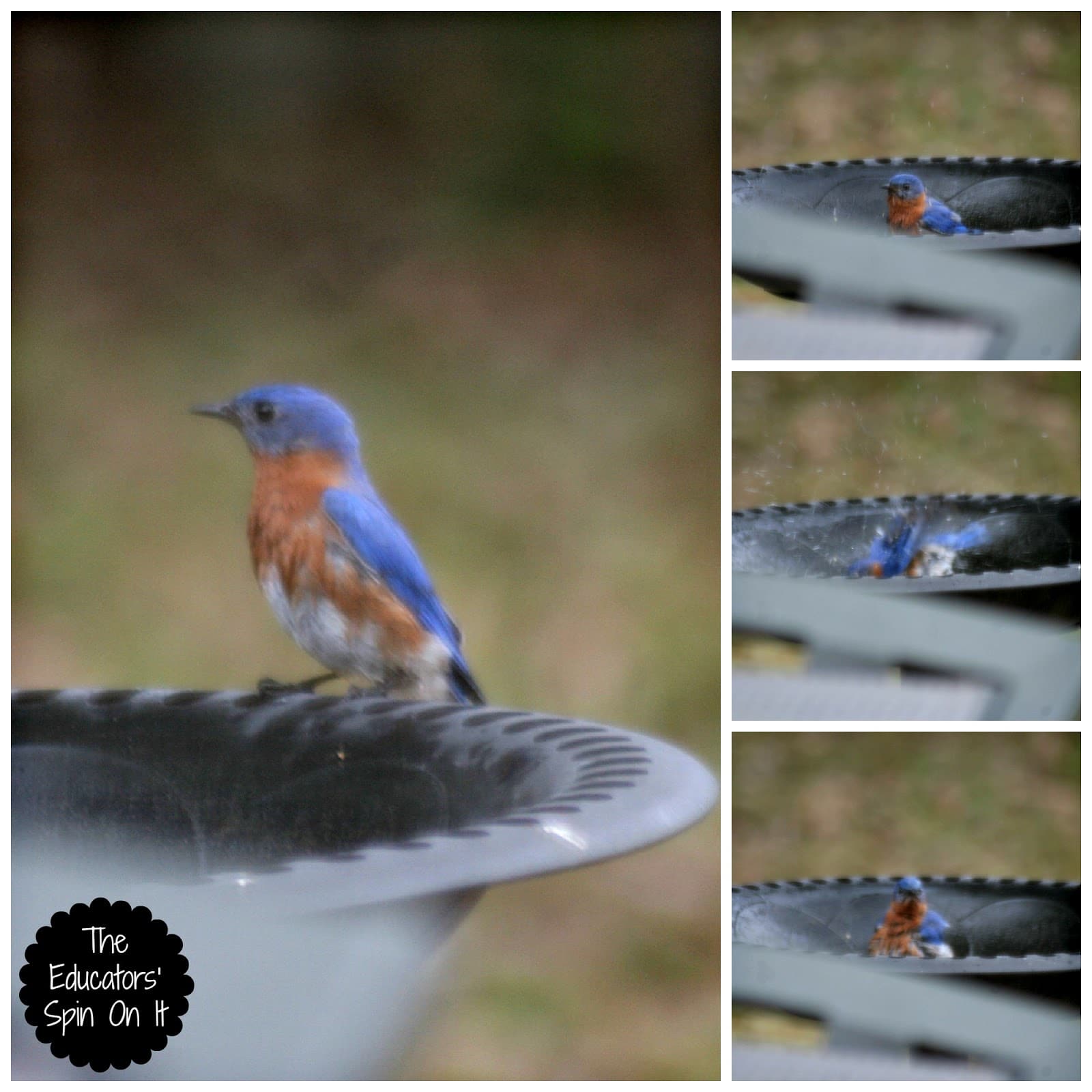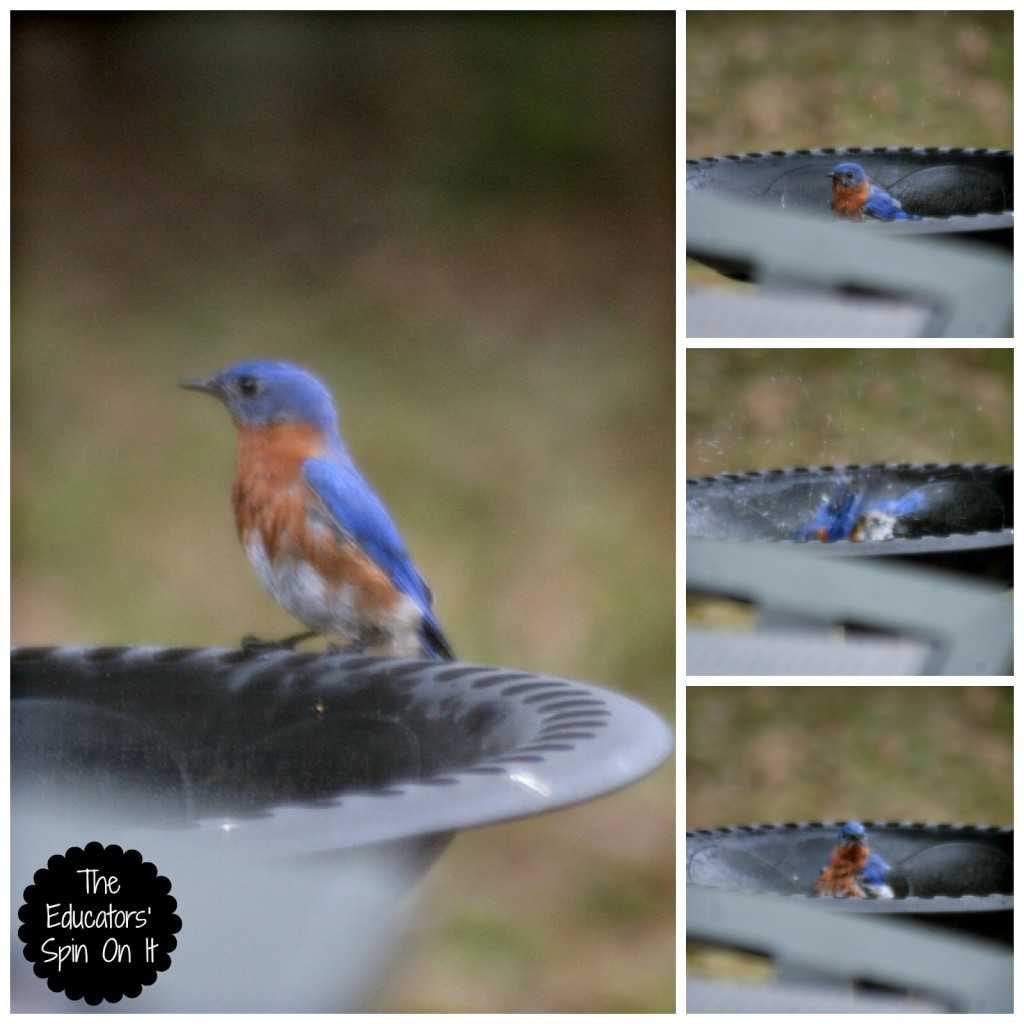 Nature Walks Increase Language Skills for your Baby
Learn New Words
I encourage you to talk with your child using very detailed sentences about the things that your child is observing in their environment. I also encourage you to teach your child baby sign language, it is so much fun when they are able to sign things before they are able to say them, and opens a whole new world of communication with your child.
Use it when you're singing songs, they love it!
Baby Sign Language
Signing Time Word of the Week: Bird This is our favorite Baby Sign Language Series. Here are both a video clip and an image of how to sign "bird". To sign the word "bird" put your thumb and index finger by your mouth, like a beak, and open it and few times.
Great Back Yard Bird Count
While you're at it don't forget to turn in your numbers for the Great Backyard Bird Count
There a section for older kids too if you haven't checked it out! If you missed it just remember next year in February! Here's an adorable Bird Nest Craft from Tots Crafts to create with your toddlers and preschoolers as they join you on the walks from.
You can take time with your older ones to Explore a Birds Next or even make your own Bird House by reusing containers.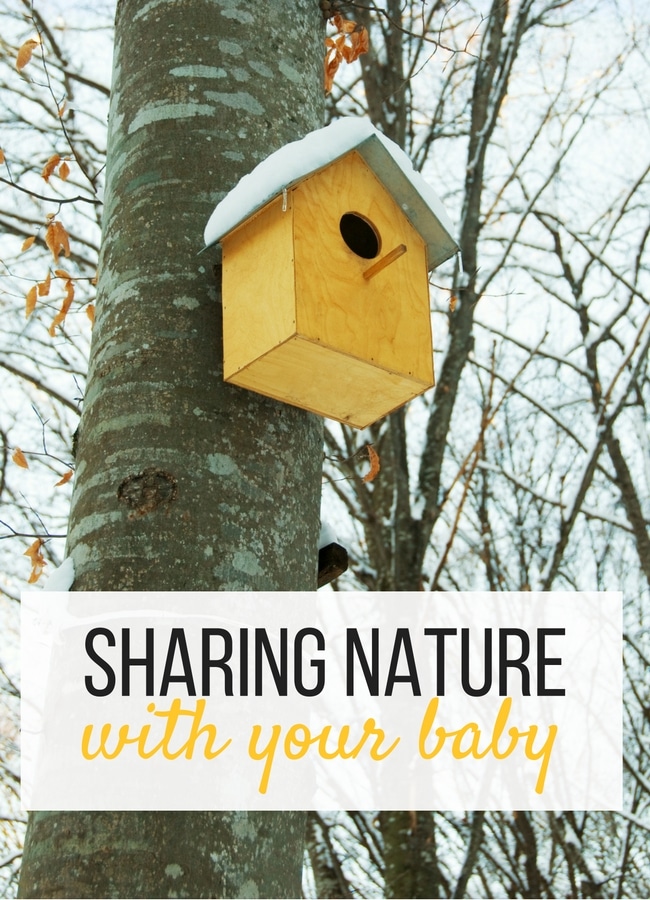 Walk. Explore. Talk.
Go out and explore the outside with your baby! You can create a zoo within your own yard too. Click here to find out how. Make your walk a TALKING and DISCOVERING WALK!
Take time and enjoy these moments with your baby, it's why you're at home with them. You can give them more than anyone else in the world at this stage in life. Go outside and enjoy the birds.
I have experienced both many sides of being a Parent as a Working Parent and Stay at Home Parent and even a work from home parent with my 3 children. They ALL are equally IMPORTANT and rewarding.
You are your child's first teacher and you know which is best for them and your family's budget.
Enjoy your baby moments!
If you enjoyed this post for babies you might enjoy our other Baby Time Activity Ideas