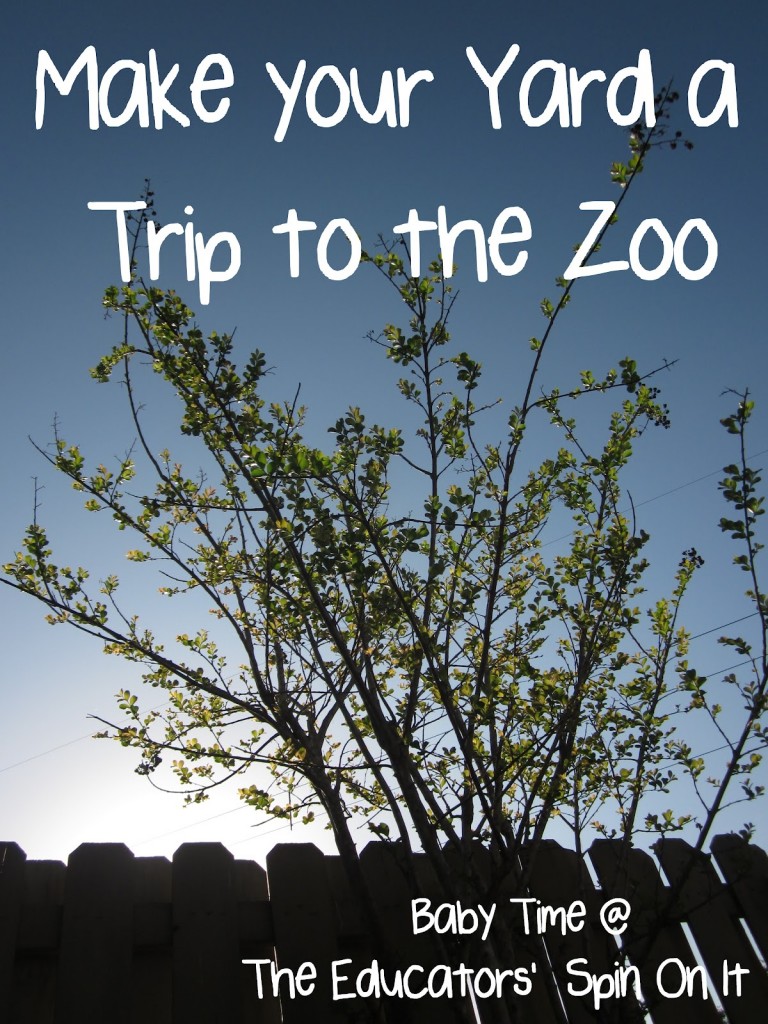 Babies and Toddlers are naturally interested in animals. Many times your family pet ends up being one of your babies first words. Then they begin to discover animal toys, our toy animals currently get lined up one by one when she's playing with them and carried all around the room.
Her next thing she loves is the animal books. My little one loves talking to the kittens and touching the fur in it. Although these are all important to her development, it's just not the real thing.  It is my hope that your baby starts to discover the animals that live all around us first and gets excited to go outside.  
We're working on the sign "Outside" at our house, here's how you sign for "Outside" from Signing Time using sign language.
Exploring your Backyard Zoo with your Baby and Toddlers
Take your children outside on adventures.  We spend our mornings in the yard and discovered we live at the zoo!  Well, not really , but to my daughter it feels like it.  
We were searching and discovering animals on a daily basis.  I love how she carefully watches and observes everything that surround her in this environment.  She is starting to get very excited with her little dancing feet when she sees something new moving. 
Did you know at this age you can teach your baby and toddlers about SCIENCE?
What animals can you discover with your baby in your yard?
Mammals
My baby discovered that many squirrels live in our yard.
They like to run and climb up trees and dig in the ground
They also eat those brown acorns on the ground that she loves to pick up at try to eat herself.
She also discovered that the cat has a tail just like a squirrel.
Birds
My baby discovered that the birds fly back and forth from the trees and talk to each other.
She discovered that they even come to the bird feeder to eat.
She  discovered that they can be different colors and different sizes.
They also come to the birdbath for water (still waiting for her to see how they take baths)
Here are some Bird Activities for your baby & toddler
Amphibians
My baby discovered that a frog likes to live on our chair on the back porch.
She discovered that it likes to jump when you try to touch it.  (can't wait for tadpoles to arrive)
Here is Rainy Day Mum family's experience with Frog Hunting & Frog Books
Fish
My baby discovered that fish swim very fast when you approach.
She also discovered they come back when you throw food into the water.
We are very lucky that we have our own little pond in our yard, but you could always have a goldfish bowl or aquarium in your house.
Reptiles
My baby discovered that a lizard climbs up on pot on the front porch.
(Thank goodness we did not discover a snake yet, although pretend ones keep us busy)
Insects
My baby discovered a grasshopper sitting on our peas can jump as she tried to touch it!
She also discovered a ladybug that flew away when she tried to touch it.
She found out that the bright yellow butterflies fly away very quickly.
What is my baby learning outdoors?
My baby is learning all about the world around here. 
She learned that there are all types of animals. 
She learned that animals can move in different ways. 
She also learned that they can make different noises. 
All skills of observation and knowledge in science. Learning starts from the very beginning!
The skills she is learning outside with me are far better than any skills she'll learn watching a TV.  Although I know it most certainly takes more effort, it's our jobs as a child's first teacher to give them these opportunities every day throughout the day to engage in nature and to explore their surroundings inside and outside.
How do I connect with animals at playtime?
Outdoor time is so important! It's also important to let your child find ways to explore those concepts in play. Connecting the outdoors is very easy.  Just find a few toys that represent what you're finding outdoors. Connecting through books & toys is just what they need to begin to develop their imagination. 
We have found fish, squirrels, birds, frogs, ladybugs, and so those are the toys we are exploring and playing with right now. Don't feel like you have to own all of these things… sometimes playgroups are a great way to exchange a concept.  I'm waiting for a friend's zoo animals to arrive at my house any day! Can't wait!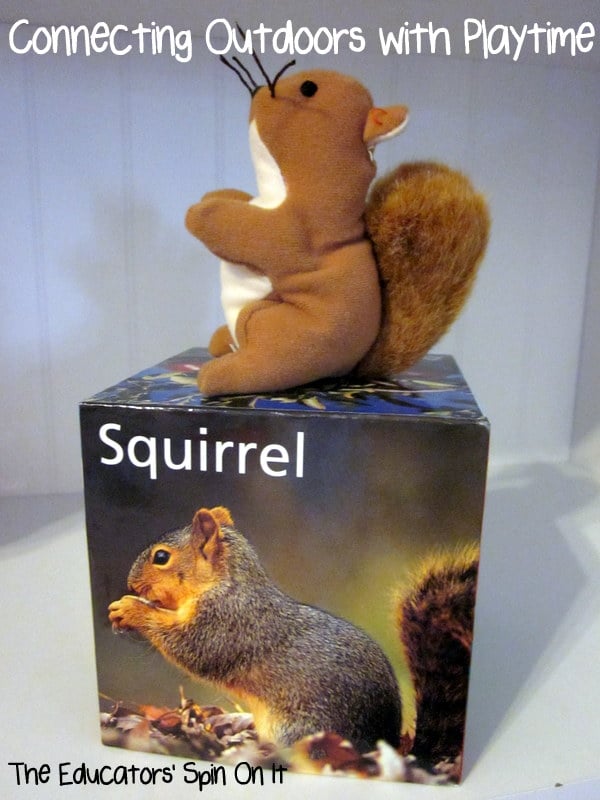 Ready for more Animals? Take a Baby & Toddler Field Trip
Top Ten Places to Take Go to See Animals with your Baby
Your Yard
Park
Farm
Duck Pond
Zoo
Pet Store
Neighbors' Pet
Ocean
River
Check your local area… you might be surprised what type of rescued animals need your support and are available for a fun time.
I hope you enjoy finding a Zoo in your backyard, front yard, neighborhood and community. Giving children the opportunity to experience little moments like this with real-life creatures is so important to their development!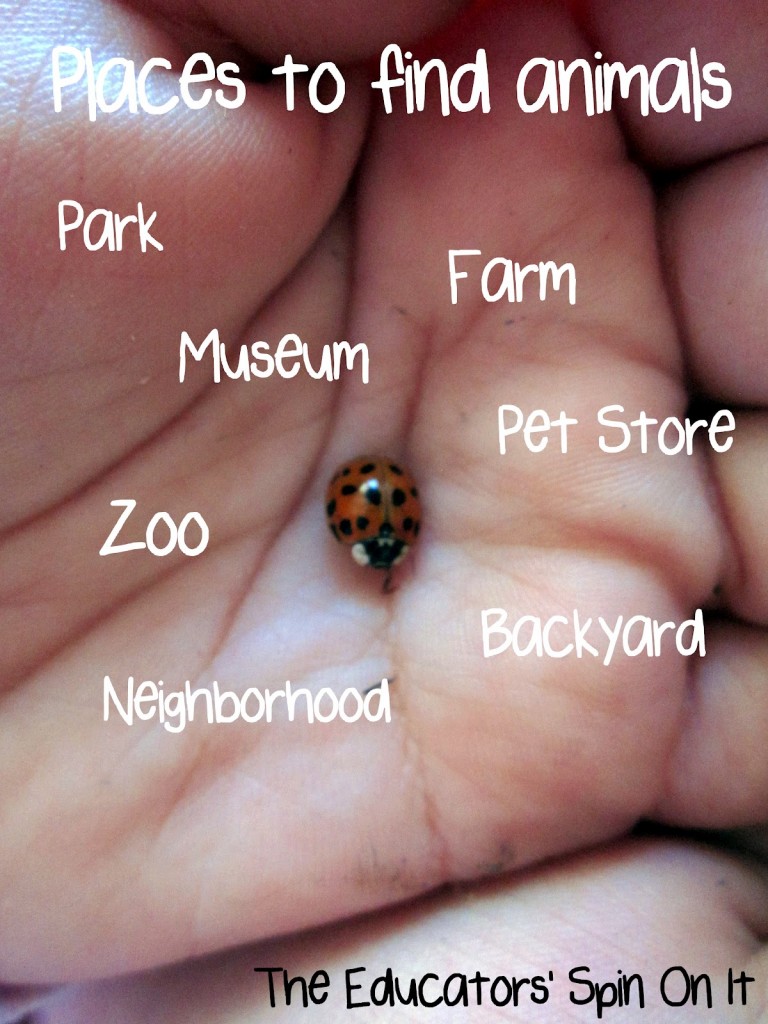 Where do you discover animals?