It's back to school time which means you're going to see your first Kindergarten supply list. Did you expect it to be that big?
We have already started our back to school shopping. Luckily, our school has just published their school supply list for all the grade levels. As a teacher, I looked forward to all these supplies coming in. As a parent, I see this list with new perspectives.
How does your school's kindergarten supply list compare?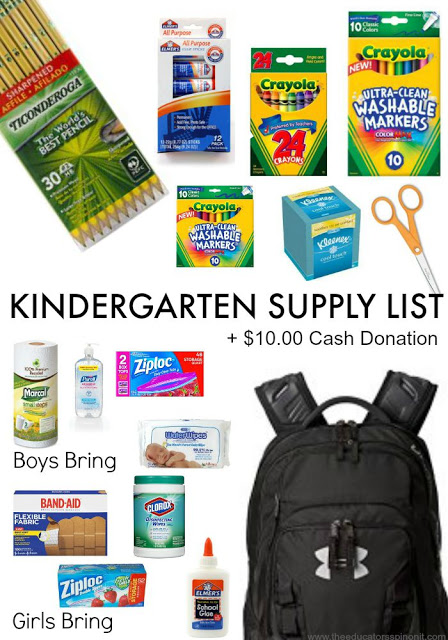 How Does Your Child's Kindergarten Supply List Compare?
My friend and I just had our annual – can you believe our kids school supply list conversation on the phone this afternoon?
The first school I taught at supplied all of our classroom materials including paper, pencils, markers, scissors, and crayons. We filled out a form and the school delivered it to our classrooms during pre-planning from their warehouse. If we needed more, we asked for it. The supply closet was stocked and all the kids needed to bring was their own backpacks.
As the years went on, the teacher supply closet concept ended and as a teacher, I was left to find supplies for 26 kindergartners with a $100 budget. YES. I was expected to purchase enough supplies (paper, pencils, crayons, glue, ect) for an entire year of projects for 26 young children with $100.
Needless to say, I went over budget because, well… kids need pencils and paper to learn and even with sales shopping and planning, paper and pencils alone for 26 kids for an entire school year come out to way more than $100.
You know that! Why? Because I'm sure your school supply list comes close to that amount – for 1 child.
Nowadays, parents are big contributors to classroom supplies.
It's hard on the budget these first few weeks, but so very important for kids to have the needed materials.
My Son's Kindergarten Supply List
I just printed out our supply list for this school year. Thankfully, the stores have decided that it's back-the-school sales this week, so we are going to be picking up some supplies. Unfortunately, it seems that most of the sales are for the brands not called for in our list.
Yes, the brands were specified on the lists we received.
As a teacher, my supply lists never specified brands, but I can understand why they do. Some brands of crayons, for example, do not color as brightly or last as long as others. Rather than buy more than you need, choosing a brand that you know works better ends up saving time and money in the long run. I did shake my head a bit at the "pre-sharpened" pencils.
Sure, they save you a couple minutes of time, but is it really necessary????
Kindergarten Back to School List
Amazon
affiliate links to products. Surprisingly, some of our supplies are less expensive (the sharpened pencils) when ordering online and having them shipped to my door (I have Amazon Prime).
What is missing from the school supply list?
There are some things that we use every single day that are not included on the back to school supply list provided by our school.
Tennis shoes
School uniforms
Yes – you read that right. Do NOT wait until teacher appreciation week in the spring to give your child's teacher a gift. A gift card and a heartfelt note do wonders for developing strong relationships.
Sample Back to School Messages for Your Child's Teacher:
Pack of kid-friendly stickers – I saw these in the store and thought you may find a good use for them!
$20.00 Gift Card to Target: I am so excited that ___ is in your classroom this year. I'm sure there are some extra things that you may need for your classroom and hope that this little bit helps.
$20.00 Gift Card to a local cafe/restaurant- Back-to-school is such a busy time of year. Dinner's on us tonight!
A small basket of extra school supplies: Looking forward to a fantastic school year with you.
Where to find your child's school supply list?
Most schools have published their grade level lists on their school website and/ or Facebook pages.
Pick up a paper copy at the front desk.
Call the secretary and ask for the list.
How to Save Money on School Supplies during Back-To-School Time.
1. My number 1 money-saving back-to-school tip – Use what you already have!!!!!
Buy a decent backpack and keep re-using it each year. We encourage our kids to choose non-themed backpacks so they don't outgrow the character. Items such as kid scissors can also be re-used year after year. They do NOT need to be brand new in a package!
2. Make a list and stick to it.
You don't need all the cutesy extras – like a ruler snap bracelet or sparkly pencil toppers. Get the essentials. If your child really "wants" something special and it's in your budget – choose ONE special item and have them keep it in their homework center at home!
3. Buy an extra set of pencils, markers, and crayons when they are on sale for you to keep at home.
Here are some additional tips for back to school for your child…